The last year saw a dramatic increase in the demand for e-bikes with a lot of major retailers quickly selling out of popular models. In this Decathlon Riverside 540e review I will take a closer look at Decathlon's latest offering and see how it stacks up against the competition in the increasingly competitive e-bike market.
Summary
Decathlon has produced some pretty impressive e-bikes over the last couple of years with the Rockrider E-ST900 and Stylus being my particular favourites. Unfortunately due to a massive spike in demand for electric bikes and the UK leaving the EU, stock has been constantly running out over the last few months and the excellent Stylus e-MTB has disappeared from their website altogether.
One thing that's always impressed me with the Decathlon electric bike range is the incredible value on offer. Sadly due to the above, their prices have slowly crept up and a lot of the range is now 20% dearer than when they were first released.
One thing the Decathlon range lacked was a credible mid-drive hybrid e-bike and now it looks like they've finally released one. The new Riverside 540e looks on paper to be a decent bike – it uses the excellent Shimano Steps E6100 motor (which my e-bike uses) and a 418Wh battery.
Firstly I want to say that the bike does indeed look good on paper, but I have a few reservations about the use of the old-style E6000 battery and the price. As I've said before, Decathlon has always been head and shoulders above the competition when it comes to price. Decathlon is bound by the new laws and unfortunately due to Brexit now have to add customs duty. This means the price of £2499 is not competitive in the face of tough competition.
The same bike is available on the continent for 2199 Euros which equates to around £1900 – it's a shame because, at the European price, it would look like a good buy. To put it into context the Cube Touring Hybrid One 500 costs around £2499 in the UK, has a similar spec and uses a Bosch motor and 500Wh battery.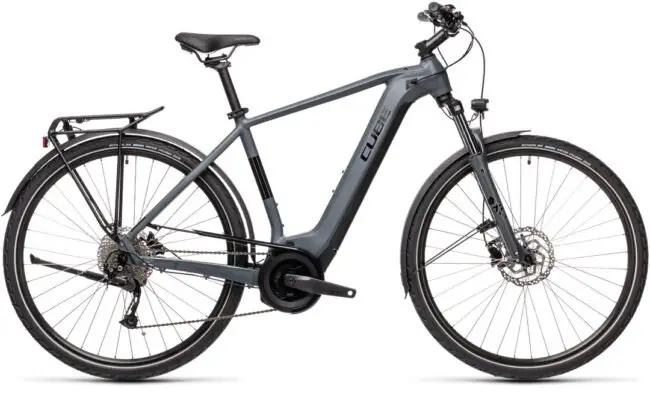 But what about the bike itself? The spec is quite good, from the aforementioned Shimano Steps motor through to the Shimano Deore 10-speed drivetrain and the Vittoria Terreno tyres everything on the Riverside 540e is decent enough. It's just you can buy a similar specification Haibike Trekking 6  for less than £200 more and that has a 630Wh battery.
My only other reservation about the Riverside 540e is the styling – it looks a little dated when compared with a lot of the competition. For example, the battery pack used is the same style as used on the older Shimano Steps E6000 motor. This gives Riverside a somewhat dated look. The one department it does very well in is weight – quoted at 21kg for the medium frame, which puts it a good 2-3kg lighter than some of the competition.
Below I will have a closer look at the components.
Electric components
Shimano Steps E6100 motor
The Shimano Steps E6100 motor is not only very light at 2.8kg but it's also known for being very reliable and a solid performer. My e-bike uses this same motor and I've covered over 1000 miles on it in three and a half months – this is in cold and wet British winter time. I've ridden through floods, fords and along debris-strewn country lanes and not once has the motor complained.
Riding a Shimano Steps-powered e-bike is very rewarding – the motor is very quiet and incredibly smooth, and the assist is tuned into every pedal stroke and gives very intuitive assistance. I find the 'eco' mode to be more than adequate for the hilly Cornish countryside, and the 'high' mode helps you motor up hills with minimal effort.
Display
The large and clear display on the E6100 motor is one of the best in its class. It provides the rider with all the data needed and also has an approximate 'range' calculator based on what level you're in. There is also a cadence sensor (pedalling rpm) which is useful – these motors are at their most efficient at a cadence above 80rpm.
You can also configure certain characteristics of the motor using the Shimano E-Tube app – you can limit the maximum assisted speed from 16mph down to whatever you need, this can be great for conserving battery power.  Another great feature is two different riding modes: Comfort and Sportiv – the latter increases the torque and performance of 'eco' and 'normal', you will consume more battery power when in Sportiv mode. You can also download important firmware updates using the app.
Battery
A 418Wh battery (36v 11.6Ah) will give the rider a range of around 50-60 miles in 'eco' mode. This figure may be higher or lower depending on how many hills you climb and how often the rider relies on the assist. Other factors like rider weight and wind direction will affect range. I can easily ride 60-70 miles on my e-bike but  I have the 504Wh battery fitted.
Warranty
Shimano warranties their bike components for 2 years. There must be no modifications or tuning/derestriction attempted as this will void the warranty.
Bike components
The Riverside 540e is very well catered for in this department with a Shimano Deore drivetrain, Tektro hydraulic discs and Suntour hybrid suspension forks. The frame looks well-finished, with nice geometry and internal cable routing.
Gearing
Shimano Deore M6000 series rear derailleur and trigger shifter working via a 10-speed 11-36 cassette and a 38t front chainring will give most riders enough gear range, although, at this price point, it would have been nice to see the latest incarnation of Deore with an 11-42 cassette – this would have given a low enough hill for even the steepest of climbs. If you need higher gearing there is a 44t chainring available from some retailers, but you will need a special tool to fit it.
Brakes
The Tektro TKD hydraulic brakes with 160mm rotors are fairly entry-level brakes but they are more than adequate for a hybrid bike. They're generally very reliable and provide good modulation and stopping power.
Wheels and tyres
Front and rear wheels are 28″ double-walled Decathlon brand with 28 eyeletted spokes up front and 36 at the rear. These wheels use standard quick-release hubs which is a little disappointing as most of the competition now uses thru-axle hubs which increase strength in this area.  The Vittoria Terreno 700x40c tyres are very good all-terrain tyres which will be equally home on tarmac or exploring gravel tracks and forest trails.
Suspension
Suntour NCX SF17 coil-sprung suspension forks are pretty common on hybrid e-bikes at this price. They can be adjusted for preloading or locked out together for road riding. These forks are great for light off-road riding and have 63mm of travel – they are just the job for all-round riding and commuting.
Frame and finishing kit
The 6061 alloy frame uses very similar geometry to its non-assisted counterparts. The dropped seat stays, slack head angle and sloping top tube mean the Riverside 540e is designed for comfort and versatility. The benefit of the sloping top tube is a relatively low standover height making the 540e suitable for both men and women.
There is a frame-mounted kickstand and a nice comfortable saddle, there are also ergonomic handlebar grips designed to increase comfort in the wrists.
Who is the Decathlon Riverside 540e aimed at?
As with any hybrid e-bike, the Riverside 540e is going to appeal to a wide range of riders, ranging from commuters to weekend leisure riders.  There's no mistaking Riverside's all-terrain credentials and it would be the perfect compromise between an e-MTB and a road bike. It's designed with comfort in mind and also has provisions for mudguards and pannier racks so it could even be used for light touring or local bikepacking adventures.
Conclusion
I want to like the Decathlon Riverside 540e. It's quite a decent bike, but in the UK at least, it's let down by a price tag which puts it in direct competition with the likes of Cube, Scott, Haibike and other prestigious brands.
The 418Wh battery although decent enough is lower in capacity than other bikes in this price range – for a couple of hundred more you can buy a Cube Nuride Hybrid Allroad 625Wh which has over 50% more battery capacity and uses a 65Nm Bosch Performance Line motor.
Hopefully the current price rises we're seeing due to Brexit will soon settle down when (and if) our respective governments can sort out tax issues.
If the Riverside 540e was priced at £1900 like it is on the continent I would have no hesitation in wholeheartedly recommending it, but as the price stands and given the competition (and the slightly dated looks), I think there are better alternatives out there for the price.
Thanks for reading, if you have any questions please leave a comment below. I usually respond within 24hrs.