Introducing the Triumph Trekker GT electric bike. Out of all the iconic British motorcycle brands Triumph is the only one that has stood the test of time. Back in the 1980's when it was on its knees, Triumph was rescued by British businessman John Bloor and given a new lease of life with a new range of modern motorcycles to herald in the 1990s. The re-born Triumph motorcycle brand went on to become a global success and to this day has a loyal following the world over.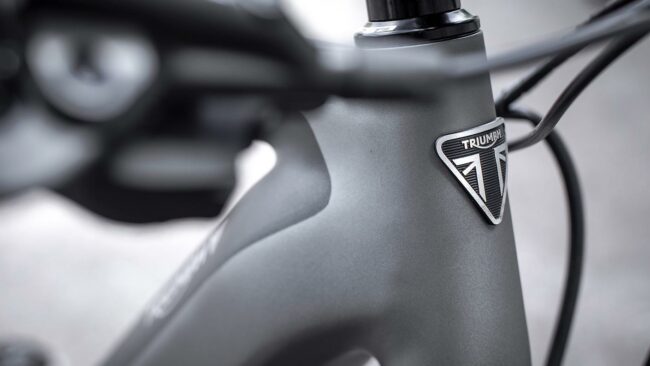 Triumph began manufacturing bicycles in 1894 and didn't produce its first motorcycle until eight years later in 1902.  In 1939 the Triumph motor company sold the bicycle division to AMC of Coventry, who went on to sell the bicycle brand to Curry's (the British high street electrical retailer), they eventually sold Triumph bicycles to Raleigh and the rest, they say, is history! 
The Trekker GT is the first bicycle to wear the modern Triumph badge. In this review, I will take a closer look at this classy-looking e-bike from the most iconic of British brands.
Summary
I've been a big fan of Triumph motorcycles having owned several over the years from a restored 1959 Tiger Cub through to a 2002 Daytona 955i. Having shifted my focus away from motorbikes to electric bikes over the last few years I always wondered if and when Triumph would enter the e-bike market. I'm pleased to say that at long last they have done just that with the release of the Trekker GT.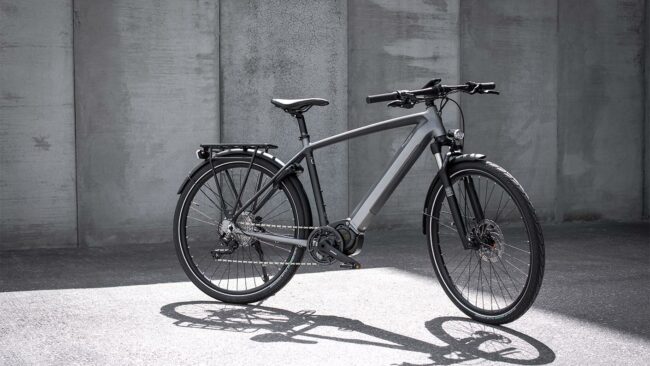 At a first glance, the Trekker GT is most definitely aimed at the hybrid market. It's certainly a very nice-looking e-bike and has quite a classic almost 'flat tracker' look to it.
The neatly integrated 504Wh battery and Shimano Steps mid-drive motor add to the clean, classic lines of the bike. The addition of mudguards, kickstand, pannier rack and lights mean the Trekker GT is going to be a practical e-bike that's going to have a broad appeal amongst commuters and leisure riders alike.
But is the beauty skin deep?
Having had a detailed look at the specification, there is nothing particularly new or ground-breaking to be found in the Trekker GT. What it does do though is use tried and tested quality components throughout, meaning it should be fairly straightforward to service and maintain. Below I have listed in more detail the components used.
Electric components
Triumph has gone with a fairly standard e-assist system for the Trekker GT – there's nothing here that's going to get the heart racing. It's all meant to be smooth, functional and above all reliable. I think it fits in perfectly with the general look and feel of the bike.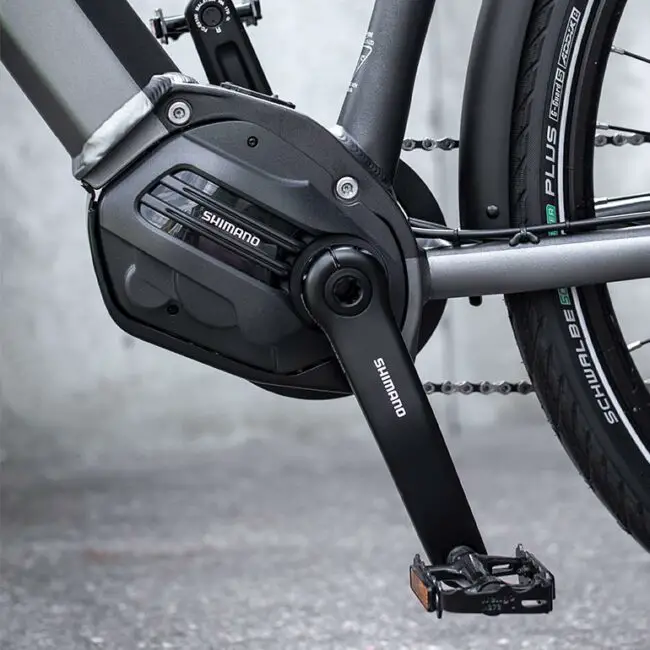 Motor
The Shimano Steps E6100 mid-drive motor produces a modest 60Nm of torque – this is 20% less torque than the likes of the Bosch CX unit and 30% less than the Brose S unit found on some electric mountain bikes. I suppose I would have liked to see Shimano's range-topping E8000 system, or maybe the Bosch CX performance line system fitted. But the Trekker is designed with the urban commuter and leisure rider in mind so the E6100 motor will produce more than adequate power for most riders' needs.
This latest generation Shimano motor does benefit from a weight saving over previous incarnations weighing in at just 2.88kg. The kind of assistance provided by the E6100 unit is very smooth and progressive and reacts perfectly to rider input, thanks to the sophisticated torque-sensing pedal assist system. Another great thing about this motor is it is a whole two decibels quieter than the E8000 unit, making it virtually silent to the rider.
Another big plus with this motor is its incredible efficiency. Over 100 miles can be achieved on a single charge if ridden sensibly.
Display
The sleek easy-to-read display is mounted centrally and has all the functions you would expect from a modern e-bike display such as speed, distance, trip time, clock, gear, estimated range, battery indication, and so much more.
There are 3 levels of assistance to choose from (plus zero) – the percentage of support indicated is how much your pedalling effort is enhanced.
High: Full-power for maximum boost (230% support)
Normal: Intuitively smooth gradual support (150% support)
Eco: Solid support for those long journeys (70% support)
Walk: Assists you when you need to walk the bike – simple to activate
Everything is controlled using a keypad which is conveniently located next to the left-hand brake lever, so you don't have to move your hand to change assist levels or navigate the menu.
Battery
The Trekker uses Shimano's latest version of their  504Wh (watt hour) battery. This is neatly integrated into the frame and can be charged on or off the bike. This is a great battery and when combined with the super efficiency of the motor can provide an assisted range of over 100 miles – this figure will vary greatly depending on the level of assist used, rider weight and other factors. I would say a real-world average of between 60-70 miles should be easily achievable.
Bike components
Again, Triumph has wisely gone for dependable Shimano components. There's no electronic shifting or internal gears with belt drive, just a good old-fashioned derailleur and chain system. Everything here is going to be reliable, cheap to replace (in the long run) and function perfectly. Upfront there are excellent quality Rockshox Paragon suspension forks. The wheels are quality Alexrims with Shimano hubs and Schwalbe e-bike tyres.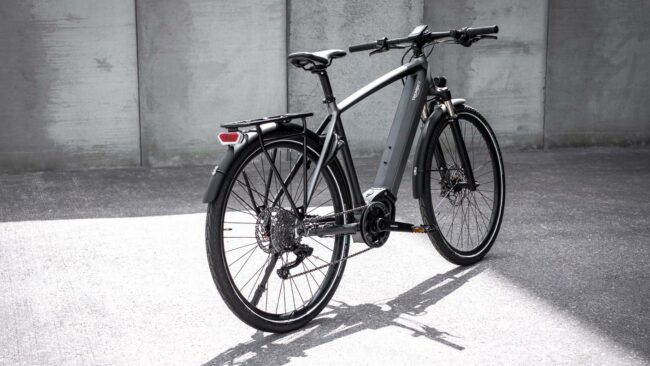 Gearing
Triumph has gone for Shimano's dependable M6000 groupset with a 38t chainring and 11-36 10-speed cassette. Although this groupset sits at the lower end of the Shimano component range it is renowned for its reliability and has plenty of trickle-down technology from the high-end XT groupset.
Gear shifting will be crisp and precise and there will be enough gear range to tackle anything from flat city streets through to hilly rural terrain.
Suspension
The RockShox Paragon front suspension fork is specially designed for hybrid bikes and has 65mm of travel and a turnkey lockout damper for riding on smooth tarmac. Rockshox is a quality brand and its suspension is widely used in the world of professional downhill mountain biking. These forks will be more than adequate for coping with potholes and even some light off-road riding.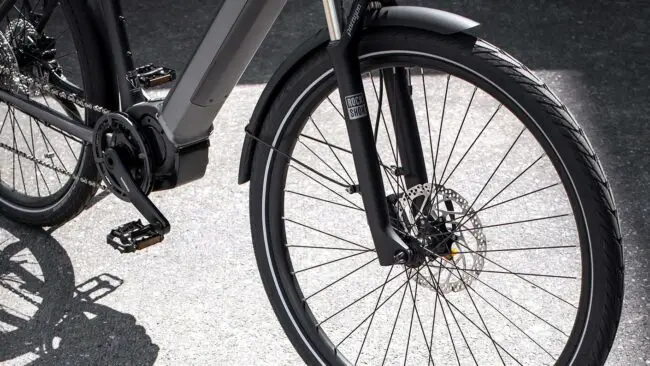 Wheels and tyres
The tough Alex FR30 36h rims are complemented with decent quality Shimano FH-RM35 hubs with centre lock disc mounts and quick-release axles.
Frame and finishing kit
As you would expect from a brand like Triumph, the quality of the frame and finishing kit are second to none. The Trekker GT is well-catered for in all departments and includes full mudguards, a pannier rack, lights and a kickstand. There is also an ABUS wheel lock and charging port.
The alloy frame is very well made, with smooth welds and a nice matt light/dark grey finish. I also like the style of the frame and there is more than a passing nod to the flat tracker.
Who is the Triumph Trekker GT aimed at?
The name Triumph carries with it certain kudos and brand loyalty. I can see a lot of Triumph motorbike owners also having one of these to help with an exercise regime.
From a practical viewpoint, the Trekker GT would make an excellent electric bike for commuting. It has everything you would expect to see on an urban e-bike.
Another big market for the Triumph will be the recreational rider. The Trekker GT has a very relaxed riding position and a long-range battery, making it viable for a spot of bikepacking and touring.
Conclusion
I think it's a wise move for Triumph to join the e-bike market, especially when you consider recent (and ongoing) events.  But is the E Trekker GT anything special?
What Triumph brings to the table is its iconic brand name and an e-bike that looks incredibly stylish and isn't ridiculously expensive.
As far as the technology and components used, there is nothing here that is groundbreaking or out of the ordinary. The Trekker GT has a fairly run-of-the-mill specification for an electric bike in this price range (£2950).
It does have a presence and air of quality about it, and this along with the Triumph name is likely to win over potential buyers. The E Trekker GT is also seen as a prelude to a possible electric motorcycle currently in development.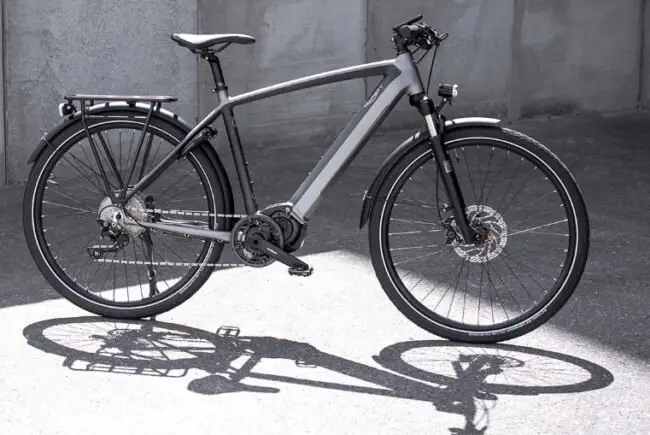 Final thoughts
I'm a bit biased when it comes to Triumph motorcycles, I've owned a few and ridden loads. I was quite excited to hear about their upcoming e-bike, and now I've had a look at it, I have mixed feelings about it.  As far as electric bikes go, it's fairly ordinary – yes, it does have a very stylish look, the quality of the finish is superb and all the components are excellent. Maybe I was expecting something a bit different, something that made a bold statement.
All said and done it has the Triumph name on it, and if you own a Speed Triple or Thruxton and are looking for an e-bike, then the chances are you'll have a good look at this. It's versatile, comfortable and does the job nicely!
Further Reading