In this article, we will introduce you to the wonderful world of e-trikes and recommend 7 of the best electric tricycles currently available in 2023; plus, we'll take a closer look at some of the good and not-so-good points of owning and riding an electric trike.
The 7 best electric tricycles in 2023
Introduction
Electric tricycles (or e-trikes) are a great option for riders who aren't confident riding on two wheels. They can open up a whole world of possibilities for mobility, whether you need to commute, shop, or enjoy a leisurely ride. With an increasing choice of options in the market, finding the right electric trike to suit your needs can be overwhelming.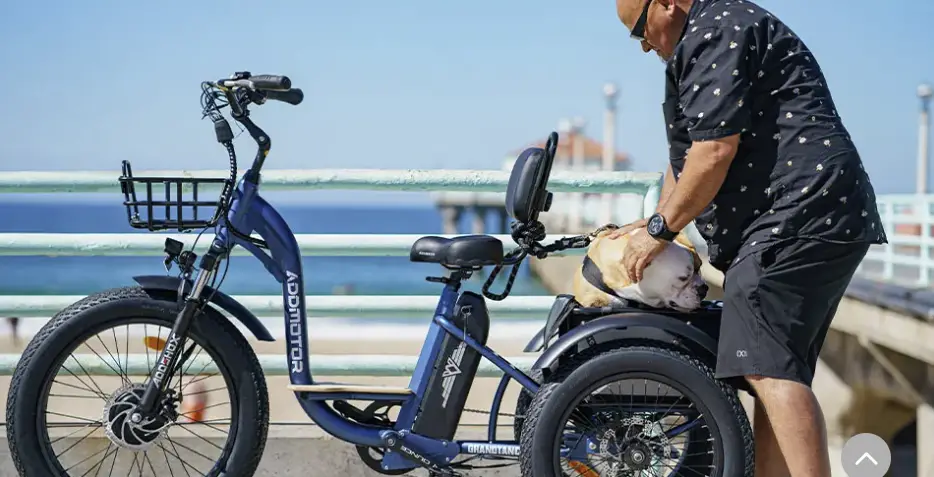 Before you purchase your first e-trike, considering factors like speed, weight capacity, battery life, and overall design is essential. These aspects will determine the trike's suitability for your intended use for leisure, exercise, or even carrying groceries. Through this buyer's guide, you'll be better equipped to make an informed decision and maximise your electric tricycle experience.
By looking at the most popular models of electric trikes that users have tried and tested, you'll gain valuable insights into their performance, features, and differences. This will help you select a trike that fits your budget and requirements.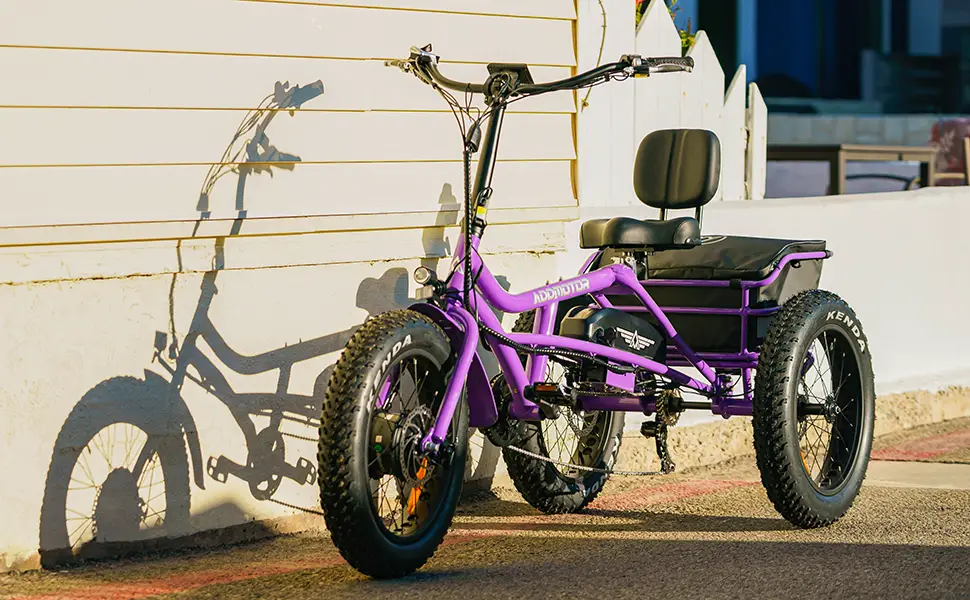 Electric Tricycle Pros and Cons
Riding an electric tricycle offers several benefits and negatives compared to a regular 2-wheel e-bike. Here are some of the key advantages:
Pros
Stability: E-trikes have a more stable design due to their three-wheel structure, providing better balance and support while riding. This makes them an excellent option for those struggling with balance or riding a 2-wheel e-bike.
Accessibility: Electric tricycles often feature step-through frames or low-entry designs, making it easier for individuals with mobility issues, seniors, or those with trouble mounting and dismounting a traditional e-bike to access and use them comfortably.
Increased carrying capacity: Trikes usually have larger storage options like baskets, rear racks, or cargo platforms, which can carry more items or heavier loads than most 2-wheel e-bikes. This makes them suitable for shopping trips, carrying equipment, or transporting children or pets.
Enhanced comfort: E-Trikes often provide a more comfortable seating position, with some models featuring padded seats or backrests, allowing for longer rides without discomfort. The more relaxed seating position reduces wrists, back, and neck strain.
Better balance at lower speeds: Trikes maintain stability even at lower speeds or when stopped, making them ideal for riders who must start and stop frequently.
Versatility: Some e-trikes are designed for off-road use or can handle various terrains, making them versatile for urban and off-road adventures.
Confidence booster: For individuals who are hesitant to ride a regular 2-wheel e-bike due to concerns about balance or stability, an electric tricycle can provide a more accessible and confidence-inspiring option.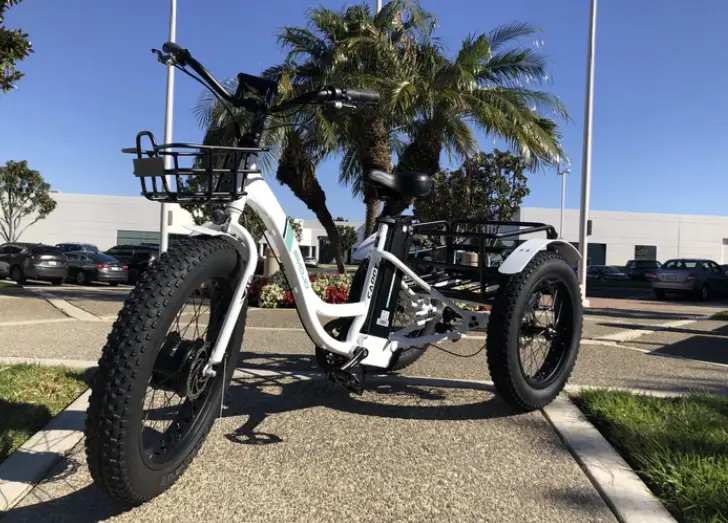 However, it's essential to consider some potential drawbacks of electric trikes compared to regular 2-wheel e-bikes, such as their larger size, heavier weight, and reduced manoeuvrability in tight spaces. Despite these factors, electric tricycles remain popular for those seeking a stable, accessible, and comfortable riding experience.
Cons
Size and weight: Electric tricycles are larger and heavier than regular bicycles or e-bikes, making them more challenging to manoeuvre, transport, or store. The additional weight may make them slower, particularly when going uphill or on rough terrain.
Manoeuvrability: Due to their wider structure, e-trikes may have reduced manoeuvrability in tight spaces, narrow streets, or crowded areas compared to traditional e-bikes.
Cost: Electric trikes are often more expensive than their non-electric counterparts or regular 2-wheel e-bikes. This higher initial investment may be a barrier for some potential buyers.
Maintenance: Electric trikes may require more maintenance than regular tricycles, as they have additional components, such as the battery and motor. Over time, the battery may need to be replaced, and maintaining the electrical components can add to the overall cost of ownership.
Limited options: While the market for e-trikes is growing, there are still fewer models, styles, and designs available compared to the vast range of regular bicycles and e-bikes. This can make it more challenging to find an electric tricycle that meets your specific needs and preferences.
Learning curve: Some riders may need time to adjust to the unique handling characteristics of a tricycle, particularly when cornering or riding at higher speeds. This may require a short period of adaptation for new riders.
Reduced range: The added weight and increased rolling resistance of electric tricycles can lead to a reduced range compared to some e-bikes, depending on factors such as battery capacity, rider weight, and terrain.
Despite these potential drawbacks, electric tricycles can still be an excellent choice for riders seeking stable, accessible, and comfortable transportation, particularly those with difficulty riding traditional bicycles or e-bikes.
And so, on to our selection of the best e-trikes for 2023. We have included models available in the US and UK in our list of recommendations. All the models featured below come from reputable brands and have received positive customer feedback.
---
Addmotor Grandtan M-340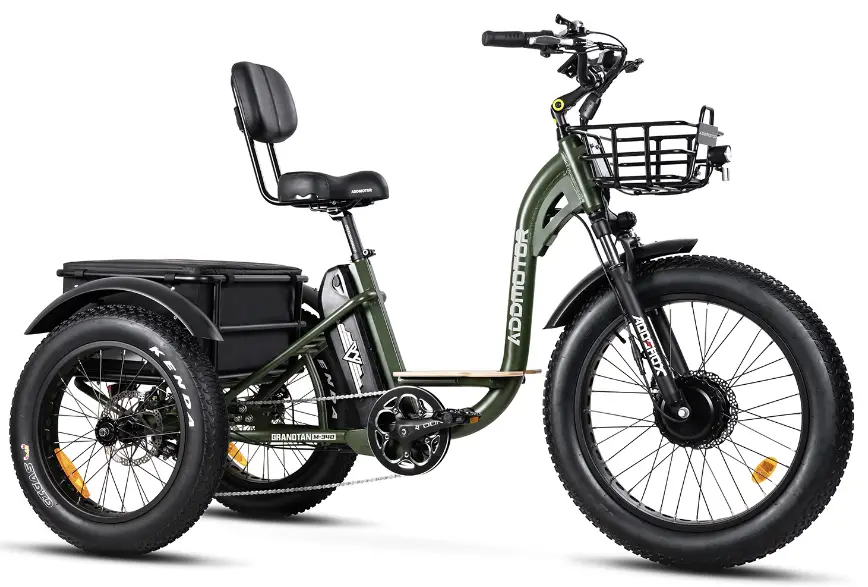 Key specifications
Motor: 750W front-geared hub motor
Top Speed: 25 mph
Range: 40 – 85 miles
Battery: 48V 20Ah (960 Wh)
Weight: 118 lb
Max Load: 350 lb
The Addmotor Grandtan M-340 Electric Trike is popular among adults, especially seniors, for its performance, comfort, and stability. It comes with a powerful 750W Bafang hub motor and a 48V 20Ah removable Samsung battery, enabling a maximum speed of 25 mph and a potential range of 40 to 85 miles. It also has a step-through frame and foot platforms for easy mounting and dismounting.
The similar Addmotor Motan Electric Trike has received positive feedback from customers. On Amazon, it currently has 49 ratings, with many users praising its performance, build quality, and ease of use for seniors (source). Overall, the Addmotor Electric Trike is considered a reliable and practical choice for many users, particularly seniors, who require a safe and stable mode of transport for their daily commute.
---
Rad Power RadTrike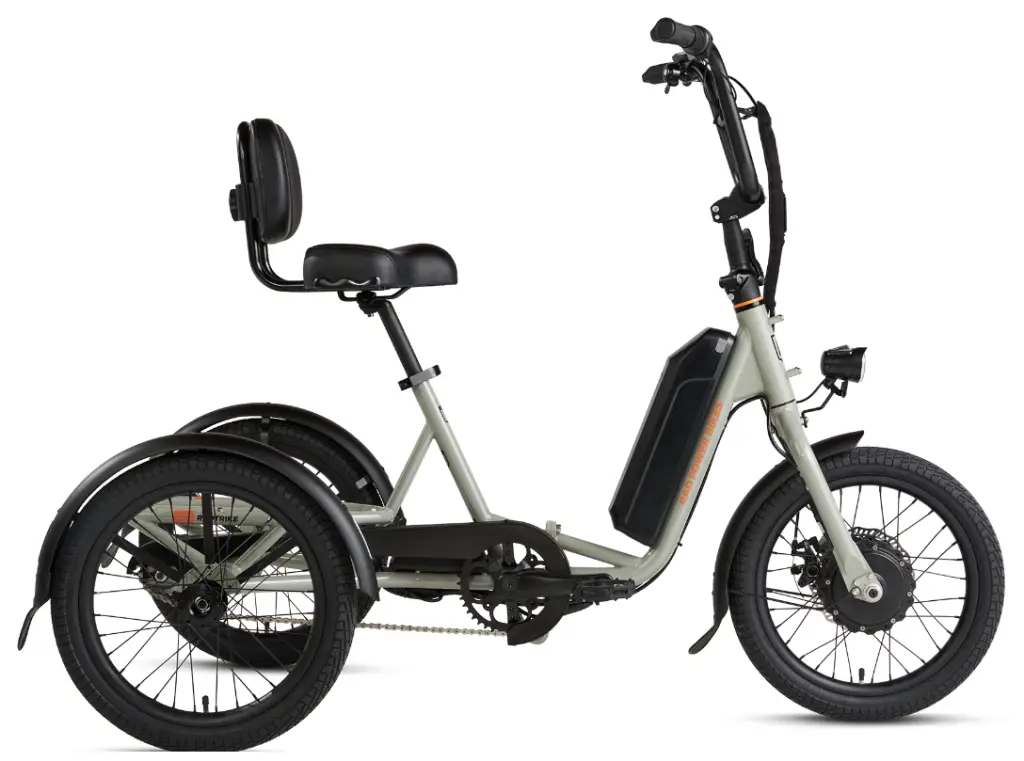 Key specifications
Motor: 750W front-geared hub motor
Top Speed: 14 mph (22.5 km/h)
Range: 20 – 55 miles (88 km)
Battery: 48V 10Ah (480 Wh)
Weight: 82 lb (37 kg)
Max Load: 415 lb (188 kg)
The RadTrike from Rad Power is an electric tricycle designed for maximum comfort and stability. The RadTrike is powered by a 750W front-geared hub motor, providing a top speed of 14 mph (22.5 km/h) and a range of up to 55 miles (88 km) on a single charge. Its 48V 10Ah (480 Wh) battery gives you enough power for daily trips. The trike is designed with a maximum load capacity of 415 lb (188 kg), allowing you to carry plenty of cargo or even a passenger on its sturdy frame.
Customers have reported a positive experience with the RadTrike, praising its comfort, stability, and overall performance. The trike has also been lauded for its ability to handle various terrains and support a generous amount of weight, making it a versatile option for riders of all abilities. However, some customers have noted the higher price point as a potential drawback, especially compared to other models in Rad Power's lineup.
---
Malisa Forte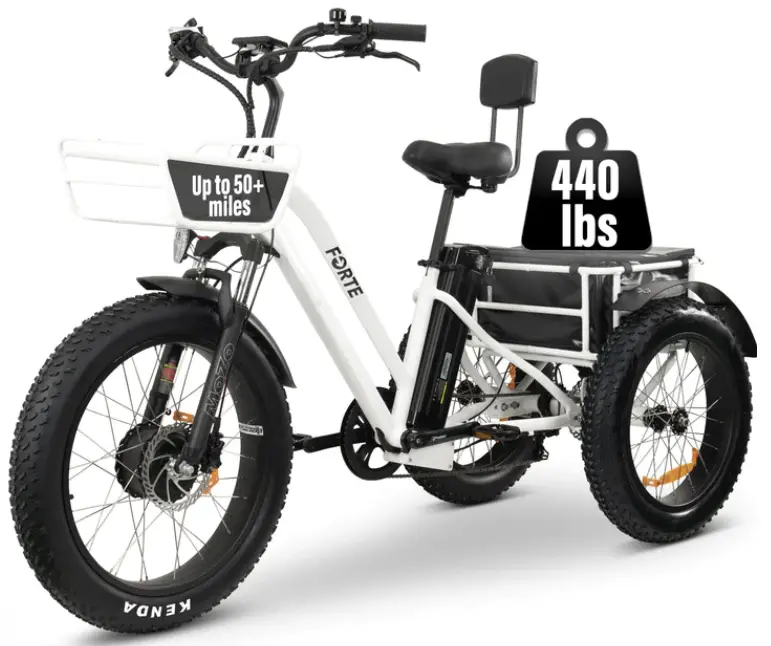 Key specifications
750W Bafang front hub motor
Top Speed: 26 mph
Range: Up to 50 miles
Battery: 48V 13Ah (624 Wh)
Weight: 90.2 lb
Max Load: 440 lb
If you're looking for an electric tricycle with excellent cargo-carrying credentials, the Malisa Forte is well worth considering. Featuring a Bafang front hub motor, 624Wh battery and hydraulic brakes.
Customers who purchased and used the Malisa Forte have generally received positive reviews. They appreciate the trike's comfort, stability, and range. Some users, however, have expressed concerns about its size and weight, making it unsuitable for certain individuals. Despite this, most customers seem satisfied with their purchase, and the tricycle maintains a good rating on Amazon.
---
Addmotor Soletri M-366X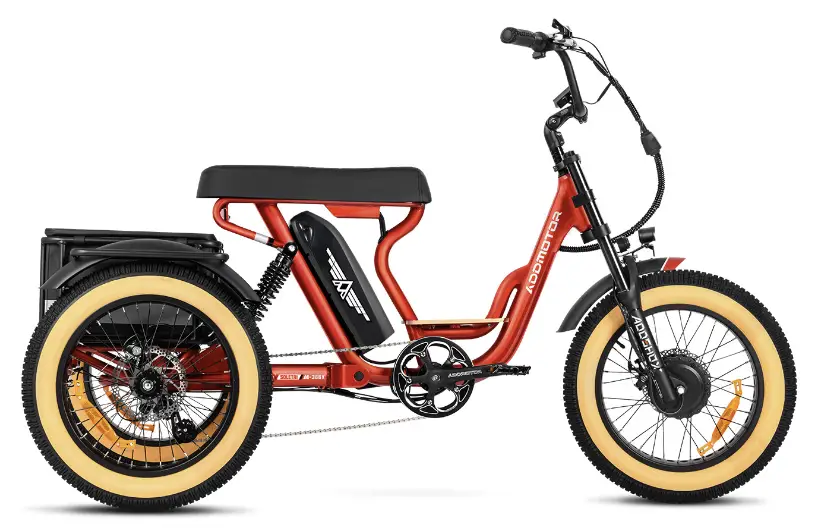 Key specifications
Motor: 750W front-geared hub motor
Top Speed: 25 mph
Range: 40 – 85 miles
Battery: 48V 20Ah (960 Wh)
Weight: 121 lb
Max Load: 450 lb
New for 2023, The Addmotor Soletri M-366X is a stylish full-suspension E-Trike designed to appeal to many riders, from teenagers to seniors. It features a powerful 750W Bafang hub motor and a 48V 20Ah removable battery, enabling a maximum speed of 25 mph and a range of between 40 to 85 miles. It also has a 'banana' saddle, step-through frame and cruiser-style handlebars for optimal rider comfort.
The Addmotor Soletri M-366X Electric Trike will appeal to riders of all ages. Great for cruising down to the beach, commuting or fetching groceries, it's a really versatile mobility solution that's fun to ride and looks great, too!
---
Emojo Caddy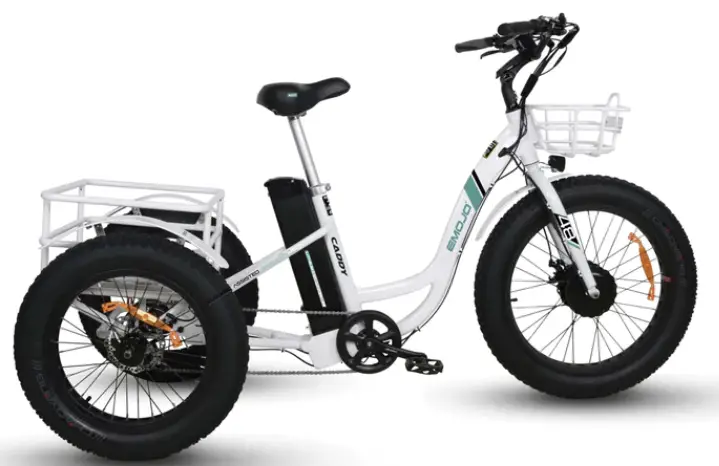 Key specifications
Motor: 500W front-geared hub motor
Top Speed: 20 mph
Range: Up to 35 miles
Battery: 48V 15.6Ah (748 Wh)
Weight: 90 lb
Max Load: 330 lb
Emojo is an electric tricycle brand that focuses on providing excellent customer service and producing high-quality e-trikes. The Emojo Caddy features a smooth 500w front hub motor and a 748Wh battery, which gives a range of up to 35 miles on a single charge. In addition, there are mechanical disc brakes and generous cargo-carrying capacity in the form of a large front and rear basket.
Customers who have purchased Emojo electric tricycles generally express satisfaction with their purchases. On Amazon, the Emojo Caddy Pro is praised for its performance, referred to as the "best electric tricycle for adults and seniors." The 500-watt direct-drive hub motor on this model is noted to be mechanically simple and reliable.
---
DWMEIGI MG1703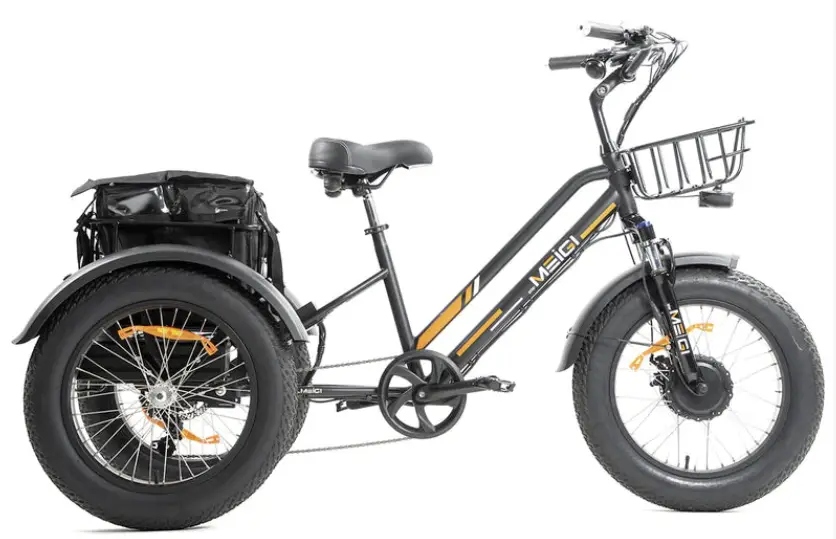 Key specifications
Motor: 750W front-geared hub motor
Top Speed: 20 mph
Range: 45 – 60 miles
Battery: 48V 18.2Ah (873 Wh)
Weight: 124 lb
Max Load: 330 lb
DWMEIGI MG1703 offers an excellent budget option for those looking for 3-wheel transport. The MG1703 features a 750w front geared hub motor, a generous 873Wh battery capacity, plus front and rear storage spaces. Coming in at around $500 cheaper than some of the other e-trikes featured here, it's excellent value for money.
Customers who have purchased DWMEIGI electric tricycles have provided mostly positive feedback. On Amazon, the DWMEIGI MG1703 has garnered over 70 ratings with a 4-star average rating. Users often mention that the tricycles are stable, comfortable, and suitable for practical daily use. However, some users have noted that initial assembly can be challenging, and securing the connections properly is essential for a satisfactory experience. Overall, customer reviews suggest DWMEIGI electric tricycles offer excellent quality and performance.
---
Jorvik JMT3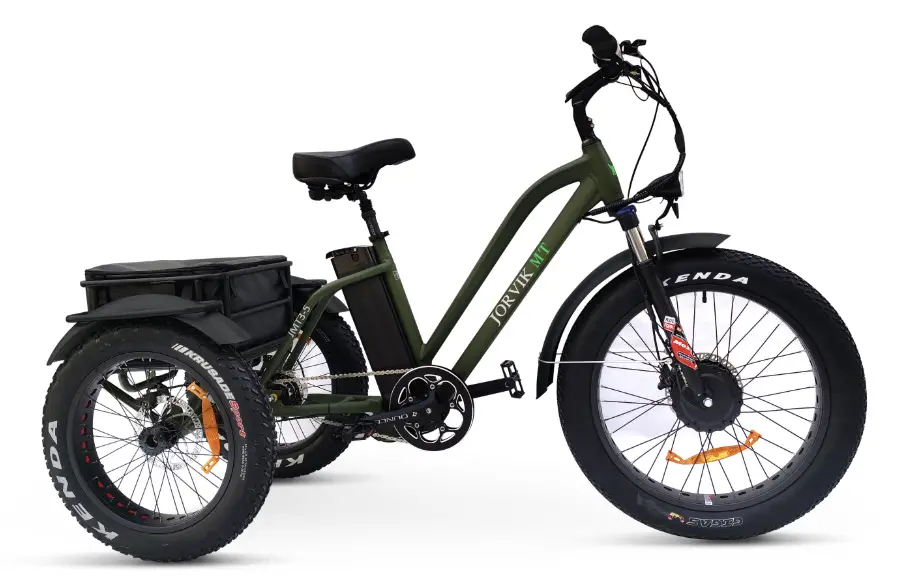 key specifications
Motor: 250W front-geared hub motor
Top Speed: 15.5 mph (25 km/h)
Range: 35 – 45 miles
Battery: 48V 17.5Ah (840 Wh)
Weight: 38 kg
Max Load: 133 kg
The Jorvik JMT3 is available in the UK and features a robust frame design with front suspension forks and hydraulic disc brakes for tackling rougher terrain. For power, a 250w geared front hub motor and 48v 17.5Ah battery use quality Panasonic cells. In addition, the Jorvik uses a Shimano Nexus 7 internally geared rear hub for reduced maintenance costs and drivetrain longevity.
Jorvik Tricycles has received an impressive 9/10 rating on Trustpilot, with numerous positive reviews from satisfied customers (source). Many customers praise the electric motor's comfort, build quality, and assistance, making Jorvik electric tricycles a popular choice for riders of all ages and abilities.
---
Conclusion
In conclusion, all the electric trikes featured above offer unique features and benefits catering to different riders' needs and preferences. While each electric tricycle has pros and cons, they all provide a comfortable, user-friendly, and eco-friendly transportation option for various terrains and purposes.
When choosing the right electric tricycle, you must consider your needs, budget, and desired features. Test rides can be beneficial in determining which model best suits your requirements. Additionally, reading customer reviews and ratings can provide valuable insight into the performance and satisfaction of other users. You can confidently find the best electric tricycle to enhance your mobility, independence, and overall riding experience by thoroughly evaluating your options.
Would you consider buying an electric trike? Feel free to share your thoughts in the comments section below.