If you're in the market for a fairly lightweight and cheap hybrid bike, then I think I've found a corker! I recently purchased the Vitus Mach 1 Seven (Tourney) for an e-bike conversion project and I'm thoroughly impressed with it for the price. In this review, I'll look at the components, and build quality and tell you how it rides.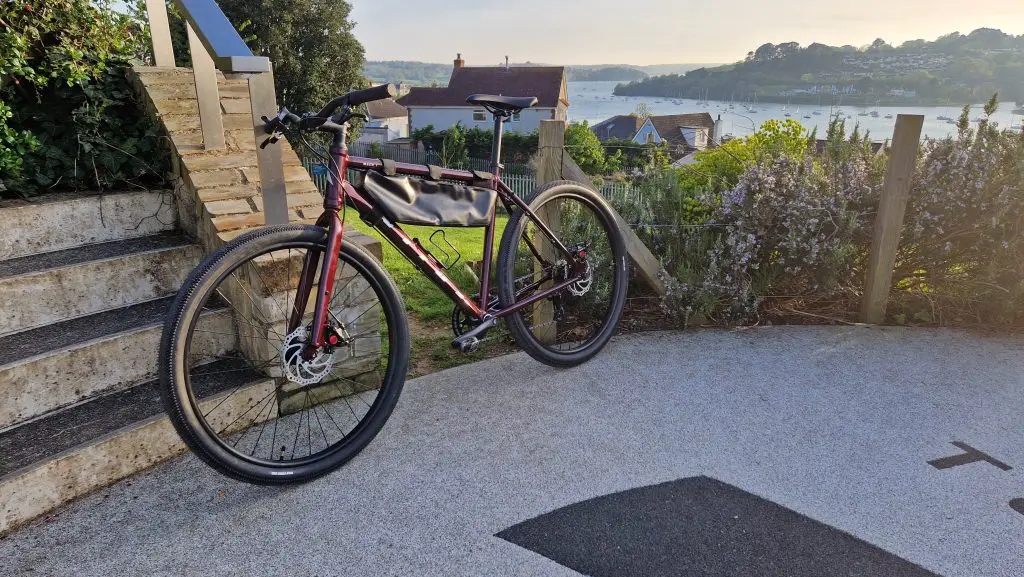 Introduction
Vitus are a popular brand sold via Wiggle and Chain Reaction Cycles. I've always been a big fan of their bikes having previously owned the excellent Vitus Mach E Urban hybrid e-bike. I was looking for a suitable donor bike for an e-bike conversion project and the Mach 1 Seven ticked all the right boxes. Currently available at the discounted price of £314, it represents excellent value for money.
Key Features
6061 Alloy frame with steel fork
27.5″ wheelset
27.5″ x 1.95″ Vee Tire Co Speedster tyres
Vitus branded finishing kit
Mechanical disc brakes
Shimano Tourney 7-speed
First Impressions
I ordered the Vitus Mach 1 from Wiggle, and delivery took 5 working days which is quite reasonable. The bike was packaged in a very sturdy box and required minimal assembly. The handlebars, seat post, pedals and front wheel were quickly fitted and after a few checks, I was on the road for a test ride.
The paint finish and general feel of the bike are excellent. It's finished in a deep metallic cherry red and looks more expensive than the price tag would suggest. The wheels, handlebars, stem, seat post and saddle are all Vitus-branded alloy items and look good quality.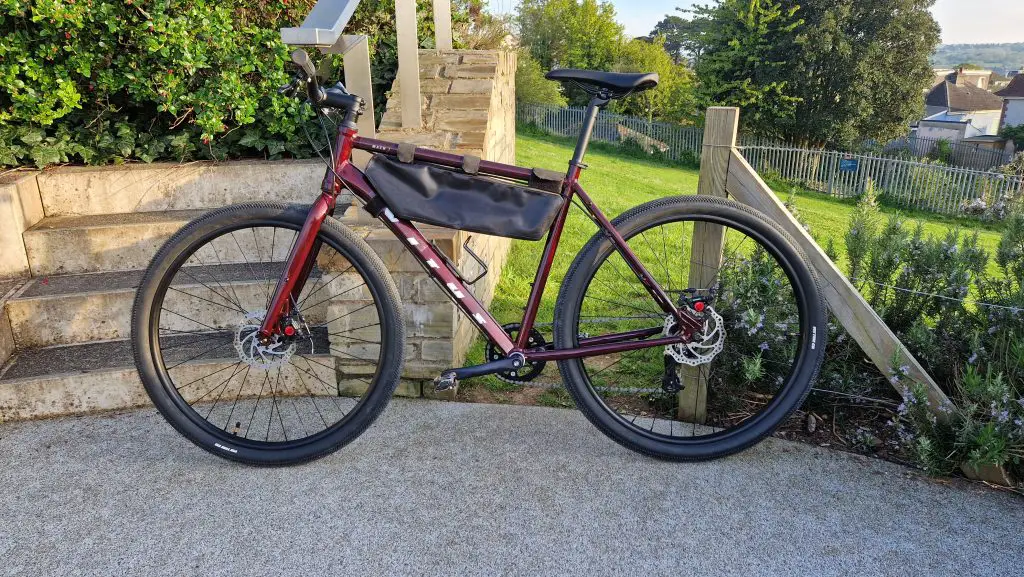 Once assembled, I quickly checked the gear changing in the bike stand and it shifted up and down the 7-speed cassette perfectly.
Out on the road, I found the Vitus to be very comfortable. I ordered the large frame which was perfect for my 6ft 1″ height. The 660mm wide, flat handlebars give a sporty riding position – great for bombing around town, but probably not so great for longer rides. I later fitted a Ritchey MTB riser handlebar I had going spare.
The Vitus Mach 1 Seven is reasonably lightweight for a budget hybrid bike. Weighing in at 12 kg with pedals fitted, I thought that was quite reasonable considering the wide tyres and budget components. Talking about the tyres, they do a great job of soaking up road buzz. I initially had them set at 45 psi rear and 40 psi front, and that seemed fine for my weight.
Performance is surprisingly spritely. Despite the limited gear range, it climbed a couple of short, steep hills without too much trouble. The handling felt great and it inspired confidence on fast bends.
My only gripe (and I knew about this beforehand) was the brakes. Some of the reviews on Wiggle criticise the braking performance. I wanted to give the Vitus the benefit of the doubt, but sure enough after a couple of fast, steep descents, they didn't inspire confidence. It's not that they don't work, they just felt very spongy and unresponsive.
I reckon if you were just pootling around town and not riding too fast, then they'd probably be fine. But I tend to ride a bit on the fast side, so I decided on a quick and easy upgrade to Zoom HB100 hydro-mechanical brake callipers.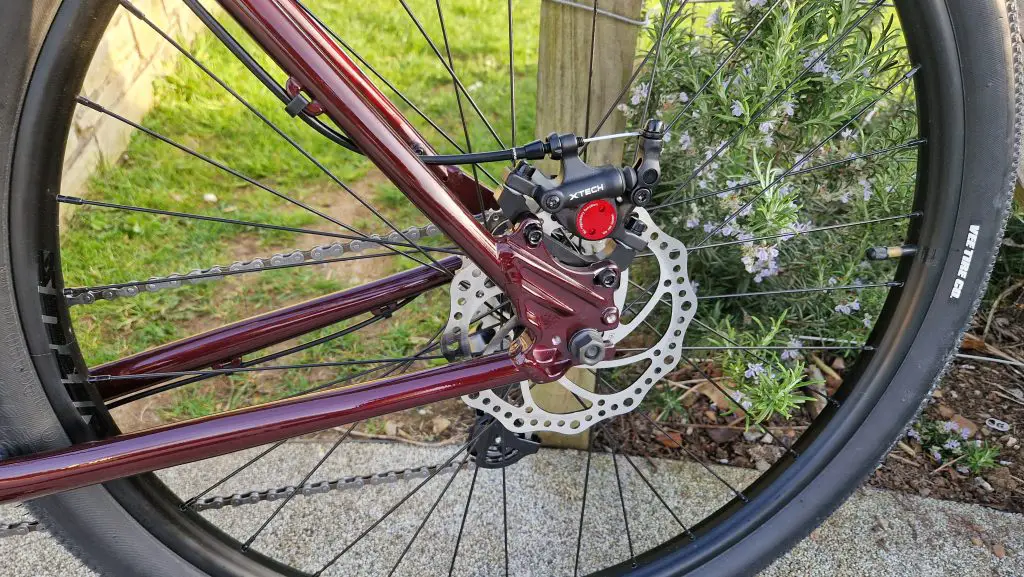 Components
The Vitus Mach 1 Seven is aimed squarely at the budget/commuter market and it hits the mark. The components are all budget items and with the exception of the brakes, everything works perfectly.
Gearing: Shimano Tourney 7-speed derailleur with a 40t single front crankset, 12-28 cassette and old-fashioned thumb shifter. I can't fault the gear-shifting performance. Sure, a trigger shifter would have been better but the thumb shifter worked perfectly. I found the gear range somewhat limited though – you quickly run out of gears at speed and steep climbs leave you needing to get out of the saddle.
Brakes: As mentioned above, the Alhonga mechanical brake callipers lack bite and don't inspire confidence. I know they weren't properly bedded in, and I'm sure the performance would have improved somewhat after a few miles. But, as I had already taken delivery of the Zoom HB100 callipers, I decided to fit them and straight away felt a big improvement.
Wheels: The wheels are 27'5″ which is a common mountain bike size, but I'm seeing this size used more on urban/hybrid bikes. They look tough and are finished in a nice satin black with Vitus decals.
Tyres: The Vee Tire Co Speedster tyres give the bike a purposeful look. They measure 1.95″ wide which is MTB territory. The tread pattern is going to be suitable for mixed terrain riding and particularly good for gravel. They also rolled really well on the tarmac and didn't feel particularly sluggish.
Saddle: Another pleasant surprise was the saddle. It's a nice design and once set up correctly it was very comfortable. It is quite a firm saddle and some riders may prefer something with a bit more padding but for me, it was near perfect.
Handlebar/controls: There's a 660mm wide MTB-style handlebar. It's flat and has a 6-degree back sweep. I liked it, but prefer a bit more of a rise and back sweep so decided to fit some Ritchey MTB bars I had going spare. The grips also have a quality feel to them and are comfortable, although some riders may want to upgrade to ergonomic grips.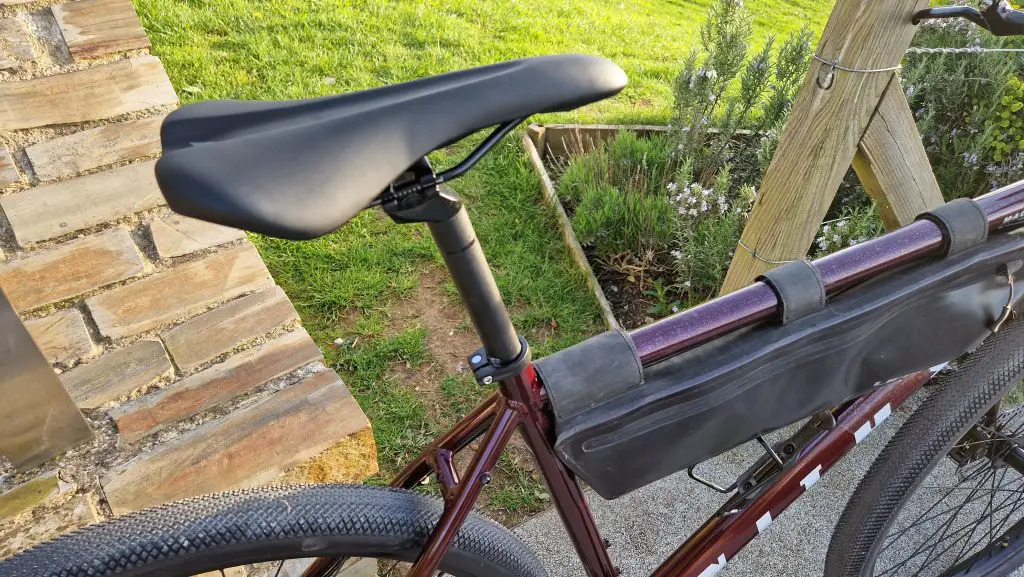 Conclusion
Based on my initial findings, I think the Vitus Mach 1 Seven (Tourney) is a cracking bike for the price. I'm looking forward to converting it to electric and will be posting an article detailing the project.
It's one of those versatile bikes that can be used for commuting on city streets or blasting around woodland trails. It could pass for a flat bar gravel bike – the geometry is certainly more mountain bike than road bike, with a slack(ish) 71-degree head angle. The 27'5″ wheels with those big tyres and wide handlebar give the feel of a 90s mountain bike.
All in all, I'm really happy with my purchase and would have no problem recommending the Vitus Mach 1 Seven. If you can live with the limited gear range and don't mind spending £35 upgrading the brakes, then it's probably one of the best budget hybrid bikes currently available.
Thanks for reading. If you have any questions about the Vitus Mach 1 Seven, please leave a message in the comments section below and I'll get back to you within 48 hrs.