The Eskute Netuno electric bike has been around for a couple of years now and has recently been reduced in price to £899 making it a very attractive proposition. Fortunately, Eskute has sent me the Netuno to review and in this article, I'll be looking at the performance, battery range and comfort to see how it fairs against the competition.
Key Features
Speeds up to 15.5mph
250w Bafang geared hub motor
36V 14.5AH / 522Wh battery with Samsung cells
A payload capacity of 125kg
In the interest of full disclosure, the Eskute Netuno reviewed in this article was generously provided to me by Eskute UK. This gesture, however, does not influence my opinions, and the ensuing evaluation remains impartial, reflecting my genuine experience and assessment of the product.
Unboxing and Assembly
The Eskute Netuno arrived promptly, having been dispatched from a UK warehouse and delivered by DX delivery. Upon arrival, it was evident that good care had been taken in packaging the bike and it reached me without any damage. The unboxing process takes roughly 10 minutes to remove the bike and carefully remove all the protective packaging.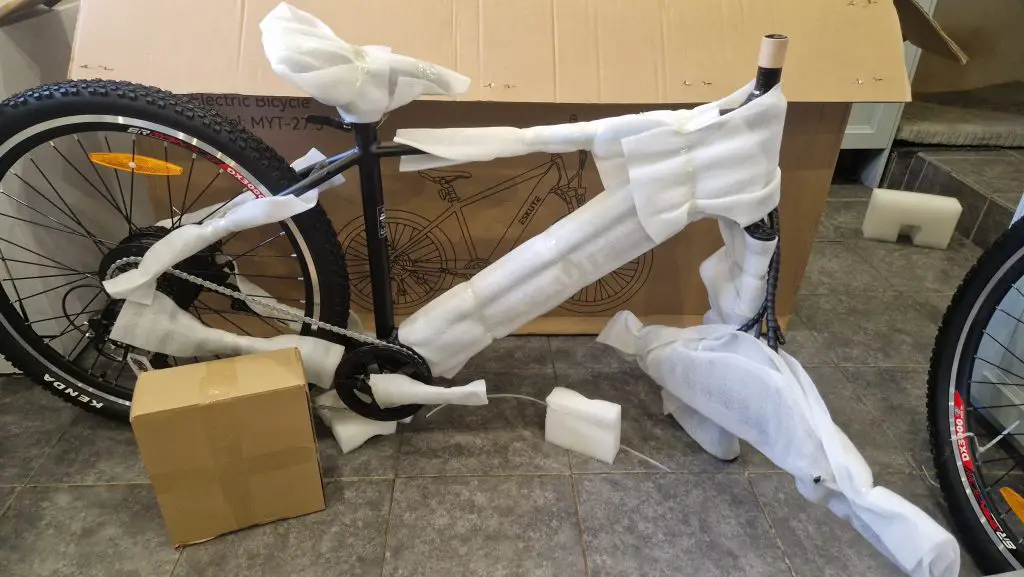 When it came to assembly, the process was relatively straightforward. The components that required fitting were the handlebar, pedals, headlight and front wheel. Additionally, it was necessary to inflate the tyres to the correct pressures (35 psi front and 40 psi rear). Eskute provided a toolkit to aid in the assembly process, along with some basic instructions. However, for those unfamiliar with bike assembly it's always wise to seek the expertise of a professional to ensure the bike is set up safely and correctly.
Electric Components
Motor: The Eskute Netuno uses the tried and tested 250w Bafang hub motor. This motor is used throughout their e-bike range and is renowned for its reliability, performance and strong torque output. In this instance, the motor felt a little underwhelming which I believe is down to the bike's pedal assist and controller settings.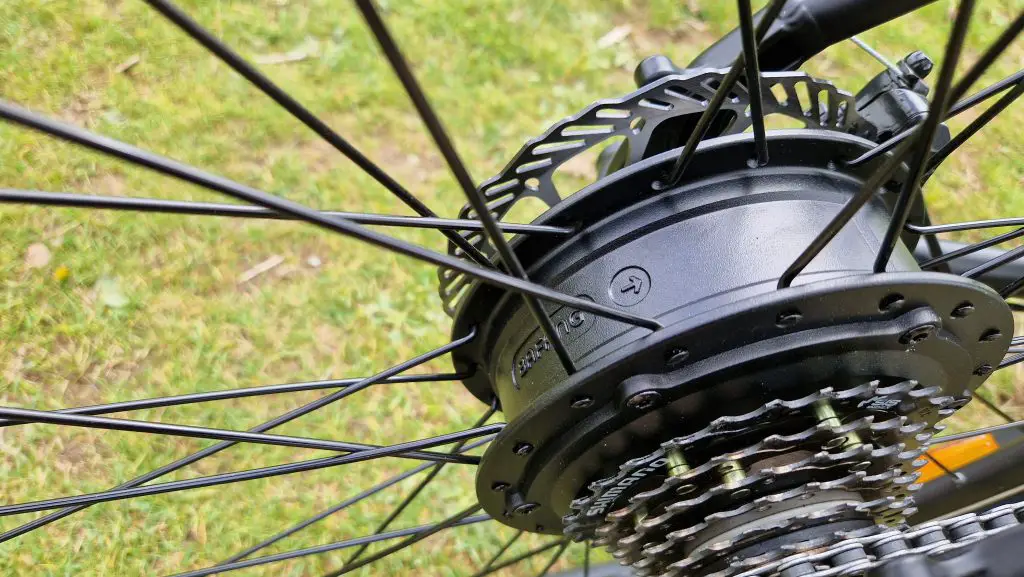 Battery: The 36V 14.5Ah (522Wh) removable battery is a good size on an e-bike of this price. In addition, it uses high-quality Samsung cells for better performance and longevity. Its performance on the 30-mile test route was impressive – even in full power mode with a 105 kg rider and 2200ft of elevation gain, there were 2 bars out of 5 remaining at the end of the ride.
Display: The Netuno's backlit display is basic but functional, offering essential metrics such as speed, pedal-assistant level and battery status at a glance. There's the added advantage of the ESKUTE app, available for both iOS and Android. It should be noted that you need the app to be able to change the display from km/h to mph. This display works well in cloudy conditions but direct sunlight makes it hard to read.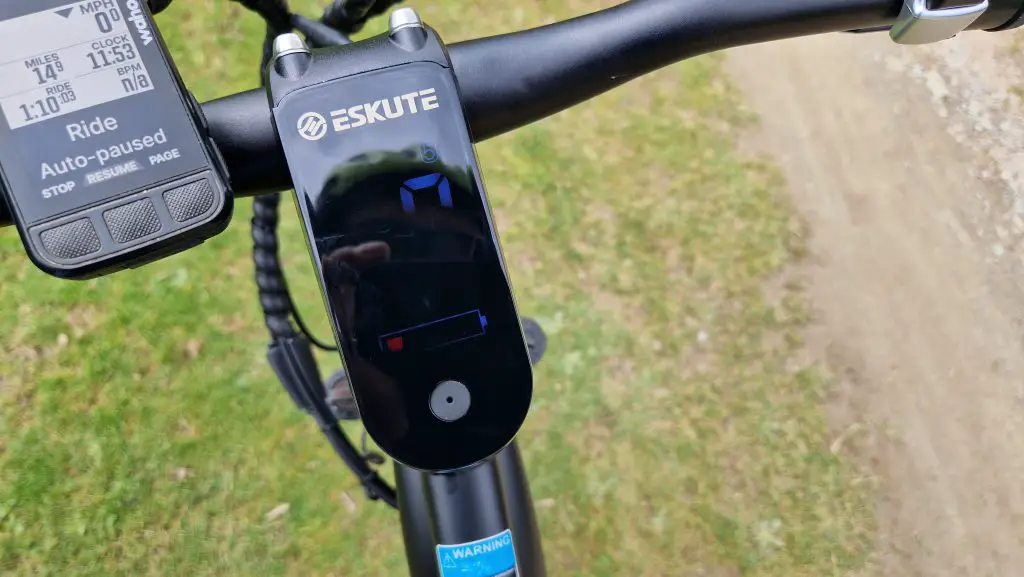 In summary, the Netuno has a good battery range but the pedal assist was unresponsive. A lot of effort was required to get it going especially if you were pointing uphill. Although the assist was incredibly smooth, it lacked that 'kick-in-the-pants' you usually get from cadence assist.
I believe this is how the controller has been configured, probably to make it safer to ride. I think it's a little too soft on the uptake. Once you are on the move it does provide a meaningful level of assistance, certainly enough for a 10-12% gradient.
Bike Components
Gearing: A Shimano Tourney 7-speed with TX50 thumb shifter and 14-28t freewheel offer reasonable versatility for different riding situations. During the test ride, gear shifting was reliable. However, the gearing is quite low and by 20 mph your pedalling rpm is very fast. Also, the metal derailleur protector cage needed to be bent back slightly to allow the bike to shift into the highest gear.
Brakes: Mechanical disc brakes provide consistent braking in various conditions, including wet weather, and are easier and cheaper to maintain compared to hydraulic brakes. However, they might not offer the same immediate stopping power as their hydraulic counterparts.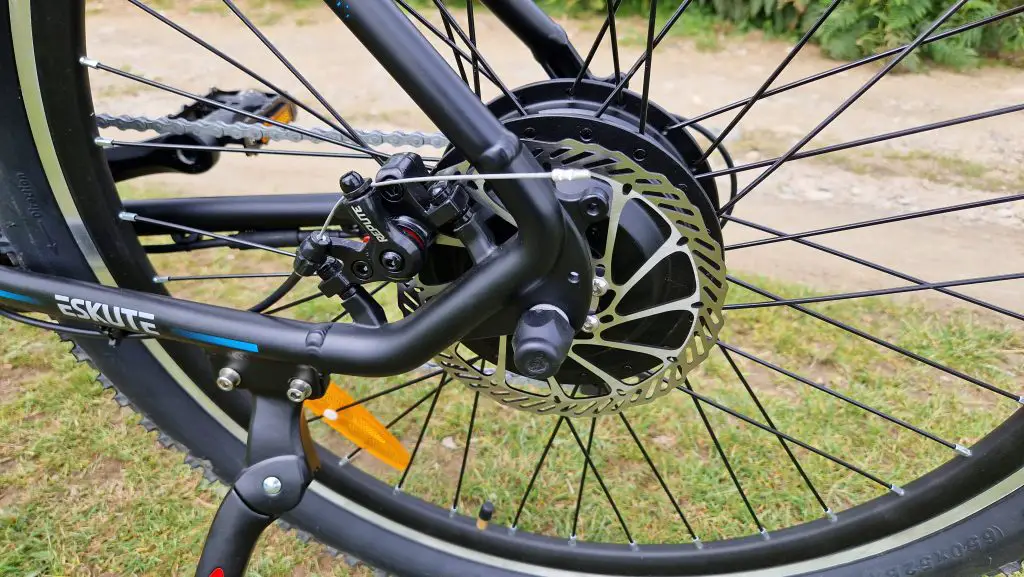 Tyres: Kenda's 27.5″ x 2.2″ MTB tyres are known for their durability and provided good grip on-road and off-road. I didn't have any punctures during the test ride and they handled the rough moorland gravel tracks admirably.
Wheels: The double-walled alloy wheels remained true throughout the ride and there were no broken spokes to report despite some big potholes and rocky terrain.
Suspension: The Zoom front suspension fork is entry-level but feels much better quality than some of the unbranded forks found on cheap electric bikes. There is preload adjustment but no lock-out feature. The forks performed well on gravel tracks.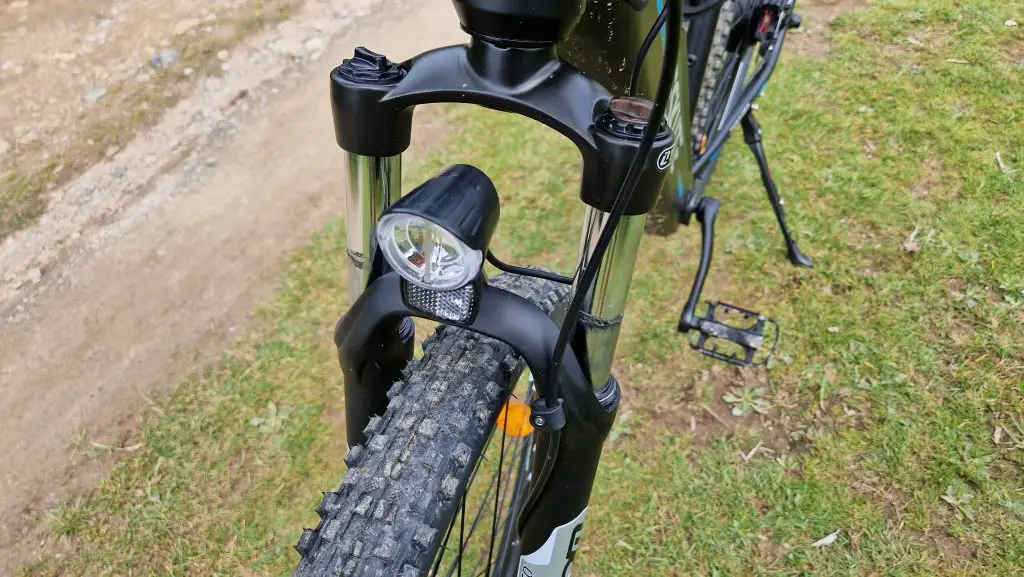 Saddle: I found the saddle to offer a nice amount of padding without being too big in size. After the 30-mile ride, I didn't have any discomfort or soreness.
Handlebar: The alloy handlebar is a nice size and shape. It's a good width and has a slight rise and back sweep making it very comfortable.
Comfort and sizing
As stated above, I found the saddle to be very comfortable. The front suspension fork did a good job of soaking up bumps. My only complaint is the rear end felt very harsh, particularly when riding off-road. There were a couple of jarring moments. This could be mitigated by fitting a suspension seatpost and If you plan on riding off-road a lot, I would highly recommend getting a Suntour SP12 or similar.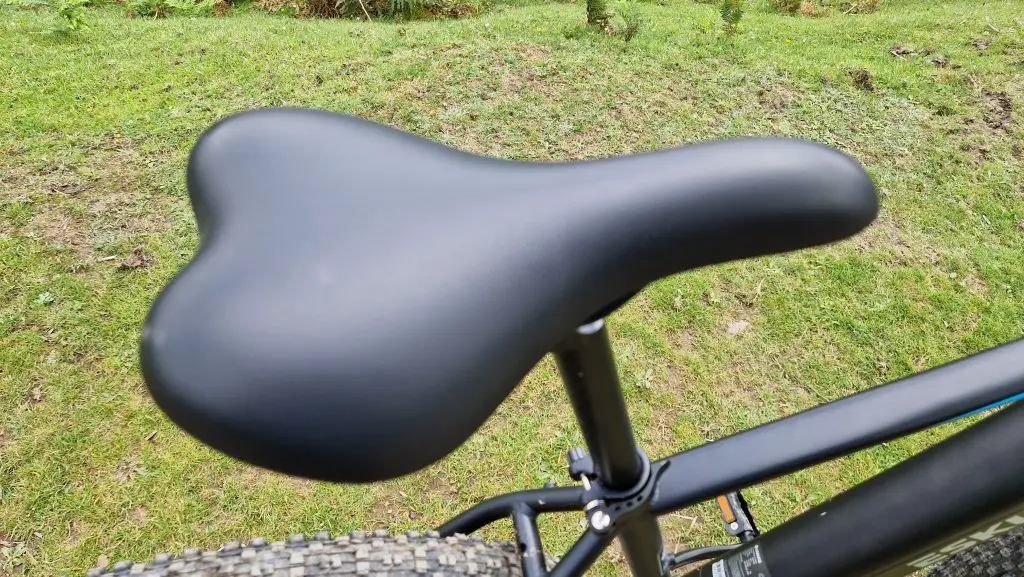 Regarding sizing, Eskute state 5'4″ (165cm) to 6'6″ (200cm). I would have to say this is optimistic as although there is a lot of adjustment in the seatpost, the reach can't be adjusted because the display is integrated into the stem. Riders at each extreme may be able to ride the Netuno but may be uncomfortable or feel overstretched.
Who is the Eskute Netuno suitable for?
The Eskute Netuno is billed as an electric mountain bike but I'd say it's more of a hybrid. You can definitely ride this off-road but should take care not to try anything too challenging. It would certainly make a great commuter e-bike and can be fitted with a rack and mudguards if required.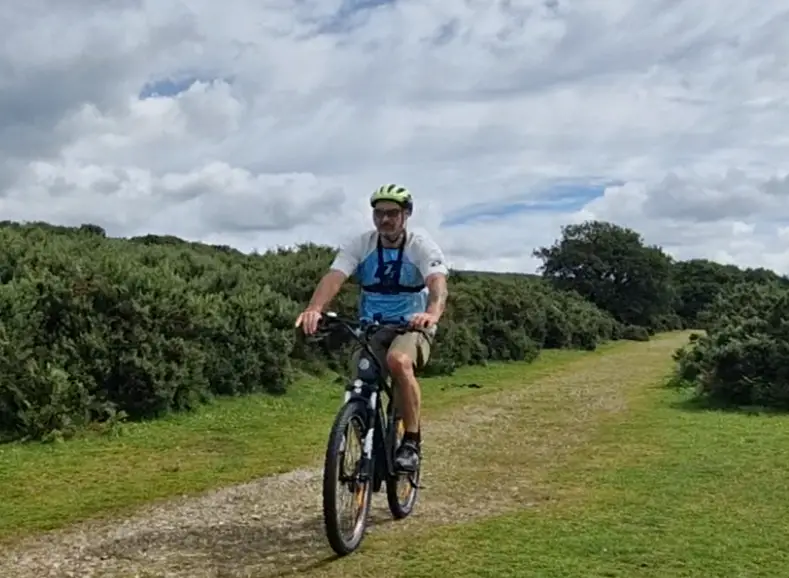 Pros and Cons
Pros:
Motor: Very smooth power delivery
Value for Money: At its current price, the Netuno offers a lot for the money.
Battery: The 522Wh battery has a decent range.
Comfort: It's a comfy bike with a nice, upright riding position.
Suspension: Good performance for a budget fork.
Cons:
Pedal assist: The motor takes a while to get going
Brakes: The mechanical disc brakes felt vague and lacked bite.
Harsh rear-end: The frame didn't absorb shocks very well when riding off-road
FAQs
Q: How long does it take to fully charge the battery?
A: It's a big-capacity battery, so I would say between 6-8 hours depending on how much it's been depleted over a ride.
Q: Is the battery removable?
A: Yes, the battery is easily removable using the supplied key.
Q: Is the Eskute Netuno legal to ride in the UK?
A: Yes, the Netuno is a fully legal UK e-bike. The assist cuts off at 15.5 mph (25 km/h) and there is no throttle.
Q: Can the Eskute Netuno be de-restricted?
A: Not easily, you would need to replace the controller and display in order to do this and then it would not be legal to use on UK or EU roads.
Q: How long is the warranty on the Eskute Netuno
A: The electric components like the motor and battery are covered for up to 2 years.
Conclusion
Despite a few niggles, I really like the Eskute Netuno electric bike. It's very comfortable and has a very good specifications for its current price of £899. The battery range looks very good and motor performance is decent enough once the bike gets going.
As for the handling, the Netuno performed very well in the sometimes damp conditions. The bike felt planted on the road but it did feel a little jittery off-road. As long as you accept it's not a proper mountain bike and more of a hybrid, you'll be fine.
Would I recommend the Eskute Netuno? Most definitely, If you're looking for a smooth, comfortable and mellow ride, then the Netuno is one of the best e-bikes for the money. If you need something more performance orientated then it's not going to be for you.
Specifications
Motor: 250W Bafang G020 hub motor
Battery: 36V 14.5AH = 522Wh
Speed: Up to 15.5mph
Gearing: Shimano Tourney 7-speed with TX50 thumb shifter and 14-28t freewheel
Brakes: Mechanical disc brakes
Suspension: Zoom front suspension fork with preload adjustment
Tyres: Kenda 27.5″ x 2.2″ MTB tyres
Seat: Comfort gel saddle
Wheels: Double-walled alloy rims
Handlebar and Seat Post: Alloy handlebar and seat post
Thanks for reading and I hope you found this Eskute Netuno review useful. If you have any questions, please leave a message in the comments section below and I'll get back to you in 24 hrs.
Useful links