Electric bikes are becoming more accessible, and the price is slowly starting to come down, but for some, the price is still prohibitive. The are so many options on the market nowadays that purchasing an e-bike can be a bit daunting. In this article, I will be discussing the pros and cons of buying an electric bike vs conversion kit.
Related articles
Electric Bike vs Conversion Kit: Pros and Cons
The great news is that you don't have to go out and spend a lot of money on a new e-bike if you already have a good bike.
Converting a bike you already own is a great idea, and can save you a lot of money, but there are some pros and cons to consider before you make your choice.
Pros.
If you already have a decent bike, you get to keep it and use it.
The relative cost of purchasing a new electric bike is considerably cheaper.
You can build an electric bike to your specification, for example, if you are planning long bike rides you can fit a more powerful long-range battery.
You can always remove the conversion kit or swap it over to a new bike.
Cons.
A certain degree of mechanical competence is required to be able to convert a bike yourself.
There is usually lots of wiring with these kits and it can give your finished bike a somewhat 'DIY' look.
Although most of the kits I have come across are generally reliable, there can be issues with batteries, controllers, pedal sensors and other ancillary components. The warranties on these kits are not always that good.
If you buy a factory-built branded e-bike, the chances are it will come with a 2-year parts and labour warranty.
You will need to consider the added expense of upgrading your brakes and tyres.
If you are a bit of a DIY enthusiast, then maybe it is worth having a go at building your own e-bike.
Buying A New E-Bike: Pros and Cons
Pros.
If you purchase a well-known brand, you can guarantee the after-sales service is going to be good.
A branded e-bike will be factory built from the ground-up
The bike will look very nice and tidy. A lot of modern e-bikes have integrated batteries and internal cable routing.
Road legal. You know that any big brand factory-built electric bike is going to be totally road legal.
They are generally very reliable.
Batteries are usually made using high-quality Lithium cells from the likes of Panasonic or Samsung.
Compared to a converted bike, they can look very discreet.
Cons.
The initial purchase price can be very expensive.
When the warranty does eventually expire any faults can be very expensive to remedy.
Not easy to upgrade – if you find yourself needing a longer-range battery, sometimes the option is not available.
If you were to have an accident and your bike wasn't insured. Replacement parts can be incredibly expensive.
Conclusion
If money is not an issue and you don't want to get your hands dirty, then I would have to recommend you buy a factory-built bike from a reputable dealer like Tredz or support your local bike shop. There are a lot of specialist e-bike shops popping up all over the place, especially in the bigger cities.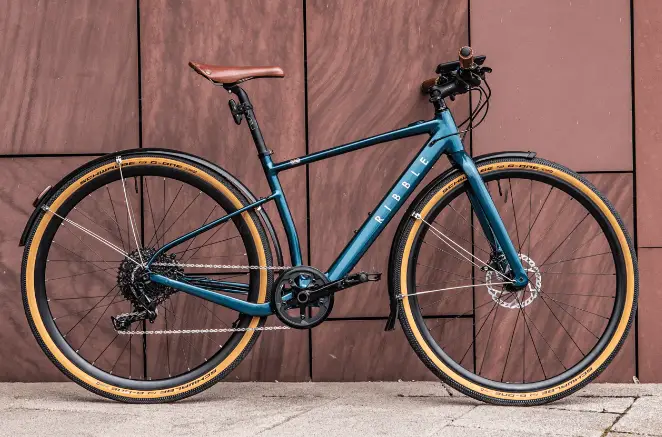 If you are a bit of a DIY enthusiast, then maybe it is worth having a go at building your own e-bike. I have converted over a hundred bikes in the last couple of years and I have had my fair share of problems. Don't expect it to be as straightforward as you're led to believe by some adverts. To convert a bike and make it look neat and tidy can take a good few hours, sometimes even a full day.
If you want to convert a bike you already have, but don't want to do the work yourself, there are a growing number of companies specialising in electric bike conversions.
If you already have a bike, the chances are you have already ridden it at some stage and the bike is a good fit. It may be a bike that you have become attached to and you don't really want to replace it.
There are an overwhelming array of conversion kits available on the market today. For the benefit of this article, we are going to concentrate on the lower-powered European spec motors – 250w and 25km/h.
There are more powerful kits available, but by using one of these you run a very real risk of falling foul of the law, especially if you have an accident and injure someone. You could lose your driving license and even face a possible prison sentence (in the worst-case scenario).
Types of e-bike kit
The two main types of conversion kits available are either an electric hub motor or a mid-drive electric motor.
Hub Motor
Hub motor kits usually come with the 'electric motor' already laced into a wheel, so you will need to check the wheel size of your bike first.
The kits are usually available in front or rear-wheel drive options. If you are going for a rear wheel, you will need to check how many gears your bike has, as some kits only support a Shimano 7-speed freewheel. If your bike has an 8/9/10 speed cassette, then you will need a wheel kit with a compatible freehub fitted.
These kits will also include the ancillary components like pedal sensor, display, wiring loom and controller. Some will come with a battery, others will require you to purchase a battery separately.
There are two main types of hub motors currently available: Geared and direct drive. Due to the lack of gears, direct-drive hub motors are the simpler of the two.
Direct Drive hub motors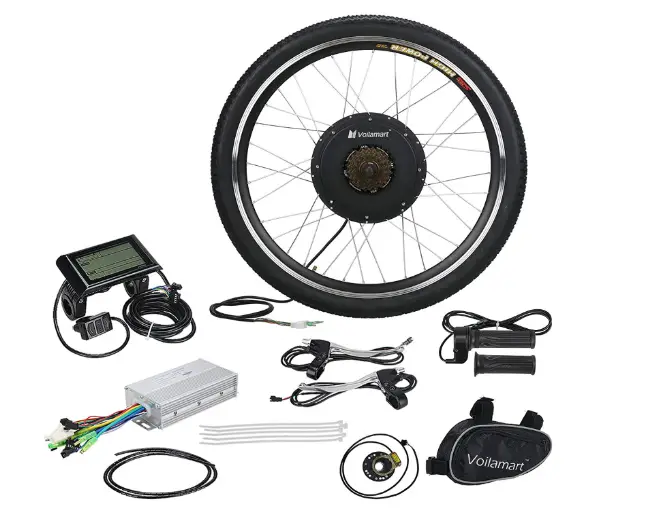 In a direct drive hub motor, the axle that passes through the centre of the motor is actually the axle of the motor itself, with the copper windings fixed to the axle. This whole axle assembly is called the "stator". The magnets are mounted to the outer shell of the hub motor, when electricity is applied to the stator a magnetic field is induced that causes the magnets to move. This in turn makes the whole shell of the motor turn and propels the bike forward.
Geared hub motors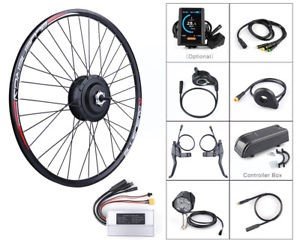 Geared hub motors, have their cases connected to the stator through a planetary gear reduction system. For every rotation of the case, the motor inside actually spins many times faster. This allows the motor to work at higher and more efficient speeds, while still allowing the wheel to spin at a comparatively slower driving speed.
Geared vs Direct Drive motors
Direct drive hub motors are only really suitable in applications where the power output is greater than 500w. These motors are usually big and heavy which can add to overall bike weight. They are not particularly efficient either, and this can result in a substantially lower battery range than their smaller geared motor counterparts. Another downside is if the battery runs out, then it can be incredibly hard to pedal due to the resistance in the motor. On the plus side, they are very reliable due to their simplicity.
If you are building an electric bike to use on your own private land, and want something powerful but fairly cheap, then a 1000w direct-drive hub motor would be ideal. You will need a 48v Lithium battery to go with the kit.
Geared hub motors are considerably smaller and lighter, they are more efficient which means increased battery range. They are ideally suited to lower-powered applications like road legal 250w motors. Due to their design, they also produce a comparatively high amount of torque. Another great feature is they incorporate a freewheeling system, so when the motor is not switched on or the battery runs out of power, you can pedal it like a normal bike with little to no extra resistance. This is particularly useful if you are training to get fitter.
Mid-Drive Motors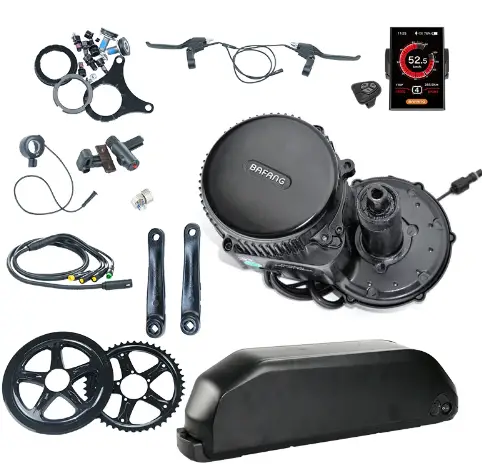 The mid-drive motor is a different beast altogether. The motor is installed in the bottom bracket and drives the rear wheel directly utilising your bike's gear ratios. This results in a highly efficient and very punchy motor. I have performed hill climbing tests, where a 250w mid-drive has outperformed a 1000w hub motor.
These motors are generally very quiet and smooth running. The two main choices on the market for plug-and-play mid-drive motors are the Bafang and Tongsheng TSDZ2 motor kits. There are significant differences in these motors, as the Bafang uses a cadence sensor to provide assistance and the Tongsheng uses a torque sensor.
A cadence sensor gives you electric assist based on your pedalling speed, whereas a torque sensor gives you electric assist proportionate to the amount of force you apply to the pedals.
The mid-drive kit requires the removal of the bike's bottom bracket. This in itself requires special tools that will need to be purchased beforehand, a long breaker bar is also recommended as bottom brackets can sometimes be very hard to remove. Read my article on how to install a Bafang BBS02.
The overall installation usually results in a much cleaner more professional-looking conversion.
There are several important compromises to consider when fitting a mid-drive kit.
You will be limited to a single chainring on the front
The kits come as standard with 170mm crank arms
There is a noticeable increase in pedalling resistance when the motor is switched off, making it harder to pedal without power.
I have personally experienced numerous reliability issues with the Bafang motor, although this has been limited to the more powerful non-road legal versions. Due to the nature of the installation, regular maintenance is usually required. On some bikes, it may be necessary to tighten the motor nut every few miles. Also, re-greasing the main gears inside the motor housing is recommended every couple of thousand miles.
As you can see from the above, you really need to be a competent DIY enthusiast to install and use one of these conversion kits. However, when they are installed correctly and running well, they make for an excellent DIY e-bike. The Tongsheng in particular is an excellent motor, and its performance is much closer to the big brand-name bikes available in shops.
I have compiled a list of the best e-bike conversion kits available at the moment. If you're on a budget, check out some of the best cheap electric bike kits currently available.
Battery selection is also very important. Depending on your build you will need either a 36v or 48v battery. Please see my list of the most popular electric bike batteries.
Conclusion
Personally, given the choice, I would go to my local bike shop and buy a factory-built electric bike. I have had the benefit of trying out many different models and I can personally say they are all very well-built and a joy to ride.
If you wanted to go down the route of fitting a conversion kit to an existing bike. I would have to recommend a small geared hub motor for reliability and ease of installation.
If you wanted a more professional-looking e-bike, with the feel of a more expensive factory bike, then it would be worth considering a mid-drive. But you do need to know what you are doing as the installation can be tricky, especially if you don't have the right tools.
PLEASE NOTE: For information on batteries, please read my article Electric bike batteries explained.