ebikechoices is supported by its audience. When you purchase through links on our site, we may earn a commission. Learn more
I was sent the Engwe Engine Pro to review back in the summer of 2022. The following article is a detailed analysis of my findings based on the initial test ride, and subsequent months of ownership. The Engwe Engine Pro is 750-watt folding fat tire e-bike, that has a good specification on paper. It's a big and heavy bike, with an imposing presence, and comes with a powerful battery, colour display and hydraulic disc brakes.
Engwe Engine Pro Specs
| | |
| --- | --- |
| Motor | 48v 750w continuous, 1000w peak power with regenerative function |
| Battery | 48v 16Ah (768Wh) Chinese cells |
| Battery Range | 30-50 miles depending on assist level used |
| Charge Time | 6-8 hours |
| Top Speed | 28 mph on the flat (up to 32 mph with pedalling) |
| Weight | 34 kg |
| Maximum Load | 150 kg |
| Gearing | Shimano Altus 8-Speed |
| Brakes | Logan Hydraulic Brakes with Cut-Off Sensors |
| Suspension | Front and rear coil sprung with hydraulic lock-out (front suspension fork) |
| Accessories | Kick stand, pannier rack, headlights, rear tail / brake light |
| Price When Reviewed | $1449 (US) €1475 (EU) |
| Availability | Engwe US Official Website Engwe EU Official Website |
Pros
Great performance on flat and moderate hills
Good sized battery
Front and rear suspension
Regen feature
Colour display with good functionality
Hydraulic disc brakes
Cons
Very heavy
Noticeable drag from motor (when coasting)
Not road legal in some countries
Motor struggles on very steep hills
---
Unboxing
Well-Packaged
Toolkit Included
Instructions Included
Very Heavy Box
Assembly requires a basic knowledge of bicycle mechanics
The Engwe was dispatched from within the UK by UPS tracked delivery. I received it within 4 days of the order being placed. The bike was very well packaged and I couldn't find any marks or scratches on the paintwork – the bike was very well protected within the box.
It should be noted the box is very heavy for one person to lift on their own – I would recommend two people to move the box as it weighs nearly 36kg.
There is some assembly work involved. Thankfully, Engwe have included all the necessary tools and a well written manual. The front wheel needs to be fitted. Plus, the steering column, pedals, front mudguard and seat post / saddle. If you're not comfortable assembling the bike yourself I would recommend finding a local bike mechanic. It is recommended to charge the battery fully before use – this takes 3-4 hours. The charger has an EU plug, but came with a UK plug adapter.
Key Features
Regenerative Braking
768Wh Battery
Color Display
Automatic Light Function
Front and Rear Suspension
Hydraulic Brakes
One thing that impressed me about this e-bike is the specification. The Engwe Engine Pro boasts full suspension, hydraulic disc brakes and a very smart full colour display with good functionality. Plus, there's the added bonus of a motor regenerative feature. This is a lot of tech on an electric bike priced under £1500 / €1500.
The Engwe uses a 750w 48v geared rear hub motor, integrated into a six-spoke mag wheel design. Maximum nominal power output is 750w, but it will peak higher off a fresh battery. The controller can handle a maximum of 18 amps which would give a maximum power output of 979 watts (when the battery is fully charged). There is also a regen feature, which puts a small amount of energy back into the battery when the bike is coasting (more on that below).
This latest version has a 48v 16Ah battery (768Wh) which is a decent capacity on a bike at this price. I've yet to test the full range, but after a ride of around 6 miles (9km) 17% of the battery was depleted (I used full power mode a lot for the test).
A full colour display is brimming with features and functionality that puts a lot of more expensive e-bike displays to shame. You can do things like customise the individual assist levels and enable features like the regen engine braking. Also, you can view real-time power output and battery voltage. The five-button keypad is very tidy and is located next to the left hand grip (next to the thumb throttle).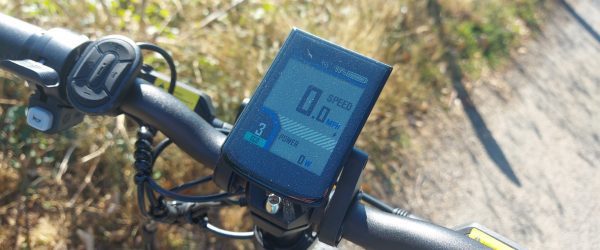 There's some beefy-looking suspension forks upfront, which seem quite sturdy, and a rear shock absorber. Even with me sitting on the bike (I weigh 102kg) the rear suspension works well, and didn't bottom out. The front forks have a lock-out feature and have some preload adjustment.
The Logan hydraulic brakes are not a brand I'm familiar with. But, they work very well, and I can't fault their performance so far. I would put them on a par with lower-end Shimano or Tektro hydraulic brakes. For changing gear there's an 8-speed trigger shifter paired with a Shimano Altus rear derailleur. This set-up made for very precise and crisp shifting right out of the box. No adjustment was needed my end, although this may vary from bike to bike.
At the rear, there is a tough-looking cargo rack – you could fit a dog carrier, or even a child's seat. Alternatively you could fit a large basket for trips to the shops.
As far as sizing is concerned, the Engwe is a big bike. But, it is designed to be ridden by riders of various heights. I'm 6'1″ (185cm) and with the handlebar height and saddle adjusted found the Engine Pro to be very comfortable indeed. My daughter who is 5'8″ (176cm) also found it comfortable – I would imagine anyone much shorter than 5'4″ might struggle as there is quite a long reach and the handlebar height is still quite high, even when lowered fully.
Motor Performance
Good Performance on the flat and moderate hills
Responsive Pedal Assist
Motor is Quite Noisy
Noticeable Drag without Assist
Struggles on Very Steep Hills
Performance is very strong from the 750w motor, and all but the steepest of hills are almost effortless, with only minimal rider input required. Being able to configure the assist is also a big bonus factor (more on that below). Having a throttle will be great for riders who have trouble with the initial start due to health problems and it's great if you just want a break from pedalling.
The Engwe uses a traditional cadence pedal sensor (measures pedalling rpm) and is very smooth in operation. It doesn't jerk on and off – the power comes in strong enough for that initial push-off, and then builds progressively. In full power mode the power just keeps on building until your pedalling cadence can't keep up at around 22 mph. You can continue ghost pedalling and the motor will keep going until about 28mph (on the flat).
A thumb throttle fitted next to the left hand grip will be very useful for riders with limited mobility. It can be used in conjunction with the pedal assist or on its own. On the flat (in full power) it took me up to 28 mph comfortably and on a slight decline went up to 32 mph. On slight inclines, speed would drop significantly and on steep hills it was necessary to pedal to keep the bike going.
Unlike a direct drive motor (which are virtually silent), this motor uses a planetary gear system to improve efficiency. This does make it rather noisy in full power mode and the motor emits an audible whine. This is quite normal for this kind of motor.
I did try the Engwe on a couple of short, very steep hills (20% gradient). Even in full power mode, the motor started to struggle when the incline approaches 15% and you end up having to add quite a bit of your own pedalling effort.  It will take you up slight inclines on throttle-only, but you'll definitely need to add pedalling on steeper hills.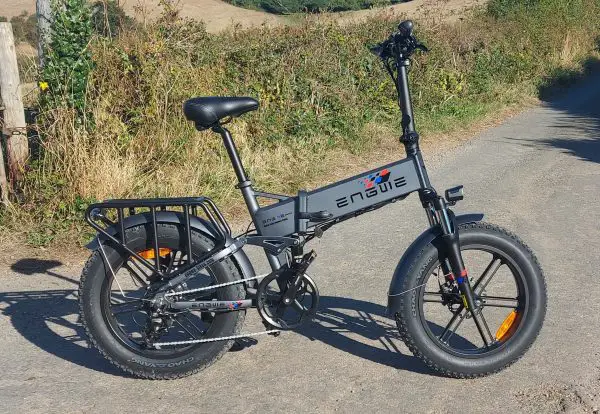 There is a regenerative feature which does appear to put some energy back into the battery when activated. Below, I've detailed how effective it is and how to activate it.
First of all you need to be in Eco mode. Then, it seems to only work in assist level 1 or 0. You will know it's working when the power bar (on the display) goes green. As you are coasting down a hill (or pedalling with no assist) the green bar will get longer, as more power goes back into the battery.
To get the maximum regeneration, you will need to be coasting at 20 mph. The motor is effectively turned into a large dynamo and you can feel the drag as you go down a steep hill. In fact, I tried this on several steep descents and the bike would not coast above 21 mph, and it feels like the brakes are on slightly.
If it's a long enough descent you should see the battery percentage increase – after a descent of about half a mile, the battery went from 54% to 71%. But, as soon as I rode up another hill, battery was back down to 54%.
Does it really work? Well, I did a hilly 20 mile ride (32 km) with 2100 ft (640 m) of elevation gain, and I still had 51% battery remaining. I'm a heavier rider and I did not go below level 3 (in Eco) for most of the ride, with maybe 2-3 miles in level 5 (Sport mode). Then, you have to take into account the weight of the bike and the extra rolling resistance of the fat tyres.
I would say that considering the route and the other factors, using 50% of the power would be about right for a 768Wh battery. Whether there was any measurable benefit from the regenerative feature is highly debatable. What I will say, is it slowed me down considerably on descents where I would be coasting at maybe 30-35 mph, I was down to 20-22 mph due to the drag of the motor.
On flatter terrain and with a lighter rider, I'd say the range would be even better. But, it would be hard work to maintain pedalling at 20 mph on the flat (without the assist) to put juice back into the battery. I will be attempting a longer route in the near future to get a full range figure, but I reckon it's going to be in the 40 mile ballpark.
Brakes and Handling
Good Braking Performance
Sluggish handling at slow speeds
High Rolling Resistance from Tyres
Fat tyre e-bikes aren't always the best choice for riding on tarmac – the higher rolling resistance and width of the tyres can make them feel somewhat sluggish. The Engwe Engine Pro didn't feel too bad in this respect, but you could feel the tyres effecting the handling on tight, low speed turns. At higher speeds this wasn't so noticeable.
The Logan hydraulic brakes impressed me – I didn't get any brake fade on steep descents and they performed well with good bite and modulation. The pads look like regular Shimano hydraulic brake pads.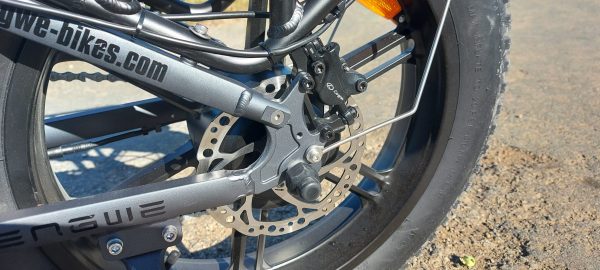 The front suspension coil spring suspension fork with lock-out and preload adjustment. These forks look 'beefier' than some forks found on similarly priced e-bikes. Combined with the large tyres they did a great job of smoothing out the rough road used for the test ride. I, was equally impressed with the rear suspension – there's 100mm of travel and despite my heavy weight, it worked really well and didn't bottom out during the test ride. Plus, it added to the comfort giving the bike an almost 'magic carpet' ride.
Folding the Engwe is easy and once you get the hang of it takes less than a couple of minutes – the weight can make it a bit tricky at first though, and I would recommend two people to lift it into the back of a car or van.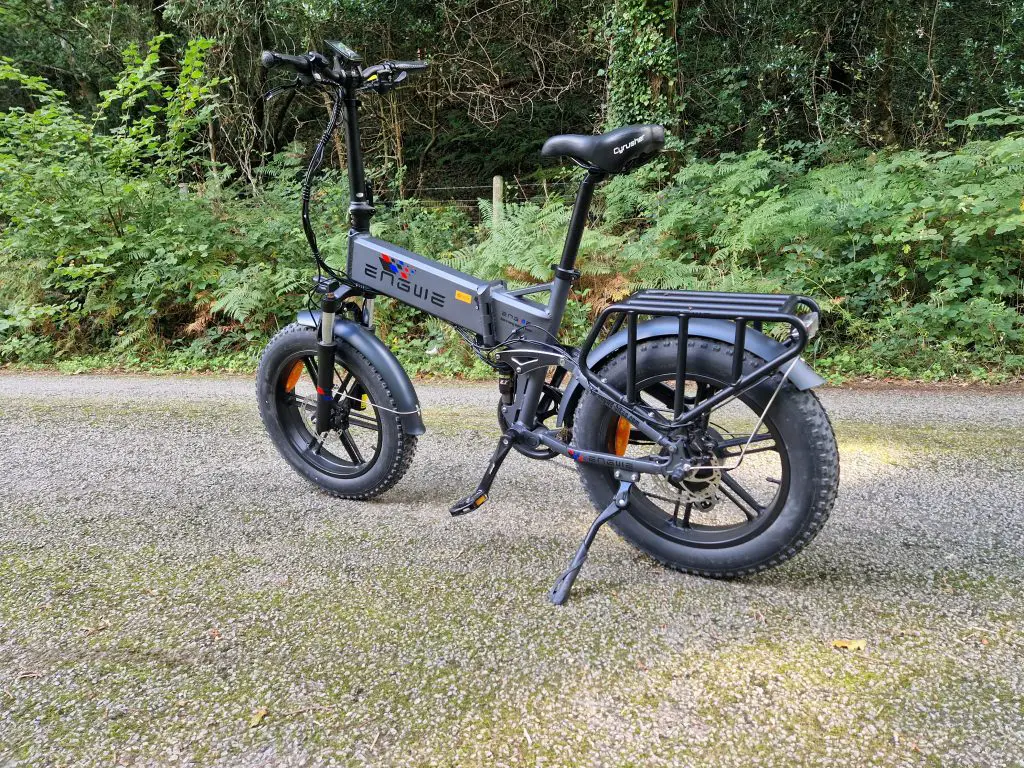 Is the Engwe Engine Pro legal?
This is where things get tricky. In the UK and EU, current e-bike law states 250w continuous power output (higher peak power of 500w is acceptable) with a maximum assisted speed of 15.5mph (25km/h) and a throttle that cannot be used about 6km/h.
Personally, I think in order to encourage more people to use e-bikes, the law needs to be revised, but electric bikes like the Engwe blur the lines between e-bike and moped, as they can be used as both. The Engwe Engine Pro can be restricted if desired, or there is the Engwe Engine X which is a road legal version.
The bottom line is a lot of people use these types e-bike on the road. I see loads about on my travels, and they're especially popular with older riders. Use responsibly, and don't attract attention to yourself,  but be aware that if you are involved in an accident you could find yourself in serious trouble.
The Verdict
The Engwe Engine Pro 750w is a lot of e-bike for the money. It has some great features, it feels rugged, and comes across as being well put together. The two main negative points are the legal aspect, and weight. It comes in at 34kg, which for a lot of people is going to be too heavy to take up stairs or even get into the back of a car. If you're looking for an e-bike that you can pedal without assist once in a while – forget it!
Performance from the motor is strong on moderate rolling terrain, but it struggles with very steep hills . I've yet to test the full battery range, but anecdotal reports suggest a real-world range of around 40 miles (64km) using mixed assist.  There's an eco, normal and sport mode – plus, a choice of up to 9 assist levels (5 out of the box). And, you have the ability to fine-tune the assist levels and turn on the regenerative system. There's also an auto light function which switches the lights on as soon as it gets darker.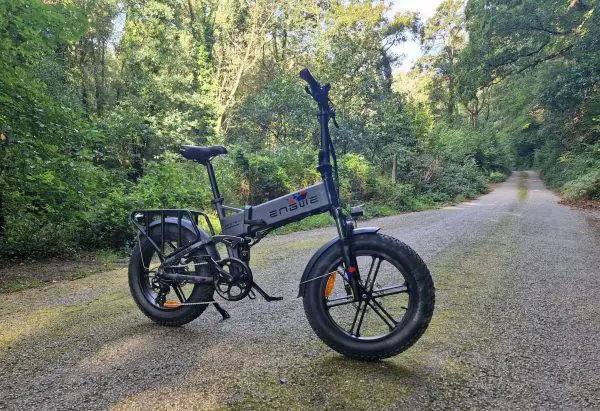 In conclusion, if you're looking for a folding electric fat bike, the Engwe Engine Pro ticks all the right boxes, and is hard to beat for the price. But, you need to ask yourself if you really need all the features? I have also reviewed the Engwe EP-2 Pro, which offers the same level off performance for around €400 less.
Buy direct from Engwe – Use code: infuencer50off for a €50 discount