In this Engwe Engine Pro 750w review, I take a detailed look at this popular folding fat tyre e-bike that boasts an impressive set of features. I'll assess the motor performance, battery range and bike components to see if it's worth considering. The information in this article is based on my initial test ride and several months of regular use.
Key Features
750-watt rear hub motor
48v 16Ah battery
Regen braking function
Hydraulic disc brakes
Front and rear suspension
Skip to product specifications
In the interest of full disclosure, the Engwe Engine Pro reviewed in this article was generously provided to me by Engwe UK. This gesture, however, does not influence my opinions, and the ensuing evaluation remains impartial, reflecting my genuine experience and assessment of the product.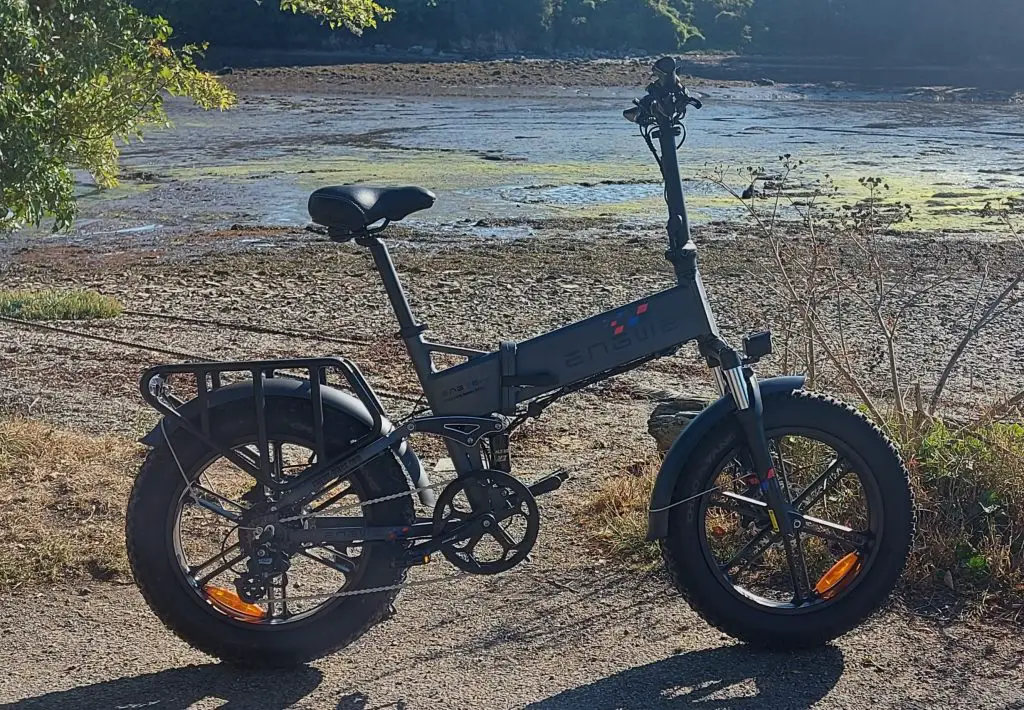 Unboxing and assembly
The Engwe Engine Pro used for this review was delivered quickly from a UK warehouse. It's worth noting that the box is heavy and ideally should be moved by two people. The bike was very well packaged and once unboxed there was no visible damage.
Assembly is a fairly straightforward process and involves fitting the front wheel and mudguard, front light, steerer, seatpost/saddle and pedals. Tools and instructions are provided although I recommend getting the bike assembled by a professional if you're not confident in doing the job yourself.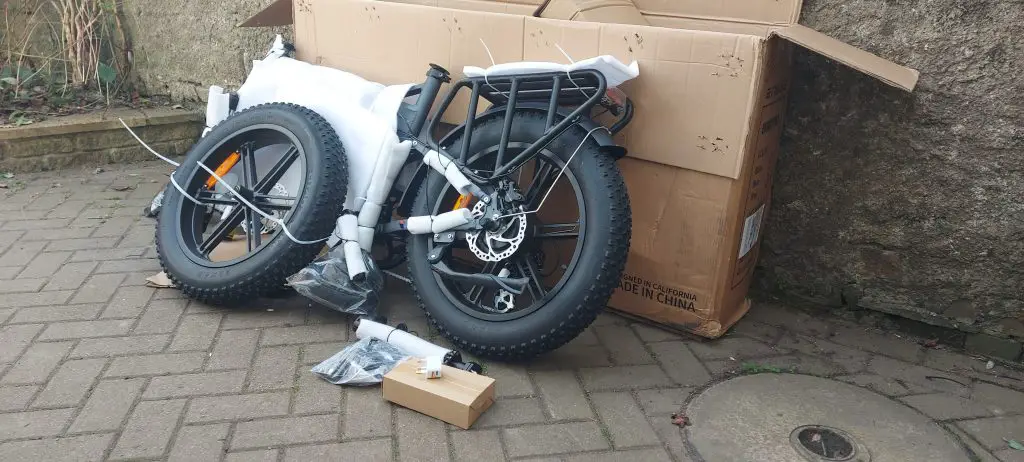 Electric components
Motor Performance: Performance is very strong from the 750-watt rear hub motor, and all but the steepest of hills are almost effortless, with only minimal rider input required. The Engwe uses a traditional cadence pedal sensor and is very smooth in operation. Once you start pedalling, the power comes on strong for that initial push-off and then builds progressively. In full power mode, the power keeps on building until your pedalling cadence can't keep up at around 20 mph. You can continue ghost pedalling, and the motor will keep going until about 28 mph (on the flat).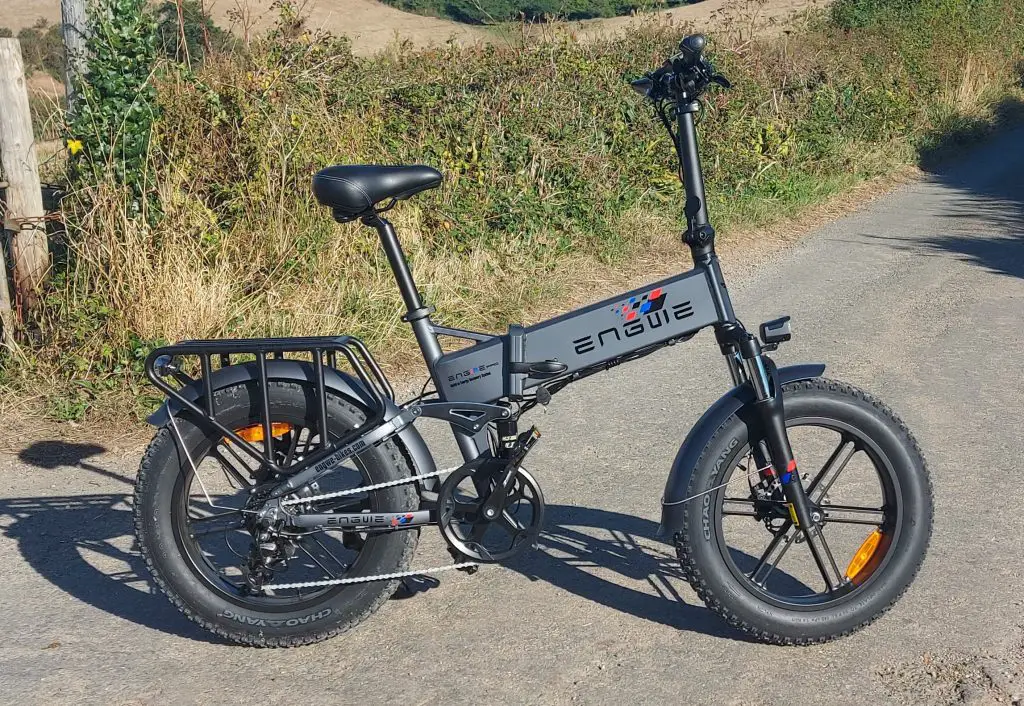 Thumb Throttle: There's a thumb throttle fitted next to the left-hand grip. This will be very useful for riders with limited mobility. It can be used in conjunction with the pedal assist or on its own. On the flat (in full power) it took me up to 28 mph comfortably and on a slight decline went up to 32 mph. On slight inclines, speed would drop significantly, and on steep hills, it was necessary to pedal to keep the bike going.
Hill Climbing Performance: How does the Engwe Engine Pro 750w perform on hills? I did try the Engwe on a couple of short, very steep climbs (20% gradient). Even in full power mode, the motor started to struggle when the incline approaches 15% and you end up having to add quite a bit of your pedalling effort.  It will take you up slight inclines on throttle only, but you'll need to pedal on steeper hills.
Display: The full-colour display is brimming with functionality, and it puts a lot of more expensive e-bike displays to shame. You can do things like customize the individual assist levels, and enable features like cruise control, regenerative braking and automatic lighting. Also, you can view real-time power output and battery voltage. The five-button keypad is very tidy and is located next to the left-hand grip. There's even a horn which emits a clear, audible 'beep'.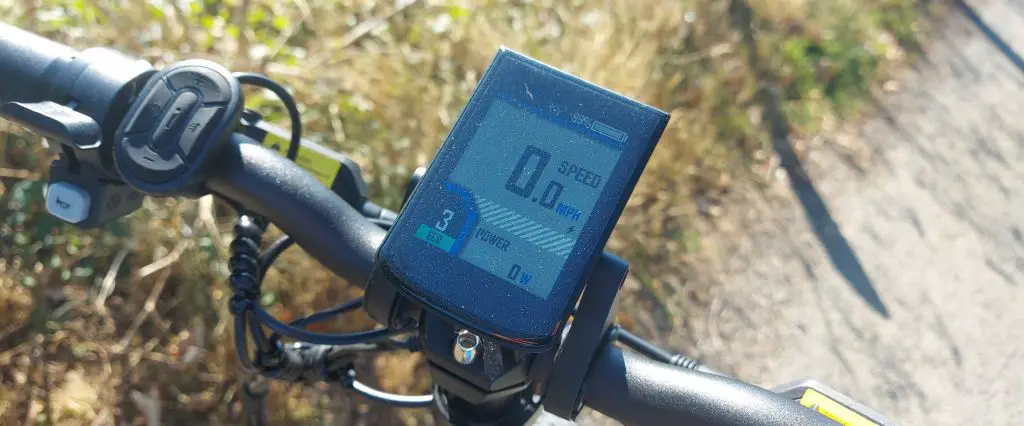 Battery: The Engwe Engine Pro uses a 48v 16Ah (768Wh) removable battery. It's located inside the frame and can be accessed by unfolding the bike, unlocking the battery (with the provided key) and removing using the handle.
Battery Range: For the range test, I chose a challenging 20-mile (32 km) route, with 2100 ft elevation gain. The rider's weight was 106 kg, and assist level 3 was used for most of the ride, full power was used for around 3 miles. After the ride, there was 51% battery remaining. Taking into account the weight of the rider, bike, and the extra rolling resistance of the fat tires. I would say that's about right for a 768Wh battery. This would suggest a real-world range of anywhere between 30 – 40 miles. On flatter terrain and with a lighter rider, I'd say the range should be better.
Update: I have since performed a full range test on a hilly 40-mile route, using level 3 – I made it back home, but the battery was almost depleted, and the motor performance had diminished considerably for the last few miles.
Regen Braking: The Engwe Engine Pro has regenerative braking – this technology allows the bike's motor to act as a generator, converting the bike's kinetic energy into electrical energy during braking. When a rider applies the brakes on an electric bike with regenerative braking, the motor runs in reverse and generates electricity, which is then fed back into the battery.
How it Works: To activate this feature on the Engwe, you need to be in Eco mode and assist level 0 or 1. You will know it's activated when the power bar (on the display) goes green. Plus, you will feel the drag of the motor (as if the brakes are on slightly). As you coast downhill (or pedal with no assist) the green bar will get longer, as more power goes back into the battery. To get the best out of this function, you need to be coasting at around 20 mph.
It should be noted that when regen is activated, the motor will slow the bike down when going downhill – even on steep descents, the bike wouldn't go above 20 mph, but this is when the green charging bar was at maximum.
Does it work? On the initial test ride, I tried this on a descent of about half a mile. The battery went from 54% to 71%. But, as soon as I rode up another hill, the battery was back down to 54%. I have since ridden longer routes, and it does seem to put a little bit of juice back into the battery. But, this does come at the expense of slowing you down considerably on the descents.
Bike components
Gearing: There's a Shimano Altus 8-speed drivetrain, which features a wide-range rear cassette, and a Shimano trigger shifter. Apart from some minor initial adjustments, the gears shifted perfectly throughout the ride. Regarding the gear range, the lowest gear was suitable for climbing steeper hills, but when it came to higher-speed riding, the top gear was much too low – at just over 20 mph my legs were spinning very fast.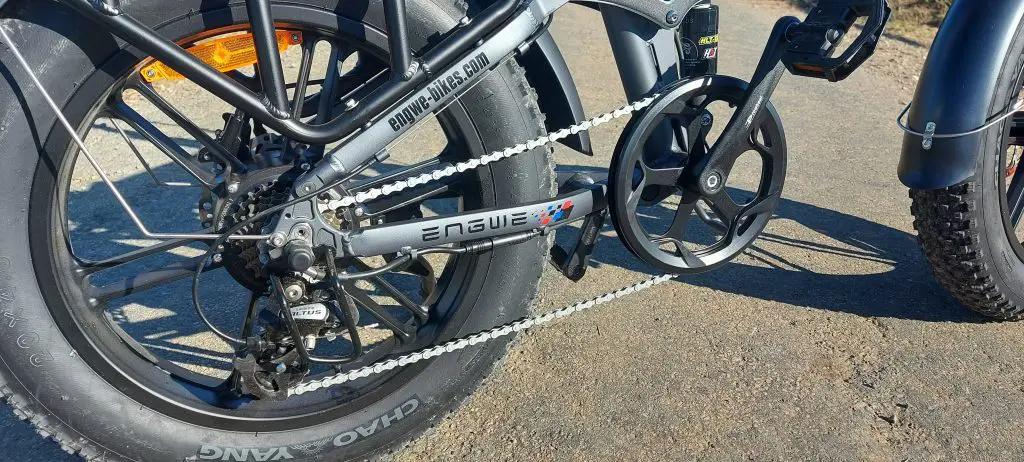 Brakes: The Engwe Engine Pro uses hydraulic brakes by a brand called 'Logan'. I've never heard of this brand before, but the braking performance impressed me – I didn't get any brake fade on steep descents, and they performed well with good bite and modulation. The pads look like regular Shimano hydraulic brake pads.
Suspension: There is front and rear suspension on this model. The front suspension is a coil-spring suspension fork, with lock-out and pre-load adjustment. These forks look 'beefier' than some forks found on similarly priced e-bikes. Combined with the large tires they did a great job of smoothing out the rough road used for the test ride. I was equally impressed with the rear suspension – there's 100mm of travel and despite my heavy weight, it worked well and didn't bottom out during the test ride. Plus, it added to the comfort giving the bike an almost 'magic carpet' ride.
Accessories: The Engwe has all the usual accessories you'd expect to see on a folding electric bike. There are some nice, metal mudguards, and a very sturdy pannier rack. In addition, it has front and rear lights with auto on/off function (light sensor) and integrated brake light, finally, there's a direct-mount kickstand.
Handling and comfort
I found the riding position comfortable, my only niggle was the minimum height of the adjustable handlebar about the rider. I found this a little too high, although it does give you a 'sit up and beg' riding position, which will be great for people with lower back problems. The lock-on grips are very nice, with an ergonomic design and palm support, but they are let down by the protruding hex bolts. Finally, the saddle has plenty of padding, and a pressure-relief channel – It was quite comfy, but I did feel like I was sitting on a cushion.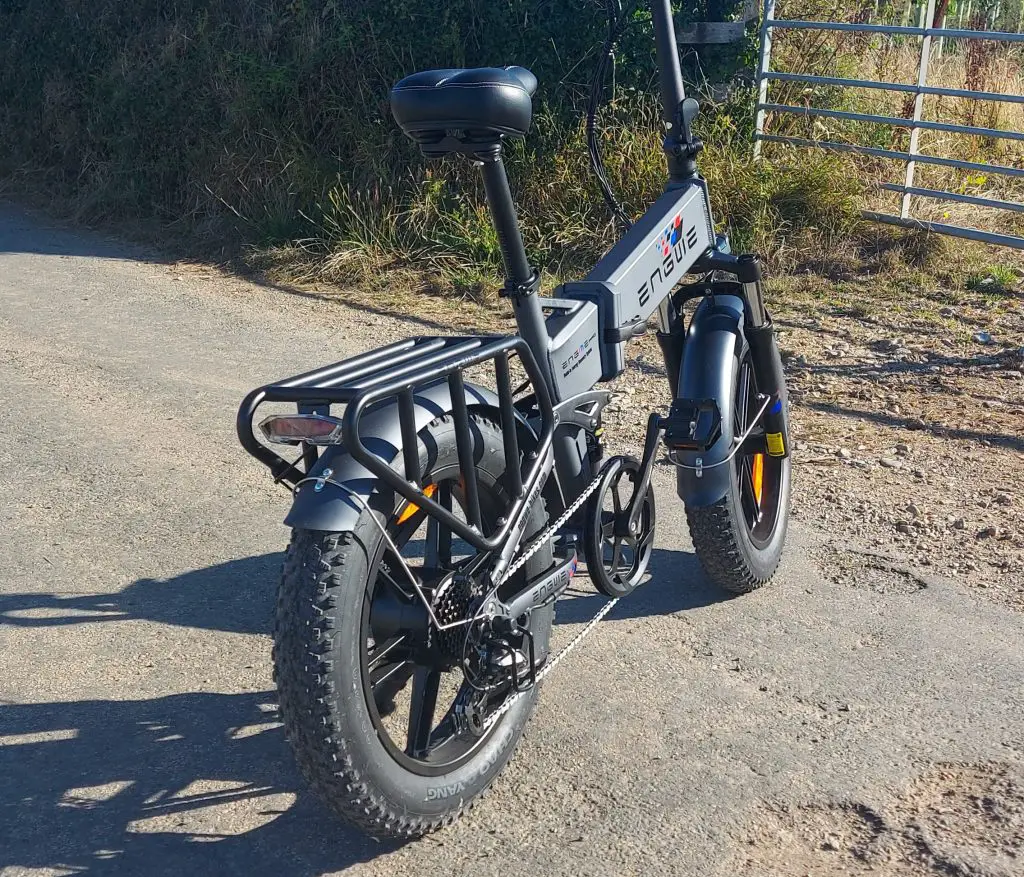 Handling was okay once up to speed. The handlebars are quite narrow, which combined with the small wheel diameter does take a bit of getting used to. Initially, the handling felt a little nervous, but once I'd ridden a few miles, it was okay. The bike certainly feels planted at higher speeds, but felt a little sluggish at low speeds.
I think it's too heavy for a folding e-bike, but it can be useful if you have limited storage space. Folding is a 4-step process and takes less than a minute (with a bit of practice). Release the handlebar catch and fold pedals, and release the main catch and fold in half. Finally, release and lower the seat-post.
Pros and cons
Pros
Powerful motor
Decent battery range
Good brakes
Comfortable
Colour display
Cons
Very heavy – not easy to carry
Noisy motor
Not road legal in UK and EU
FAQs
Is the Engwe Engine Pro waterproof?
It is showerproof but should not be ridden in very heavy sustained rain or ridden through deep puddles/standing water.
How quickly can the Enwge be folded up?
Once you get the hang of it, the Engwe Engine Pro can be folded in under 60 seconds. Its weight does make it more awkward to fold than lighter e-bikes.
Is the Engwe Engine Pro road legal in the UK?
The short answer is no. It's great for use on private land but if you're using it on the road you need to ride it sensibly, keep your speed down and don't draw attention to yourself. Engwe do another model called the Engine X which has a similar spec but with a restricted 250w motor.
How long is the warranty on the Engwe Engine Pro?
The Electric components, frame and suspension are guaranteed for 12 months. Other components like derailleur, hub and crankset are 6 months and consumables like tyres are 1 month.
How long does delivery take?
I received my Enwge within 3 days of the order being placed although this may vary depending on availability and location.
Price and availability
The Engwe Engine Pro costs around $1449 in the US, €1429 in Europe, and £1299 in the UK. It's also available in three colours: Black, blue and grey. The Engwe represents excellent value for money for such a feature-packed e-bike. It's widely available in the US, UK and EU countries.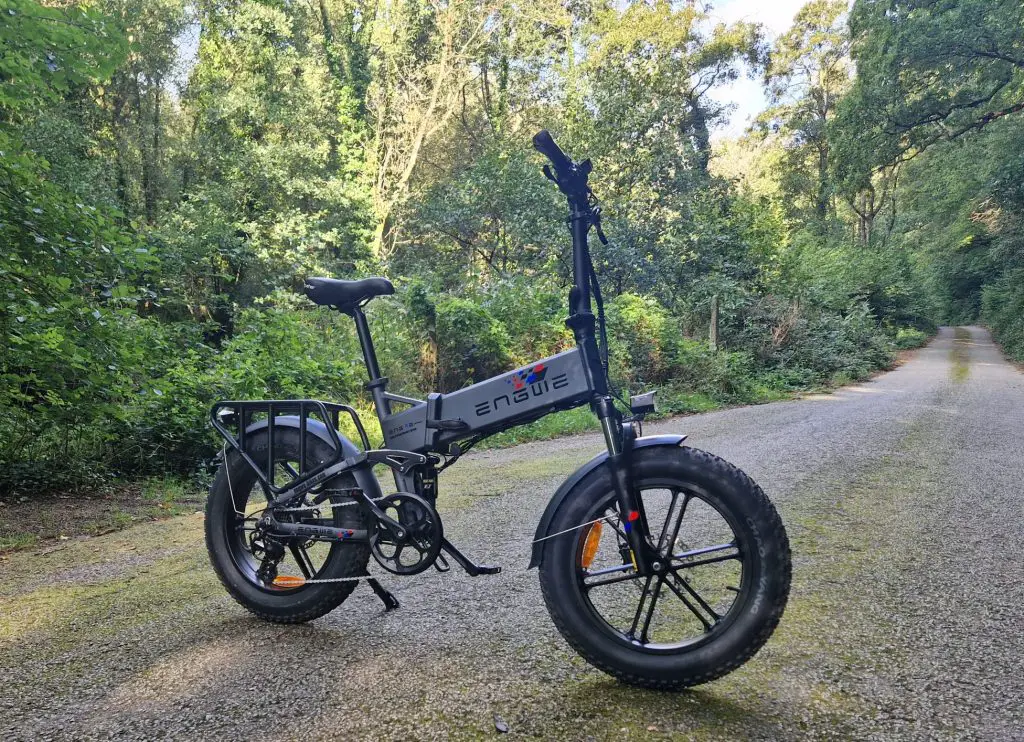 Conclusion
The Engwe Engine Pro 750w is one of the best fat tyre e-bikes available for the price. It has some great features, it feels rugged and comes across as being well put together. Performance from the motor is strong on moderate, rolling terrain, but it struggles with very steep hills. The battery range is respectable enough at around 40 miles when used in level 3 on hilly terrain. 
There are lots of pros and cons of owning an electric fat bike, the main negative point is the weight. It comes in at 74 lbs / 34 kg, which, for a lot of people is going to be too heavy to take upstairs or even get into the back of a car. If you're looking for an e-bike that you can pedal without assistance once in a while – forget it!
If you're specifically looking for a folding electric fat bike, the Engwe Engine Pro ticks all the right boxes and is hard to beat for the price. But, you need to ask yourself if you need all the features. I have also reviewed the Engwe EP-2 Pro, which offers the same level of performance for less money.
Specifications
| | |
| --- | --- |
| Motor | 48v 750w continuous, 1000w peak power with regenerative function |
| Battery | 48v 16Ah (768Wh) Chinese cells |
| Battery Range | 30-50 miles depending on assist level used |
| Top Speed | 28 mph on the flat (up to 32 mph with pedalling) |
| Weight | 74 lbs / 34 kg |
| Maximum Load | 300 lbs |
| Gearing | Shimano Altus 8-Speed |
| Brakes | Logan Hydraulic Brakes with Cut-Off Sensors |
| Suspension | Front and rear coil-sprung with hydraulic lock-out (front suspension fork) |
| Accessories | Kickstand, pannier rack, headlights, rear tail/brake light |
Thanks for reading. I hope you found this Engwe Engine Pro 750w review helpful. If you have any questions relating to the Engwe. Please leave a message in the comments section, and I will get back to you within 48 hrs.