The new ADO Air folding e-bike will be launching soon on Indiegogo and looks like a breath of fresh air (pardon the pun) – featuring a carbon belt drive with torque-sensing pedal assist, hydraulic brakes and a total weight of just 16 kg, it's got potential to be a great seller. In this article, we'll be taking a quick look over the specs to see what it's all about. Plus, if I can get ahold of one for review before the general release, I'll publish a full article here.
ADO Air Specs
| | |
| --- | --- |
| Motor | 250-watt Rear Hub Motor with Torque-Sensor |
| Display | Full Colour Display with Navigation and Smartphone App |
| Battery | 36v 10Ah / 360Wh (integrated into seat post) |
| Range | 100 km (claimed) |
| Gearing | Single-Speed with Carbon Belt Drive |
| Brakes | Hydraulic Disc Brakes |
| Weight | 16 kg |
| Accessories | Lights, Kickstand |
| Price | TBC? Visit ADO for more information |
Pros
Stylish design
Lightweight
Carbon Belt Drive
Torque-Sensing Pedal Assist
Hydraulic Brakes
Smart Display
Cons
Single Speed
Visible battery cable
ADO E-Bike has been investing heavily in the European market in recent years. With the state-of-the-art ADO Lab safety testing facility, and some exciting new models on the horizon, things are looking good. The ADO Air is a very stylish folding e-bike with some great features.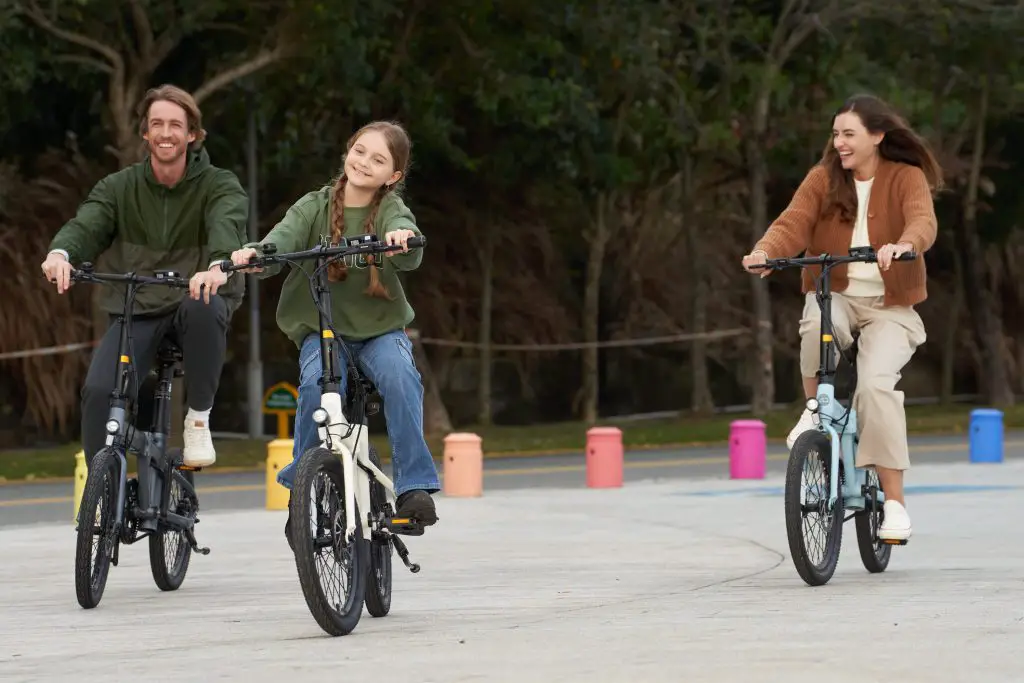 Electrics
As this folding e-bike is primarily designed for the EU market, it features a 250w rear hub motor, which is nothing out of the ordinary. The addition of a torque sensor will increase appeal for the urban rider. Lots of riders dislike the stop / start feel of cadence pedal assist, but prefer the smooth, and responsive nature of a torque sensor. In addition, because a torque sensor is constantly monitoring rider input, assistance is only given when you need it. This translates into increased motor efficiency and better battery range.
Another big plus is the new colour smart display – this connects to your phone via an app. And, looking at the photos, provides all the data you'd expect, plus GPS navigation and the ability to remotely lock and unlock your bike. In addition, the app has integrated fitness tracking features, so you can connect a heart rate monitor to measure the intensity of your rides.
The 360Wh battery uses high-quality Samsung cells and is neatly integrated into the seat post – this is a design we're seeing more often, on folding e-bikes like the Fiido X and other models. The only thing I didn't like about this battery is the visible cable. Maybe it could have been designed to plug in underneath like on the Mycle Compact for a cleaner look.
Bike Components
There are a few big plus points in this department, most notably the addition of a carbon belt drive. Now, I can't say if this is a Gates Belt Drive or an unbranded alternative, as there's no info available. We know the Gates is capable of massive mileages approaching 20'000 miles between changes. Either way, belt drives are the way forward for small commuter e-bikes – they are ultra-low maintenance, and there's no more worrying about getting covered in chain oil when you fold the bike up.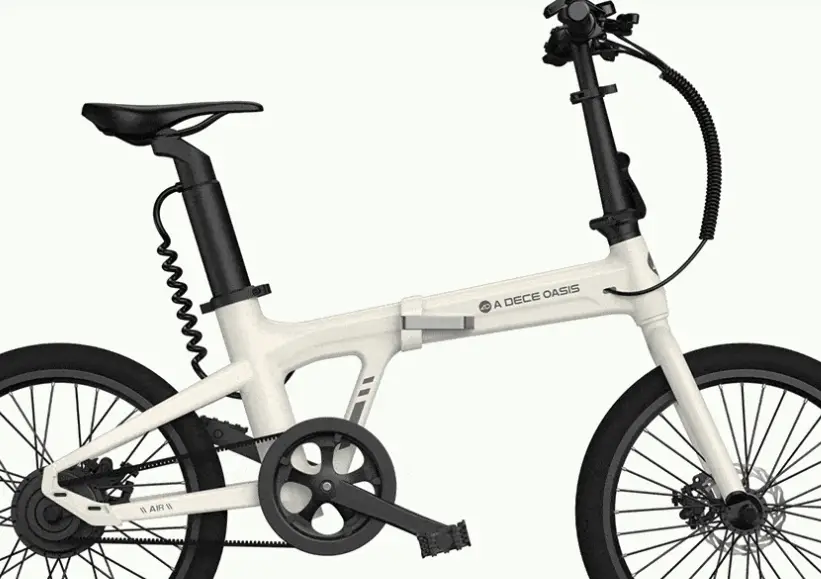 A belt drive, in this case, means single-speed. This will limit the hill-climbing ability and also higher speed pedalling. But, for the average city commuter travelling at around 15 mph (25 km/h), it isn't going to be too much of a problem.
Hydraulic brakes aren't common on folding e-bikes, except for the aforementioned Fiido X, and Morfuns Eole X, most folders have mechanical brakes. For me, hydraulic brakes give you more confidence in stopping. Plus, you have better control of braking as well. I think it's a great addition and another plus point.
The aluminium frame looks very stylish – it's one of the better-looking folding electric bikes out there. It will be available in a choice of subtle colours – blue, grey and cream. Folding is done using the traditional 3-step process: Handlebar, seat post and main folding beam.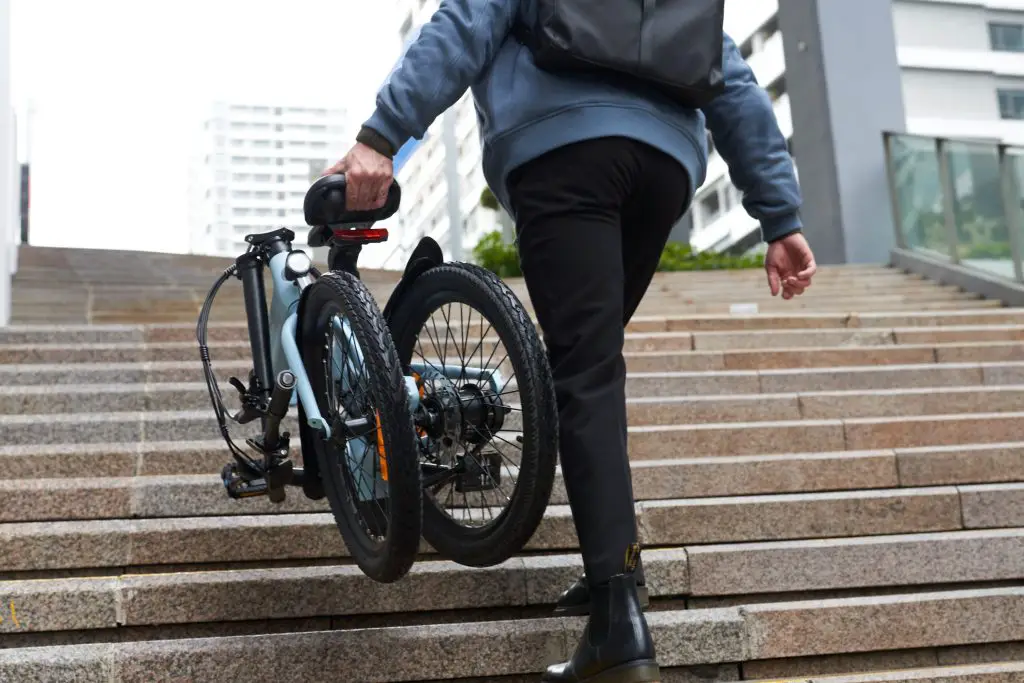 The Verdict
This article is based on my initial analysis of the specification and features. Based on what I've seen so far, it looks very promising indeed. I love the design, and the use of a torque sensor, belt drive, and hydraulic brakes. To top it all off, it tips the scales at just 16 kg, making it a whole 3.8 kg lighter than the Fiido X. A full review article will hopefully be forthcoming when the ADO Air becomes available.
Visit ADO for more information
Do you like the look of the new ADO Air? Let us know what you think in the comments section below.