The new Eleglide M2 picks up from where the M1 Plus left off but with significant improvements like hydraulic brakes, 540Wh battery, 24-speed gearing and trail-friendly 27.5″ x 2.4″ tyres. Priced at a very competitive €899, the M2 packs a solid spec for the money. In this article, I'll delve a little deeper into the specs to see if it's worth the extra money.
Key Features
250w rear hub motor (570w peak power)
36v 15Ah (540Wh) battery
Hydraulic disc brakes
Kenda 27.5″ x 2.4″ tyres
Shimano 24-speed gearing
Promotional price €849.99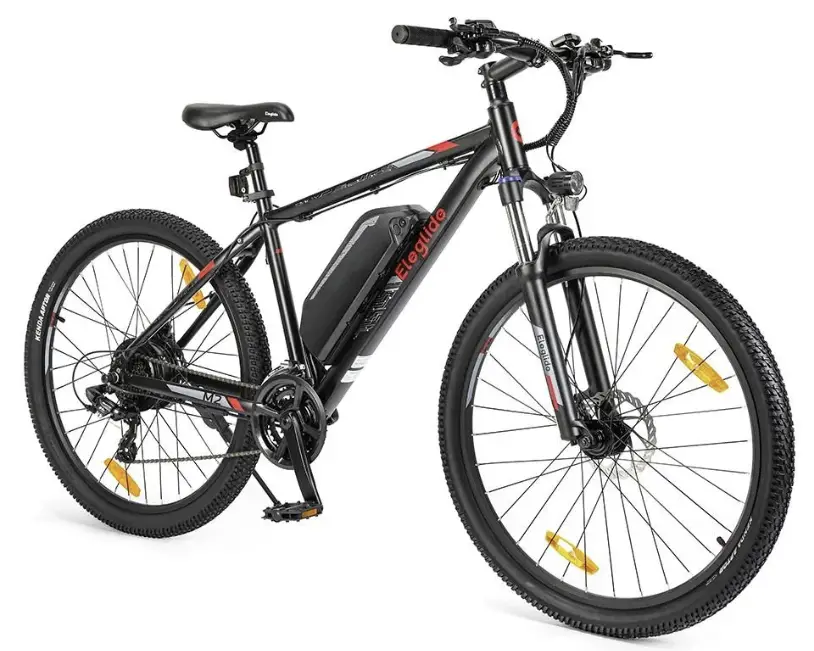 Electric Components
Motor
The Eleglide M2 is equipped with a 36v 250w rear hub motor that offers a maximum peak power output of 570W. The motor, which has a max output torque of 55N.M, is going to be ideal for tackling diverse terrains, making the bike an excellent choice for both urban and off-road adventures. This motor boasts more peak power and a higher torque output when compared with the M1 Plus motor.
Battery
The bike's 36V 15Ah battery is well-suited for longer journeys. The charging time is approximately 10 hours, and the battery has an integrated BMS system for enhanced safety and longevity. This battery has a claimed maximum range of up to 125km, although this is not a reflection of real-world usage and riders should expect a realistic range of between 60 – 80 km.
Display and App
The Eleglide M2's user-friendly 1.75″ LCD shows speed, battery level, trip distance/odometer, assist level, and more. Additionally, it has the capability of turning the light on and off, shifting assist levels, activating walk mode, and clearing trip data. The M2 is also supported by the Eleglide app, compatible with iOS (11.0+) and Android (5.0+), which adds an extra layer of convenience by allowing users to control the light, shift assist levels, and lock/unlock the bike.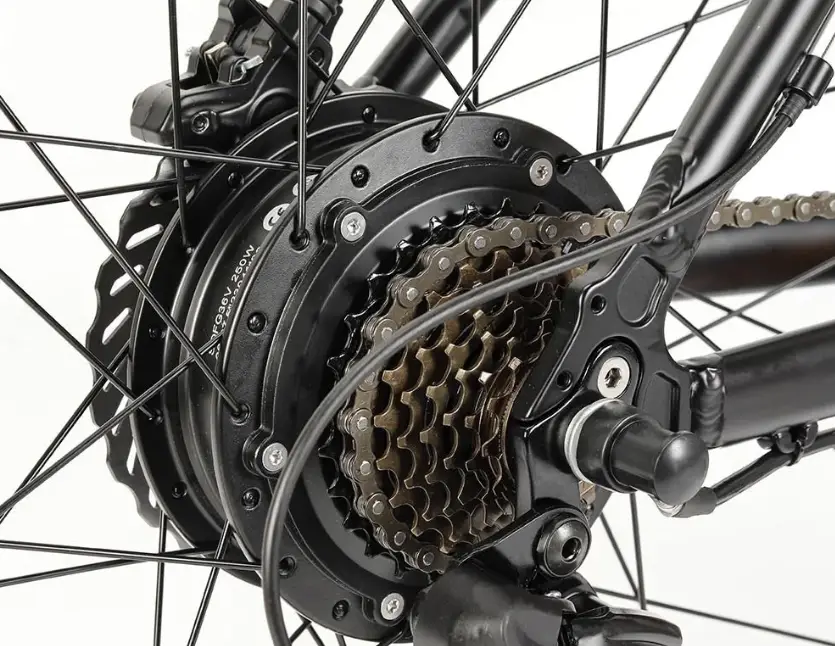 Bike Components
The M2 features a Shimano 24-speed drivetrain (3 x 8), which will prove a good range of gears for challenging riding conditions.
A big plus for the Eleglide M2 is the addition of hydraulic disc brakes. One of the biggest complaints about the M1 Plus was the poor braking performance of the mechanical brakes. The brakes fitted to the M2 should provide much better modulation and overall braking performance.
Another upgrade (over the M1 model) is the addition of wider 2.4″ Kenda tyres. These will further improve off-road traction and stability.
Sizing
The bike's frame looks the same as the frame used for the M1. It is made from durable aluminium alloy (AL6061) and is designed with riders between 160-195cm in height and up to 120kg in weight. I have tested both the Eleglide M1 models and the frame measures medium to large. I would suggest an ideal rider height range of 170-190cm.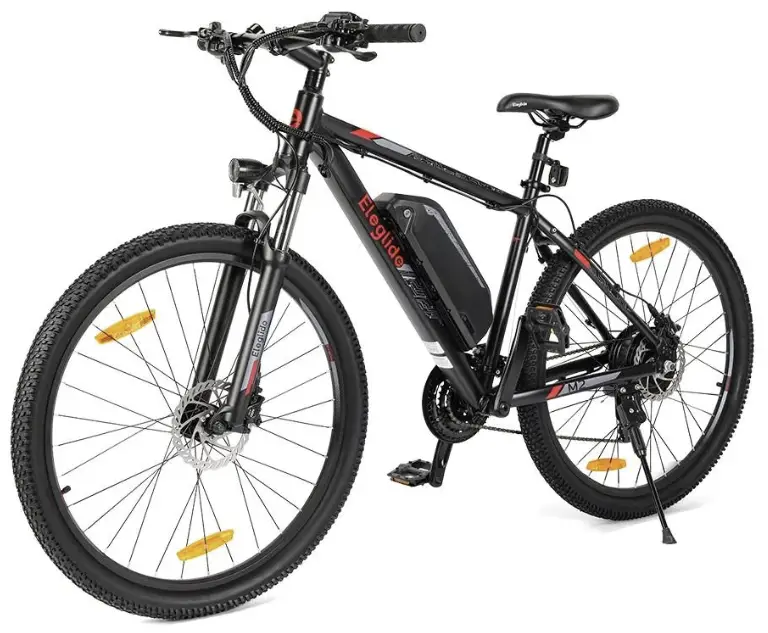 Who is the Eleglide M2 aimed at?
The Eleglide M2 is going to be an excellent choice for both commuting and recreational riders. Its impressive range, coupled with a comfortable and robust design, will make it an attractive option for those looking for a versatile electric bike that can handle both city streets and off-road trails.
Pros and Cons
Pros:
More powerful motor
Long-range battery
Excellent value for money
Versatility across various terrains
Hydraulic disc brakes for optimal stopping power
Cons:
Longer charging time
Heavier than the M1 model
FAQs
Q: What is the maximum speed of the Eleglide M2? A: The cut-off speed is 25km/h, but it can be adjusted to 32km/h.
Q: Does the M2 use the same motor as the M1 Plus? A: The M2 motor is more powerful (570w vs 400w) and has a higher torque output (55Nm vs 45Nm)
Q: What is the bike's waterproof level? A: The Eleglide M2 has an IPX4 waterproof rating, which means it is resistant to splashing water from any direction.
Q: What is the bike's maximum range? A: The Eleglide M2 has a claimed maximum range of 125 km, although you should expect a real-world range of 60 – 80 km.
Q: Does the bike need to be assembled? A: The bike will come 85% assembled, you will need to fit the pedals, front wheel and handlebar. Tools and instructions are provided.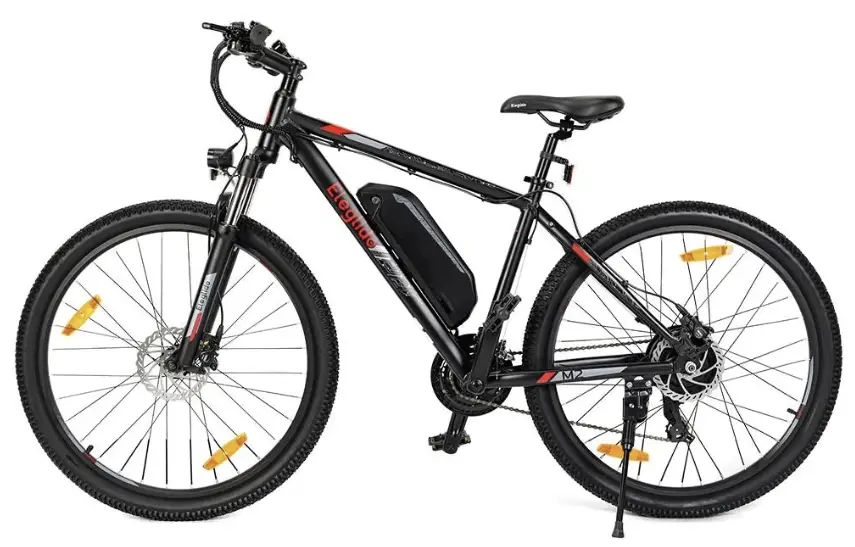 Conclusion
Basically, the M2 is an enhanced version of the Eleglide M1 Plus. It addresses some of the common niggles by adding hydraulic brakes, better gear range, wider tyres and a bigger battery.
Considering its budget price tag of €899, it has an impressive array of features. If I was thinking about buying the M1 Plus, I would be inclined to spend a bit more and go for this model as the extra features only cost marginally more.
Certainly, if battery and braking performance is an important consideration then I'd say it's a no-brainer! Based on my experience with previous Eleglide e-bikes, I reckon the M2 is a welcome addition to their range and should be very popular.
Specifications
Here's a quick summary of the bike's main specifications:
Frame Size: 27.5″x18″
Battery Capacity: 15Ah
Motor Power: Max 570W
Gear: Shimano, 3 (Front), 8 (Rear)
Max Speed: Adjustable up to 32km/h
Range: Max 125km (Assist Mode)
Waterproof Level: IPX4
Weight: 22kg
Max Load: 120kg
Material: Aluminium Alloy (AL6061)
Brake System: Hydraulic Disc Brakes & Power-off Design
Tyre Size: 27.5″x2.4″ (Kenda)