Folding e-bikes are the perfect solution for urban commuting. In this Mycle Compact review, I take a deep dive into the specs, comfort and riding experience of this affordable option from a UK-based brand.
Mycle is a relatively new London-based e-bike company that focuses on providing affordable electric bikes covering a range of uses, from their Cargo e-bike to step-through commuting and even fat tyre e-bikes.
Mycle Compact Specifications
| | |
| --- | --- |
| Motor | 36v 250w  brushless, geared hub motor |
| Battery | 230Wh using LG cells |
| Range | 30 km per charge – a realistic range for this battery |
| Charging Time | Up to 4 hours |
| Top Speed | 15.5mph / 25 km/h |
| Weight | 17.5kg |
| Maximum Load | 115kg |
| Gearing | Kickstand, mudguards, pannier rack and front light |
| Brakes | Mechanical disc brakes |
| Accessories | Kick stand, mudguards, pannier rack and front light |
| Price When Reviewed | £999 |
| Availability | Visit the Mycle Website |
Pros
Competitive price
Nice styling
Lightweight
Smooth power delivery
Seat post battery
Cons
Lacks power for very steep hills
Low-capacity battery (when compared with similarly priced folding e-bikes)
---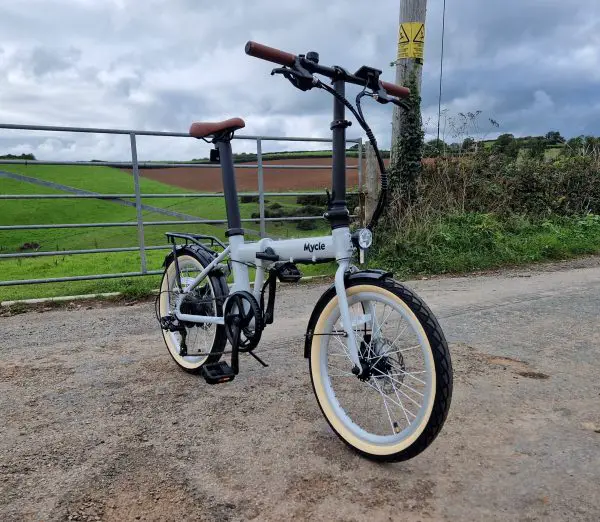 Key Features
The Mycle Compact is a fairly standard folding e-bike with unremarkable specifications. But, it differs from most of the competition in one important area – it's assembled in the UK. So, quality control should be a lot better. Most budget e-bikes are assembled in China, packaged and then sent to forwarding warehouses in the EU.
250w 36v Brushless hub motor: Smooth and reasonably quiet.
36v 6.4Ah Seat post battery: Uses high-quality LG cells. The claimed range of around 30km, which is a realistic figure.
Adjustable steering height: You can bring the handlebars to a comfortable height.
Mudguards and pannier rack: Very useful if you're going to be using your e-bike for a daily commute.
Assembled in the UK: Quite a rarity these days and certainly a plus point in my books.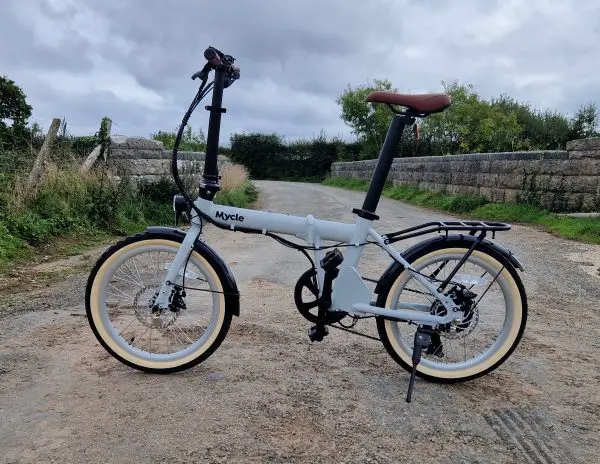 Unboxing and first impressions
The Mycle Compact folding e-bike was delivered very quickly. They use an independent delivery company, and the service was excellent. I was given an option for a preferred delivery day and also a time slot. The driver phoned me when they were an hour away. I received the box in excellent condition and the driver was very courteous and helpful.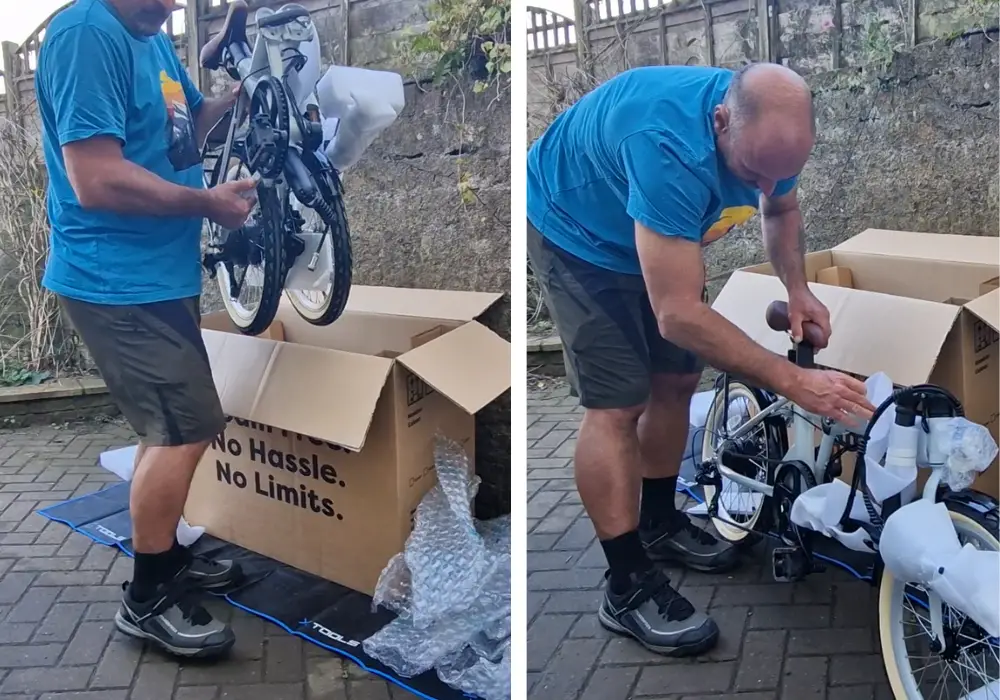 Unboxing and assembly was a very straightforward process. Everything is already fitted including the pedals. All that is needed is to remove the packaging, set the correct saddle and handlebar height and you're good to go! I would recommend fully charging the battery beforehand as my bike had about 50% charge when I received it.
The bike itself has a very high-quality finish. The brown saddle and grips contrast really well with the gloss white paintwork and together with the tan wall tyres give the Mycle Compact a very classy, retro look.
Visit the Mycle website for more information
Mycle Compact test ride
My 10-mile test route is particularly demanding of an e-bike and involves around 1200ft of elevation gain with one very steep (20%) climb. The Mycle Compact is nice and comfortable, and despite my 6'1″ (185cm) height, felt just fine. It's a rigid frame, so there's no front suspension. This wasn't too much of a problem, although larger potholes are best avoided.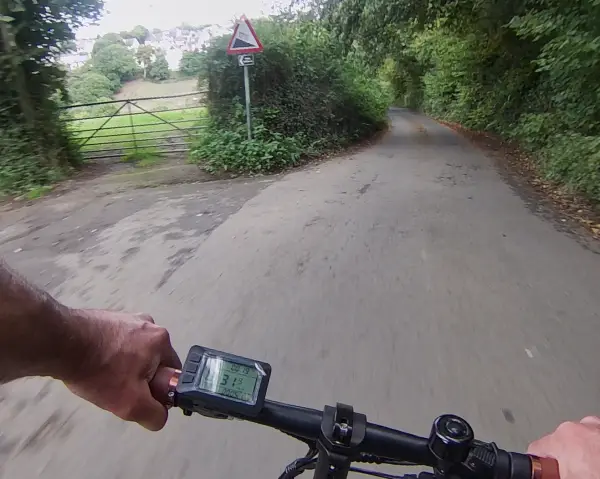 The Mycle Compact uses a cadence-based PAS sensor. This performed very well giving a smooth and progressive delivery amount of assist. It's not as refined as a torque sensor, but it's one of the smoother cadence PAS systems I've tested. Very reminiscent of the Morfuns Eole X I tested recently.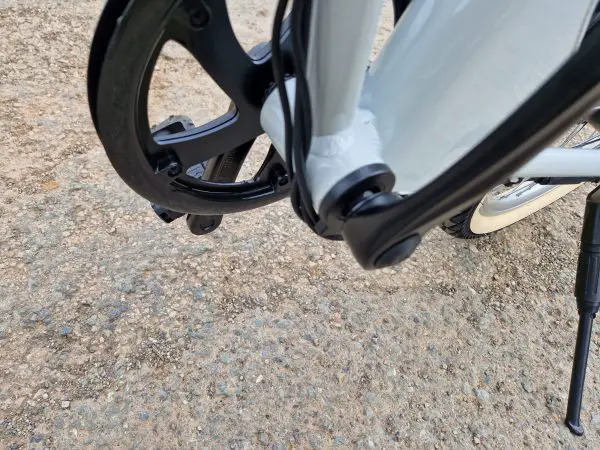 Hill climbing performance was as expected on a small 250w hub motor. It coped perfectly well with a long (1 mile) moderate (6%) hill climb. I stayed well within my comfort zone (based on my heart rate monitor) for the entire climb. On a steep hill (20% gradient) it struggled and I had to add a lot of my pedalling force. This is quite normal and acceptable for a small hub motor, if you're going to be doing a lot of steep hills I'd recommend something with a mid-drive motor.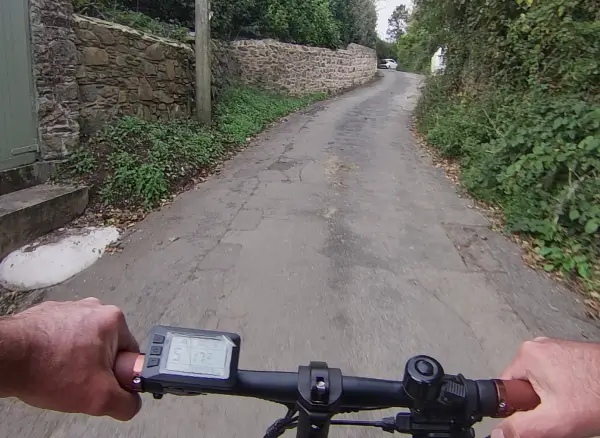 The display is a KT-LCD7. It's easy to read and has all the functionality you'd expect from an e-bike display. I've ridden several electric bikes with this particular display and it is reliable and cheap to replace if it ever goes wrong or gets damaged.
Regarding the battery, I've yet to do a full range test. The claimed range of 30 km (18.5 miles) seems reasonable given the relatively low energy capacity. I rode a very hilly 10-mile route and finished with two bars left on the battery. Considering my weight (107kg) and the hilliness of the route, I think that's perfectly acceptable. I reckon a lighter rider, using the Mycle on fairly flat, urban streets could see 25 miles out of a charge.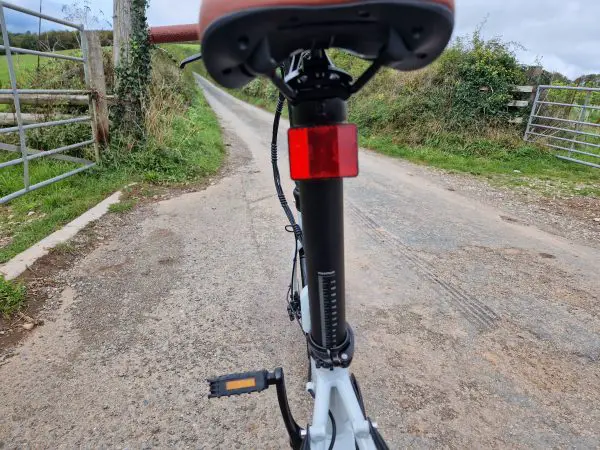 I was pleasantly surprised with the performance of the mechanical disc brakes. They had a good level of bite and, they were fairly quiet. Usually, I find mechanical brakes lacking, but these felt pretty good. Certainly good enough for the intended use of city riding.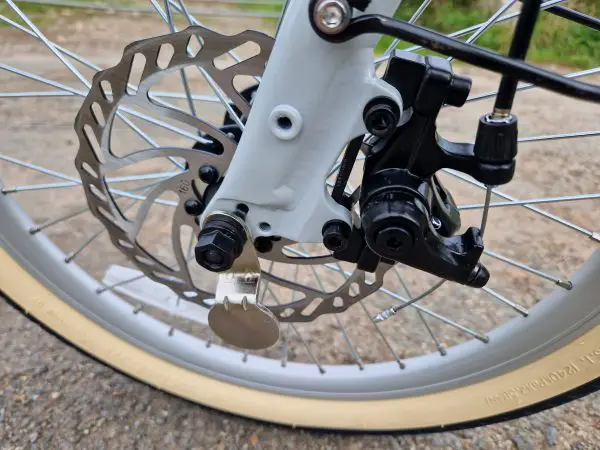 Gear shifting is another area where the Mycle Compact scores well. Although an entry-level Shimano 7-speed drivetrain is used, it functions perfectly. Most budget e-bikes use the Shimano TX50 shifter, which is okay but I've never been a fan of it. The Mycle uses a Microshift 7-speed trigger shifter which works flawlessly and provides nice and precise gear changes.
Full marks for the inclusion of a height-adjustable steerer. I was able to dial in the riding position perfectly and didn't feel any discomfort whatsoever over the 10-mile test ride. I also found the saddle comfortable as it wasn't too big or small and had the right amount of padding.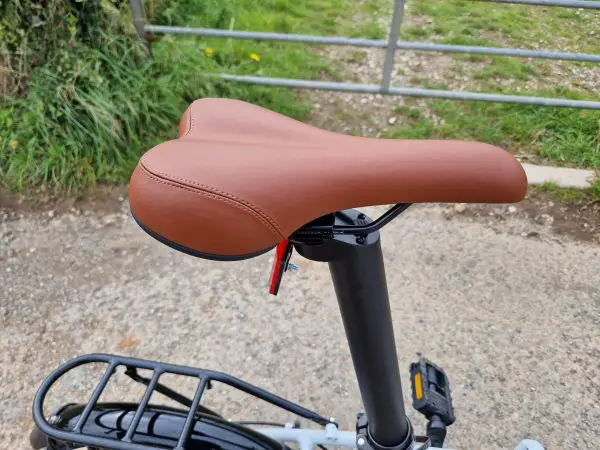 Silver alloy wheels are a nice touch and fit in with the styling of the bike. Tyres are Innova 20″ x 2.125″ – they seemed quite grippy and were good enough to soak up some of the road buzz.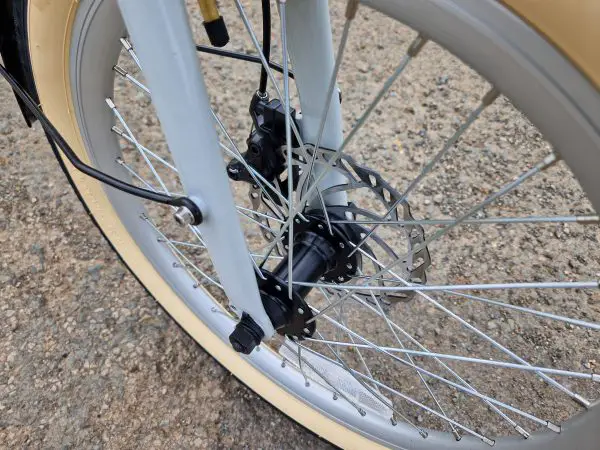 The Mycle Compact felt quite lively on the tighter bends and felt stable on higher-speed descents. Having smaller diameter wheels does tend to make you a bit more wary of potholes and such, but overall it's a very pleasant little bike to ride.
I found the Mcycle Compact easy to ride without the assist (on the flat). Geared hub motors tend to give very little resistance when the motor is off and the Mycle motor is no exception. Pedalling without the assist is not much different than on a regular folding e-bike. Only the extra weight becomes apparent on inclines, but on the flat it's fine. You'd have no problem pedalling this if you run out of battery.
It's not amazing or particularly different from other similarly priced folding e-bikes. I found the riding experience to be pleasant and predictable. It's a user-friendly e-bike – fairly lightweight, and comfortable, and the motor will give the average rider more than enough assistance for urban riding. I would avoid steep hills though, as these motors aren't designed to climb 1 in 4 gradients!
Sizing
As with most folding e-bikes, the Mycle Compact has plenty of adjustments for riders of all heights. I found it just fine (at 6'1″) although some taller riders may find the reach a little too short. I didn't have a problem with the short reach.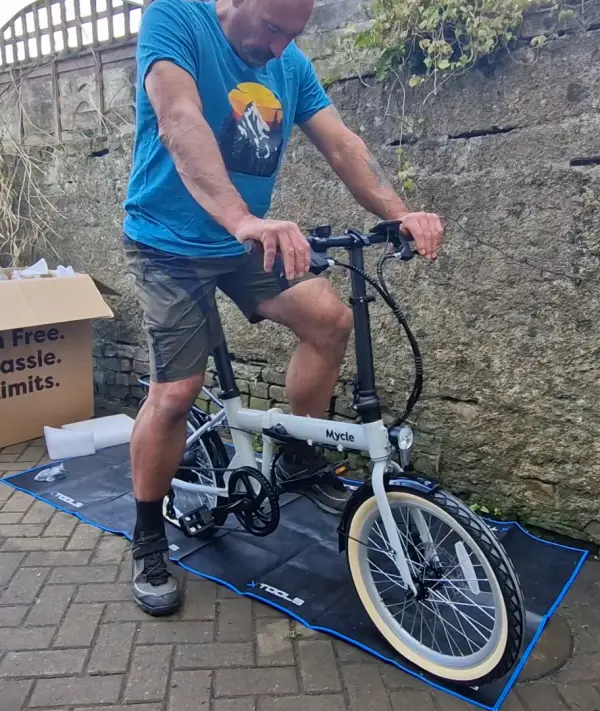 Folding / Unfolding
The Mycle Compact follows the same folding format as nearly every other folding e-bike. Pedals, handlebar, main beam and seat post. The catches and folding mechanisms work well and were not stiff.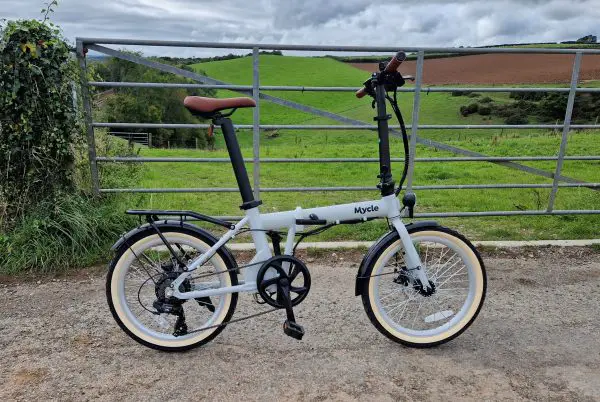 Conclusion
There's nothing particularly special about the Mycle Compact. There are lots of very similar e-bikes out there. But, it comes from a UK-based company, and the final assembly and testing is done in London. It has a quality battery and I'm very fond of the styling. The Mycle Compact is suitable for urban riders. Its lightweight, snappy handling and narrow handlebars make it particularly suitable for short, daily commutes through busy streets. It's also going to be great for running errands or just meeting up with friends.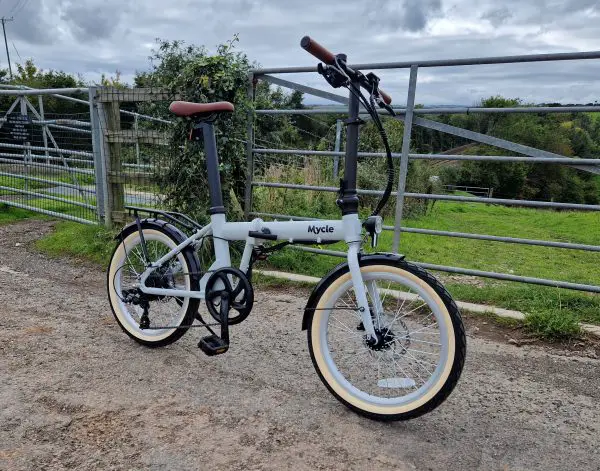 I can't think of anything I dislike about the Mycle Compact – it's a good all-rounder. You can buy folding e-bikes for a similar price with better specifications, but it's unlikely they were assembled by a small team in the UK and undergone the same level of quality control. My test model came ready to ride and I couldn't find fault in any of the components or how they were set up.
If you're looking for a stylish, no-frills folding electric bike for around £1000, I would give the Mycle Compact serious consideration.
If you own a Mycle Compact, please feel free to leave a review in the comments section below.