The new Heybike Tyson fat tire folding electric bike offers a combination of style, functionality, and efficiency. This class-3 e-bike is equipped with a powerful hub motor, a high-capacity battery, and a plethora of innovative features. In this article, we will take a look at the specifications, advantages, and drawbacks of the Heybike Tyson to give you an impartial analysis.
This article is sponsored by Heybike, but the views and opinions expressed herein are solely those of the author. The sponsor's support enables us to continue providing valuable content to our readers while maintaining our commitment to editorial integrity and transparency.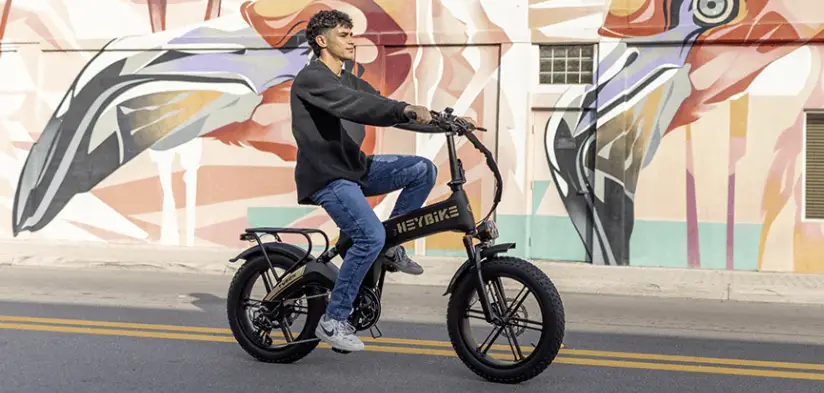 Heybike Tyson: An Overview
Heybike Tyson is a stylish ebike with fat tires and a foldable magnesium alloy frame, making it both visually appealing and highly functional. Its sleek, seamless design sets it apart from other similar e-bikes in the market, making it an appealing choice for riders who value aesthetics and performance.
Heybike Tyson Key Features
Magnesium Alloy Frame
Powerful Motor: 750W brushless motor delivers a top speed of 28 mph
High-Capacity Battery: 48V 15AH lithium-ion battery provides a range of up to 55 miles
Color Display & App Control: Monitor speed, battery level, and other essential data
Smart App Features
Hydraulic Disc Brakes: Ensure strong and efficient stopping power
Suspension: Front and rear suspension for a smooth ride on bumpy terrain
Tires: 20″ x 4″ Kenda tires for enhanced grip and stability
400 lbs total weight capacity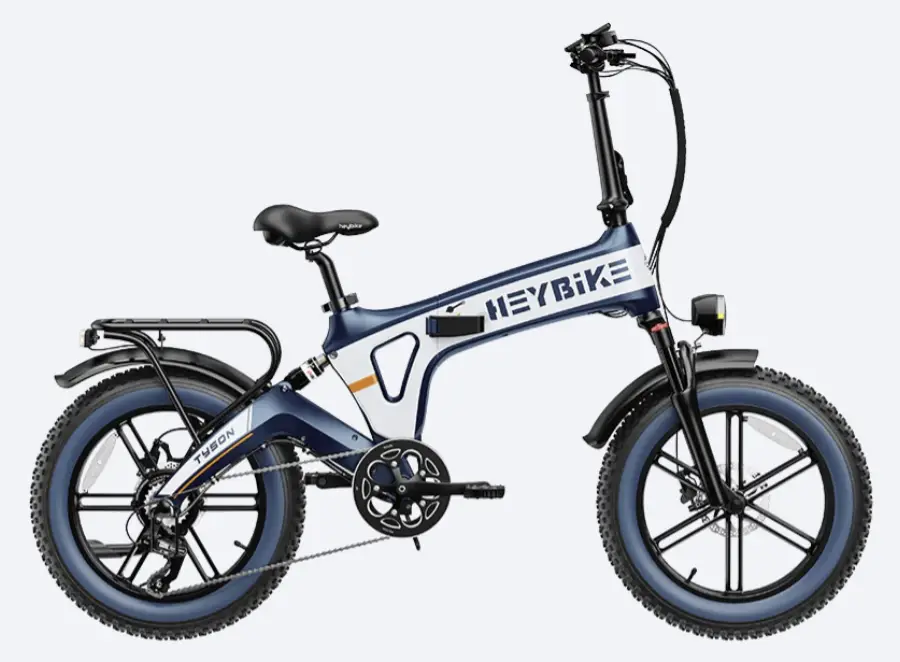 750W Brushless Hub Motor
The Heybike Tyson is a class-3 folding ebike with a 750W rear hub motor and 28 mph top speed, making it ideal for daily commutes or rides in the country. These powerful hub motors are ideal for hilly rides or just effortless cruising through city streets. The brushless motor design will ensure lower maintenance, reduced noise, and increased durability compared to traditional brushed motors, further enhancing the overall riding experience.
High-Capacity Battery
Equipped with a 48V 15AH lithium-ion battery, the Heybike Tyson offers a respectable range of up to 55 miles on a single charge. This will allow riders to enjoy longer trips without the worry of running out of power. The battery uses a 4 amp charger and can be fully charged in just 4 hours, ensuring minimal downtime between rides. 
Please note: Battery range will vary greatly depending on rider weight, terrain, temperature and power level used. The claimed range is the upper estimate and should be reduced by around 30%.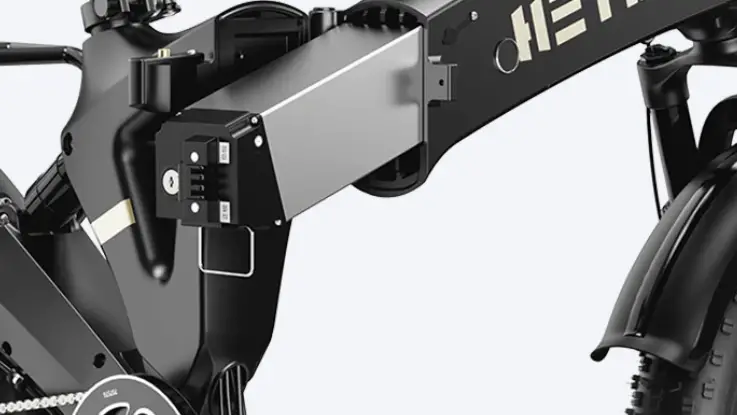 Magnesium Alloy Frame
The magnesium frame of the Heybike Tyson offers a lightweight and durable design, making it perfect for easy transportation. Its easy-to-shape nature allows for a smooth finish, while its corrosion resistance makes it suitable for various environments and weather conditions.
Hydraulic Disc Brakes
Safety is paramount when riding an ebike, and the Heybike Tyson is equipped with hydraulic disc brakes to ensure strong stopping power. These brakes should provide excellent modulation and control, allowing riders to navigate various terrains confidently. The hydraulic system also requires less adjustment when compared to traditional mechanical disc brakes.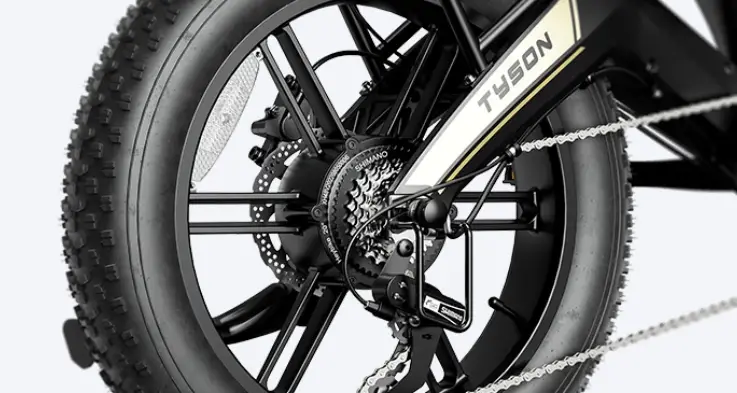 Suspension 
The Heybike Tyson features both front and rear suspension. A front suspension fork will help to provide a smooth and comfortable ride on uneven terrain. While the rear suspension will absorb shocks and vibrations, reducing rider fatigue and ensuring a more comfortable and enjoyable riding experience even on rough surfaces. 
Tires: 20″ x 4″ Kenda Tires
The Heybike Tyson is fitted with 20″ x 4″ Kenda tires, known for their excellent grip and stability on a wide range of surfaces. These fat tires provide additional cushioning and shock absorption, making the ride more comfortable and less fatiguing. The larger contact area with the ground also improves traction, ensuring a safe and stable ride in various conditions. They are particularly suitable for riding on the beach.
Color Display & App Control
The Heybike Tyson features an intuitive color display, allowing riders to monitor essential data such as speed, battery level, and distance traveled. This display provides real-time information, helping riders make informed decisions and adjustments during their rides. In addition, the Tyson e-bike is compatible with a 4G version app, which offers additional features and controls. With the app, riders can access GPS tracking, ride history, personalized settings, and anti-theft features, adding extra convenience and security to their riding experience.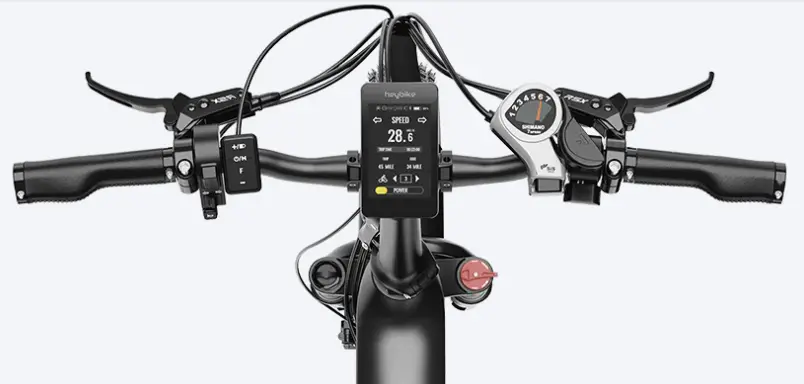 Smart APP Features
The Smart APP provides auto-unlock, anti-theft GPS tracking, ride data, and customizable settings for a seamless e-bike experience. Bluetooth enables remote control, and the app promotes eco-friendly travel by tracking mileage and emissions.  The Help Center in the app links to Heybike's official website for easy access to updates, and users can provide feedback directly through the contact page.
Pros and Cons
Pros
Eco-friendly and cost-effective mode of transportation
Powerful motor and high-capacity battery
Color display with smart app features
Front and rear suspension for smooth rides
Hydraulic disc brakes for ultimate safety
Cons
At 77 lbs it is a heavy bike
Quit bulky for transportation
Why Choose the Heybike Tyson?
The Heybike Tyson is going to be an excellent choice for those seeking a versatile, dependable, and stylish e-bike. Its anti-theft security system, 750W motor and range of up to 55 miles make it an ideal choice for commuting, leisure rides, and outdoor adventures.
The Heybike Tyson also features a dual suspension system that should deliver a comfortable ride, even on bumpy roads. The e-bike has a modern and sophisticated design, with a durable magnesium alloy frame and attractive color options.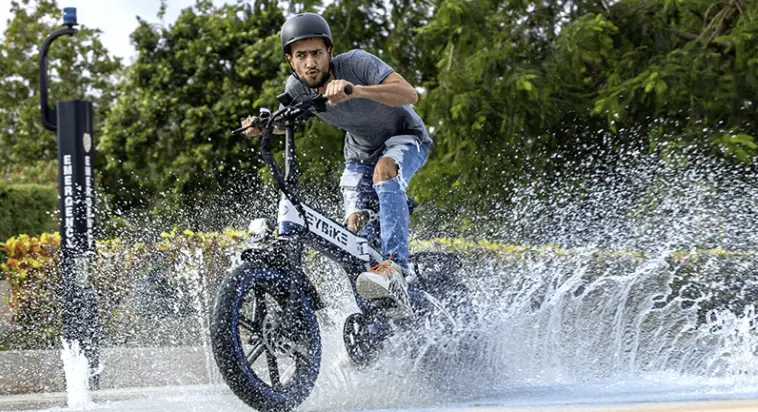 Final Thoughts
The Heybike Tyson offers a blend of style, performance, and innovation. Its magnesium alloy frame, dual suspension and smart app features make it a standout option in the fat tire folding e-bike market. While there are some minor drawbacks, such as its weight and portability, the overall benefits of the Heybike Tyson far outweigh these concerns.
The Tyson ebike offers a powerful motor, a decent battery, and a host of smart app features, making it an excellent choice for riders seeking a reliable, comfortable, and stylish electric bike. Whether you are looking to commute to work, embark on leisure rides, or explore new terrains, the Heybike Tyson is sure to provide a unique, enjoyable riding experience.
Further Reading