I've been sent the new iEnyrid M4 Pro S+ electric scooter to put through its paces. And in this review, I'll be sharing my findings based on the initial test ride. The iEnyrid m4 Pro is a feature-packed budget e-scooter, that punches well above its weight in terms of performance and specification.
iEnyrid M4 Pro S Specs
| | |
| --- | --- |
| Motor Type | Brushless Rear Motor |
| Motor Power | 800 Watts |
| Battery | 48v 16Ah / 768Wh |
| Battery Range | 25 – 30 miles / 40 – 48 km |
| Top Speed | 15.5 mph / 25 km/h (Locked) 28 mph / 45 km/h (unlocked) |
| Power Modes | 3 |
| Display | Digital |
| Brakes | Mechanical Disc with Cut-Off Sensors |
| Lights | Front and Rear (with integrated brake light) |
| Indicators | Yes – on the side of deck |
| Horn | Yes |
| Security | Key required to start |
| Waterproof Rating | IP54 (medium protection) |
| Weight | 24 kg |
| Price When Reviewed | £544 / $639 |
| Where to Buy | Geekbuying.com – Use Discount Code: NNNIENM4P |
Pros
Powerful
Decent battery range
Good for heavier riders
Clear display
Lights and Indicators<
Cons
Heavy
Folding Mechanism Latch
Brakes<
Key Features
High Powered Motor: The iEnyride rocks a powerful 800w brushless rear motor, that offers a potential maximum speed of 45 km/h and good torque for hills.
Long Range Battery: With its high-capacity 768Wh lithium battery, the M4 Pro has a potential range of up to 50 km
Durable Design: The iEnyrid M4 Pro is made with a lightweight yet durable aluminium frame, that should withstand the wear and tear of daily use. Its 10-inch pneumatic tires provide a smooth ride even on rough roads.
Smart Features: The iEnyrid M4 Pro is equipped with a variety of smart features such as LED lights, side indicators, and a colour display.
Unboxing and Assembly
The scooter used for this review was sent on behalf of Geekbuying.com, from a UK warehouse, and I received it within a few working days of the order being placed. The packaging was very good and there was no external (or internal) damage.
Setting the iEnyrid up for first use takes a matter of minutes. It's just a case of removing from the packaging, adjusting the display, and brake levers, fitting the front light and unfolding the handlebars and main steerer. A toolkit, user manual, 2 x keys and battery charger (with UK plug) are included.
It's quite an impressive bit of kit. The anodised gold rear shock absorbers really look great against the mainly black bodywork – definitely a smart-looking e-scooter, that's guaranteed to turn heads. I'm impressed with the overall quality of the finish of the scooter. I couldn't find any marks or flaws, so full marks here!
I like the height-adjustable handlebar and the folding design – this will be particularly useful if you have limited storage space. My only complaint here is the main folding mechanism is quite hard to engage / disengage. Maybe this will improve with use, but initially, it required quite a bit of force to lock the mechanism when unfolding. Once the scooter has been unfolded, it's just a case of switching on with the provided key and turning on the display.
Motor Performance
From the outset, the 800w iEnyrid M4 Pro S+ felt a lot livelier than other e-scooters I've ridden. I'm a big chap, weighing in around 105 kg, and the iEnyrid had no problem ushering me up slopes and slight inclines. My test route was around 4 – 5 km on a poorly-surfaced farm track. It was cold, and the surface was very mucky.
There are three-speed levels to choose from. I decided for the purpose of the test, I would leave it on the highest setting. Acceleration was quite brisk, and on the flat sections, it would effortlessly take me along at the maximum (restricted) speed of 25 km/h. On the uphill sections, it did slow down. But, it still kept going albeit at a much slower speed. At last, I've found an electric scooter that can handle my weight!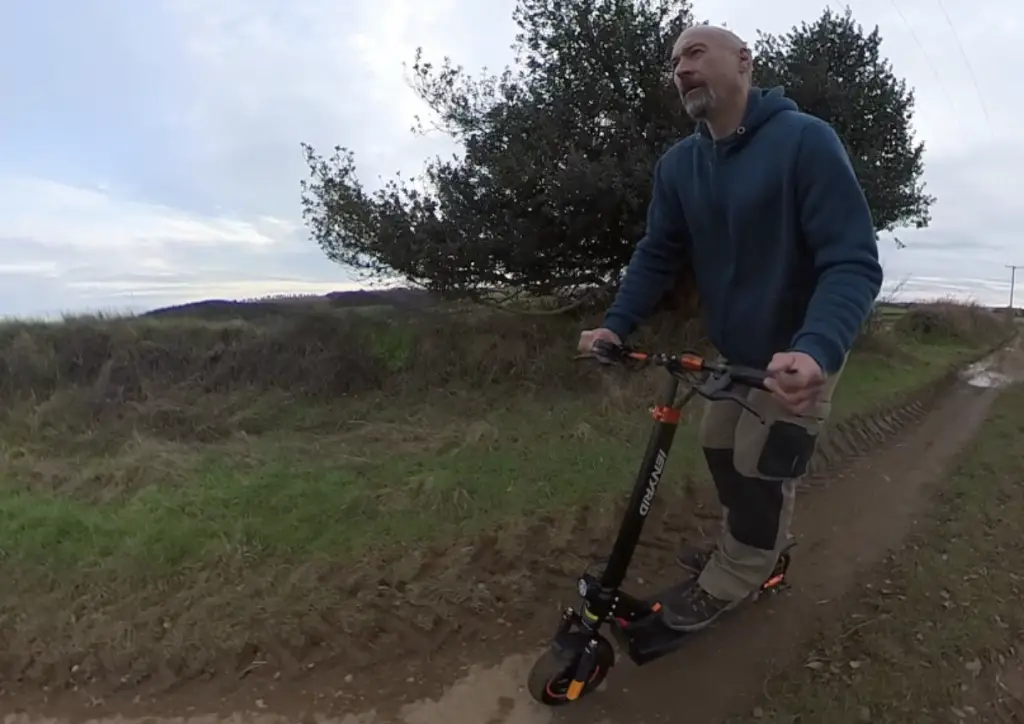 Regarding the motor itself – it's very smooth and quiet, and the power delivery is very linear. Because the initial test run was on a poor surface, I decided not to unlock the top speed. Unlocking the iEnyrid M4 Pro S+ is simple – you just press the 'M' key 5 times in quick succession and a square appears around the speed number (1-3).
Regarding the battery, it's too early to tell what the real-world range is. It's going to vary greatly, depending on the terrain (hilly or flat), rider weight and air temperature. I would say the lower end of the claimed range (40 km) is on the money. Despite the 768Wh battery, an 800w motor will easily deplete that within an hour of spirited use.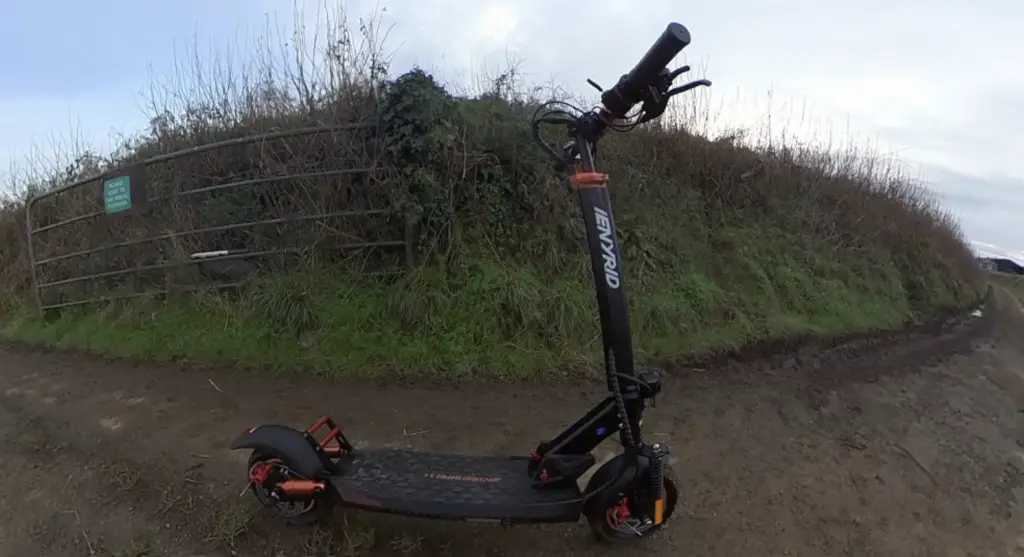 Handling and Safety Features
My test route was on a poorly surfaced, and very muddy farm track. There were several potholes and the centre section was grass and gravel. The iEnyrid M4 Pro S+ has a large, rubberised deck, wide 10-inch pneumatic tyres, plus front and rear suspension. Considering my weight, the suspension did a good enough job of soaking up the poor surface. The tyres seemed to be fairly grippy, and I didn't slide about too much.
On the way back, I had to ride down a very steep and winding gravel track – probably a negative 15% gradient. I didn't apply throttle, but just coasted down there at 15-20 mph. The iEnyrid handled it well, although I wouldn't have wanted to go any faster.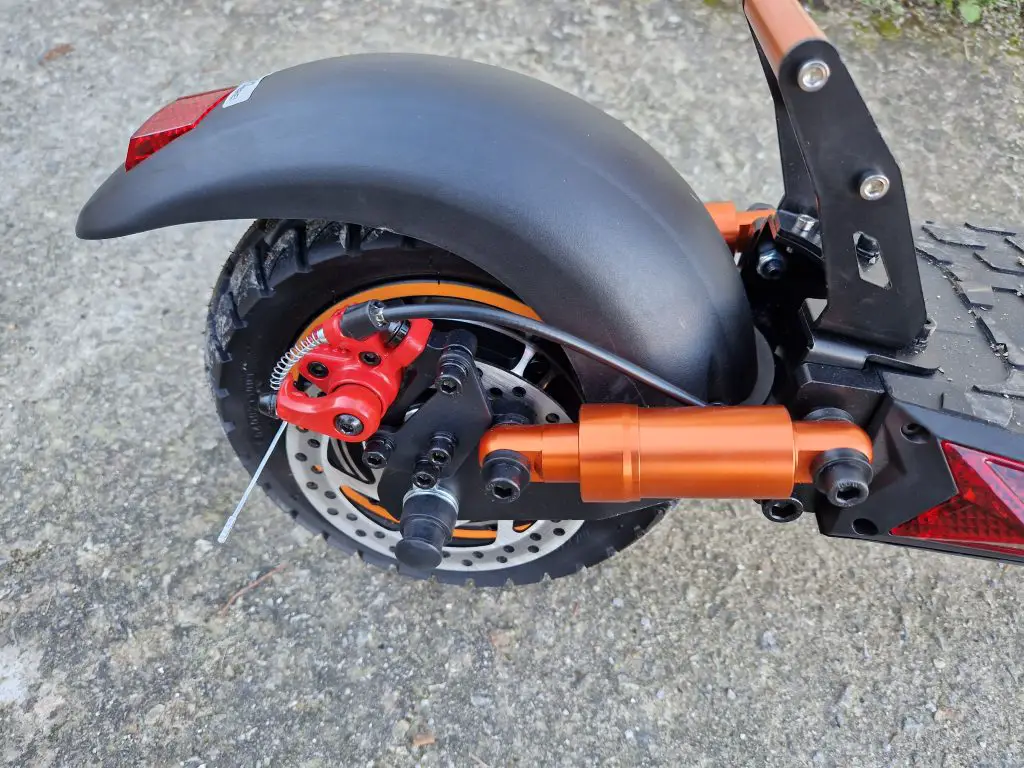 There are mechanical disc brakes front and rear. They initially felt quite spongy and needed to be pulled in hard to stop the scooter. However, after a mile or so, the braking performance improved a little. I reckon they'll improve with more use, as brakes always need a bit of bedding in before they reach optimal performance.
A saddle and seatpost is provided with the scooter. I decided not to use this on the first test, as I'm used to riding scooters stood up. The seatpost has adjustable suspension damping, and the saddle has large springs underneath. It's very similar in size and shape to the saddle fitted to the Fiido T1 cargo e-bike.
The iEnyrid M4 Pro S+ has a front headlight, rear light (with brake light), and side indicators. There are also coloured LEDs that light up on each side when the indicators are activated.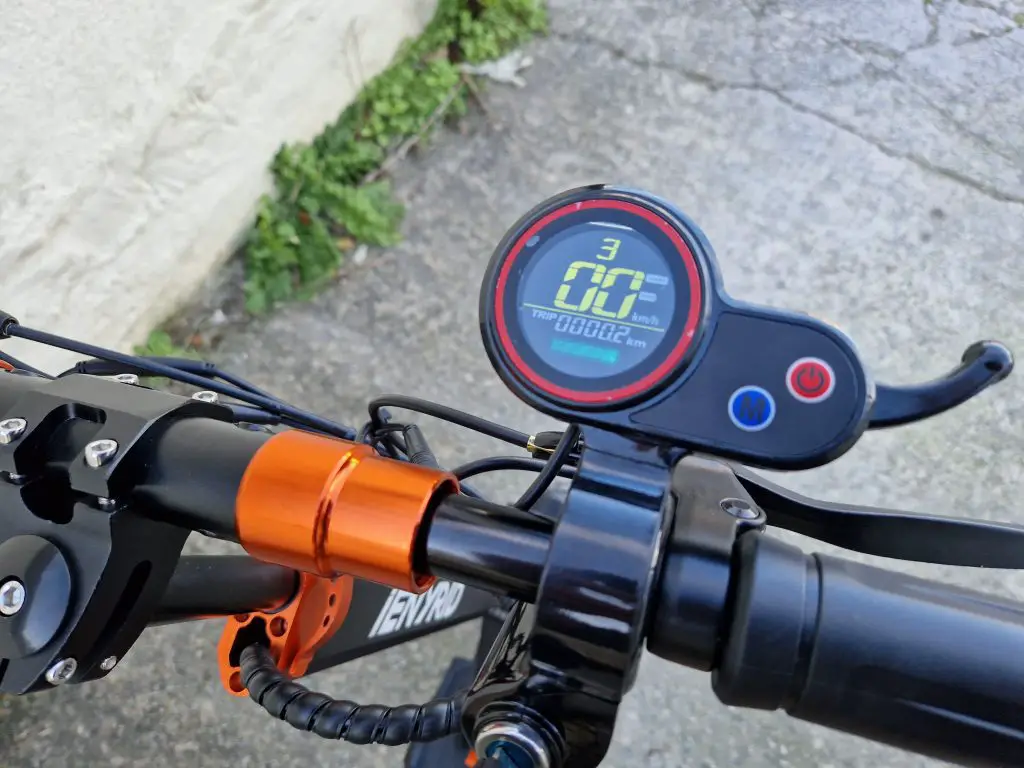 How the iEnyrid M4 Pro S+ Compares to other E-Scooters
The iEnyrid M4 Pro has a great specifications for the price. But, there are a few other e-scooters that are a close match in terms of specification and performance.
Kugoo G2 Pro features an 800w motor and 48v 15Ah battery. It also has dual suspension, mechanical disc brakes and lights. It looks like a great e-scooter, and shares a lot of features with the iEnyrid. But, it comes in at $899, which is $160 more than the M4 Pro.
HiBoy Titan is another 800w e-scooter. This popular model has a 48v 12.5Ah battery, dual suspension and mechanical disc brakes. It's a smart-looking electric scooter, but the price is also about $150 more.
Hitway H5 Pro is one of the best-selling e-scooters on Amazon and has over 700 reviews posted. It costs marginally more than the iEnyrid, and shares a lot of similarities. But, motor power is only 500w, and the battery capacity is 13Ah.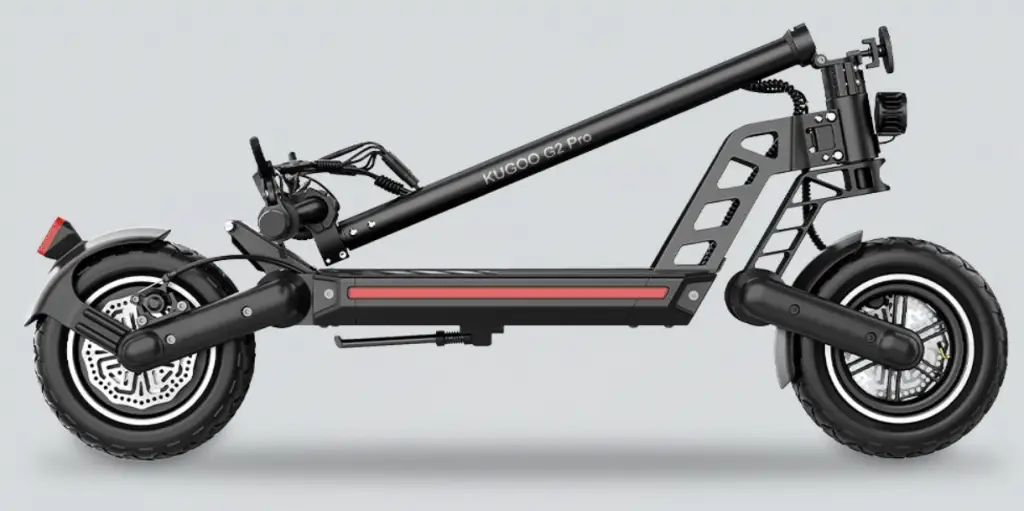 There are alternatives to the iEnyrid M4 Pro S+ but when you compare the scooter specifications side by side, the iEnyrid looks like a great option. Given my initial findings, I'd say the iEnyrid takes some beating!
Available from Geekbuying.com (UK / US / EU Stock) Use Discount Code: NNNIENM4P
Is the iEnyrid M4 Pro a Good Choice for Commuting?
If you were to ask me to design an electric scooter for commuting, it would have all the features included in the iEnyrid M4 Pro – decent battery range, powerful motor, clear display, comfortable riding position and good lights. Considering the price, it has all the 'bells and whistles' and would be the perfect option for those with a daily round commute of around 20 miles. As mentioned above, my test route was on a very muddy surface, and the mudguards did an excellent job of keeping the muck off my clothes. The iEnyrid has an IP54 waterproof rating, making it fine to ride in the rain, but it shouldn't be ridden through deep puddles.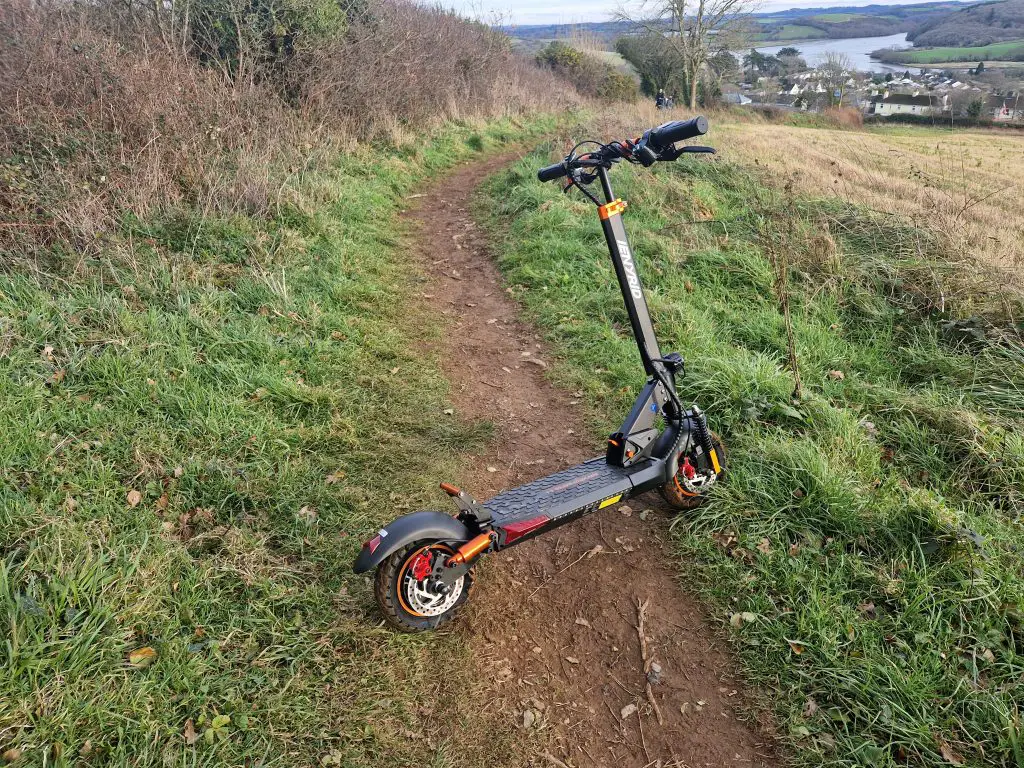 The Verdict
Overall, the iEnyrid M4 Pro S+ is a great e-scooter for the price. Its feature-packed design, powerful motor, big battery, and general build quality, all make it a strong contender for the best e-scooter in its price bracket. In addition, it has a 120 kg weight limit, making it a suitable e-scooter for the heavier rider.
If you're looking for an electric scooter for the daily commute, or maybe you're just after a quick and easy way to get around. The iEnyrid M4 Pro S+ is definitely worth considering. If you're thinking of buying your first e-scooter, check out our electric scooter buyer's guide for beginners.
Available from Geekbuying.com (UK / US / EU Stock) Use Discount Code: NNNIENM4P
⚠️Please remember, electric scooters can only be currently used on private land in the UK, hence the farm track test ride. I see lots of people riding e-scooters, but the Police can confiscate them and give you points/fines. Eventually, they will be legal to ride, but the Government seem to be dragging their heels when it comes to legislation.
Further reading