Are you looking for a new way to get to work? Do you care about the environment and want to reduce your carbon footprint? If so, electric scooters may be the perfect choice for you! In this article, we'll take a look at the best electric scooters for commuting in 2023. We'll also discuss some of the benefits of using electric scooters as a means of transportation. So, if you're thinking about making the switch to electric transportation, keep reading!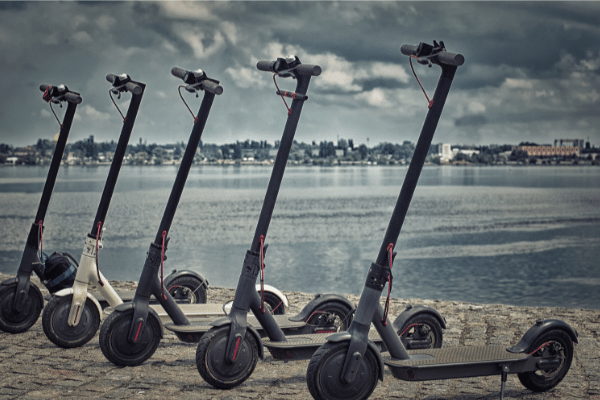 The benefits of using an electric scooter for commuting
There are numerous benefits to using an electric scooter for your daily commute. I've outlined some of the key facts below:
Cheap to run: It never ceases to amaze me, how expensive it's become to run a car. With fuel prices reaching eye-watering new heights and maintenance costs increasing year on year, not to mention insurance, tax and the constant worry of parking fines it's not surprising that electric scooters are becoming so popular. Apart from the initial purchase cost, e-scooters cost roughly £0.15 – £0.30 to charge [source]. When you compare this with the average cost of running a car on a day-to-day basis the savings are enormous!
Beat the traffic: You can easily avoid traffic congestion using an electric scooter. Commuting to work can be a miserable experience – there's increasing traffic congestion and public transport is not always ideal as you may still need to walk a distance to your place of work.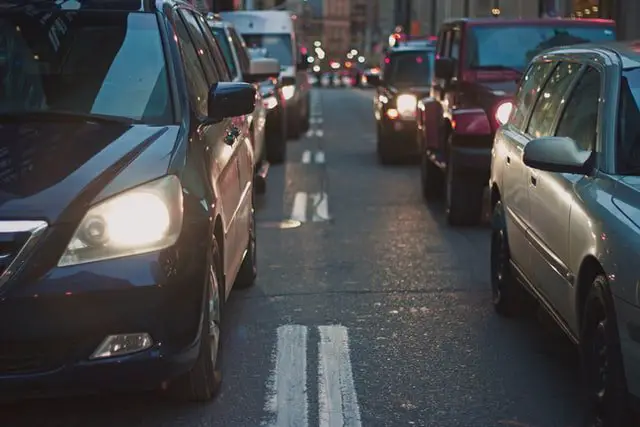 Fun to ride: The bottom line, is e-scooters are fun to ride! No more being stuck in your car or crammed inside a packed bus or train. Electric scooters provide a perfect solution for the daily commute, whether it's to quickly cover the last couple of miles to work (after using a bus or train) or to replace the car or bus completely.
Easy to transport: Unlike e-bikes (even folding e-bikes) electric scooters are very easy to transport – they will fit under your desk or inside a large locker at work.
Are electric scooters legal?
If you live in the EU, then the chances are electric scooters of certain power outputs with speed limits are perfectly legal to ride in your country. Unfortunately in the UK this is still not the case, as our government still haven't provided an adequate framework for legislation. This means anyone using a privately owned e-scooter in the UK faces persecution from the law. There does seem to be a disparity with some regions and cities being more tolerant of their use than others – please do your research beforehand.
How to choose the best electric scooter for commuting
The best electric scooters for commuting are going to have several important features which I've listed  below:
Decent battery range: If you're going to be doing a commute of around 10 miles per day (5 miles each way), then you will need a battery of at least 360Wh energy capacity (36v 10Ah). You can go for a smaller battery if you have the ability to charge your e-scooter at work.
Power output: Based on my testing of e-scooters in the past, I would say the optimum power output is about 500w, although you could go lower if you're not too heavy. E-Bikes rely on extra power from the rider, but with e-scooters the motor is doing all the work. For lightweight riders on a flat commute, power isn't such an issue. But, if you're a larger rider with some hills on your route then you will need more power.
Lights: Having decent lights is very important if you plan on commuting all year round. Although it's recommended to stay in cycle-friendly lanes you still want to be highly visible to all traffic and other commuters.
Portability: Some of the more powerful e-scooters are huge, and not really suitable due to their weight and sheer size. Ideally, you want something that's under 15kg and can be easily folded and carried upstairs in a lift or on public transport. If you work in an office, something that fits neatly under your desk without getting in anyone's way.
The top 6 electric scooters for commuting
And so, on to my selection of the top 6 best electric scooters for commuting. My choices have been based on the criteria above as well as value for money and positive customer feedback. If you're new to e-scooters, don't forget to check out our latest electric scooter buyer's guide.
---
Himo L2 Max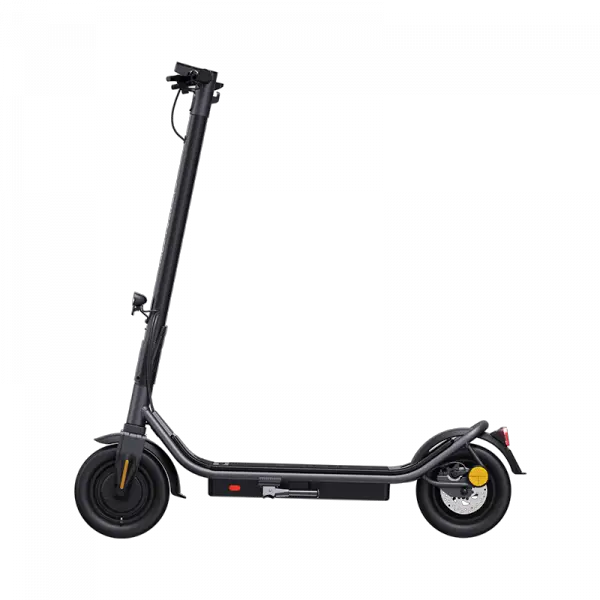 If you're looking for an electric scooter that is both compact and easy to carry, Himo L2 Max Electric Scooter Essential is the perfect choice. With its 10-inch wide tyres and maple wood footboard, this scooter is perfect for commuting. And with a large capacity of 36v 10.4Ah and a range of up to 35km, you'll be able to explore your neighbourhood like never before. EN17128 compliant. 25km/h top speed. excellent lighting. What's not to love? find out more about this amazing electric scooter below.
---
AOVO Max Electric Scooter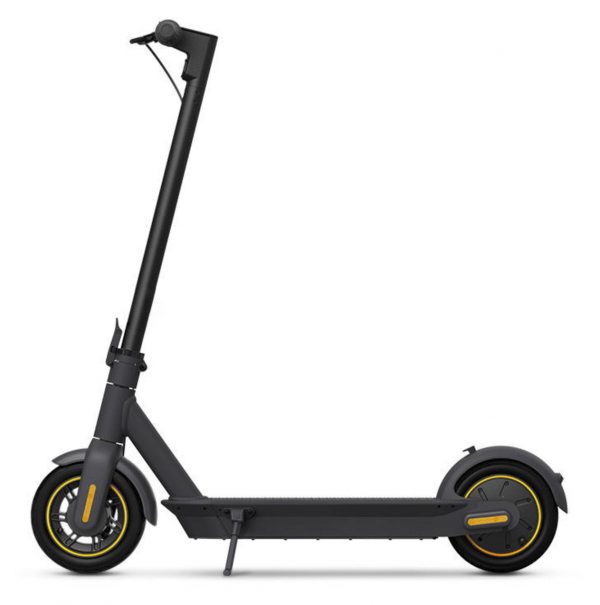 The AOVO Max electric scooter is a great option for commuting, with a massive 48v 15Ah battery and peak power of 500w. It comes with a 3A fast charger and has a top speed of 40km/h and a maximum range of up to 65km. If you are looking for an electric scooter that can handle larger riders and offers a great range, the AOVO Max is definitely worth considering. To find out more about this electric scooter, please visit the link below.
Visit the official AOVO store for more info
---
Pure Air Pro LR 🏆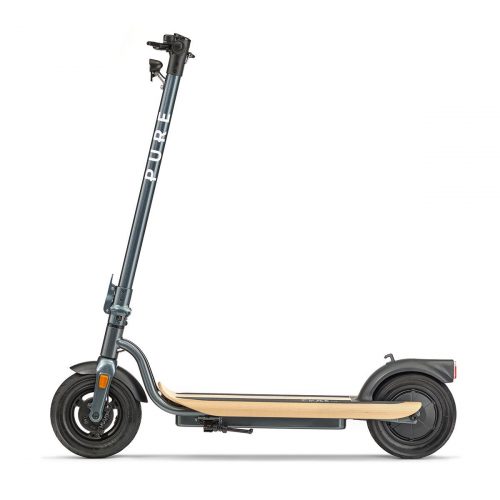 The Pure Air Pro LR e-scooter is a great option for those looking for a powerful and long-range scooter. With its hill climbing ability, comfortable ride, and integrated display, the Pure Air Pro LR is perfect for anyone looking for a reliable, long-range e-scooter for a longer daily commute. Power is provided by a brushless motor with an impressive 700w of peak power. The 518Wh battery is capable of a traffic-beating 60km on a single charge and the design is aimed at comfort and safety. This is a very high-quality e-scooter from a well-respected high-street brand and well worth the investment!
Visit Pure Electric for more information
---
Ninebot Segway E22E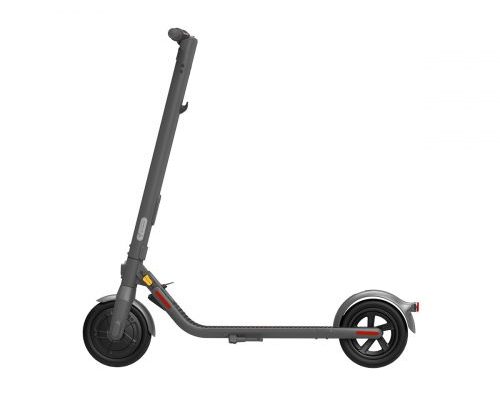 If you're looking for a lightweight and portable electric scooter, the Ninebot Segway E22E is the perfect option. It comes equipped with a suite of safety features including reflectors and LED lights, and can be fully charged in just 3.5 hours. With a range of 22km, the E22E electric scooter is perfect for short commutes, running errands or just meeting up with friends for a coffee. Featuring a 300w motor with a 184Wh battery, the Ninebot is ideal for 'last mile' travel.
---
Eleglide D1 E-Scooter 💰 Best value for money!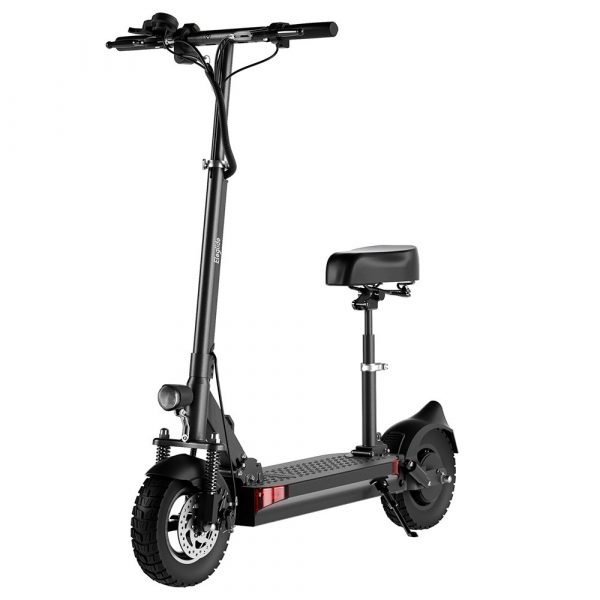 The Eleglide D1 electric scooter is a powerful and efficient way to get around town quickly and easily. This e-scooter is equipped with a powerful 500W motor and an 864Wh battery, which allows it to travel up to 70km on a single charge. Whether you're commuting to work or just going out for some fresh air, this electric scooter is the perfect way to explore your surroundings.  For the price of under £600, the Eleglide is a lot of e-scooter for the money and has the biggest battery at this price point. Well worth considering for the daily commute.
---
Xiaomi Mi Pro 2 Electric Scooter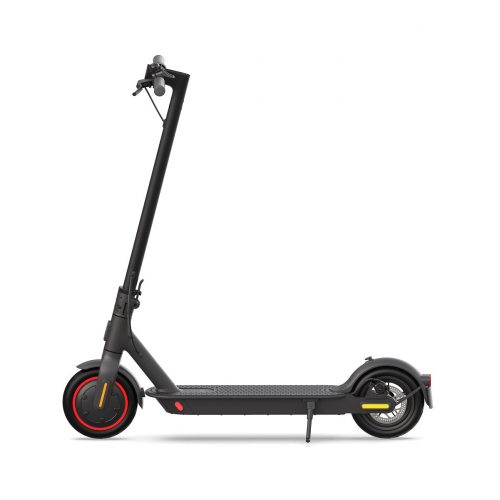 The Xiaomi Mi Pro 2 electric scooter is a great option for commuters looking for an easy way to get around town. This premium e-scooter comes with a 300W-rated motor, air-filled tyres and a stylish integrated display unit, making it perfect for those who want a reliable mode of transportation that also looks good. Plus, the tyres are installed with puncture-prevention fluid, helping to reduce the chances of getting a flat tyre while on the go. Check out the customer reviews on the Pure Electric website below.
---
Conclusion
So there you have it. My top picks for best electric scooters for commuting in 2022. I hope this article helps you make the right decision and don't forget, if you live in the UK, ride safe, don't draw attention to yourself and be vigilant. Until our government changes the law you could have your e-scooter confiscated at any moment! If you want to compare prices and specifications, head over to ebikepricecomparison.com for a comprehensive list of over 120 adult electric scooters currently available. If you're looking for something a bit cheaper, check out my article featuring the best electric scooters under £300. Finally, please feel free to share your e-scooting commuting experiences in the comments below.
Further Reading