The UK government are currently running trials of e-scooter hire in various large cities around the country, and with law reforms imminent,  the electric scooter is going to be a much more common sight in our towns and cities shortly. The new Kugoo Kirin S1 electric scooter is aimed squarely at the budget commuter market and offers remarkable value for money. I have been loaned one of these by Geekbuying.com to test and review.
Summary
Electric Scooters are generating a lot of interest at the moment. With all the current restrictions in place, taking the bus or train to work isn't looking too appealing – especially since face masks are now compulsory on all public transport in the UK.  If you don't live too far from your workplace, the electric scooter could be the perfect way to do your daily commute. They're fun to ride and you can get some fresh air in the process.
Prices seem to be coming down, and electric scooters are considerably cheaper than e-bikes, making them more appealing for short-range commuting. Another bonus is you don't need to pedal, so you can arrive at work as fresh as a daisy!
With most commuting electric scooters coming in at under £500, the new Kugoo Kirin S1 electric scooter seems to offer exceptional value for money at its current (discounted) price of £225 – but is it any good? Read my review below for more details.
Electric components
Unlike other e-scooters I've recently reviewed, the Kugoo Kirin S1 uses a 350w rear hub motor (as opposed to a front motor). My first impression on riding it was it felt quite quick off the mark and quickly reached its 25km/h speed limit. The battery is a modest 36v 6Ah, but considering the price this is more than reasonable and should give a range of around 8-10 miles (depending on rider weight and terrain).
Motor
What struck me about the motor was how nippy it felt – I'm not a lightweight and I weigh just over the 100kg maximum rider weight recommendation.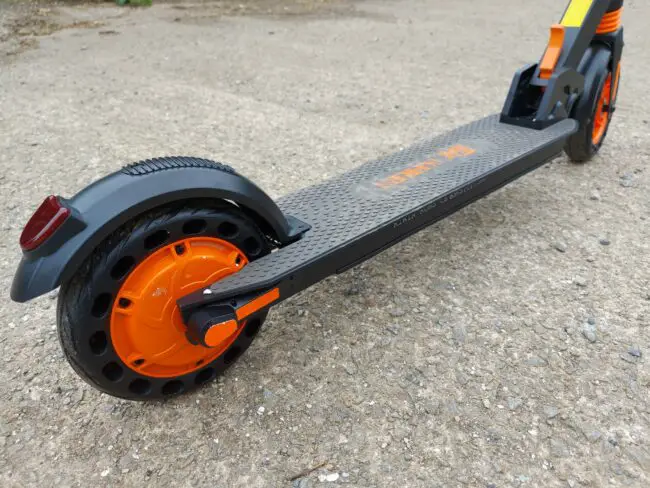 Like other e-scooters in its class, you need to kick off to get the scooter going and once you hit the throttle the scooter picks up speed very quickly (in sport mode). There are 3 power levels to choose from, I found for my weight maximum power was best, but my daughter tried it at the lowest level and felt comfortable at the slower speed.
There is an LED display mounted on top of the handlebar that shows speed, battery power remaining and power levels – power is simply changed by pressing the button. Blue is Eco, Yellow is Cruise and Red is Sport mode.
If you double press the button, this activates the front and rear LED lights – although not overly powerful, they're more than adequate for riding on well-lit city streets.
Braking
The Kugoo Kirin S1 doesn't have a separate disc brake like some scooters, instead it relies on the motor braking which is activated by the thumb lever on the left (see photo). I have to admit that it's very effective at bringing to scooter to a controlled standstill. I tested this on a -10% descent and it stopped a 110kg male from 25km/h very quickly indeed! Another neat safety feature is the flashing brake light.
Freewheeling down a hill with the power switched off is not recommended, as there is no way of stopping the scooter unless you use your feet!
Battery
As with a lot of e-scooters the battery on the Kugoo Kirin S1 is located below the deck. It cannot be removed for recharging, but it looks like the battery can be replaced at some stage in the future. The 36v6Ah (217Wh) battery is modest in energy capacity, but for the price who's complaining? I rode it up and down my lane a few times covering 3 – 4 miles in total and it dropped one bar from the indicator.
I would imagine if you were commuting and using full-power mode a realistic range of between 8-10 miles should be easily achievable on a single charge – possibly more if ridden frugally.
Companion app
There is a useful companion app available which, when paired with a smartphone will give the rider much more information, like battery voltage, range, navigation and trip function. The app can be downloaded by scanning the QR code visible on the steering shaft of the scooter.
Practicality
The Kugoo Kirin S1 is easy to fold via a lever at the base of the steering shaft, and it doesn't feel too heavy at just under 12kg. It folds small enough to fit under a desk or on the back seat of a car. There is also a useful kickstand, mudguards and a front and rear LED light.
There's a nice rubberised deck, that was large enough to accommodate my size 12's and also solid rubber tyres that are designed in such a way as to minimise the impact of surface imperfections. To add to this, Kugoo has included a neatly integrated head shock at the base of the steering column.
As far as riding is concerned, I'm a big chap at 6'1″ tall and nearly 110kg. The scooter had no problem taking me along at 25km/h on the flat, although it did slow to the point I had to kick along with my foot the minute I got to a steep hill – small/moderate hills were fine though (although the scooter did slow considerably). Bear in mind the typical rider is probably going to weigh more like 60-80kg and be riding in an urban environment, so I would imagine hills will be less of an issue.
Conclusion
At its current price of £225 (discounted from £305) the Kugoo Kirin S1 is the one of best electric scooters I have tested. Even at its regular price of £305 it's great value. It may not have the battery capacity of the more expensive models available, but if you're after a cheap, quick way to get to work without worrying about going on public transport, the Kirin S1 is a great choice.
Build quality looks good and it is available throughout the EU and shipped from a central warehouse in Poland. It took about 4 working days to get to me in the UK and came well packaged with full instructions, 4 x Allen bolts and an Allen key (to mount the handlebar). The only other thing you need to do is connect the circular green Higo connector, charge the battery and away you go!
I'm giving the Kugoo Kirin S1 electric scooter the thumbs up – if you're on a tight budget, or you just want to try out an e-scooter to see what all the fuss is about the S1 is a good place to start.
If you have any questions regarding this or other e-scooter, please leave a comment below and I will reply usually within 24hrs. Thanks for reading!
Further Reading