The Xiaomi M365 scooter (also known as the Mi or Mijia) was released in 2017 and is currently one of the best-selling electric scooters in its class.  Not only is it affordable and fun to ride, but it is also well-built and has a host of features that set it apart from the competition. Read my full  Xiaomi M365 review below, for the lowdown on this great urban mobility solution.
---
Xiaomi M365 Electric Scooter
The M365 epitomises everything an electric scooter should be. It's fairly light (for an e-scooter) at 12.5kg, it folds down quickly to a manageable size and above all – it's fun to ride! This is what makes Xiaomi one of the best electric scooters for commuting currently available.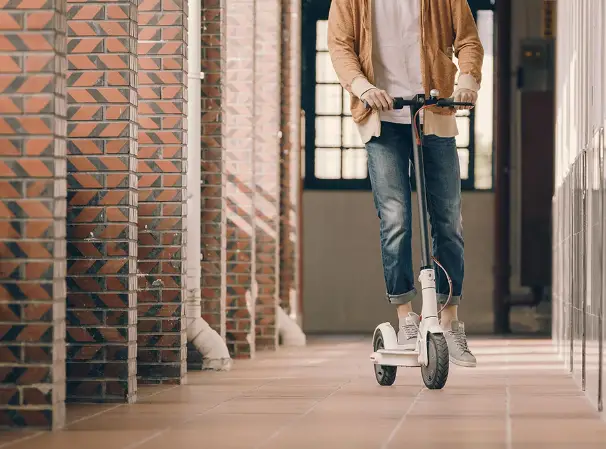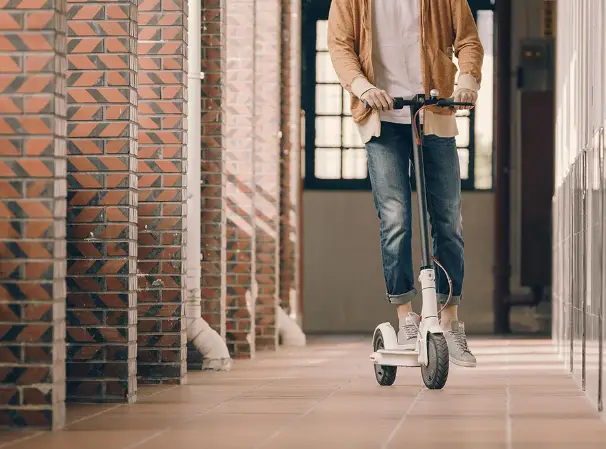 The M365 Original and Pro variants are manufactured by the Award-Winning transport and robotics company Ninebot, which is part of the Xiaomi Corporation – a massive Chinese company that specialises in hi-tech gadgetry, and makes anything from mobile phones, smart watches, robotic vacuum cleaners to folding electric bikes.
Ninebot famously acquired the Segway brand back in 2015 – The Segway was an innovative self-balancing personal electric vehicle first released in Britain in 2001.
Shortly after its release in 2017, the Xiaomi M365 won the prestigious iF Design Award, based on the assessment criteria of Aesthetics, Design Quality, Practical Use, Innovation and Autonomy.
Xiaomi M365 vs M365 Pro?
The original Xiaomi M365 was released in 2017 and became an instant hit. Despite a recent product recall it continues to sell well. The original Scooter is still available, but for 2019 Xiaomi has released the new updated Pro model.
The Pro model is more expensive than the original but has been updated substantially with a more powerful battery and electric motor, plus the addition of a very neat and clear display. Below is a comparison table on the main differences between the two models.
The small direct drive front hub motor used on the Xiaomi is available in 250w (M365) or 300w (Pro) power outputs. This motor also serves to double up as braking and uses a clever regenerative anti-lock brake function, that essentially reverses the motor in order to slow the scooter down very quickly – from 25km/h to a standstill in around 3 seconds.
Performance wise both versions provide a more than adequate turn of speed. There are 3 power levels available: Eco 16 km/h (12mph), Drive 19 km/h (12mph) and Sports mode 25 km/h (15mph).
I'm quite a large chap, and I found the motor fine for zipping along on the flat ground, but it did start to struggle a bit when going uphill (which is understandable!). I would say this scooter provides plenty of power for flat urban roads, but unless you are a featherweight, it may be wise to push it up any steep hills you encounter.
---
Battery
Both the M365 and Pro versions use a lithium battery pack concealed beneath the deck of the scooter. The main difference is the total energy capacity and thus, the range. The original M365 had a 36v 8.8ah battery that could give a maximum range of approximately 25km (18 miles) when ridden sensibly. The newer Pro model uses a much more powerful 36v 12.8ah battery, which increases the maximum battery range to 45km (25 miles).
Both versions use high-quality LG lithium cells. The main benefit of using higher-quality cells is higher energy density and better battery longevity.
---
Display
The M365 does not have a display, but metrics, such as speed and battery consumption can be monitored through the companion app, which is available on Android or IOS.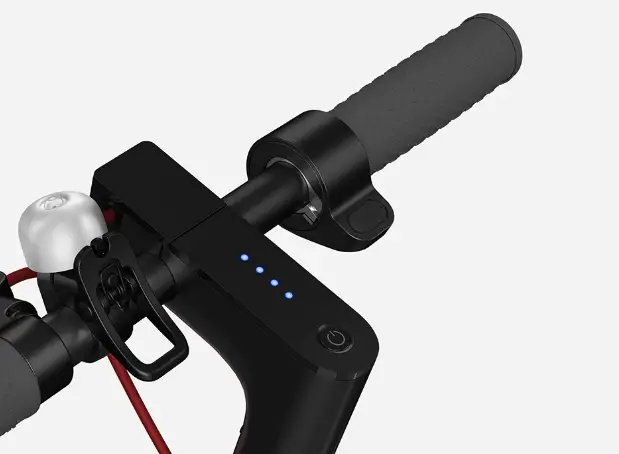 The Pro version has a very neat and clear integrated colour display, that displays your speed, power level and remaining battery power. Like the standard M365, you can download the companion app for more detailed information and functionality (see below).
---
Companion App
Although the Xiaomi Scooter companion app isn't particularly necessary, it will be required to unlock the full features of this scooter – the standard M365 doesn't display speed, but this will be displayed on the app. And although the Pro model has a full-colour display, there are certain very useful functions that can only be used if you have the companion app connected via Bluetooth to your scooter.
The first great feature is Cruise Control – this senses if you are riding at the same speed for a certain period of time and will maintain a constant speed automatically. This is really useful when you're riding longer distances, as you can take your thumb off the throttle, and cruise along without a worry in the world!
Motor lock is a good ant-theft feature that lets you lock the scooter's motor when it's connected to your phone. When in locked mode, you can't even push the scooter or switch it off.  If someone tries to do so, the scooter makes an audible beeping sound – a very useful theft deterrent but it still won't prevent a would-be thief picking it up and walking off with it.
You can also enable the scooter's flashing tail light – this usually only works when the brakes applied (without the app), and you can adjust the amount of regenerative braking applied (this is set to Strong by default).
Other than the above features, the companion app provides you will useful metrics including estimated remaining mileage, battery level, battery temperature, total mileage.
---
Brakes and Wheels
As mentioned above the Xiaomi Scooter uses a combination of front motor braking and a 120mm rear mechanical disc brake.
The motor braking is a clever feature and acts as an anti-lock brake by reversing the motor and slowing the scooter quickly and safely from its top speed to a standstill.
The wheels are shod in 8.5-inch Pneumatic tyres which provide an adequate amount of cushioning for regular tarmac surfaces. Although it should be noted, that pot-holes and curbs should be avoided at all costs.
---
Folding and Weight
One of the deciding factors most buyers consider when purchasing an electric commuter scooter is the ease at which it can be folded down.  Thankfully the Xiaomi M365 and Pro models both fold down quickly and easily.
Both the standard and Pro models weigh in at around 12.5kg, which is about the same weight as a hybrid bicycle. It could prove to be a bit too heavy for some people to be carting around on public transport, but it is still considerably lighter than most folding e-bikes.
---
Riding the M365 Scooter
I had a go on an M365 Pro recently and it is an enjoyable electric scooter to ride. I actually weigh slightly heavier than the recommended maximum of 100kg, and I am just over 6 ft tall. Having said that the scooter performed admirably in my opinion.
On the flat, my extra weight didn't prove to be an issue and the scooter was quick to get going. Initially, You need to kick off a couple of times, before the throttle can be activated. Once on the move, it accelerated briskly up to its 25 km/h (15mph) maximum speed.
The handling was very responsive, requiring a minimum of movement for changes in direction. If anything it felt a little nervous, but that is probably something one would get used to over time.
As I expected, when I tried an 8% hill climb test the limits of the small motor were quickly reached. But I would imagine if you were a smaller person, this wouldn't be so much of an issue.
---
The Verdict
I am fairly new to the world of e-scooters, but due to my long-time interest in all-electric vehicles (particularly e-bikes), It was only a matter of time before I got bitten by the bug!
The Xiaomi M365 Pro is a cracking little scooter for the money, it does exactly what it says on the tin, and it does it well. The battery range of both models is respectable enough and if your commute is through city streets on cycle ways then it is a great way to get around – it's certainly a lot quicker than walking!
I would not recommend riding this on the road though, as electric scooters and cars do not mix. Also, road surfaces generally have more imperfections, and this scooter does not deal with pot holes well (trust me!).
The functionality of this scooter is excellent, and some of the high-tech features are simply not found on other scooters in this price bracket. The front motor braking system is excellent and the colour display (on the Pro) is very clear and easy to use.
Personally, I think it is one of the best electric scooters for commuting and would be perfect for someone who commutes by train or bus but has a mile or two left to travel at the end of their journey.
Related Articles