Popularity and interest in e-scooters are continuing to increase and with an increase in demand comes greater choice. A couple of years ago there wasn't much to choose from for under £300, but more recently we're starting to see some great electric scooters in this price range. One such e-scooter is the new Niubility N1 – here we have a full-sized adult commuting electric scooter with a decent battery range for well under £300. But is it any good? Read my full review below for more information.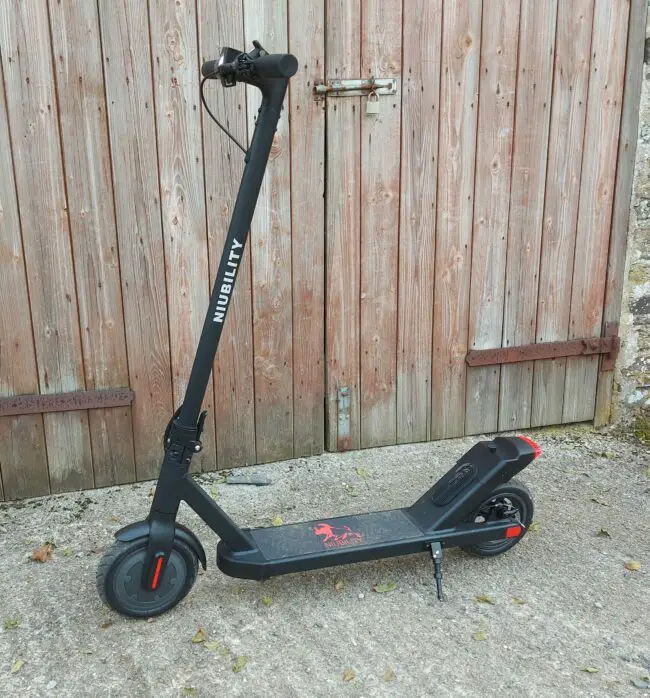 Summary
Gearbest.com has kindly sent me the Niubility N1 electric scooter to test and review and my first impressions are favourable. Considering the price, it comes across as a very robust and well-made machine that offers exceptional value for money at just over £200.
The first thing I noticed when I removed it from the box was its size – this is aimed at the adult rider. It's of a solid construction and doesn't feel flimsy at all – I'm just over 6ft and the height of the handlebar and space on the deck are perfect for the taller rider.
What this gives the rider is a very relaxed, upright riding position, making the Niubility N1 the perfect electric scooter for commuting on or just zipping around town.
What's in the box?
The scooter was shipped from a warehouse in Poland and arrived in the UK within 7 working days. Everything was well-packaged inside a double-walled cardboard box and the scooter was well-protected with foam.
Assembling the scooter takes a matter of minutes all you need to do is connect the 5-pin plug on the main wiring loom running internally up the steering column to the handlebar connector. There are 4 x countersunk Allen bolts – two at the front and rear. Allen keys are also provided with the scooter which is a nice touch.
Once the handlebar has been fitted, it is just a case of making sure the steering column is aligned with the front wheel. If not (as was the case with mine) all you need to do is loosen the two larger Allen bolts at the base of the column and align accordingly.
The whole process took less than 10 minutes. The steering column unfolds and is secured in place by a lever and twist lock. Folding the scooter down is the reverse process.
A user manual is also included and I found the instructions clear and concise. There is also a 36v battery charger – my version came with an EU plug, but I happened to have a spare UK power lead available, so no problems there.
The battery charging port is conveniently located under a small rubber cap at the rear of the scooter (see photo below). You will need to fully charge the scooter before first use, this took a couple of hours. As with most battery chargers, there is an LED indicator light that goes from red to green once charged.
The battery has an internal management system to prevent overcharging so when the maximum charge is reached the charger will go into 'trickle mode'.
👉New to e-scooters? Check out our electric scooter buyer's guide for beginners.
Electric components
For the price, the electric motor and battery perform well. The 265Wh (36v 7.8Ah) battery should give the rider a potential range of around 15 miles (25 km) this will depend on the rider's weight and the amount of power used.
Motor
The Niubility N1 uses a brushless  250w front hub motor which works very well indeed. Power delivery is very smooth from the almost silent motor, and the performance is what you would expect from a motor with this power rating.
Considering I'm a big lad at just over 6ft and 110kg, the Niubility N1 was quite happy taking me along on a flat (ish) section of the country lane at the maximum speed of 15 mph. The only time it started to struggle was on inclines – this was completely expected, as every other scooter I have tried with this type of power output always struggles on hills. My teenage daughter rode it up and down my steep driveway without any issues and the scooter quite happily propelled her up the 8-10% gradient without fuss.
To activate the motor, you need to push off with one leg, and then press the throttle.
Display
The neatly integrated display is clear enough and simple to use – one press of the button activates the lights and a quick double press changes the power mode. There are two modes available – Eco and Sport. When modes are changed, the power icon changes from green (Eco) to red (Sport). The version I was supplied with also came supplied with a bell.
Braking
Braking is provided by a single mechanical rear disc brake and the front motor. When the brake is applied both the motor and rear disc bring the scooter to a standstill fairly quickly.
Another neat feature, which is usually only found on more expensive scooters is the inclusion of a brake light.
Battery
The battery on the Niubility N1 electric scooter has a total energy capacity of around 265-watt hours or 36v 7.8Ah. What this translates to in everyday usage is a usable range of around 15 miles (25 km). I have only ridden this so far for roughly 5 miles, and lost two bars off the battery level indicator – but I am quite heavy at 110kg, and the terrain where I live is very hilly. I would imagine with a rider of around 70kg and in an urban environment the 15-mile range should be achievable.
Charging the battery is nice and straightforward via a small port at the rear of the scooter. The battery cannot be removed, so the scooter would need to be near the PowerPoint.
Tyres
The 8.5″ tyres are pneumatic and are wide enough to absorb most road imperfections – I would still avoid deep potholes as the small diameter of these wheels will be unforgiving if you hit a deep hole at 15 mph.  Included with the scooter is a Schrader valve pump attachment.  I can't comment on the puncture resistance of the tyres (so far) but they seemed to cope with gravel and thorn-laden Cornish back lanes.
Practicality
The Niubility N1 weighs in at around 12 kg, and folds down within seconds – so it's easily transportable for most people. It is on the larger side when compared with similarly priced scooters, but this is an adult scooter and not aimed specifically at children. My teenage daughter, however who is 5ft 4″ had no problem riding it up and down my driveway.
As a form of day-to-day transport, I would say it's ideal for shorter commutes, particularly if you can utilise flat, cycle-friendly pathways. The top speed of 15 mph is easily maintained on the flat, but remember, if you're a larger person (like me) hills will be challenging for the small motor, and you may find you need to either push it uphill or give some assistance.
The front and rear LED lights are easily activated by a single press of the main button on the control panel – these are perfectly suitable for riding on well-lit urban streets.
Specification
Brand: NIUBILITY
Model: N1
Body Material: aluminium alloy
Colour: Black
Tire size:8.5″
Max speed:25 km/h
Motor power rating:250W
Max climbing:15 Degrees
Travel mileage:25 km (70kg,15 km/H, flat road)
Battery:36V 7.8Ah
Battery charging limit voltage:42V
Charging Voltage: 42V 1.5A 100-240V,50/60Hz
Charging time: 3-4 H
Lights: LED
Height:120-200 cm
Maximum load:120 kg
Packaging Size:1170 x 190 x 550mm
Size:1054 x 436 x 1150mm(unfolded)/1054 x 436 x 480mm(folded)
Net weight: 12 kg,
Gross weight: 16 kg
Packing Content:
1x NIUBILITY E-Scooter
1x Charger
1x Bag of tools
1x User Manual
Conclusion
I think the Niubility N1 is one of the best electric scooters available for under £300. It compares well with the Kugoo Kirin S1 I recently tested. It is physically larger than the Kugoo and also benefits from a mechanical rear disc brake.
The overall construction seems very sturdy, the deck was big enough for my size 12s and handling, braking and performance were all at an acceptable level, especially when you consider my weight and height.
It's a well-thought-out machine that's aimed squarely at the budget commuter market. The motor and battery range make it the perfect short-range commuter scooter.
My only complaint (and it is a minor one) is the manufacturer does not recommend usage in heavy rain – that does kind of limit its application in the UK all year round, but for dry weather, it's the perfect excuse to avoid using the car or public transport.
For the price, it is hard to beat, and all of the customer reviews I have read so far agree. I will be doing a YouTube video review in the next couple of weeks – watch this space!
If you have any questions regarding this or other e-scooter, please leave a comment below and I will reply usually within 24hrs. Thanks for reading!