In this review, I will be taking a closer look at the new Decathlon Rockrider E-ST500 Electric mountain bike. The e-bike industry is entering an exciting new era, where the trickle-down effect is starting to give us high-tech, high-spec electric bikes that are finally within our reach.
It doesn't seem like long ago, that any e-bike that cost under £1000 was generally of dubious quality. Thankfully, those days are coming to an end, and we are now starting to see some really great electric bikes in that price bracket.
Summary
I have been in the electric bike conversion business for nearly four years, and in that time, I have converted countless bikes to e-assist. One of the most common brands I used to convert was B'TWIN by Decathlon, the massive French outdoor pursuits company.
The one thing always struck me with Decathlon bikes, was the quality, and value for money. It seemed that they were always one step ahead of the competition when it came to releasing affordable high-spec mountain and road bikes.
I was interested to find that the mainstream cycling press also praised B'TWIN bikes, even if they weren't always seen as 'trendy' within certain circles of the cycling community.
The fact is Decathlon has been churning out excellent value, high-quality bikes for years. And now they have applied this ethos to their new range of electric bikes.
So far, every single one I have tested has exceeded my expectations, and it looks like the same is going to be true of the Rockrider E-ST500.
The Rockrider E-ST500 comes in at £999, and when I first laid eyes on it, I was suitably impressed. It is a physically imposing bike, and looks like it means business! Those oversized 2.4″ tyres and the frame geometry really make this bike stand out from the competition.
But beauty is only skin deep, so let's take a closer look at what the Rockrider has to offer, starting with the electric components.
Electric Motor
The 250w geared rear hub motor has been beefed-up to cope with the rigours of off-road riding. It is a physically larger motor than that found on their Riverside 500 hybrid bike. The quoted torque figure is the same though at 42Nm. Peak power in boost mode is approximately 450w.
As this motor is bigger, the rear dropouts are 150mm wide as opposed to the standard 135mm found on most bikes. Another great feature is Decathlon have designed this rear motor in such a way, that if you ever get a puncture, the wheel can easily be removed with an 8mm Allen key.
The motor and bearings are also 100% watertight, so you can plough your way through muddy trails and puddles without having to worry about the motor cutting out (which can be a problem with some e-bike motors).
The other great feature is the torque-sensing bottom bracket. Just like its hybrid sibling, the Riverside 500, the E-ST500 has an integrated sensor in the bottom bracket that measures the force being applied to the pedals. The more force applied, the more the electric motor will help you.
This translates into a very smooth and fluid delivery of power, that may seem almost imperceptible at first. It's only then you realise you are pedalling up a 15% gradient and not getting out of breath or experiencing that familiar lactic acid burn in your legs.  You are pedalling effortlessly uphill at the kind of speed only the fittest of pros can achieve.
It's a great feeling, and it is guaranteed to put a smile on your face, regardless of your cycling ability.
Display
The discreet LCD display is located just to the side of your left grip. You can choose between 4 assist modes without letting go of the handlebars – Zero Assist, Economy, Standard, and Boost.
You will also find a whole host of other useful information: Chronometer, Speed, Trip computer, battery level, the Remaining battery in km, Active assistance mode, Reset and a 500mAh USB port for charging your mobile phone.
This really is a great little display, and I am not aware of any other display on an e-bike at this price point that has all these features together.
Battery
The 36v 11.6ah (417Wh) lithium battery pack uses high-quality LG LGC -MG1 cells. The battery pack is neatly integrated into the frame, and removed sideways, using a key to lock and unlock the battery into its holder.
This battery should give you a range of between 40-60 miles, depending on how you ride the bike. If you go everywhere in boost mode, then you can expect to deplete the battery in as little as 20 miles.
Gearing
Decathlon has also clearly thought about the gearing on this bike, and gone for a simple 1 x 9 set-up. Most e-MTBs at this price either have triple cranksets, or large 42t single chainrings – not really suitable gearing for off-road riding.
The Rockrider E-ST500 has an SRAM X-Sync 32-tooth 94BCD steel chainring combined with an 11-36 9-speed rear cassette.  Shifting is taken care of by the Shimano Altus M2000 9-speed rear derailleur and Shimano Altus M2000 trigger shifter. The groupset is finished off with a quality KMC x9 chain.
The only electric mountain bike that I can think of that comes close to this spec is the Carrera Vulcan E from Halfords, and that is £200 more expensive.
Brakes
I have to admit, I was a little disappointed at first to see mechanical disc brakes on this bike, but I understand that Decathlon has got to save money somewhere along the line. But then I realised, that not all mechanical disc brakes are equal.  I used to have a set of Avid BB5s on a cyclocross bike, and they worked a treat.
The E-ST500 has excellent Hayes MX5 mechanical brake callipers with 180mm disc rotors. These brakes work, and no mistake. In my opinion these work better than some cheap hydraulic brakes.
As long as they are maintained correctly and adjusted properly, these brakes shouldn't give any problems and will provide decent stopping power on steep descents.
Wheels and Tyres
The Rockrider E-ST500 has extra wide  27.5″ double-walled rims. These trail wheels have been specially designed for mountain biking and benefit from 23 mm wide rims for improved durability and good grip on wide tyres. The rear wheel has 36 heavy gauge spokes to resist the torque of the motor.
The Hutchinson Cougar 27.5″ x 2.4″ tyres will help inspire confidence on any terrain, and give added traction when your motor is in boost mode on steep muddy climbs.
Front Suspension
The Suntour XCR forks with 120mm travel will help you overcome obstacles like rocks, tree roots and gravel.
The R&D team at Decathlon worked with Suntour to design a superior lubrication and wiper seal specifically for the Rockrider E-ST500.  This ensures the fork stays sensitive over time.
Finishing Kit
As with all the Decathlon bikes, the finishing kit is of a high standard. The stem is adjustable and the handlebars are a good size at 720mm wide, for extra control when riding off-road. The soft-touch B'Twin grips are comfortable and provide a good grip.
Frame
The low frame geometry is excellent and well thought out. Made of 6061 alloys with hydroformed tubes, the bike feels stiff when climbing and responsive when making quick directional changes. When you compare this bike side by side with the Carrera Vulcan E, I know which bike looks like it really means business!
Who is this bike aimed at?
I think this bike is aimed at those who want to get into e-mountain biking but can quite stretch to a mid-drive powered bike like the Rockrider E-ST900.  There's no mistaking, the E-ST500 is a fairly capable off-road machine.
Yes, it does have its limitations, and it would be foolhardy to tackle serious downhill, technical trails. But for beginners or intermediates, it will fit the bill nicely. There's nothing else at this price, that can match the all-around ability of this e-bike off the road.
I think it will also appeal to commuters. Especially if your daily commute takes you on canal towpaths and debris-strewn back streets. The great thing about mountain bikes is that word I keep bandying around – versatility!
With big fat tyres, suspension and a fairly comfy saddle, all you would need to turn this into a daily hack, would be a set of mudguards and maybe a luggage rack.
You could save a packet on fuel bills and lots of time being stuck in traffic. Imagine looking forward to your daily commute, and still getting some light exercise into the bargain, without turning up at work sweating buckets.
Conclusion
I feel like I'm repeating myself with these Decathlon electric bikes. I have yet to ride a bad one. Every time I try one of these out I'm not disappointed. Don't get me wrong, I have ridden countless e-bikes over the last four years and I am usually very critical. But it's hard to criticise something when there really isn't anything to criticise.
The Rockrider E-ST500 is another excellent electric mountain bike, and for less than £1000, it is just ridiculous value for money. Good e-bikes really don't come any cheaper than this!
When compared with its nearest viable rival, the Carrera Vulcan E from Halfords, you get so much more for £200 less with the Rockrider.  Both bikes have a 36v11.6ah battery, both bikes have a good 250w rear hub motor, and both bikes have torque-sensing pedal assist. The only thing the Vulcan has over the Rockrider is hydraulic brakes.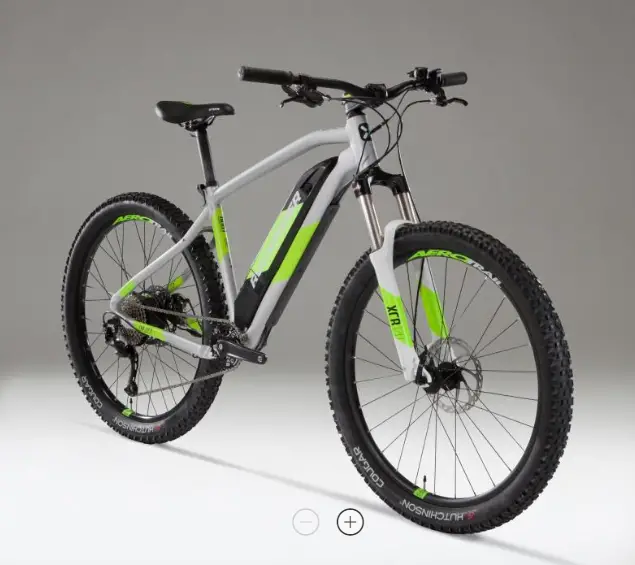 I was bowled over with the E-ST900, but that is £600 more than the E-ST500. I just hope Decathlon keep building these excellent e-bikes. I think the more people we get onto electric bikes the better.
Riding an electric bike is a liberating experience. Knowing you haven't got to pay road tax, or insurance and fill it up with petrol every other day is a good feeling.
I know the weather in the UK is pretty bad at times, but I would say, invest in some decent winter / wet weather gear and just get out and enjoy it.
I will be doing more reviews of Decathlon e-bikes in future. They have set my expectations high, and I'm hoping they can keep up the good work.
If you own a Rockrider E-ST500 and would like to leave some comments and a review below, please feel free to do so.