A few years back, you could tell an e-bike a mile off. Chunky frames, with large battery packs and big hub motors. As technology has improved, electric bikes have evolved to look more like their conventional counterparts. One such e-bike is the Vitesse Signal Hybrid. At first glance, you'd be forgiven for thinking it was an ordinary bike. In my review, I will have a look at the subtle exterior to see how it stands up as an e-bike.
Click here for a preview of the Vitesse Rush sold by Aldi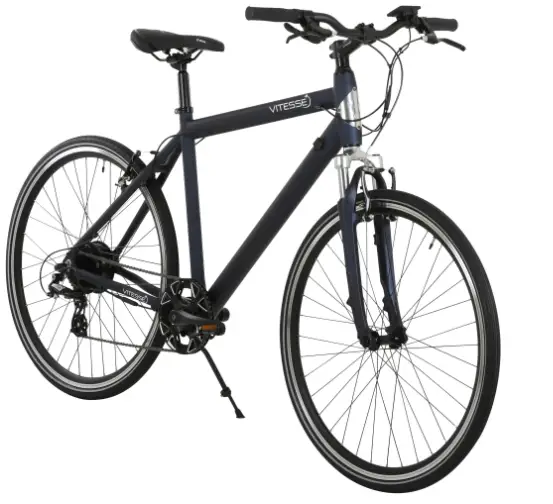 Summary
Ebikes that look like regular bikes are becoming more commonplace. As battery and motor technology improves, integration becomes a lot easier.
This new generation of electric bikes isn't focused on performance or battery range. They are about saving weight and keeping the general look and feel of a normal bike.
The Vitesse Signal definitely succeeds in a number of areas. For starters, the claimed weight of just 16.5kg, is not much heavier than a regular unassisted hybrid bike. As a comparison, the Carrera Crossfire E weighs in at 22.5kg – a whole 6kg heavier!
There is a small 36v 6.8ah (245Wh) battery neatly integrated into the frame, and a compact 250w rear hub motor.
The rest of the bike is fairly unremarkable, but maybe that's the idea. A minimalist ebike, that doesn't have 'steal me' written all over it. Let's have a closer look at the specification.
Also available from Decathlon UK
Electric Components
250w Compact rear hub motor
The Vitesse Signal uses a compact, high-torque 250w rear hub motor. The particular motor used is of a fairly generic design. This design has been in use for a few years now, and its success is in its reliability and simplicity.
One of the great design features of this bike is the manufacturer has managed to hide the motor control unit in the downtube along with the battery.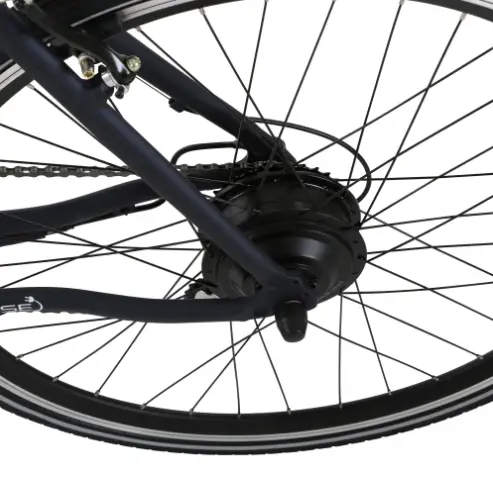 Another great feature of the Vitesse Signal is the torque-sensing pedal assist. This means the motor will only give you power in proportion to the amount of force you apply to the pedals. In effect, the harder you pedal, the more assistance you will get.
What this does is make the small motor very efficient in using battery energy, which is just as well, as the battery only has a measly 245 watt-hours of energy capacity.
This e-assist set-up allows for 5 power levels, which is really useful, as you can fine-tune the assist as and when you need it.
One more thing worthy of note is you can easily ride the Vitesse with the electric motor switched off. There is no drag from the motor, as it disengages when not in use. It feels no different to pedalling a normal bicycle.
Display
The neat LCD display is mounted on the left-hand side of the handlebar, next to the grip. You can easily change assist levels and monitor your speed, battery range, power level and trip function.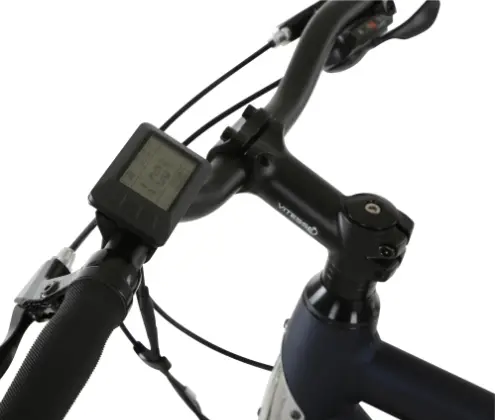 Although it's not particularly fancy, it does everything you would expect of an e-bike display. And it fits in with the general look of the bike. There is also a useful 500mAh USB port, which is suitable for maintaining a charge on a smartphone (but not charging it fully).
Battery
A frame integrated 36v 6.8ah battery is concealed within the normal-looking downtube. Usually, with frame-concealed e-bike batteries, the downtube is noticeably larger, but not on the Vitesse Signal.
They have done a great job of integrating the battery, with the only tale, tale sign being a small charging port located at the top right-hand side of the downtube.
As far as battery range is concerned, I feel that the manufactures claimed range of up to 60 miles is a bit optimistic. In real-world riding conditions, with a few hills thrown in, I would say 25-35 miles seems more realistic.
You could probably squeeze 60 miles out of a single charge if you stayed in the lowest power setting.
Bike Components
In keeping with the minimalist design of the bike, the Vitesse Signal uses fairly basic, but dependable Shimano components. My only real complaint in this department is the choice of V-brakes.
| | |
| --- | --- |
| Brand | Vitesse |
| Type | Electric Hybrid Bikes |
| Frame Material | 6061 Aluminium |
| Suspension | Front Suspension |
| Wheel Size | 700c |
| Number of Gears | Simano Altus 8-Speed |
| Brake Type | V-Brakes |
| Maximum Speed | Assistance up to 15.5mph |
| Maximum Range | up to 60 miles |
| Recharge Time | 5-6 hours |
| Pedals Included | Yes |
| Approximate Weight | 16.5kg |
Gearing
With a 44t front chainring and an 11-32 8-speed rear cassette, the gearing is more than suitable for pottering around town, and even okay for a bit of exploring the countryside.
The Vitesse Signal uses the dependable Shimano Altus rear derailleur, which is not only reliable but provides crisp, precise gear changes.
Brakes
This is one area, I really think could be improved. I'm not saying decent V-brakes, set up properly aren't any good. On the contrary, they can work very well if adjusted correctly.
The main issue is when there is muck and water on the road. Braking performance is substantially diminished. At this price, it would have been nice to have hydraulic brakes fitted.
Front Suspension
I personally would have fitted rigid forks to this bike, the suspension fitted is unbranded and doesn't feel like it could handle much abuse.
It's fine at soaking up road bumps and coping with canal towpaths or even light forest trails. But I wouldn't trust it to cope with anything like a large pothole or a rock.
Wheels and Tyres
The 700c double-walled alloy rims with alloy hubs and 14g spokes should make for fairly tough wheels. The tyres used are unspecified  700 x 35c hybrid tyres, that have a reflective sidewall and I would imagine some degree of puncture protection.
Finishing Kit
The seat post, stem and handlebars are all Vitesse branded items and look to be of decent quality. The seat is a Velo trekking saddle, that should be comfortable enough for most riders.
Frame
The 6061 alloy frame has the classic hybrid-style geometry, making for a very relaxed, upright riding position. This is certainly a bike that has been designed with the commuter or leisure rider in mind.
All the cables are internally routed, which finishes off, what is a very tidy-looking package.
Also available from Decathlon UK
Who is the Vitesse Signal best suited for?
If you fit a set of mudguards and a rack, this would be an ideal commuter bike. Even using the higher power setting, you should still be able to do a 20-mile-a-day round commute, with a bit of battery to spare.
It has a nice 'sit up and beg' riding position, making it comfortable for longer rides. Another plus factor is the Vitesse is relatively light for an e-bike. If you live in a flat, carrying the bike upstairs shouldn't be too much of a problem.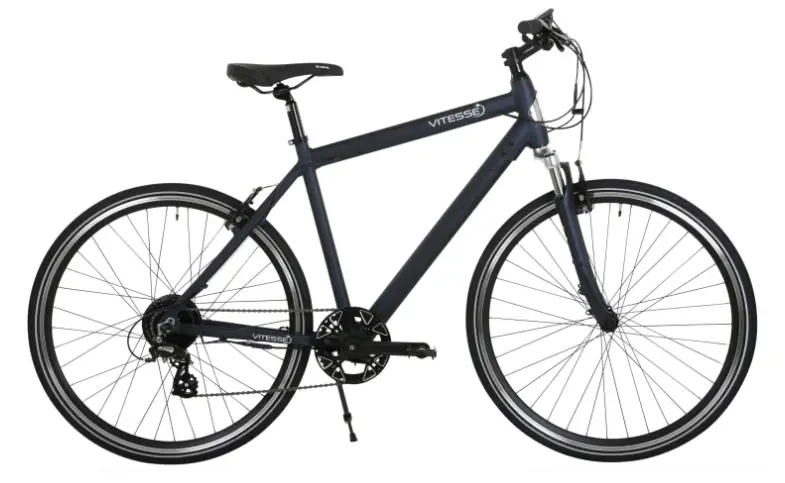 When it comes to weekend leisure riding, this bike will easily fit on a car-mounted bike rack, and the weight shouldn't cause too much of a problem (unlike some Bosch-powered e-bikes that weigh 25kg).
The Vitesse Signal is only currently available in a 52cm frame, and although there is a fair amount of adjustment available in the seat post, taller riders (6ft plus) may find it a little on the small side.
Conclusion
I quite like the Vitesse Signal. It's lightweight, it has a torque-sensing pedal assist and it has a nice traditional bicycle look about it.
It is a pleasant bike to ride, and the small hub motor provides a surprising turn of power when needed. It is also very easy to ride with the assist switched off – you wouldn't even realise you were riding an e-bike.
The only downside with this bike (and it is a big one) is the price. At an RRP of around £1499, it is, in my opinion considerably overpriced, especially when you look at the competition. It is available for less on eBay and Amazon.
Take for example the Decathlon Riverside 500 hybrid e-bike – this has hydraulic brakes, nearly double the battery power and decent quality Suntour suspension forks for £200 less.
It's a shame really, because I think the Vitesse Signal is a great little electric bike. Where this bike wins hands down is the fact that it looks like a regular bike and rides like a regular bike. Most people wouldn't even realise it was an electric bike unless you told them.
If you're looking for a lightweight, no-frills e-bike, that you can use as a regular bike, and only use the assist occasionally, then this would do the job.