Cube has upped its game in the sub £2000 e-bike market and the replacement for the popular Acid Hybrid One e-MTB is looking like a very worthy successor. The 2021 Cube Reaction Hybrid Performance 400 has been redesigned from the ground up. Read my full review below for all the details.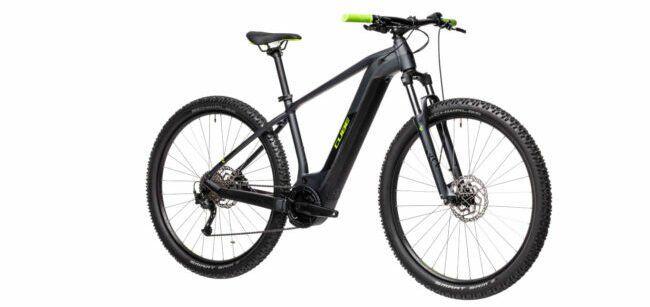 Summary
The Cube Acid Hybrid One 400, was the German bike giant's entry-level electric mountain bike and was also one of their best-sellers. It hasn't changed much over the last couple of years with the 2018/2019 versions being practically identical.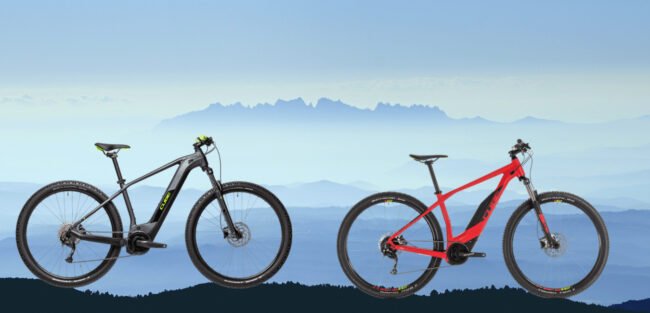 For 2021 Cube has completely re-branded and re-designed its flagship sub-£2000 e-MTB. The all-new Cube Reaction Hybrid Performance 400 looks like a thoroughly modern electric bike. Using the very latest Bosch Performance Cruise generation 3 mid-drive motor and a very neat-looking frame with an integrated power tube 400Wh battery pack.
It looks like Cube has used a similar frame design from their more expensive 2020 hardtail e-MTB models, which is great news for the under £2000 electric mountain bike buyers market.
At a recommended retail price of £1899 (at the time of writing), this latest electric mountain bike from Cube looks to be great value for money. Read on for more information on the specifications.
Electric components
The Cube is packed full of the very latest in e-bike technology with the only exception being the Purion display, which although dependable is starting to look a bit dated.  The motor and battery however are the very latest from Bosch.
Motor
Bosch's latest third-generation Performance Line Cruise motor is not only lighter but produces slightly more torque than the Active Plus unit fitted to the Acid (65Nm vs 60Nm). It's also been designed to be more efficient in the way it uses energy, meaning you should see a marginal gain in battery range.
I've always thought the Active Plus motor was incredibly smooth and responsive, but this latest motor is so smooth it's almost imperceptible – the 'bionic legs feeling' which I have described many times before is more evident on this motor than in previous incarnations.
The upshot of this is, are you still feel like you are getting a meaningful workout, but the experience of cycling is made more enjoyable (and accessible) than ever before.
Battery
The latest Bosch Powertube 400Wh battery pack is also lighter and smaller than the outgoing frame battery. These batteries first became available on the more expensive 2020 models, but now the technology and integration have trickled down to the under £2000 price range.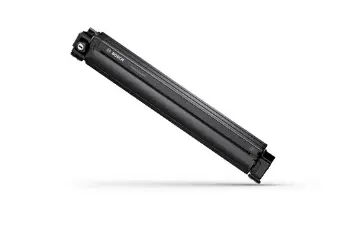 These batteries not only perform well in terms of longevity and range but due to their neat integration into the frame, they give the bike smooth lines and to the untrained eye you wouldn't even notice this was an e-bike at a glance.
The range will be highly dependent on rider weight, terrain and other factors, but a ballpark figure would be 40-50 miles with more being possible if you're frugal with the e-assist. Check out Bosch's range assistant to get a rough idea of the range you can expect based on your weight and riding style.
Bike components
This is the only area where the components don't differ too much from the Acid. The Cube Reaction Hybrid uses fairly entry-level (but dependable) Shimano components, from the brakes to the groupset, with the same Suntour XCM forks as on the Acid.
Gearing
The gearing on the Cube is as you would expect on a bike at this price point, although I would have liked to have seen 10-speed (with an 11-42 cassette). The 9-speed with a 38t chainring and 11-36 rear cassette will be more than adequate for most riders, but may not be low enough for tackling steep, technical off-road climbs.
Shimano Alivio sits at the lower end of Shimano's MTB groupset range, but it is nonetheless very reliable and functional. Gear changes are crisp and precise and although the rear derailleur doesn't have a clutch, this might only be an issue if you are using it off-road constantly.
The chain is a good quality KMC X9, which should be good for 1500-2000 miles of use.
Brakes
Shimano's BR-MT200 hydraulic disc brakes are again entry-level, but they do the job. For the average leisure rider, these brakes work very well – the limits will only become apparent if you push the limits of what this bike has been designed for.
Wheels and Tyres
The rims are sturdy Cube EX23 32H tubeless ready with Shimano HB-TX505 hubs and centre lock discs with quick-release skewers. Some of the competition is using thru-axles at a similar price, but for regular riders, QR wheels will be just fine.
Tyres are Shwalbe's excellent Smart Sam 29″ x 2.35″, which are not only fairly puncture resistant but also offer decent grip on tarmac, gravel and forest trails. They also offer acceptable rolling resistance for riding on tarmac.
Front Suspension
Suntour XCM 100 ATB coil-sprung forks are just fine for light cross-country riding – they have the usual lock-out feature and can be adjusted for pre-load if required.
These forks are ideal for the recreational e-biker who isn't going to be attempting heroics or downhill riding. And as long as you are aware of their limitations, then they should prove to be functional and reliable.
Frame and finishing kit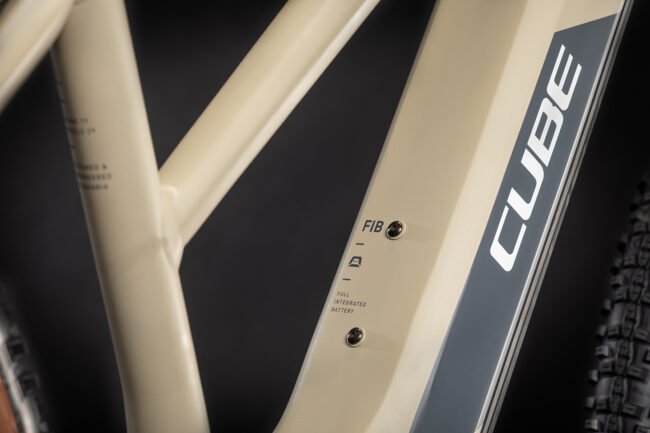 This latest frame is a thing of beauty and a big departure from the Cube e-bike frames of old.  This frame design was first used on the more expensive Reaction models when they were released in 2019. The finish is typical Cube quality with nicely welded joints and a very robust feel. The extra large downtube doesn't look out of place and neatly houses the battery out of harm's way.
All of the finishing kits are Cube's in-house brand and are of excellent quality. From the 720mm wide handlebars through to the stem and seat post.
There is also a low-step frame version available, which is ideal for women and older riders.
Who is the Cube Reaction Hybrid Performance aimed at?
As with the Acid, the Cube Reaction Hybrid Performance 400 is aimed squarely at the entry-level e-MTB rider. The great thing about this bike is its versatility. It's equally as happy on gravel as it is on tarmac, and as such would make a great commuter e-bike. There is a kickstand, mudguard and pannier rack mounting points – so you could quite easily use it as a daily commuter.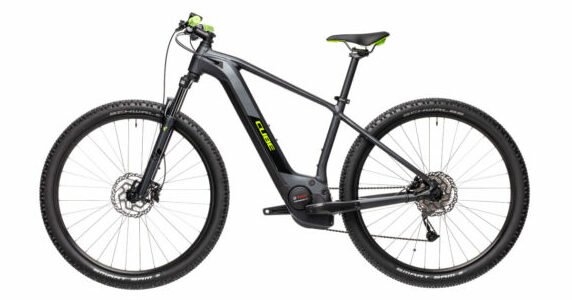 Another great application would be for overnight bikepacking or short touring trips. The Cube is versatile and comfortable enough for long days in the saddle, and with frugal use of the e-assist, you could still cover 60-70 miles on a single charge.
As the name suggests, the Cube bridges the gap between being a full-on mountain bike and a hybrid. It handles off-road riding well, but will not stand the abuse of more expensive e-MTBs. Ride it with respect for its limitations and it will provide you with many hours of fun.
Conclusion
I like the 2021 Cube Reaction Hybrid Performance electric mountain bike. Cube has done a great job updating this bike over the older (Acid) model. It now looks like a thoroughly modern e-bike and for the £1899  price tag, it's competitively priced.
As far as competition is concerned, the only e-bike that springs to mind is the Decathlon Rockrider E-ST900, which is £100 cheaper but has a more powerful battery, 10-speed Shimano Deore M6000 groupset, 2.8″ tubeless tyres and Rockshox forks. Although the Decathlon bike does have a better spec, and the Brose-T motor produces slightly more torque – the Cube wins hands down in the looks department.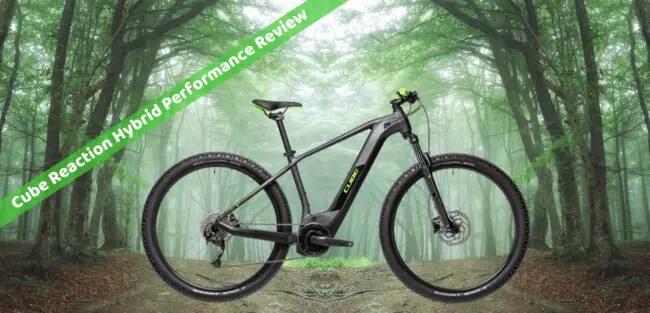 I have to admit, having gone from an electric bike back in 2016 to ride a regular bike since 2017, there are times I still hanker after an e-bike. I live in one of the most hilly parts of the UK (Cornwall) and there are times when I just wish I could flatten out the hills. To give you an example, if I do a 30-mile ride in Cornwall, the average elevation is usually just over 3000ft – that's 100ft of climbing for every mile cycled. On the contrary, my friend who lives in Wiltshire can cycle a similar distance and do less than 1000ft of climbing.
If I was looking for a capable and reliable electric bike, that could cope with the rigours of Cornish back lanes and Bodmin moor, I would be very tempted by the Cube Reaction.  It's a versatile all-rounder that not only looks great and performs well, but comes with a very reasonable price tag. A big thumbs up!
Thanks for reading, if you have any questions please use the comments section below and I will aim to respond within 24hrs. If you have purchased one of these please leave your thoughts below.