Geekbuying.com has kindly sent me an Ado A26 electric bike to review. In this article, I will go over the specification and give you my opinion on this budget e-bike.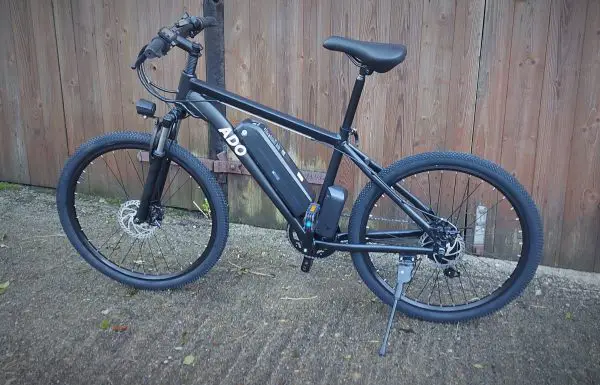 Summary
Ado E-Bike is a Chinese electric bike brand that put a big focus on customer support and after-sales service. They are one of the few Chinese manufacturers who have a network of service centres dotted around the EU and UK. The Ado A26 complements their popular folding e-bike – the Ado A20. So what does the Ado A26 have to offer and is it good value for money?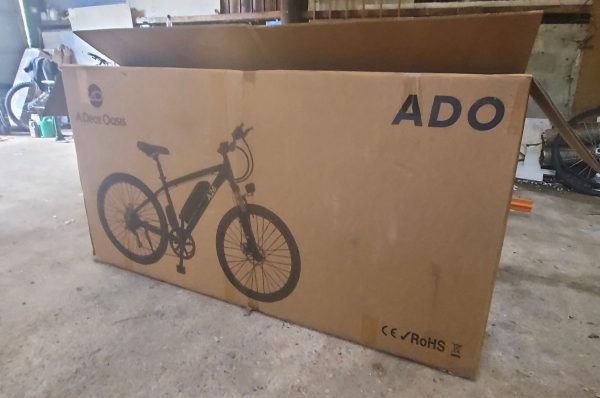 At a glance, the Ado A26 looks to be fantastic value for money. Priced at around £850 in the UK, the A26 boasts a 36v 12.5Ah battery and a 500w rear hub motor. All wrapped up in a very neat-looking matt black mountain bike-style frame.
Legal Notice (UK and EU): The Ado A26 is sold as a 500w e-bike, although the speed is restricted to 25km/h. There are no obvious markings on the bike to indicate power output and the twist throttle can be disabled and easily removed. I would still bear this in mind before making a purchase. I live in a rural area, so was able to test it on a private farm track.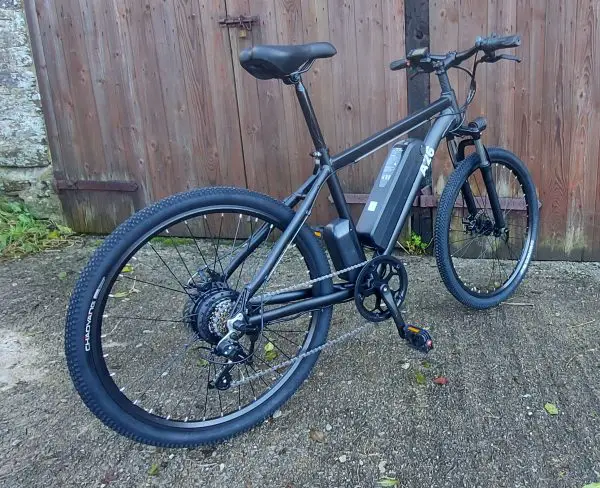 Ado A26 – first impressions
Delivery was from a UK warehouse, so I received the bike within 7 days of the order being placed. It arrived very well packaged and required only minimal assembly – handlebar, seat post, pedals and front wheel. The A26 came with all the tools required for assembly which was a nice touch.
What's in the box?
Ado A26 e-bike
Battery charger with UK plug
User manual
Tools for assembly – Allan keys, spanner
Bicycle tyre pump
Kickstand
Mobile phone holder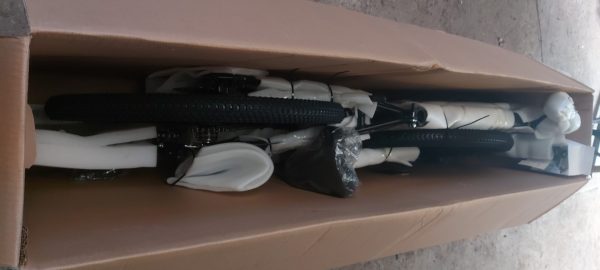 Once the bike was assembled it was just a case of adjusting the saddle height and charging the battery using the supplied charge (which came with a UK plug). The charging process took around 6 hours.
The Ado A26 looks great with the matt/satin black paint finish. There were no imperfections or marks on the paintwork.
All the electric cables coming off the handlebar are internally routed through the downtube, with the brake and gear cables being externally routed. There's also an external control box which is mounted to the rear of the seat tube (near the bottom bracket area).
Electric motor and battery
There's a brushless 500w geared rear hub motor which is very quiet and smooth in operation. This is powered by a Hailong-style 36v 12.5Ah battery. The display is an S866 which has quite a lot of functionality for a cheap LCD, there is an additional USB charging port for smartphones and a front headlight with a horn.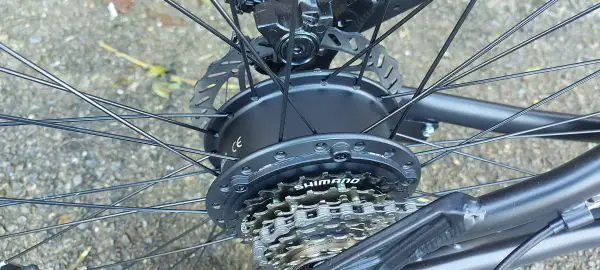 From within the display's advanced settings menu, you can change the number of assist levels from 3 to 5 up to 9 levels which is useful. The display can be set to mph or km/h and there is a real-time battery voltage indicator.
Bike components
Gearing is provided by an entry-level Shimano 7-speed derailleur and gear shifter. The gear freewheel has ratios from 14-28 which will be fine for general day-to-day riding, although it may be limiting for very steep hills.
Mechanical disc brakes are functional and seem to do the job, they performed as expected and will need a bit of bedding-in before they reach optimum performance. If you found the brakes inadequate, it would be easy enough to upgrade in future.
The front suspension forks are a very basic coil-sprung design and do not have any adjustment or lock-out features. They're fine for soaking up potholes and riding rough country lanes or gravel but I certainly wouldn't trust them in more testing conditions.
Wheels are 26″ with all-terrain tyres – these should be fine for general day-to-day riding with a few unpaved surfaces thrown in. I can't comment at present on the puncture resistance as I haven't covered enough mileage.
The test ride
I initially rode the Ado A26 on a 3-mile loop taking in farm tracks and a little bit of woodland trail. The performance has been as expected for a 500w hub motor – it's smooth on the uptake, fairly quiet and tackles steep hills relatively easily. In the lower power levels, it doesn't feel that different to any other 250w hub motor e-bike, but things are more noticeable in the higher power modes. If anything I would say it just makes climbing hills that little bit easier when compared with a similar 250w electric bike.
Frame sizing seems to be about medium, so this bike should be suitable for a rider of 5'5 up to 6′. I'm just over 6 feet and had to raise the saddle quite high to get comfortable.
The ride is okay, and the Ado A26 coped well enough with the poorly surfaced farm track. In the woods it faired just fine, only struggling on a very steep section.
Who is the Ado A26 aimed at?
It's a shame this is sold as a 500w e-bike as it would make a great daily commuter e-bike. Even though it is sold with the speed limit set to 25km/h, this can be easily raised in the advanced settings menu on the display.
If you aren't bothered by the legality issue and are willing to take the risk, that's your choice. I would personally advise against it, but if you do choose to ride one of these on the road, always ride sensibly, be respectful and don't draw attention to yourself (and remove the throttle).
Check out more electric mountain bikes under £1000
Conclusion – is the Ado A26 any good?
I quite like the Ado A26, there's nothing particularly special about it, it's just another cheap e-bike that uses budget components. The motor is smooth and quiet, with the pedal assist being nice and responsive. Having that bit of extra power on tap is useful, but the legality issue will put some people off.
There's something nice and understated about the way it looks – no bold graphics or colours shouting 'Look at me'. It's one of the lighter budget e-bikes I've tested, weighing in at just over 20kg (5kg lighter than the Eskute Voyager).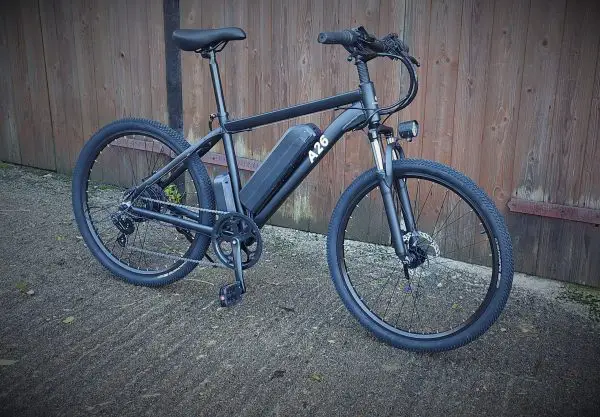 For the current price it's about right for an e-bike of this quality, I would say the build quality and finish are on a par with something like the Ancheer Pro. All the components work as they should, the brakes aren't great but they do the job. Gear shifting is typical Shimano 7-speed.
I'll continue testing the Ado A26 to see how the battery fairs and update this article accordingly – I would say a realistic range would be in the region of 30 miles (48km).
Would I recommend one? If you aren't bothered about the legality and are after a cheap and cheerful e-bike with a bit more oomph for getting up hills, then the Ado A26 is okay – the company have a good presence in the UK and EU and their customer service seems to be pretty good. There's no reason why this shouldn't prove to be reliable over the long term. All the components are cheap to replace when the time comes.
Don't buy one if you're looking for something to thrash around off-road though, I don't think the forks would last too long in those circumstances – this bike is designed for mild off-road riding at best.
Thanks for reading, if you have any questions about the Ado A26 please use the comments section below.