In recent years, the budget end of the electric bike market was the preserve of cheap Chinese imports. Now some of the more established brands like Halfords have recognised the demand for no-frills budget e-bikes. Their latest offering the Apollo Phaze E is certainly cheap, but is it any good? Read my review to find out more.
Summary
Up until a few years ago, e-bikes were generally expensive and inaccessible to a lot of people. Now, as we approach 2020, there are more cheap electric bikes available than ever.
The Apollo Phaze E is Halfords cheapest electric mountain bike, and at under £600, it isn't going to break the bank. True, it looks a little outdated and it has v-brakes and skinny forks. But if you aren't too fussed and just want a quick and easy form of transport that isn't going to cost an arm and a leg, then the Apollo Phaze E might be for you.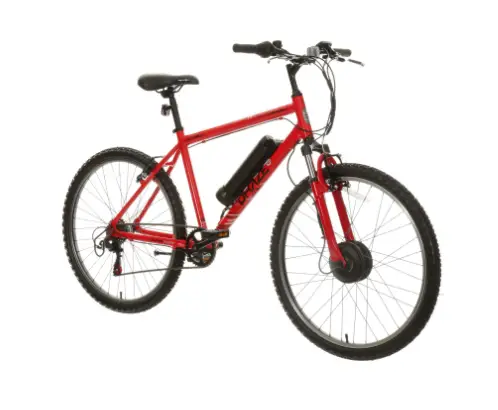 Although the Apollo Phaze E has been branded an electric mountain bike, mountains are the last place I'd want to take this! It certainly isn't designed for tough off-road use, and should only be used on light trails.
Electric Components
Front Electric hub motor
The 250w front-geared hub motor is made by Shengei. Their motors are generally very reliable, and the company has been in the e-bike motor industry for many years.
The benefit of having a motor on the front wheel, also means that there is power going to both wheels. You are putting power into the back wheel whilst pedalling and the small hub motor is giving you some help up front.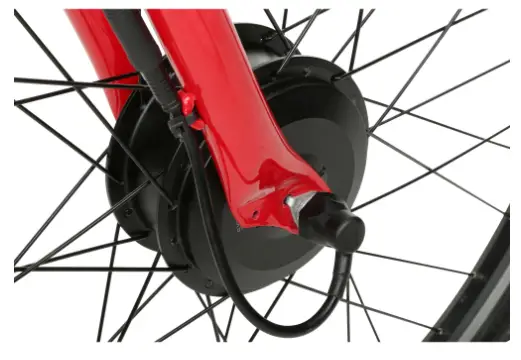 The Phaze E, uses a basic, cadenced-based pedal-assist system, meaning that as soon as you start turning the pedals the motor will kick in.
This type of pedal assist doesn't give the same intuitive feel as a torque sensor, found on more expensive models, but it is very simple and easy to replace if it ever goes wrong.
The 250w produces a nice amount of power when needed, and the performance isn't bad at all for a cheap electric bike. The only real issue you may have is a little front wheel spin when pulling away on a wet or muddy slope.
Battery
The Phaze E uses a 24v 8.7ah battery. It is unusual to see a 24v battery on an e-bike nowadays, as most electric bikes have either a 36v or 48v. This has probably been done to keep the price and weight down.
With a total energy capacity of 209Wh (watt hours), you're not going to be going on any epic long bike rides. This battery should be good for between 15-20 miles maximum.
This shouldn't be a problem if you want to use it for a 7 or 8 miles commute to work. If your commute is longer, you can always take the charger with you and recharge the battery at work.
One benefit of a small-capacity battery is lightweight and compact size.
Components
Gearing
The gearing is the same as you would expect to find on a £120 bicycle. The Apollo Phaze E has a 36t single steel front chainring with a 6-speed rear freewheel and Shimano Tourney derailleur. This is all controlled by a grip shift.
Although this is a bargain-basement arrangement, the gears work well enough, and all the components would be cheap to replace when the time comes.
Brakes
The basic v-brakes will do a good enough job of stopping the bike in the dry, but braking performance may be impaired in the wet. This bike isn't really designed with the fast rider in mind so they shouldn't prove too problematic.
Wheels and Tyres
Very basic, unbranded 26″ wheels should be fine for light recreational riding, but I wouldn't be trying my luck on anything too rough. The tyres are also cheap, so it would definitely be worth filling the tubes with green slime or carrying a spare inner tube and pump with you.
Finishing Kit
All the finishing kit is unbranded and made of steel. I would imagine after a bit of exposure to the elements, a bit of rust might start to appear here and there, but it is a budget bike after all!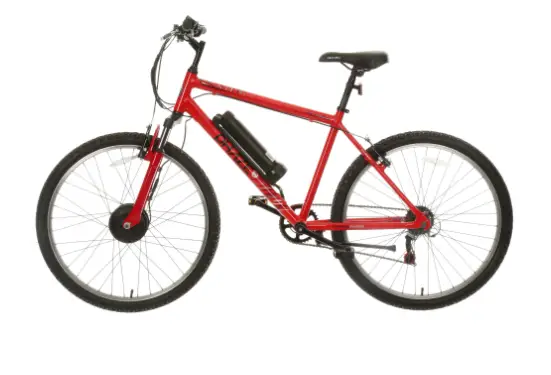 There is a useful kickstand and provisions for mudguards and a pannier rack, which will come in handy for commuters.
The handlebars are nice and compact, and the seat should be comfortable enough for short journeys.
Front Suspension
The front forks have 50mm of travel, and are skinny, to say the least! They should be absolutely fine at soaking up minor road potholes and handling canal towpath riding or light forest trails, but not much else. Take this bike on the seriously rough stuff at your peril!
Frame
The Frame is made of Alloy, which will save on weight, and it seems to be well-made for the price.
Who is the Apollo Phaze Electric Bike aimed at?
The Apollo Phaze E will be aimed at anyone who is looking for a cheap entry into the world of electric bikes. Students, Commuters and recreational riders. Not everyone wants to go and spend a small fortune on an e-bike, and if you are just after something for pottering around on, then this will do the job nicely!
Reliability
The motor is made by Shengei and is a very simple, geared hub motor. These motors are renowned for their reliability, so you shouldn't have too much bother in that respect. Coupled with Halfords excellent 2-year warranty on the electric components, it really doesn't get better than that at this price point.
Conclusion
Electric bikes aren't just a passing fad. They have rejuvenated the bike industry and helped millions of people worldwide get back on 2 wheels. Budget electric bikes might not be particularly fashionable or trendy, but they enable everyone access to the e-bike revolution.
The Apollo Phaze Electric bike is the perfect example of such a bike. It isn't fancy, it's basic and utilitarian. But it does what it needs to do, and that provides electric assist as and when needed.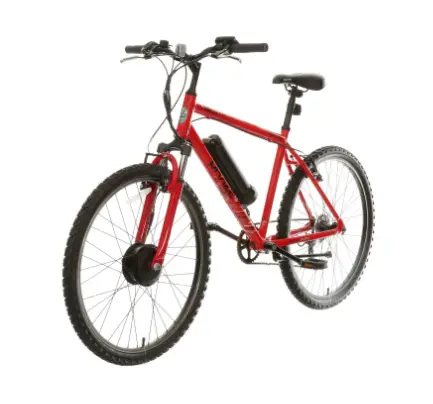 It's not overly heavy at 19kg, it can be pedalled like a regular bike with the motor switched off, and if it ever does go wrong, it is covered by a 2-year warranty.
For under £600, you really can't get much better value than that.
If you had a 10-mile each-way commute to work each day, and you chose to use this instead of the car. This bike would pay for itself in just a few months.
Throw in a cheap set of mudguards, some light a pannier rack and you have yourself the perfect cheap commuter electric bike.
If you have a motor home, and you want a couple of cheap e-bikes to chuck on the back and use to get yourself around whilst on holiday, the Phaze E is ideal for that purpose too.
So, if you're just after an electric bike, but don't want to fork out for something fancy, you could do a lot worse than buy an Apollo Phaze E.