A lot of the e-bikes that have come out of China over the last few years have all been very similar. This is because manufacturers use the same frames, motors and batteries. The only thing different is the branding. But, every once in a while, an e-bike comes along that breaks the mould. One such bike is the new Engwe X26, and in this article, I'm going to be looking at the specs to see what sets it apart from the competition.
The Engwe X26 is the result of a very successful crowdfunding campaign which raised a staggering one million dollars. I can see why people were keen to invest in the X26 as it has certain unique features not usually found on e-bikes.
Engwe X26 Specs
| | |
| --- | --- |
| Motor Power | 1000-watt |
| Battery | 48v 19Ah + 48v 10Ah |
| Charging Time | 7 Hours |
| Range | 100km / 62 miles |
| Top Speed | 28 mph |
| Gears | Shimano 8-speed |
| Brakes | Hydraulic Disc Brakes |
| Suspension | Oil spring magnesium legs, 180mm travel |
| Maximum Load | 150kg |
| Bike Weight | 41kg |
| Availability | Engwe UK / EU Engwe USA |
Pros
Dual battery design with 1401Wh
Triple suspension system
Unique frame design
Colour display
Hydraulic brakes
8-speed gearing
Cons
Seriously heavy at 41kg
Not road legal in the EU or UK
Lots of things to (potentially) go wrong
Available from geekbuying.com (UK and EU shipping)
Electric components
1000-watt brushless, geared rear hub motor
Dual battery design – 1401Wh capacity
Colour display
Here, Engwe has gone for a tried and tested 1000w geared rear hub motor, but the icing on the cake is a dual battery system giving the X26 an unmatched 1401Wh of energy capacity. The primary battery is 48v 19.2Ah with the secondary being 48v 10Ah (total 48v 29.2Ah). What this will mean in terms of the total range remains to be seen, but I would say the claimed range of up to 62 miles (100 km) should be easily achievable with sensible use.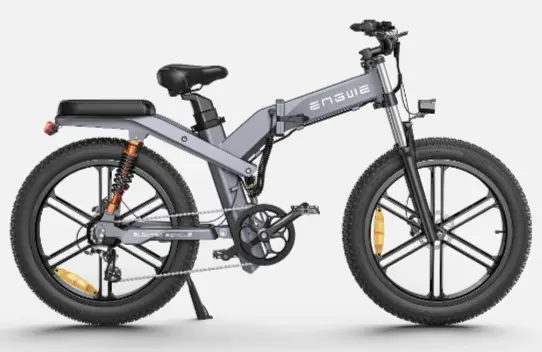 The rear hub motor is rated to 1000w with a claimed peak output of 1200w. This should be enough to power the X26 up fairly steep hills. Hub motors aren't renowned for their hill-climbing strengths – I have tested the Engwe Engine Pro and the EP-2 Pro on very steep (20% gradient) climbs and they do start to struggle, requiring a fair bit of rider input. On moderate hills, however, they perform very well.
As far as I can ascertain, the X26 uses a cadence sensor for pedal assist. It would have been great to have torque-sensing assist on an e-bike like this as it improves responsiveness and motor efficiency. More and more Chinese manufacturers are using this technology, and torque sensors are now fitted on the Fiido M21 and the soon-to-be-released Ado Beast folding electric fat bike.
There is a 48v 19Ah battery in the frame and the second 48v 10Ah battery is integrated into the oversized seat post. The dual battery arrangement is what sets the Engwe X26 apart from the competition. It's nothing new, indeed, dual battery set-ups can be found on several more expensive brands. The Freesky Alaska has two batteries and is cheaper. But, that's only available in the US.
As I have mentioned above, the claimed range of 62 miles does seem quite feasible, providing the bike is used sensibly. I reckon if you treated it like an electric moped and didn't pedal, you'd tear through the battery much quicker. On the flip side, if you were frugal with the assist, then I reckon maybe more than 62 miles could be achievable. I've been getting 40 miles out of the Engine Pro battery and that is 768Wh  If I can get hold of an Engwe X26 for a review in 2023, I'll put this to the test.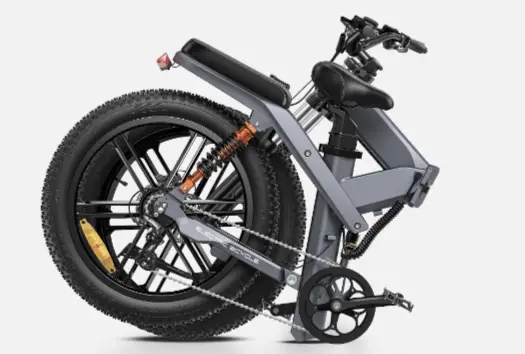 A full-colour display is used on the X26. The screen layout looks identical to the display used on their Engine Pro e-bike. Assuming it has the same functionality, then it should be a really good display. Clear to read and has lots of options to fine-tune assist levels. Plus, it does have the auto lights on/off feature, but I didn't see any mention of a regen function.
Bike components
Shimano 8-speed gearing
Hydraulic disc brakes
Front suspension fork 3 x rear suspension units
26″ One-piece mag wheels with 4″ fat tires
Engwe has equipped the X26 to a similar level as the Engine Pro with a couple of additional features, like the motorcycle-style front forks and an interesting triple suspension system at the rear.
The gearing on the X26 is similar to the Engine Pro. You have a single front chainring with an 8-speed rear cassette. It uses the nice Shimano trigger shifter which gives a nice and positive gear change.
Being such a heavy bike, hydraulic brakes are a must. The brakes on my Engine Pro work well. And although they're not a brand I'm familiar with, they do the job effectively. Looking at the brakes on the X26, they look very similar.
Suspension is one area of the X26 that differs from other e-bikes. I'm not sure what the benefit is to having three suspension shocks at the back, but it sure is different! The forward single shock looks like the one fitted to the Engine Pro. Plus, the twin shocks to the rear, are reminiscent of classic motorcycles. It should certainly add to rider comfort by filtering out road buzz.
Upfront there's a triple-tree style suspension fork. This looks a lot beefier than the unit fitted to the Engine Pro and should provide more than adequate absorption for light riding off-road. How durable they are is another question, and I always recommend caution by avoiding jumps and rocky, technical descents.
Solid one-piece magnesium wheels will negate the need to worry about broken spokes. Plus, they should be tough and last the lifetime of the bike. These are the more traditional 26″ diameter and are shod in 26″ x 4″ all-terrain tires.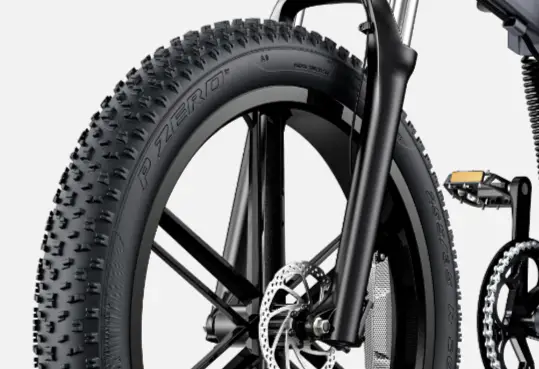 The frame looks neat, whereas the Engine Pro and EP-2 frames are used on many different brands. The X26 frame is unique to this bike. It has a central folding mechanism, where you can also remove the main battery (for charging).
Accessories
Front and rear lights
Kickstand
Integrated rear seat/cargo rack
All Engwe e-bikes are well-equipped and the X26 is no exception. You have front and rear lights (with brake lights) these can be set to auto on/off via the display. It works on my Engine Pro just fine. There's the obligatory kickstand, but I didn't see any mention of mudguards. There's a seat pad on the back for (I assume) carrying a passenger, but I couldn't see any footrests. I would exercise caution carrying a passenger, and if you do, make sure they wear a helmet and gloves.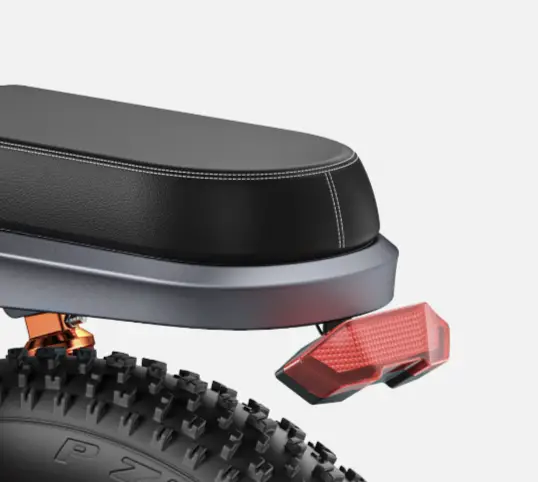 Who is the Engwe X26 aimed at?
I reckon the Engwe X26 would make a cracking commuter e-bike. With the potential for over 50 miles on a charge, you could cover quite a substantial commute and not have to worry about turning up for work all sweaty! Plus, with the added comfort of the big tires and suspension, you could even take an off-road shortcut or two.
For general leisure riding and exploring, the X26 has lots of potentials. It would make a great e-bike for hunting, fishing or just exploring the wild.
Verdict
I like the look of the Engwe X26. It does share some of the design cues of other folding electric fat bikes but has its own character. I'll have to reserve final judgement until I can get ahold of a test sample to review in 2023. But, based on what I've seen so far, and the specification, it looks like an interesting bike.
This is going to be more of a commuting/leisure electric bike and because it can be folded in half, you could drive out to the country and take it for a spin. The only real downside is the massive weight. At 41 kg, it's going to be too bulky to take on public transport and I'd imagine trying to lug it around wouldn't be good for your back!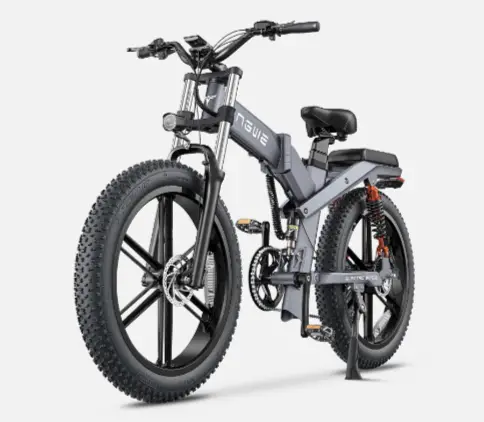 At its current price of £2299, it's considerably more expensive than the Engine Pro, but you do get quite a unique-looking fat tire e-bike for your money with a big battery range.
If you want something you can pedal under your own steam, I'd give it a miss. It will be tough to pedal without assistance. If you're after an e-bike that has loads of power and a good battery range, it's worth considering.
Thanks for reading. If you own an Engwe X26, please feel free to leave a review in the comments section below.
Where to Buy the Engwe X26