The Fafrees F26 Pro is a newly released budget city e-bike available from various outlets in the EU. In this article, I'm going to be looking at the key features to see if there's anything new or innovative about this electric bike.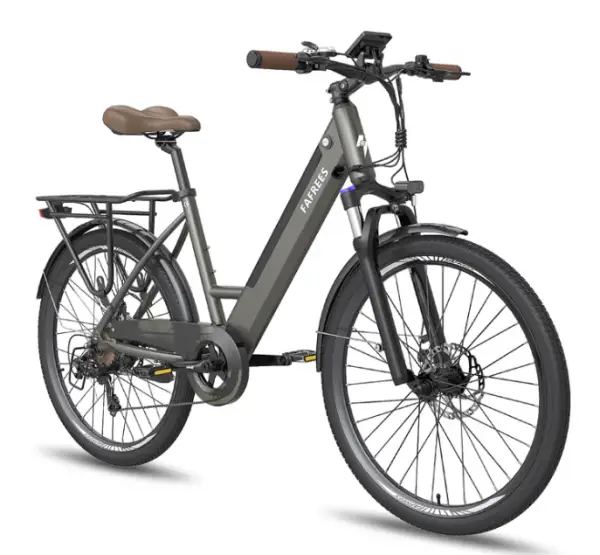 Summary
Fafrees are a Chinese-based manufacturer that makes affordable electric bikes primarily for customers in the EU market. Their range includes folding e-bikes, fat tyre e-bikes and budget e-MTBs. The brand is focused on providing decent quality e-bikes for around €1000.
Key features:
Step-through frame design: Suitable for riders of all ages and abilities. Low stand-over height and easy to get on and off the bike.
250w rear hub motor: Typical geared rear hub motor with a claimed peak power output of 380W (nominal 250w) and 42Nm of torque.
360Wh removable battery: Integrated into the frame, 36v 10Ah – the claimed range of up to 90km per charge is very optimistic for a battery of this size and wouldn't represent real-world battery range. I would say 40-50km is a more realistic figure.
LCD: The large LCD straddles the handlebar stem. The manufacturer's website state the display is colour, but the photographs show a black-and-white display. Until I get hold of one of these to review, I can't confirm it's a colour display.
Smartphone App: The Fafrees F26 has a partner app available. There isn't a lot of information on the functionality of this app, but it's safe to say there will be things like GPS trip recording, and battery info.
Front suspension fork: Looks fairly basic, which is to be expected on a budget e-bike. They're coil sprung with a lock-out function.
Mudguards and pannier rack: Front and rear mudguards with rear pannier rack make the Fafrees F26 an ideal commuter e-bike.
Front headlight with rear light: The rear light has a motion sensor and functions as a brake light which is a good safety feature.
Adjustable stem: The angle of the handlebar stem can be adjusted to suit the rider's needs.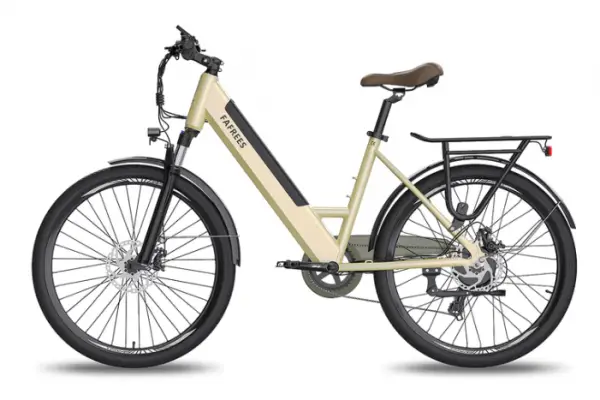 Sizing
The Fafrees F26 is available in one frame size (18″) and the manufacturer claims it should be suitable for riders ranging in height from 160cm – 198cm. An 18″ frame is usually a medium when it comes to bike sizing, so it may not be the best fit for really short or tall riders. I always advise going to your local bike shop for a bike fit to find out the optimum bike sizing for your build.
Is the Fafrees F26 Pro any good?
On paper, the Fafrees F26 Pro looks like decent value for money. It has a specification typical of many e-bikes found at this price point. It is available in three colours and comes with all the accessories you would expect.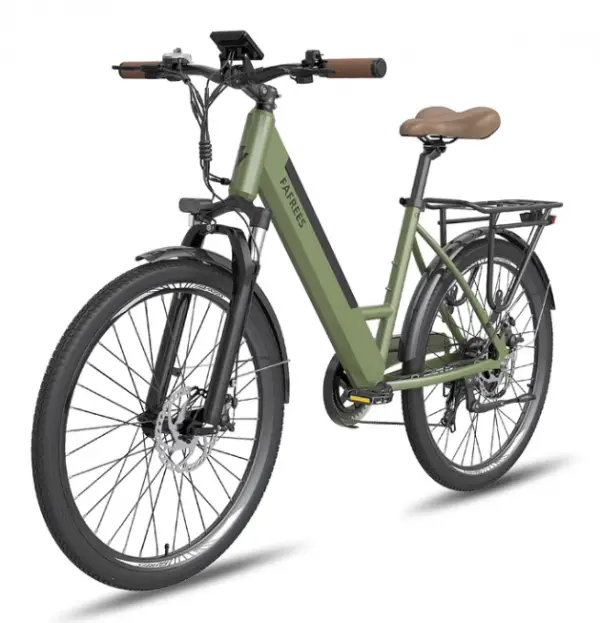 A couple of things set it apart from similarly priced e-bikes – the smartphone app should provide some additional functionality like battery health, range remaining and GPS navigation and ride tracking. Plus, the rear light has a motion sensor – this brightens the light when the bike slows down.
As a typical hybrid e-bike with basic front suspension and a step-through frame, the Fafrees F26 will have broad appeal – it should be particularly suitable for commuting and general leisure riding.
Conclusion
I've yet to get my hands on a Fafrees e-bike to review, but going by customer reviews online, they seem to be a decent brand. The F26 Pro is a nice-looking e-bike and has all the features you'd expect on a bike of this price.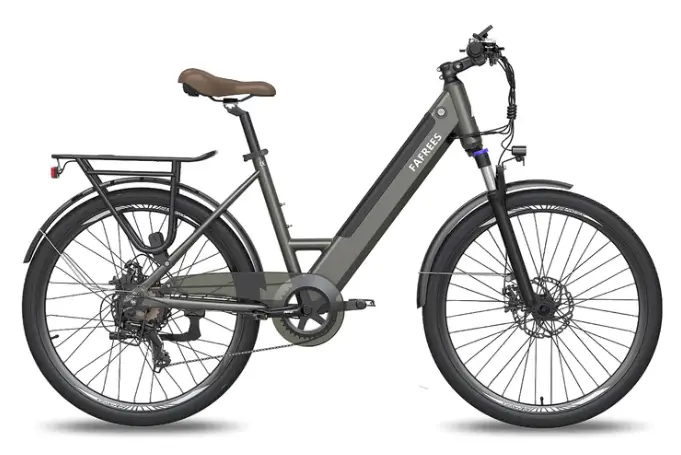 If you're in the market for a budget commuter e-bike or you're just looking for a cheap and fun way to get from A to B, then I'd say the F26 is certainly worth a look. This e-bike is currently available in the EU and should also be available soon to UK buyers.
The Fafrees F26 Pro is available to buy online from geekbuying – check out the exclusive coupon codes below.
Exclusive code: NNNebikeFAF26P
Coupon price: $ 919.99 USD (€873 approx)
👉Pay through Klarna and spend over $1000 and receive an additional $100 discount – use code: Aff10thanniv