Electric scooters are the next big thing in urban transportation. They're affordable, easy to ride, and a lot of fun. The Eleglide D1 is a budget-friendly electric scooter that's packed full of features that make it practical for day-to-day use. In this review, we'll take a closer look at what makes the Eleglide D1 such a great choice for commuters and urban riders.
Summary
The Eleglide D1  is a feature-packed electric scooter that's currently available online. The Eleglide boasts a long-range 864Wh (48v 18Ah) battery with a powerful 500w brushless rear motor. The motor and battery are wrapped up in a tough dual suspension chassis with large all-terrain tyres for off-road use.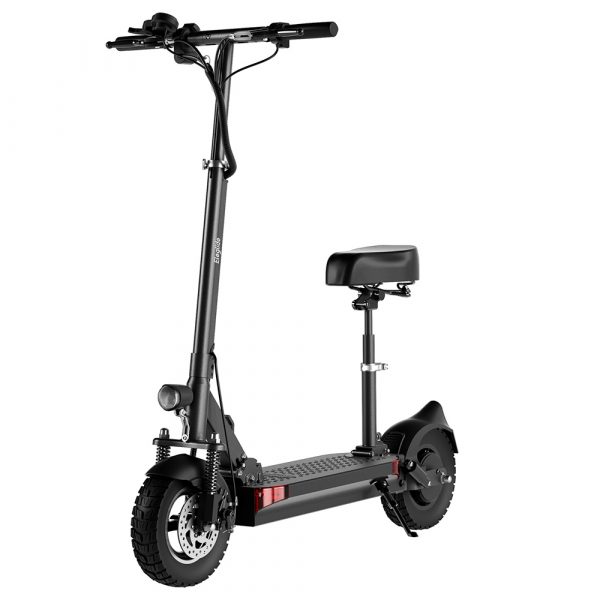 Key features
Motor and battery: One of the biggest selling points of the Eleglide D1, is the large capacity battery. I'm not aware of any other e-scooters available at this price point that have an 864Wh battery – this should give a (claimed) range of up to 70km, although this figure is in eco mode and riding on flat ground. I would imagine the real-world range will be substantially less and closer to 35-40km on varied terrain with mixed usage of power.
The 500w brushless rear motor will provide decent performance for riders weighing under 80kg.  Heavier riders may find a motor of this size struggles with anything more than a gentle slope. There are three-speed levels available – 15km/h, 25km/h and 45km/h. There is also a useful cruise control function that can be activated when travelling above 6km/h.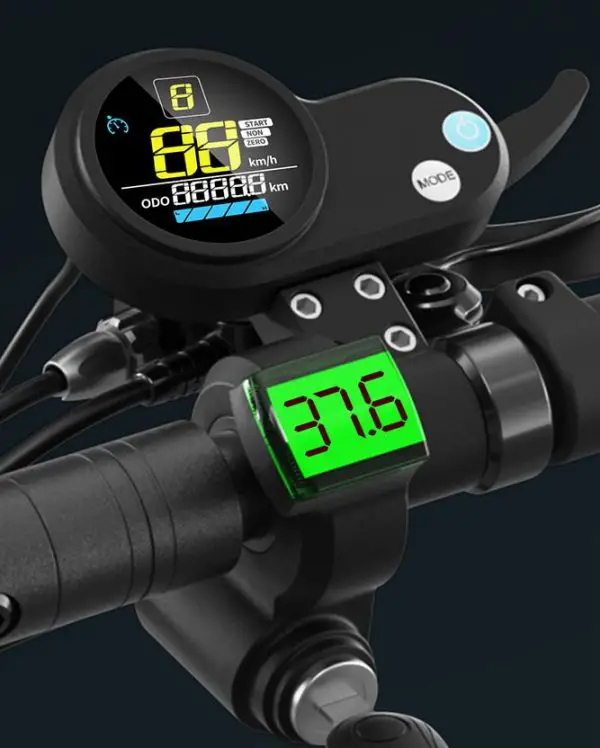 Everything is controlled by a neat, colour multi-function display which displays speed, battery indicator, trip function and current power level.
Wheels and tyres: 10″ x 2.5″ all-terrain tyres are fitted – these have a more aggressive tread than standard tyres and should provide better traction when riding off-road.
Dual suspension: The Eleglide D1 features basic front and rear suspension which should make for a smoother ride over rougher surfaces. I'd still exercise caution when riding off-road though, as large tree roots or rocks could prove problematic.
Braking: This e-scooter features front and rear mechanical disc brakes plus motor braking.
Weight and portability: With folded dimensions of 115 x 21 x 38cm, the Eleglide D1 could be carried, although I wouldn't recommend it for any length of time. The tough chassis and large battery contribute to a hefty weight of 27kg – I wouldn't want to be carrying this up too many stairs!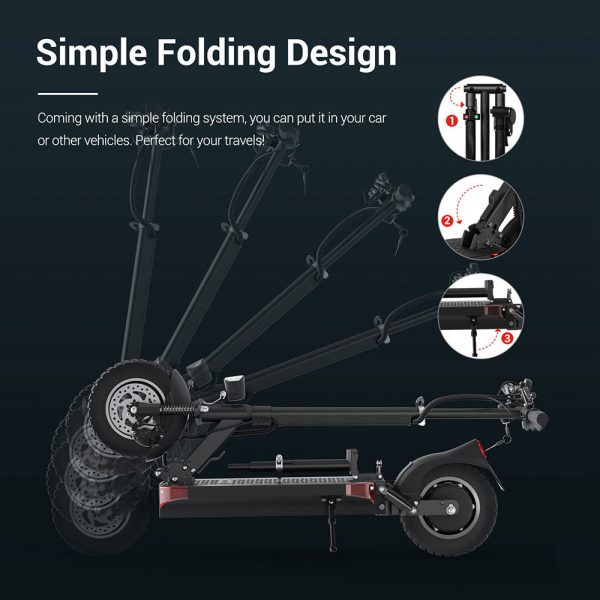 Full Specification:
General
Brand: Eleglide
Model: D1
Type: Electric Scooter
Colour: Black
Product Details
Max. Range: 70KM
Max. Speed: 45KM/H
Max. Load: 120KG
Material of Frame: Aluminium Alloy
Uphill: 25-degree
Handle Width: 58cm
Ride Height: 13cm
Pedal Width: 21cm
Speed: Eco Mode: 15KM/H; Standard Mode: 25KM/H; Sport Mode: 45KM/H
Motor
Power: 500W
Voltage: 48V
Max rpm: 1200±30r/min
Max Torsion: ≥29N.m
Battery
Capacity: 18Ah
Voltage: 48V
Power: 864Wh
Charging Time: 9-11H
Braking
Braking System: Front & Rear Disc Brakes + Power Brake
Braking Distance: 8M
Charger
Input Voltage: 100-240V
Input Current: 2.8A
Tire
Size: 10*2.5
Type: Pneumatic Tire
LED Headlight
Power: 2.4W
Beam Angle: 80-degree
Beam Area: 10 Square meter
Display
Type: LCD
Size: 1.38″
Dimensions & Weight
Overall Dimension: 120*57*119cm(Unfolded); 115*21*38cm(Folded)
Net Weight: 27.5KG
Package Contains
1 x Charger
1 x Manual
4 x Hex Wrenches
1 x Seat
Who is the Eleglide D1 aimed at?
Looking at the specs, dimensions and performance I would say the Eleglide D1 would be an excellent electric scooter for commuting. With a powerful battery and decent motor, the D1 should be suitable for commutes of around 10-15km each way. I'm not a big fan of seats on electric scooters, but if you wanted to take the weight off your legs on a longer ride it would be quite useful.
Conclusion
The Eleglide D1 looks like a great electric scooter for commuting or general urban riding. Its 500w motor and 45km/h top speed are going to be adequate for most riders looking to beat the traffic on their daily commute to work. Plus, the 864Wh battery should give it a decent range if used sensibly. It's also solidly constructed and is designed to handle mixed terrain well. If you're looking for an electric scooter that will get you around town with ease, the Eleglide D1 is worth considering. For more info on e-scooters, check out our electric scooter buyer's guide.
Have you tried one out yet? If so, please share your experiences in the comments below. We'd love to hear what you think!
Further Reading