In this article, I'm going to be having a look at the Kugoo M4 Pro electric scooter, to see if it represents good value for money. The M4 Pro benefits from a larger battery and several other improvements (over the standard M4).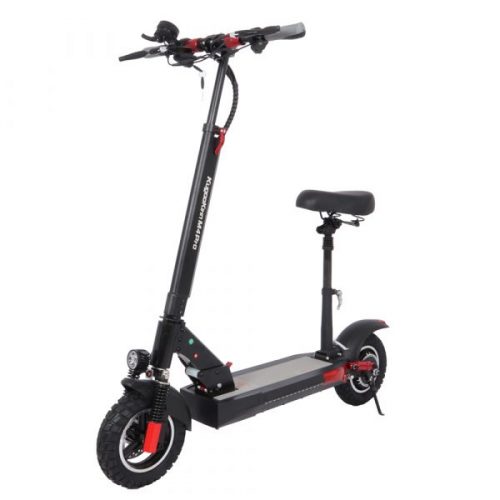 Kugoo M4 Pro Key Features:
Improved battery – 48v 16Ah (768Wh) offering a better potential range of 55-65km
500w motor – top speed estimated at up to 45km/h
Improved rubber anti-slip deck
Better tyres with more aggressive tread for off-road riding
Front and rear suspension
Improved lighting
Dual mechanical disc brakes
Supports rider weight up to 150kg
Removable saddle
Who is the Kugoo M4 Pro suitable for?
The M4 Pro seems to have a more rugged design than the standard M4, making it particularly suitable for larger riders. I'm interested to see how the 500w motor will cope with a heavier rider (I fall into this category) as I've found most 350w e-scooters don't perform adequately when I ride them (unless the road is totally flat).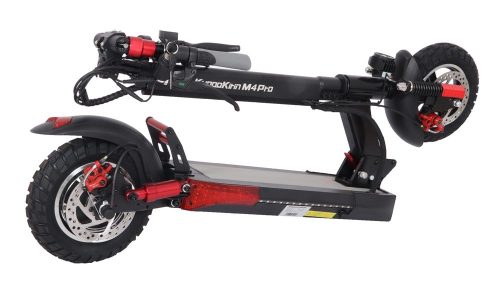 It's going to be an ideal electric scooter for commuting, the larger battery has a claimed range of up to 65km, although this is probably a bit optimistic. I'd say a realistic range for this type of e-scooter would be in the 40-50km region (depending on rider weight and power used).
The large all-terrain tyres and front and rear suspension should provide better handling on rougher roads or even gravel tracks. Plus, the front and rear mechanical disc brakes will give adequate braking.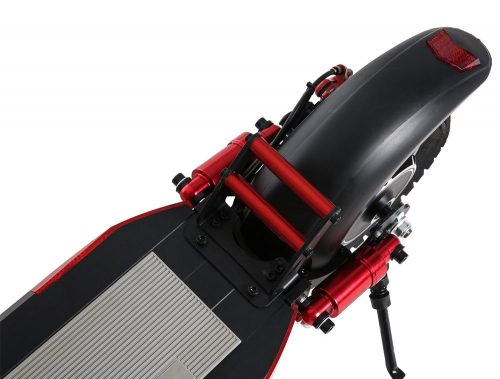 Another useful accessory is the additional saddle. Most riders probably won't need to use this, but some riders might find it a welcome relief from standing for prolonged periods of time.
Commuters should be aware that the M4 Pro is a heavy e-scooter – weighing in at 22kg, it's not going to be suitable if you need to carry it any distance.
Is the Kugoo M4 Pro waterproof?
According to the website, the M4 Pro has a basic level of water resistance, but it's not recommended to ride in prolonged heavy rain and definitely shouldn't be ridden through puddles.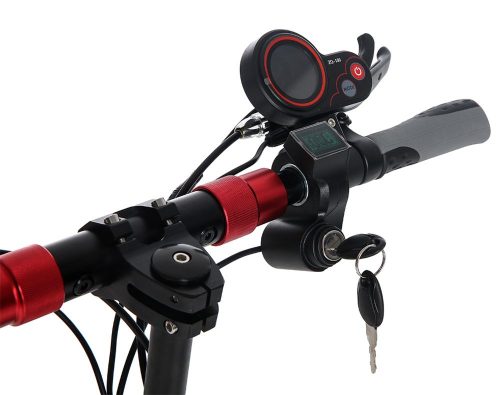 Is the Kugoo M4 Pro legal to ride?
This depends on where you live. Some countries have power and speed limits on e-scooters. I would check before making a purchase. In the UK, electric scooters are not yet legal. Although, there are plans underway to introduce legislation governing the use of e-scooters and similar forms of personal electric transport.
Full specification
General
Brand: KUGOO
Type: Electric Scooter
Model: M4 pro
Color: Black
Specification
Material of main body: Aluminium alloy
Motor: 48V 500W
Battery: 48V 16AH
Adapter: 54.6V, 2A
Max Load: 150KG
Max Speed: 40-45KM/H
Max Range: 55-65 KM per charging
Charging Time: 8H
Gradeability: 10°
Weight & Size
Product Weight: 22.5KG
Package Weight: 26kg
Product Size(L x W x H): 119x28x47
Package Size(L x W x H): 125x28x50
Package Contents
1 x M4 Pro Electric Scooter
1 x Tool Kit
1 x  Charger
1 x User Manual
Conclusion – Is the Kugoo M4 Pro any good?
Based on the specification and numerous customer reviews, the Kugoo M4 Pro looks like a good buy. It certainly has a very good specifications for the price. A 768Wh battery, 500w motor and all-terrain capabilities add up to a versatile e-scooter capable of commuting duties or general riding.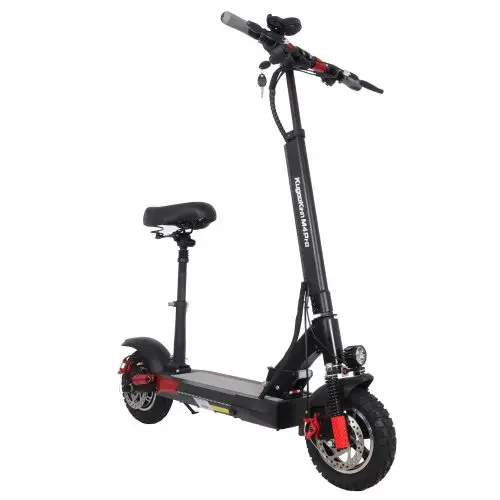 My only reservations would be the heavy weight of 22kg – this is mainly down to the large battery and robust design. If I can get my hands on one in the near future, I'll do a full review article. In the meantime, if you own one of these please feel free to leave a comment in the section below.
For more information on e-scooters, check out my latest electric scooter buyer's guide.
Further Reading