If you're looking for a fun and affordable way to get around town, e-scooters offer the ideal solution. I've recently got my hands on the latest Kugoo S4 electric scooter, and in this review, I'll take a look at the specification and let you know my initial thoughts.
Summary
This is the third electric scooter I've tested from this brand. I have previously tried out a Kugoo Kirin S1 and Mini 2 kids e-scooter plus a Kugoo B2 folding e-bike. I received both the S1 and Mini 2 back in 2020 – I still own the Mini 2 and the S1 was given to a friend to use for a short commute to University and they're both still running well today.
What's in the box?
My Kugoo S4 was shipped from a geekbuying.com via a UK warehouse and was delivered by Parcelforce within 5 working days of order confirmation. The scooter was inside a sturdy cardboard box and was very well protected.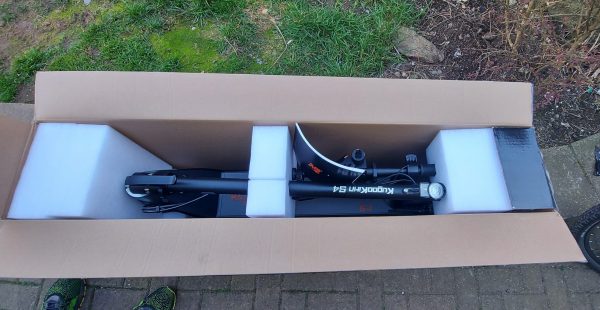 Initial impressions were good. The scooter looked well-finished and I couldn't find any scratches or imperfections. Assembling the scooter was straightforward and just required securing the handlebar with 2 x Allen bolts (using the supplied Allen key). There was an instruction manual (clear and well written) and a 36v battery charger (UK mains plug included).
Kugoo S4 specification
The Kugoo S4 has a pretty good specification for the price when compared with similarly priced e-scooters. I've gone into more detail below on all the key features.
Motor: The motor used is a brushless 36v 350w rear motor (500w peak power) with a claimed top speed of 35km/h
Battery: A 360Wh (36v 10Ah) lithium battery powers the motor and lights. This battery uses unspecified cells.
Tyres: 10″ Pneumatic tyres
Weight: 13.5kg
Maximum load: 100kg
Size (unfolded): 119 x 53 x 109cm
Size (folded): 43 x 53 x 109cm
Braking system: Rear mechanical disc brake and electronic motor braking
Lights: Front LED headlight and integrated rear tail/brake light
Accessories: Kickstand, bell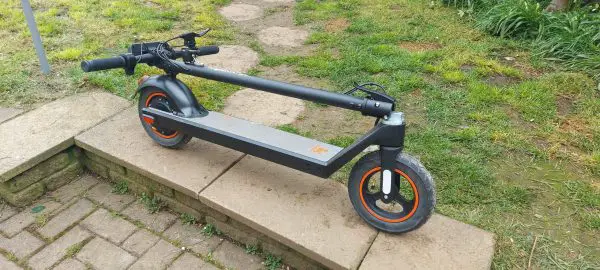 First impressions
I've recently moved house and now have access to quiet paths which have a smooth asphalt surface – perfect for testing an e-scooter. Unfortunately, like everywhere in my area nothing is flat so there are a few small inclines.
The Kugoo S4 arrived partially charged, so I fully charged it before use – this took roughly 2-3 hours. The S4 has a very large and neat LED display with touch controls for the settings, power modes (3) and lights.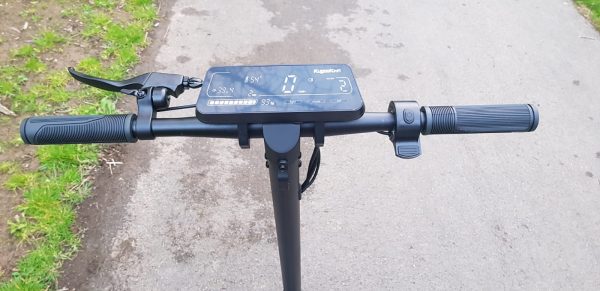 I'm impressed with the display. There's a lot of info available and the battery indicator not only shows the amount of charge remaining but also the current voltage. There's also a temperature indicator which will be useful to monitor if you're on a longer ride.
There are three-speed modes available – 15km/h, 25km/h and 35km/h. The displayed speed can be easily switched between km/h and mph. Power is controlled via a thumb throttle which also has the on/off button.
On the left-hand side, there's a single brake lever and bell. The brake lever operates the rear mechanical disc and engine braking simultaneously.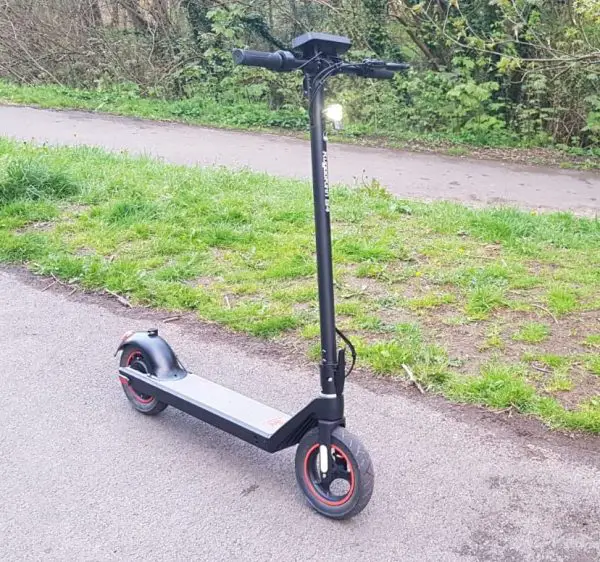 Test ride
I'm not the ideal person to be testing a 350w e-scooter as I weigh just over 100kg. This scooter has a maximum recommended weight limit of 100kg, so I'm just over.
On the flat and slightly downhill sections, the Kugoo S4 picks up speed quickly and smoothly and doesn't have any problem reaching the 35km/h top speed. Unfortunately, the second there's even the slightest of inclines the scooter slows down to a snail's pace. Anything steeper than a gentle slope and it grinds to a halt.
Me riding a slight incline – you can hear the poor thing struggling!
I have experienced this with many similarly powered electric scooters, and it's because I'm just too heavy for such a small motor. Fortunately, I had my teenage daughter try the scooter out – she weighs 60kg and had no problem riding it at all. Even one of the steeper hills (8-10% gradient) proved to be no problem.
What can we take from this? Don't buy this e-scooter if you weigh much more than 80kg unless you're going to be using it on totally flat ground without even the slightest inclines. I let my daughter take the Kugoo S4 for a good ride on the network of paths and not once did she have to get off and push it.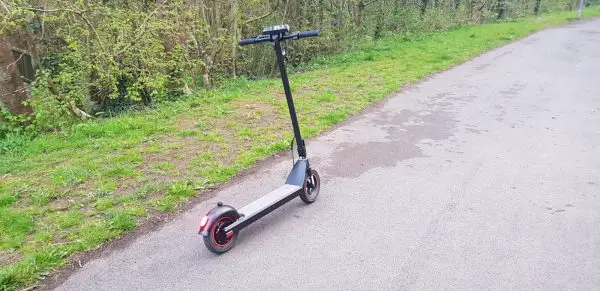 Battery range
It's too early to say what the real-world battery range is, but we've covered 2-3 miles on it so far and it's lost a couple of bars off the indicator (8 bars in total) and the voltage has dropped from 42v (fully charged) down to 39v. Bearing in mind it's been used in level three and the route includes some steep hills. Plus, it's had me on it for a portion of that which I'm sure has sapped the energy from the battery more than the average rider.
We'll carry on testing it over the coming weeks and when the battery finally runs out I'll make a note of the mileage and post it here.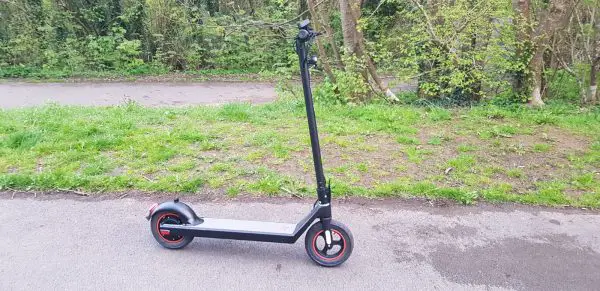 Handling
When descending a very twisting downhill section with a couple of switchbacks, I felt the Kugoo S4 handled quite well.  It cornered nicely and felt stable at speeds above 25km/h.
Comfort
The Kugoo S4 is certainly aimed at adults or older teenagers. I'm 6'1 and my daughter is 5'8 – we both felt comfortable riding the S4. It has a decent-sized deck (rubberised for good grip) and the handlebars are a good height. I'd say the Kugoo will even suit smaller riders. My 9-year-old daughter had a quick spin on the scooter and she's barely 5 feet tall.
Ease of transport
As most folding e-scooters are used for last-mile travel, it's good to have one that's easy to fold up and carry. With the Kugoo S4 there is a plastic lock ring which you turn – this allows for the steerer release catch to be pulled in and then you tilt the steerer back and it clips into a fastener on the mudguard.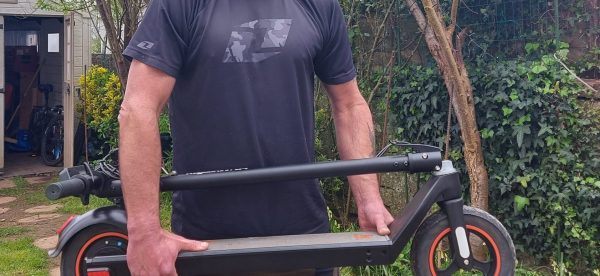 The Kugoo S4 tips the scales at 13.5kg. This weight is normal on an electric scooter with this kind of specification and as long as you haven't got to carry it for any length of time it shouldn't be a problem.
Conclusion
It's early days, but my first impressions of the Kugoo S4 electric scooter are generally favourable. It is not going to be suitable for a heavier rider and I would say the 100kg rider weight limit is too high. The only time the scooter didn't feel like it was struggling was on level ground or slightly downhill. Even the smallest of inclines presented challenges.
To be fair though, 350w isn't a lot of power to haul a 100kg adult around comfortably – you need an e-scooter that's going to be putting out at least 500w of continuous power, and even then it would struggle on anything steep.
On the flip side, my daughter got along just fine with it and was flying along uphill, downhill and on the flat effortlessly. If you're not too heavy then I reckon the Kugoo S4 would be just fine for getting from A to B.
As far as battery range and reliability are concerned it's too early to say. Based on my personal experience with other Kugoo products, I don't see a problem. The jury's still out on the range and I'll report back here with a figure after we've run the battery down.
If you're looking for an adult e-scooter for under €400, the Kugoo S4 is certainly worth considering. To find out more about e-scooters, check out our latest electric scooter buyer's guide.
Further Reading