Xiaomi has been busy innovating in the e-mobility sector. They started off with the excellent Qicycle and closely followed with the award-winning M365 scooter. More recently they have introduced the excellent Himo C20 e-bike and now the compact Himo V1 Plus electric bike. In this review, I will have a closer look at this great little e-bike to see if their R&D team have created a little gem.

Summary
At a glance, the Himo V1 Plus looks tiny, and it is small, but it has been designed in such a way that even a 6ft lump like me can ride it.
I have to say, I was a little reluctant to ride something so small, but when you actually jump on it, it's not too bad.
The first thing that struck me about the Himo V1 Plus, was what a neat-looking little bike it is. There is great attention to detail, and everything works as you would expect and hope for.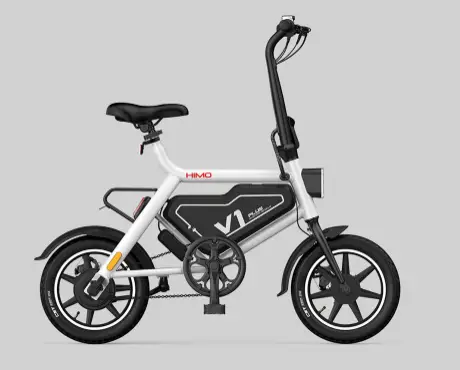 Power is provided by a small 250w geared rear hub motor, and a 36v 7.8Ah lithium battery pack – giving a total energy capacity of 288Wa (watt-hours).
The dual mechanical disc brakes offer reliable stopping power, and the 250w motor is lively, to say the least!
Front and rear LED lights, mudguards and a luggage rack complete the package to make, what can only be described as the perfect urban mobility solution.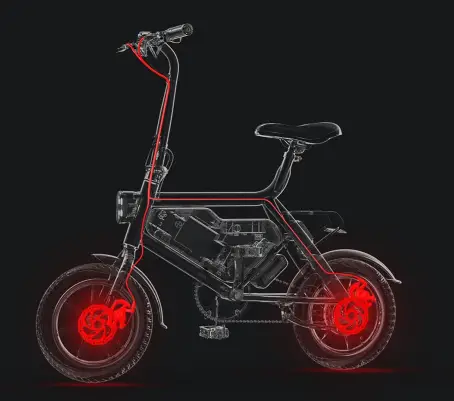 This bike is so light and compact, that you can take it practically anywhere. Although not a folding bike, in the classic sense. You can fold the handlebars, and pedals to make it easy to take on public transport and use it for the last mile or two of your commute.
The tyres are nice and chunky and the saddle is surprisingly comfortable.
Another great feature is the crystal clear LCD display, which provides you with all the information you will ever need.

Specification
General
Brand: Xiaomi HIMO
Type: Electric Bicycle
Model: V1 Plus
Colour: Gray, Orange, White
Specification
Front and rear wheel centre distance: 822mm
Maximum design speed: 25km / h
The pedal assist max Mileage: ≥60km
Throttle only Continuous Mileage: ≈40km
100 km power consumption: 0.56kw·h / 100km
Load capacity: ≈100kg
Battery type: lithium-ion battery
Battery capacity: 7.8AH
Battery voltage: 36V (42,2v fully charged)
Low voltage protection: 31V
Maximum current protection: 12A
Weight & Size
Product Weight:18.5kg
Package Weight: 25.0kg
Product Dimensions:1210 × 520 × 1050mm
Package Dimensions: 1240 × 380 × 770mm
Package Contents
1 x Electric Moped Bicycle
1 x User Manual
This really is a great little bike, and despite its small size, it pops along at quite a swift pace. The 15mph (25km/h) top speed is quickly reached, and the bike can easily be pedalled beyond that if required. The great thing about geared hub motors, is they do not give the rider any more pedalling resistance when the motor is switched off.
The single-speed set-up is ideal for city riding, but the limits of the gearing are quickly reached when it comes to hills. Even with the motor on full power, you will still need to provide a fair bit of pedalling input when going up steep hills.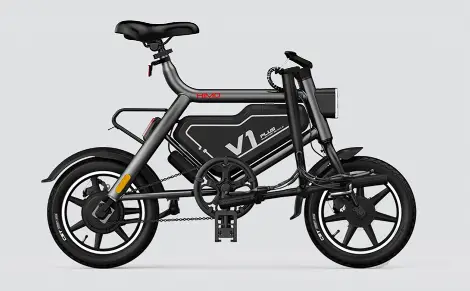 The 36v 7.8Ah battery should give a range of around 20 miles using the pedal assist, if you choose to use the throttle only, you can expect the range to drop down to around 15 miles, which still isn't bad for a small commuter bike.
As far as weight is concerned, it's quite a robust little bike and does weigh in at around 18kg, which some people may find a bit too heavy for carting around on public transport.

Check out the Xiaomi Himo Z16 review here
Conclusion
The Xiaomi Himo V1 Plus is a great little electric bike and priced at around £500 offers excellent value for money. One thing I liked about this bike is the fact that it's well-built and looks and feels very sturdy.
The 250w motor provides a surprisingly good turn of speed and acceleration, more than enough to stay with the Lycra brigade on the flat.
The fact it is so small, also makes it easy to take into your place of work and put it somewhere, where it isn't going to be getting in anyone's way.
The single 46t front chainring, is in my opinion a little on the large size, a 38t or 42t would have been plenty big enough.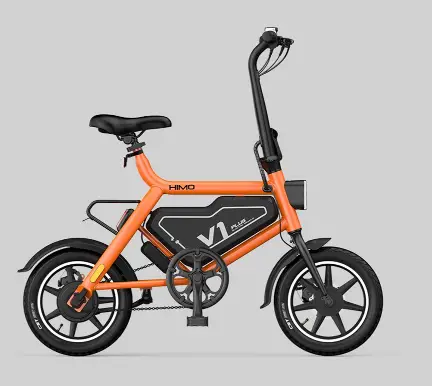 When it comes to hills, you do not want to be tackling anything too steep, even though the motor is quite powerful, it does have its limits. And you will still need to put in a fair bit of effort to get this bike up a 10% gradient.
Stay on flat, urban cycle ways and the Himo V1 plus is in its element. You can cruise along at 15mph for miles without a care in the world, and still turn up for work as fresh as a daisy.
Is it worth the price tag? Most definitely. If you are after a cheap and cheerful e-bike, that will get you to your destination without too much fuss, the Xiaomi Himo V1 Plus is definitely worth a look.