Folding electric bikes continue to be popular with commuters looking to save money on public transport and fuel costs. The PVY Z20 Pro is a newly-released budget folding e-bike aimed at the UK and EU markets. In this review, I'll be looking at everything from unboxing to battery range to see if it can compete in this ever-expanding marketplace.
Key features:
250w rear hub motor
36v 10.4ah battery
UK and EU road legal
Mechanical disc brakes
Price: £749 or €759 – use code EC30 for a €30 discount
Disclosure: The PVY Z20 Pro reviewed in this article was generously provided to me by PVY. This gesture, however, does not influence my opinions, and the ensuing evaluation remains impartial, reflecting my genuine experience and assessment of the product.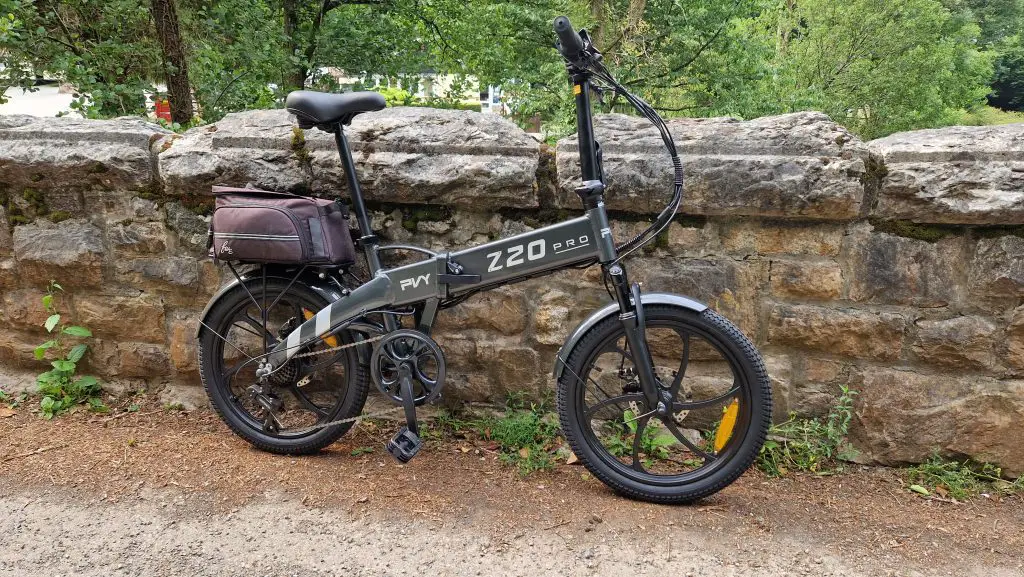 PVY are a relatively new e-bike brand and the Z20 Pro is EN15194 certified, so it's been rigorously tested and meets European safety standards. In addition, it comes with a 12-month warranty and a 10-year frame guarantee.
Unboxing and assembly
My PVY Z20 Pro arrived well-packaged in a compact box. Setting the bike up for its first ride was as easy as it gets. After removing the packaging, all I needed to do was unfold the bike, fit and align the steerer, the seat post/saddle and the pedals. There is a useful alignment mark on the headtube to help with fitting the steering column.
The first thing that struck me about the bike was the lovely deep gloss paint finish with colour-coded mudguards. It certainly gives the Z20 Pro an air of quality.
In addition to the bike and main components, there is a charger, toolkit, front light, manual, mobile phone holder and bike cover.
Test route
I took the Z20 Pro for a short but challenging 18-mile test ride in the country. Folding e-bikes are usually designed for urban use so this route would have tested its limits.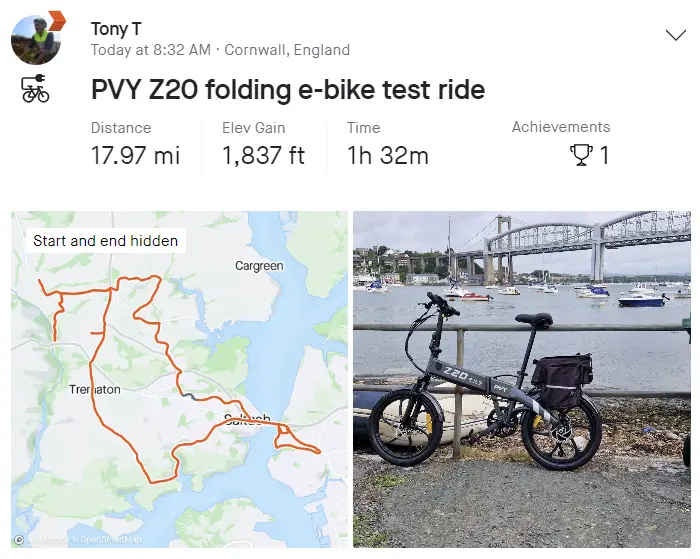 Electric components
The PVY Z20 Pro uses a standard 36v 250w geared hub motor with a claimed torque output of 50Nm. It's activated via a cadence pedal sensor and also has a half-twist throttle which cuts out at 6 km/h in line with EU and UK e-bike laws. The Z20 Pro does support a speed and power unlocking function which increases power to 500w and top speed to 32 km/h, although this would render the bike illegal to use on public roads.
My first impressions of this motor are generally favourable. It had no problem dealing with the steeper hills and is smooth and fairly quiet. The only thing I didn't like was the delay in the start-up from the pedal sensor – you need to turn the crank a half turn before the assist starts, which can make hill starts difficult.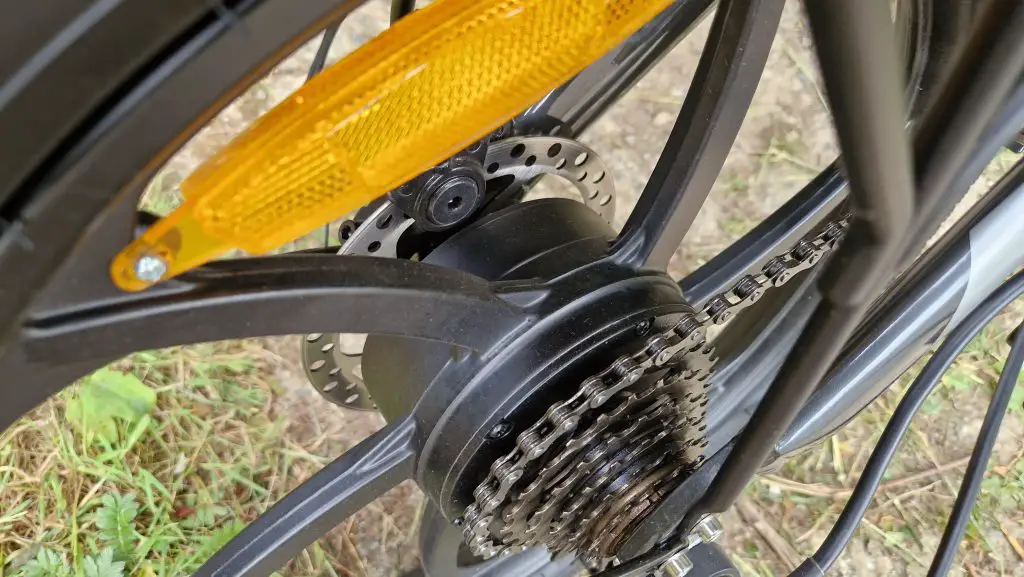 The display is very neat and looks identical to displays used on a lot of Fiido e-bikes. Functionality is limited to speed, trip, assist level (3) and battery indicator. You can change from km/h to mph and also unlock the speed to 32 km/h. It's clear to read in cloudy conditions, but direct sunlight makes it hard to see.
For energy, there's a 36v 10.4Ah battery which is neatly integrated into the frame. The battery can be removed (with the supplied key) or charged in situ via a charging port on the side. There's also an on/off switch and a USB charging port for phones and other devices.
PVY claim a range of between 50 – 80 km for the Z20 Pro, and based on my first ride, I would say the lower figure is going to be more realistic for most riders. I'm a heavier rider at 105 kg and rode a very hilly 18-mile (29km) route, keeping the bike in levels 2 and 3 for most of the ride. The battery indicator was flashing when I got home. I would say 40-50 km would be a realistic range estimate for an average city commute on flatter terrain.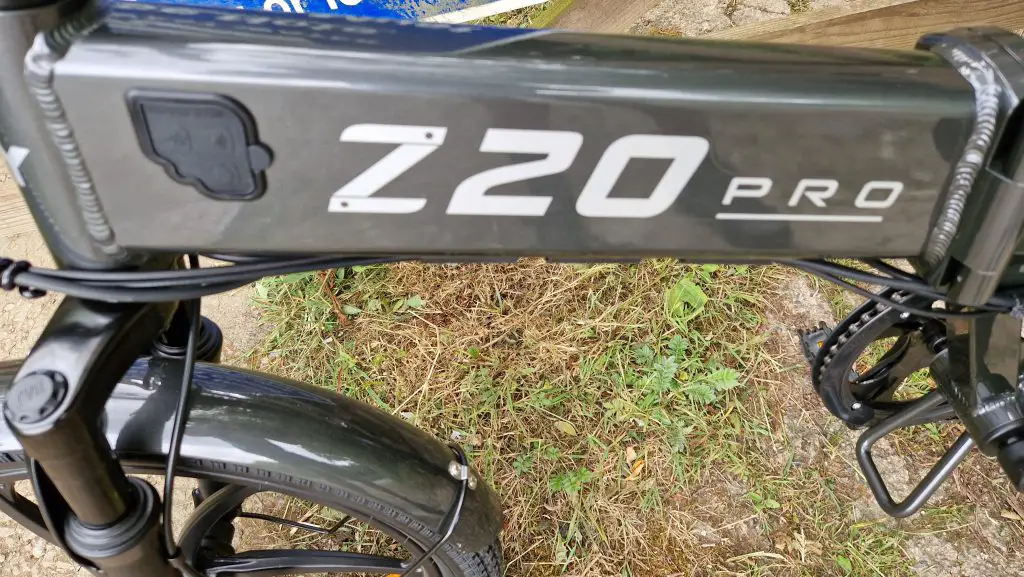 Bike Components
The PVY Z20 Pro has a 6-speed Shimano gear system that's operated with a thumb shifter. Initially, the gear shifting was hesitant and needed a little adjustment. Once adjusted it shifted perfectly throughout the ride.
Mechanical disc brakes are the norm on a folding e-bike of this price point, so I didn't have high expectations from the braking performance. Both brakes seemed to be rubbing on the discs and it looked like the callipers needed some adjustment. On the flat, they provided predictable stopping power but on steep descents, they didn't inspire confidence and needed a lot of force to bring the bike to a halt.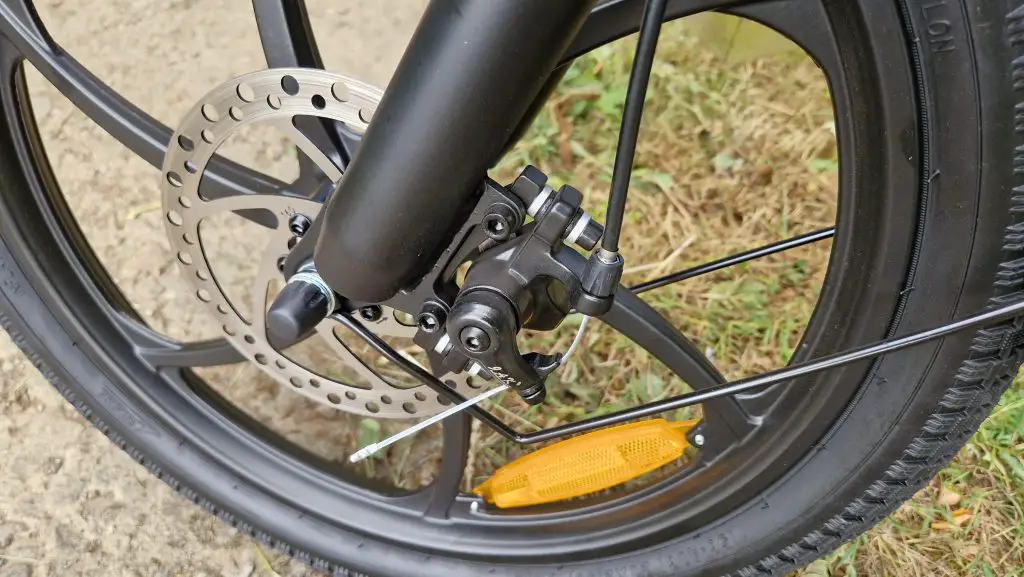 I liked the solid 6-spoke 20″ mag wheel design with 2.3-inch tyres. The tyres coped perfectly well with poorly-surfaced country lanes and it's nice not to have to worry about broken spokes. I would say the Z20 Pro will cope just fine with rougher surfaces like canal towpaths. 
Up front, there's a front suspension fork with 80mm of travel. They are basic in design with no lock-out or adjustment but they did a good job of muting road chatter. These will be fine for riding on roads, and canal paths but not suitable for proper off-road riding.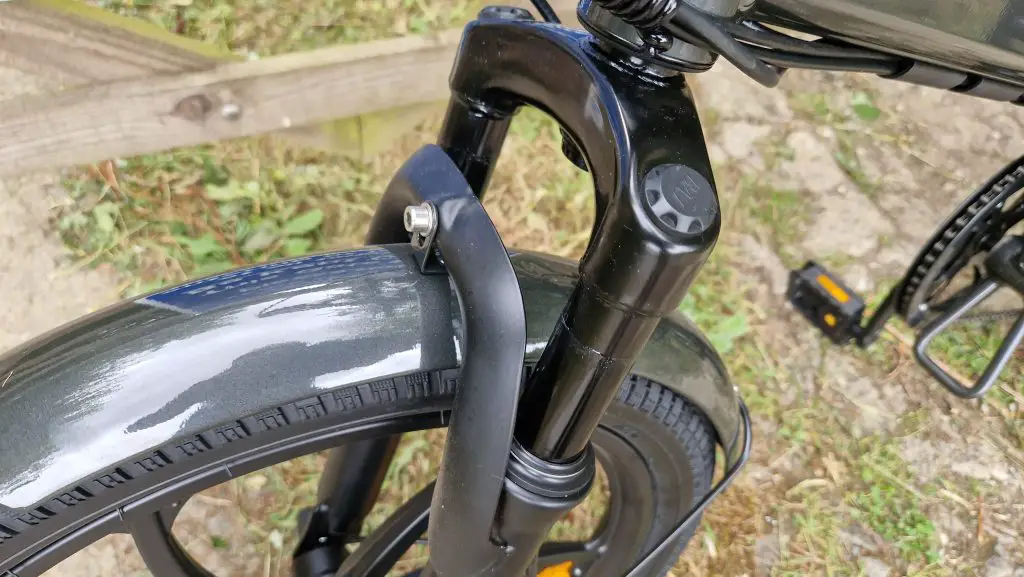 The PVY Z20 Pro has all the accessories you'd expect to find on an urban commuter electric bike. There are some metal colour-coded mudguards and a pannier rack. I was surprised to see the front light runs off regular batteries and doesn't look rechargeable and there's no rear light, just a reflector.
Finally, there is a kickstand. Unfortunately, this is located right behind the bottom bracket and you need to be very careful when moving the bike around with the stand down. If you wheel the bike backwards the left crank arm makes contact with the stand. I made this mistake when taking photos and it broke the stand at the mounting point. Thankfully I've found a replacement for £15.
Comfort and Sizing
The PVY Z20 Pro is designed to be ridden by riders ranging in size from just under 5 ft to 6 ft 5". Seat height can be adjusted from 77 cm up to 108 cm. The handlebar height is 117 cm and is also adjustable. I am just over 6 ft and found it comfortable to ride. The big gel saddle was comfy and reasonably firm.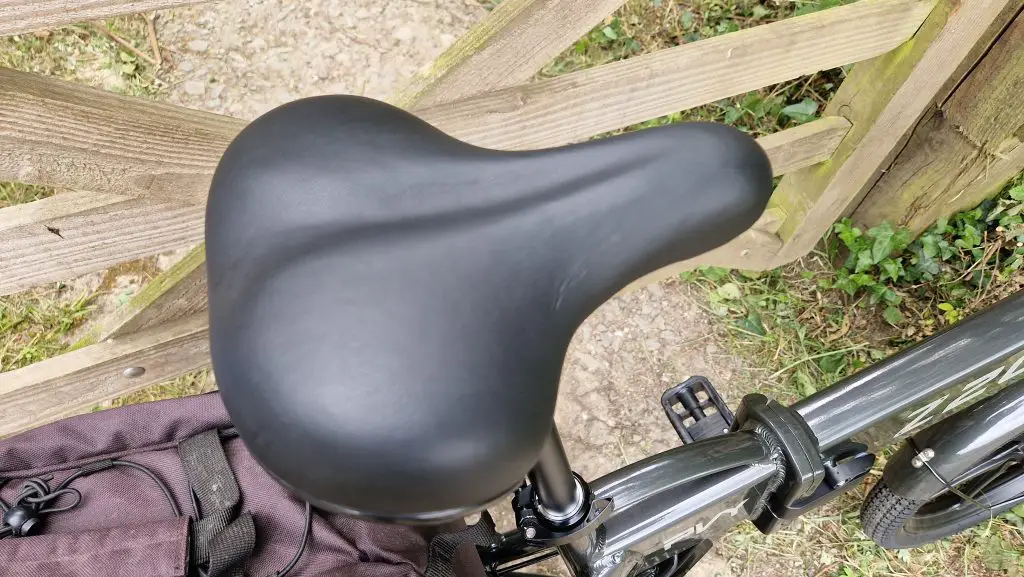 Folding is a straightforward 3-step process and takes about 10 seconds (with a bit of practice). The folding mechanisms are nicely designed and easy to operate. The Z20 Pro folds down to a manageable size of 890 mm wide by 640 mm high but weighs a hefty 22 kg. To help with carrying, there's an integrated handle where the seat tube meets the frame.
Who is the PVY Z20 Pro suitable for?
Anyone who is looking for a versatile and compact electric bike that can be used for daily commuting or leisure riding. Thanks to its foldable design it can easily be taken on public transport or put in the back of a car. It's also going to be great for people who have limited storage space at home. It may not be suitable for people who have difficulty carrying heavy objects as it's quite a heavy e-bike.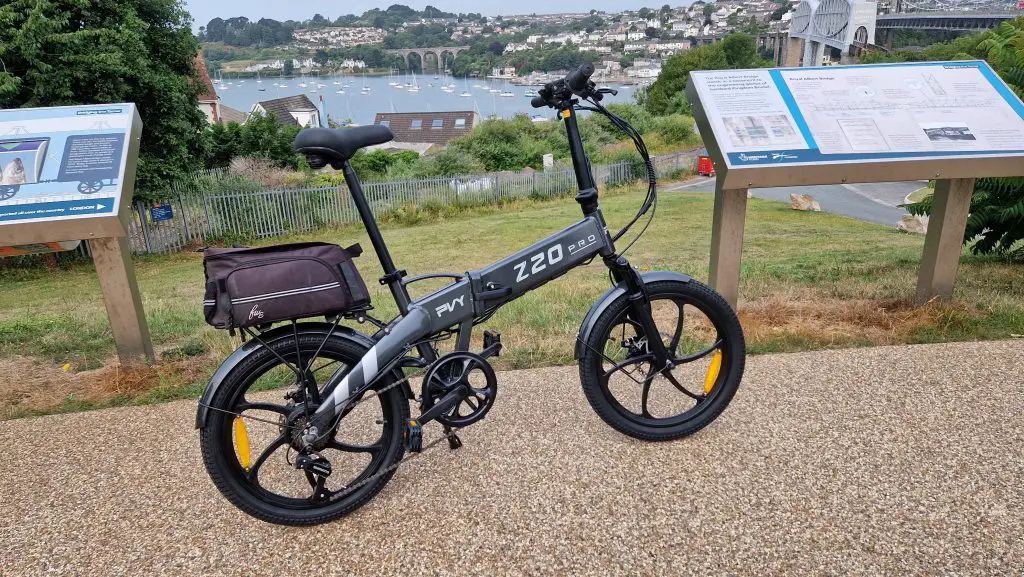 Pros and cons
Pros
Good motor performance
Quality folding mechanisms
Excellent paint finish
Tough Alloy wheels
Comfortable
Cons
Quite heavy for a folding e-bike
Kickstand location
Noisy brakes
Slight delay in pedal assist
FAQs
How heavy is the PVY Z20 Pro?
The Z20 Pro is quite heavy at 22 kg. This is heavier than some similar folding e-bikes but it does have solid mag wheels and big tyres which add a significant amount of weight.
What is the maximum rider height?
The maximum recommended height is 6'5″ (198cm) I would say this is stretching it as I had the saddle nearly at its highest and I'm 6'1″.
Is the PVY Z20 Pro waterproof?
The PVY Z20 Pro has an IPX5 rating meaning it has a decent level of water resistance. You should be able to ride it in the rain but riding through deep puddles is not recommended.
Can I legally ride the PVY Z20 Pro in the UK?
Yes, the Z20 Pro is UK and EU e-bike law compliant. Out of the box, it assisted to 25 km/h and the throttle only works to 6 km/h. It can be unlocked to 32 km/h but this isn't advisable if you want to stay on the right side of the law.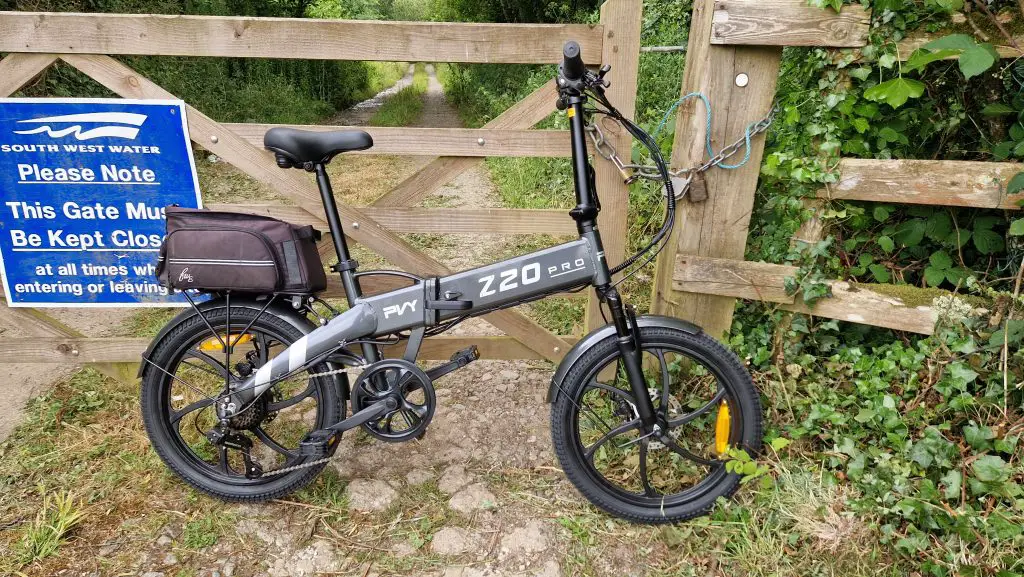 Conclusion
My overall take from riding the PVY Z20 Pro is it's not bad at all. It does have some niggling faults like the noisy brakes and pedal assist delay but the positives outweigh the negatives.
For around £750 it looks incredibly good value when compared with something like the Carrera Crosscity which costs nearly £200 more. The paintwork finish is very nice and the motor eagerly got me up hills without fuss.
With a few minor tweaks, the PVY Z20 Pro could be one of the best folding e-bikes in its price range. It's a good all-around package and certainly well worth considering if you're in the market for a budget folding e-bike.
Thanks for reading my PVY Z20 Pro review. If you have any questions about this bike, please leave a message in the comments section below.
For a €30 discount use code EC30👇
Specifications
Motor: 250w 36v Brushless, geared rear hub motor
Battery: 36v 10.4Ah
Range: 50 – 80 km (claimed)
Top speed (assisted): 15.5 mph / 25 km/h
Weight: 22 kg
Maximum load: 150 kg
Gearing: 6-Speed Shimano
Brakes: Mechanical disc brakes
Accessories: Mudguards, lights, rack, kickstand
Price (when reviewed): £749 or €759