The Hovsco HovAlpha 26″ is an electric fat tire bike that offers some great features for the price. Rocking a 750W geared rear hub motor, an impressive 960Wh battery, and trail-friendly 26″ x 4″ fat tires, the HovAlpha is designed to deliver power, durability, and all-terrain capabilities. In this article, I'm going to be looking over the specifications to see how it stacks up in one of the most competitive e-bike sectors.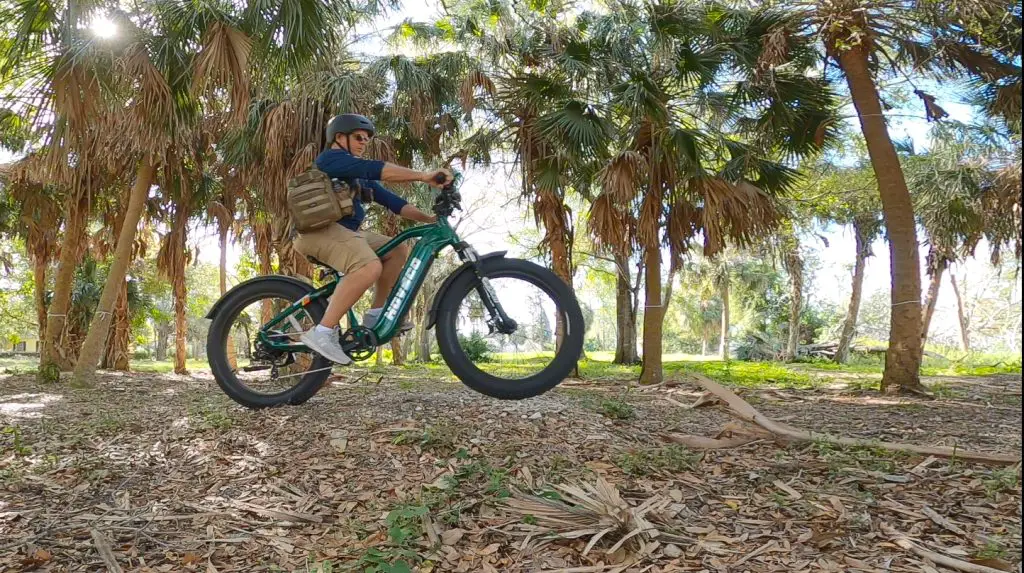 Key Features:
750w hub motor with 85Nm torque
960Wh Battery with LG cells
Torque-sensing pedal assist
Price: $1799
Motor Power & Speed
The Hovsco HovAlpha is powered by a 750w geared rear hub motor that can deliver up to 85Nm of torque. This configuration yields considerable pulling power, making it capable of tackling various terrains with ease. While this certainly promotes versatility, its performance on steep slopes could be a point of discussion, especially when compared to mid-drive motors that typically perform better in such conditions due to their efficient use of the bike's gears.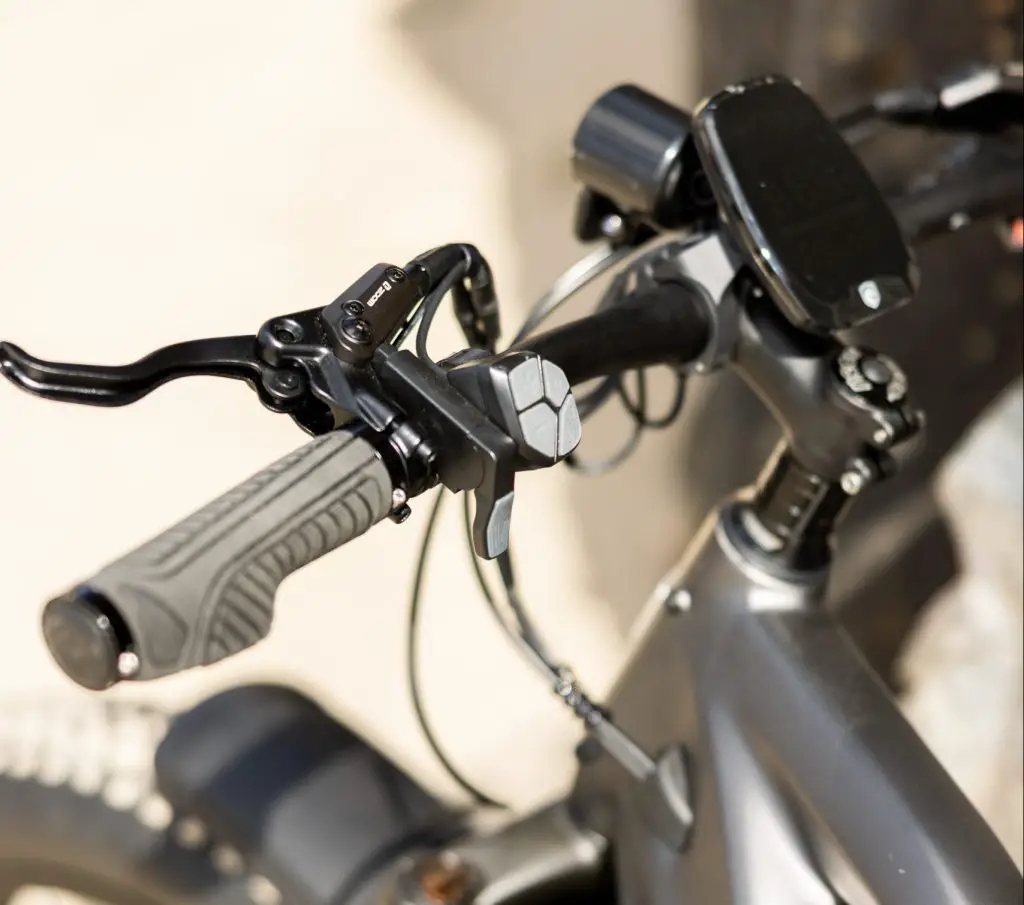 The HovAlpha is a Class 2 e-bike, offering a maximum speed of 20 mph. For riders seeking a bit more speed, it can be unlocked to a Class 3, bumping the speed limit up to 28 mph via the partner app. However, riders should be aware of local regulations on e-bike speed limits to ensure legality.
Battery
The Hovsco HovAlpha Features a 960Wh battery using LG cells which is the norm for e-bikes of this kind. This should translate to longer rides without the need for frequent charging. However, it's important to consider that the actual mileage will be influenced by various conditions such as terrain, temperature, rider weight, and level of pedal assist used. This means that users planning long-distance trips, or those in hilly regions, may experience a reduced range.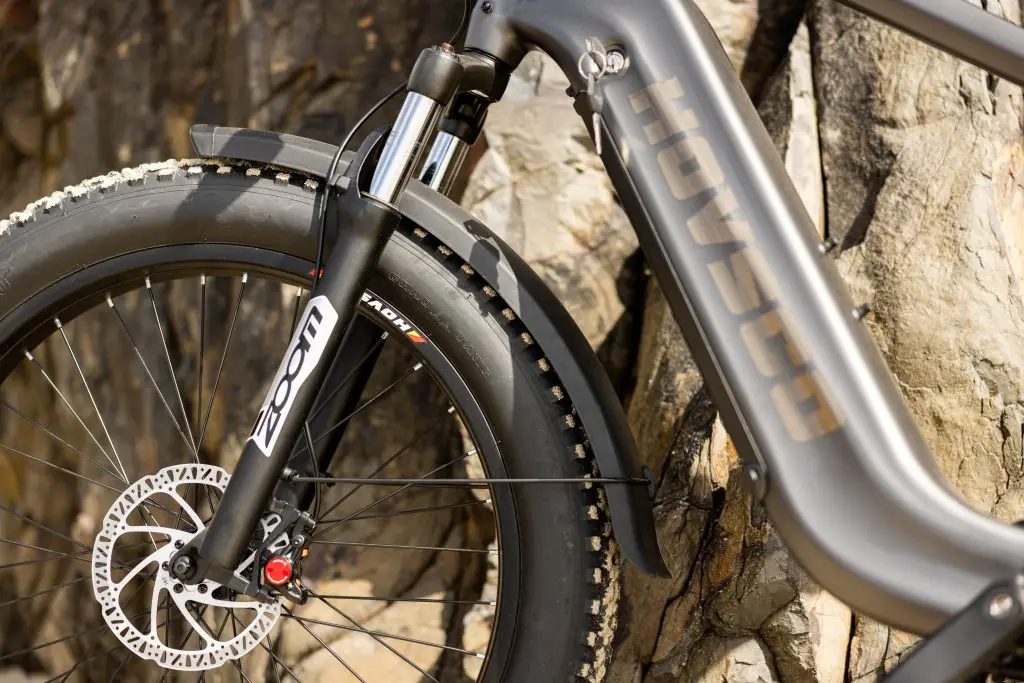 Frame & Suspension
The hardtail frame, combined with an adjustable front suspension fork, is a design that generally ensures durability and performance. This combination should provide reasonable control and comfort across diverse terrains, particularly with the adjustable fork allowing for a more customised ride. However, the lack of rear suspension could limit the bike's ability to provide optimal comfort on bumpy and rugged terrains.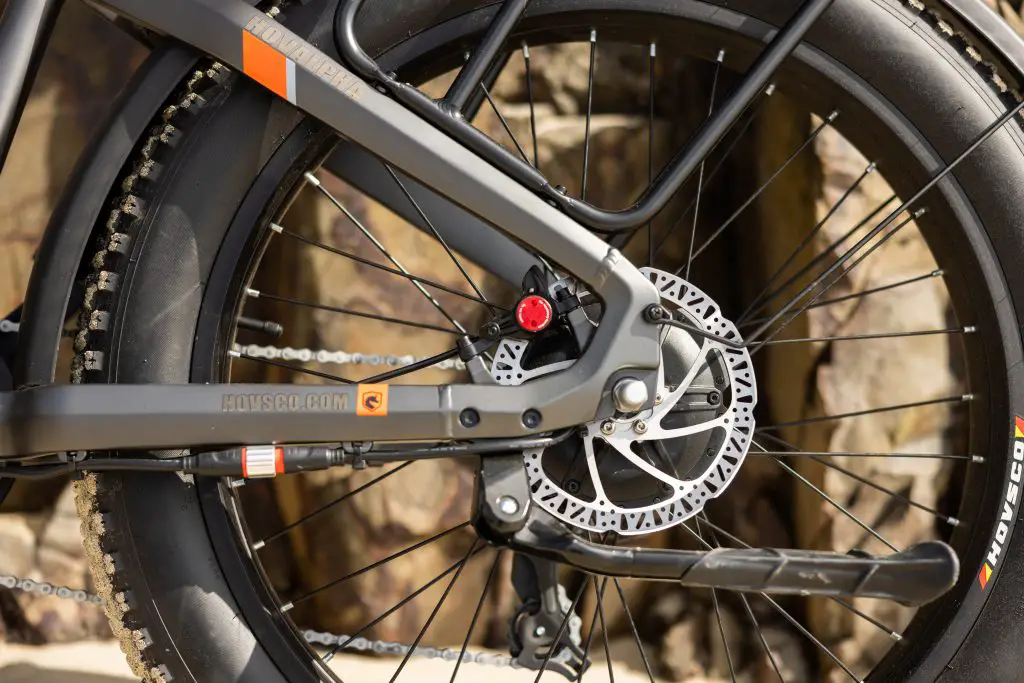 Tires
The 26″ x 4″ fat tires will certainly contribute to the bike's all-terrain capabilities, providing stability and traction in various conditions, including sand, snow, or mud. On the flip side, these wider tires may lead to increased rolling resistance on smoother surfaces, which could affect efficiency and handling. Riders primarily using the bike on paved surfaces should consider this aspect.
Rider Experience & Aesthetics
The bike's torque-sensing pedal assist, large color display, and two color options (army green and black) offer a blend of functionality and style. The torque-sensing pedal assist is a feature that offers a responsive and intuitive riding experience. It ensures power delivery is proportional to the effort put into pedalling, giving a sensation closer to traditional cycling. The large color display is another positive, ensuring rider stats are easily readable.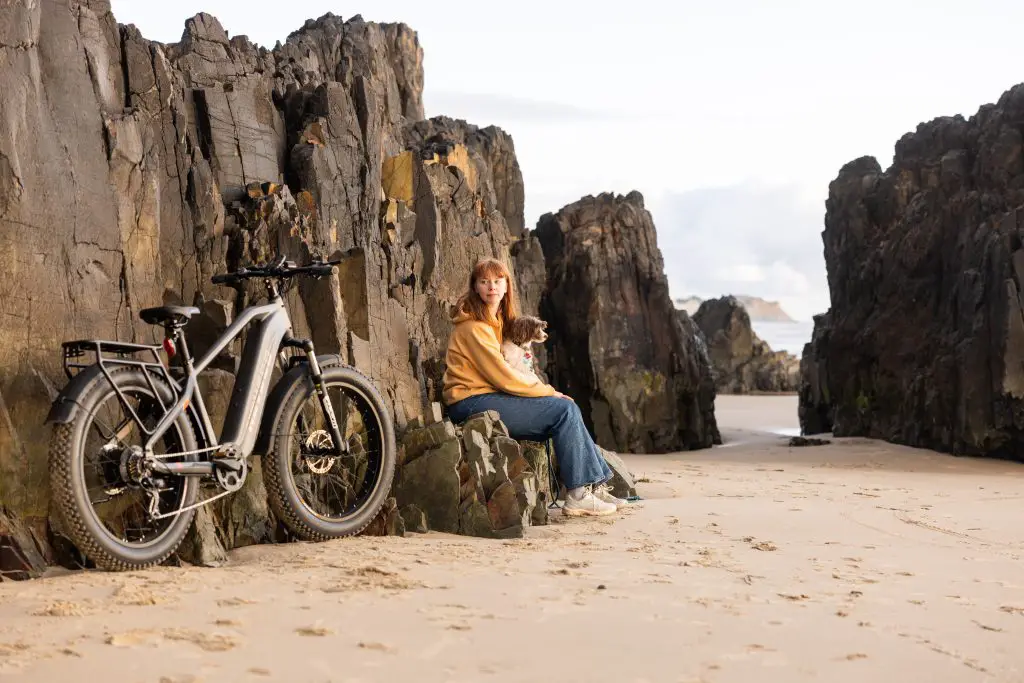 In terms of aesthetics, the Hovsco HovAlpha is available in two color options – army green and black. These colors give the bike a rugged and outdoor-oriented look. However, the bike's suitable rider height range of 5'3″ to 6'2″ does present some limitations for those who fall outside this bracket.
Conclusion
On the whole, the Hovsco HovAlpha 26″ offers a decent balance of performance, versatility and features that should appeal to commuters and leisure riders alike. Its substantial motor power, ample battery capacity, and fat tires make it a capable all-terrain e-bike. However, it's not without potential drawbacks, such as high rolling resistance on tarmac due to the fat tires and heavy weight. All in all, though it looks like a competitive option and if you're thinking about a fat tire electric bike, it's well worth considering.
Hovsco HovAlpha FAQs
Q: What type of motor does the Hovsco HovAlpha 26″ Fat Tire E-Bike use?
A: The HovAlpha uses a 750w geared rear hub motor. This motor can provide a torque of up to 85Nm.
Q: What is the maximum speed of this e-bike?
A: As a Class 2 e-bike, it offers a top speed of 20 mph. However, this can be increased to 28 mph if unlocked to a Class 3 e-bike using the partner app.
Q: What kind of battery does the HovAlpha use?
A: The HovAlpha is powered by a 960Wh battery that uses LG cells. The range can vary depending on factors such as terrain, rider weight, and level of pedal assist used.
Q: Does the Hovsco HovAlpha have a suspension system?
A: The HovAlpha is a hardtail e-bike, which means it only has a front suspension fork that is adjustable. It does not feature a rear suspension system.
Q: What are the tire specifications for this e-bike?
A: The HovAlpha uses 26″ x 4″ fat tires, designed for traction and stability across a variety of terrains.
Q: Who is the HovAlpha suitable for in terms of rider height?
A: This e-bike is most suitable for riders with a height range of 5'3″ to 6'2″.
Q: How heavy is the HovAlpha?
A: The HovAlpha weighs 32 kg.
Specifications
MOTOR
1032W (Peak) 750W (Sustained), 48V Brushless Rear Hub Motor
BATTERY
Removable Internal Lithium-ion 48V, 20Ah (960Wh)
CHARGER
Included is a 54.6V 3 Amp Fast Charger, 7 Hours Charging
DISPLAY
BC280 LCD Smart Easy Read Display with Backlight screen with app
CRANKSET
170mm w/ 42 T
CASSETTE
14-28T, 7 Speed Cassette
BOTTOM BRACKET
Square Taper, Sealed
BRAKES
Hydraulic Disc Brakes, 180mm Rotors
REAR DERAILLEUR
7 Speed
CHAIN
7 Speed
PEDALS
9/16′ Alloy Platform
HANDLEBARS
Aluminum 31.8mm,680mm
HEADSET
VP Sealed Bearing Headset
GRIPS
Ergonomic Comfort
SADDLE
Quality Ergonomic Saddle
SEATPOST
Forged Alloy, 30.4mm x 350mm, 2-Bolt Clamp
STEM
Threadless, 31.8mm, 7 Degree Rise
SEAT CLAMP
Quick Release
RIM
Double Wall Aluminum 36h Front & Rear
SPOKES
Black Stainless 12 Gauge
TUBES
Butyl Rubber, Schrader Valve
HUBS
36H Disc Thru-axle Front, Nutted Rear
TIRES
26 x 4″ Ebike Rated Tires
FRAME
6061 Single-Butted Aluminum Alloy with Internal Battery
FORK
Suspension Fork with 80mm travel, with lockout
KICKSTAND
Included, Rear Mount
THROTTLE
Throttle on demand – Throttle from a complete stop
SPEED
For Europe:15.5 MPH (25km/h)
For US: If you want to unlock higher speed, pls reach out to sales
SENSORS
Torque Sensor + Cadence Sensor
PEDAL ASSIST
5 Levels
RANGE
60-80 Miles Average
WEIGHT
77 lbs
WEIGHT LIMIT
Maximum Payload Capacity: 450 lbs
BATTERY LIGHT
120PCS LED Lamp Beads,
4-meter Range, 20 m² Area
HOVSCO APP
Free Download in Apple App and
Google Play Store