Decathlon seem to be constantly pushing the boundaries of value with their latest e-bike range, and just when I thought it couldn't get any better they go and release the Brose-powered Rockrider E-ST 520 electric mountain bike. In this review, I will take a closer look at the specification of a bike that bridges the gap between the E-ST900 and the E-ST500.
Summary
I've just finished looking over the spec of this latest e-bike from Decathlon, and it looks like another winner! At the moment there are no, half-decent mid-drive e-MTBs available in this price bracket. For potential buyers who don't want to spend over £1500 on an electric bike, the new Rockrider E-ST 520 neatly fills the void between the £1000-£1500 price bracket.
So what does the new Rockrider offer for the price? Well, as it turns out – quite a lot for your money. For starters, there's the excellent Brose-T mid-drive motor with 70Nm of torque and a 36v 11.6Ah battery. As far as components go, there is Microshift's Advent 1 x 9 groupset with an 11-42 cassette, hydraulic disc brakes and even Rockshox suspension forks.
The frame and finishing kit look more or less identical to the more expensive E-ST900. I'm excited about this bike as it is finally bringing a decent-spec mid-drive e-MTB within the reach of more potential buyers.
Electric Components
The new Rockrider E-ST 520 uses the same Brose-T motor as its pricier counterpart but with one difference. On the E-ST900 the Brose motor has modified firmware which allows the motor to produce up to 90Nm of torque. This version seems to have standard firmware, which still means a very respectable 70Nm. Out on the trails, the extra torque of the more expensive bike would only really be useful on steep, technical climbs.
Display
The LCD on this model is also slightly different, although it seems to offer the same functionality and the display is still right next to the left-hand grip. There are also the same 3 assist levels 3: Economy, Standard, and Boost.
There's also a whole host of useful information:
Stopwatch
Current speed
Average speed
Maximum speed
Distance covered
Total distance
Battery level
Remaining battery range (in km)
Pedestrian assistance mode
Reset
Battery
The lithium battery pack uses the same high-quality Samsung or LG cells and has a total energy capacity of 417Wh or 36v 11.6Ah. This should give the rider a potential range of up to 60 miles when ridden carefully.
Bike components
Again, Decathlon has provided a specification that you wouldn't usually find on an electric mountain bike at this price point. A decent 1 x 9 drivetrain with a big gear range, powerful hydraulic brakes and even Rockshox forks.
Gearing
This e-bike uses a Microshift Advent 1 x 9 groupset, which is a pretty decent system. When compared with the Shimano Deore M6000 drivetrain found on the E-ST900 there isn't a lot in it apart from a bigger jump between some of the gears.  For those of you unfamiliar with Microshift, they are a Taiwanese company that was founded in 1999 and a lot of their components are used on mountain bikes, gravel bikes and road bikes.
Although they are considered a budget brand, I have used micro shift on several bikes and I've always found gear shifting to be crisp and precise. I used to own a Riverside 900 that had Microshift 1 x 10 and it always worked flawlessly.
Advent is one of Microshift's latest groupsets, and uses a clutched rear derailleur with an 11-42 9-speed cassette paired with a Chainflow 34t front chainring – with gearing like that you'll be able to remain seated, even on steeper climbs.
Brakes
The Hydraulic brakes are decent Tektro  TKD88 with 180mm rotors front and rear, although they are fairly entry-level, these brakes will provide more than enough stopping power for most riders.
Wheels and Tyres
A decent set of 27.5″ double-walled alloy rims are fitted with alloy hubs with sealed bearings – 28 spokes at the front and 32 at the rear to increase durability. These rims can also easily be converted to run tubeless tyres using rim tape, valves and sealant.
Tyres are decent Hutchinson Cougar 27.5″ x 2.4″ which will provide decent grip on a multitude of terrains.
Front Suspension
Rockshox 30 Silver coil-sprung front forks are entry-level, but again will provide more than enough suspension for the average recreational rider. With 120mm of travel and rebound adjustment with lock-out.
Finishing Kit
The finishing kit on the E-ST 520 is all Decathlon branded and looks identical to what is fitted to the more expensive E-ST900. The handlebars are 720mm wide and there is an Ergofit saddle.
Frame
This frame looks identical to the one used on the E-ST900, a decent sturdy frame with relaxed geometry suited for the novice or intermediate rider.
Who is the Rockrider E-ST 520 bike aimed at?
For riders wanting to have all the benefits of a decent quality mid-drive hardtail electric mountain bike without having to fork out a couple of grand, the E-ST 520 is ideal. Just like its more expensive counterpart, it's going to be incredibly versatile and be suitable for use on or off the road. There are the usual mounting points for a rear rack and mudguards, making this model suitable for commuting, leisure riding and hitting the trails on the weekend.
Conclusion
I'm going to see if I can get ahold of one of these for a full test shortly. I think for £1399 it's an absolute bargain. I was impressed enough with the Rockrider E-ST 900 but the E-ST 520 is £200 cheaper and there isn't an awful lot in it.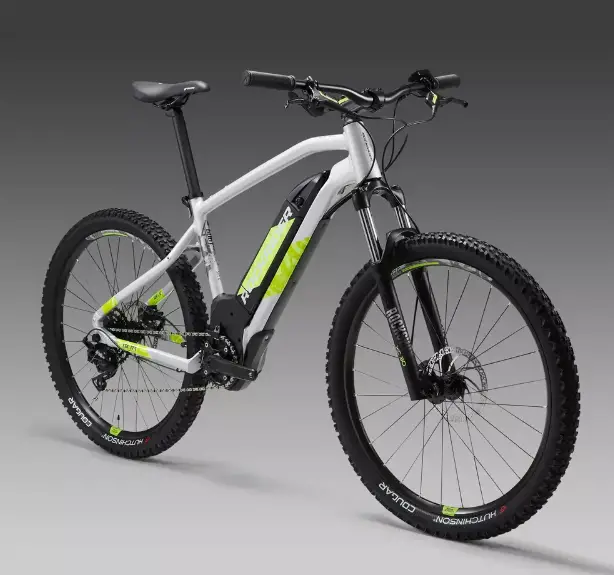 It boils down to whether you need the slightly more powerful motor and battery. I think Decathlon has released another winner here. There's been a big gap in pricing for electric mountain bikes. £1000-£1200 will usually buy you a good hub motor e-MTB, but when it comes to mid-drives, there was always a jump of around £300.
What the Rockrider E-ST520 does is fill that gap in the market perfectly. It will also make it a more tempting proposition for people wanting to buy through the Cycle to Work Scheme.
Another great value electric mountain bike from Decathlon, I look forward to trying this one out.
If you have purchased one of these recently, please feel free to leave feedback below in the comments section. Thanks for reading.