The concept behind compact electric hybrid bikes is simple – One bike, one size, men and women, teenagers and adults can all ride the same bike. The Orbea Katu E 30 is an excellent example of one such bike. Designed with urban riding in mind, it utilises the excellent Bosch Active Line mid-drive motor and a 400Wh battery pack. Another great feature of this bike is it can also carry shopping and other goods. In this review, I will take a closer look at the specification and components.
Summary
When Orbea designed the Katu E, they were looking for an urban mobility solution, that would be easy to ride, adaptable and carry day-to-day items, like some shopping.
This is a versatile bike, and although at first glance it looks quite small, looks can be deceiving.  I was kindly loaned this bike to test, and I have to say that I was suitably impressed.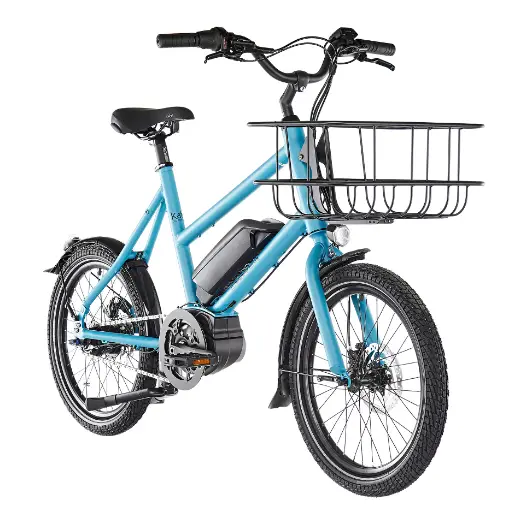 I am 6'1″ tall and weigh around 110kg, and once I had adjusted the seat and handlebar height, I found it incredibly comfortable to ride.
The smooth Bosch Active Line motor, combined with the Shimano Nexus 8 internally geared hub worked in perfect harmony. Providing seamless power and smooth gear changes.
Let's have a closer look at the specification of this great e-bike.
Electric Components
The earlier models of the Katu E came with a front hub motor, which worked well enough, but it didn't produce anywhere near the torque of the Bosch motor. Mid-drive motors are also much more efficient than hub motors, so you can expect a much great battery range with this latest model.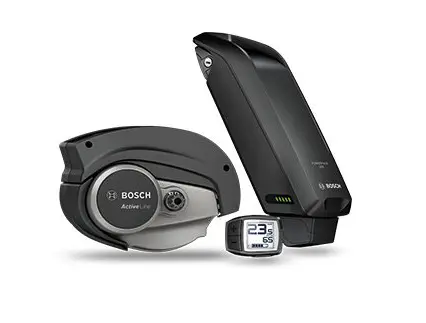 Bosch Active Line Motor
The Bosch Active Line motor is designed specifically with urban riding in mind. It doesn't produce as much torque as the CX models, but this bike is made for cruising around city cycle paths at a mellow pace.
Having said that, the motor still produces plenty of electric assists when needed, and the way it gives you that assist is so smooth and subtle that it makes this bike a joy to ride.
Bosch Purion Display
All of the Bosch displays are good, and although the Purion is their entry-level display, it still provides the rider with all the important information, like speed, battery range and assists level indicator.
Battery
Bosch's powerpack 400 battery uses premium Panasonic lithium cells and has a smart battery management system which prevents overcharging and over-discharging. It also monitors temperature and will shut down if any anomalies are detected, so you can ride the bike safely with the knowledge that your battery isn't going to overheat and catch fire.
As far as range is concerned, the Active Line motor is just so efficient, you could, in theory, get 80 miles plus out of it off a single charge. I would say for day-to-day riding a range of 50 miles is realistic.
You can use Bosch's excellent battery range calculator where you can enter your weight and other factors to get a good idea of potential range.
Bike Components
For the price, the Orbea Katu E 30 has everything you would expect on an e-bike and more! This bike is all ready for town or city riding, and the attention to detail is excellent.
Everything from the excellent Shimano Nexus 8 geared hub to the Shimano hydraulic disc brakes is there. Plus you get mudguards, a centre stand, lights and a massive basket for shopping or whatever you can fit in there.
Gearing
When designing a compact urban electric bike, having a gear system that is maintenance-free and not exposed to the rigours of city riding is a great idea.
The Shimano Nexus 8 internally geared hub is a godsend! The great thing about this type of gearing is you can change gears when stationary. If come to a set of traffic lights with a regular derailleur system, you can only change gear when you start pedalling, or you have to downshift before you come to a standstill.
Not so with the Katu E – you can just shift into 1st gear when you stop, and pull away nice and easily. Another great thing about the Nexus 8, is it is virtually maintenance-free, and should last for years.
The only thing you will need to do once in a while is adjust the tension of the shifter cable, via a barrel adjuster. There are two yellow marks on the hub and to adjust, you simply select 4th gear and turn the adjuster anti-clockwise until the yellow marks are re-aligned.
Brakes
Hydraulic disc brakes are a must, on an e-bike that is going to be used to carry extra weight, and the Katu E 30 comes equipped with Shimano's entry-level MT-200 brakes. I have ridden loads of bikes with these brakes fitted and they do the job perfectly and are ideally suited for city riding.
Wheels and Tyres
20″ wheels are an excellent idea on a city bike, small wheel diameters are tougher and can handle potholes, curbs and other obstacles you may come across.  Extra wide Kenda 841 20″ x 2.25″ tyres add to the comfort and stability.
Accessories
You are spoilt with all the accessories you will ever need. The Katu E 30 is ready to ride and wants nothing in this department.
There are front and rear mudguards, lights, a centre stand for safe parking and the icing on the cake is that extra large front basket. I managed to fit two bags full of shopping comfortably in the basket.
Frame
The aluminium frame is very well designed, and also seems incredibly tough, something you will want when riding in the city.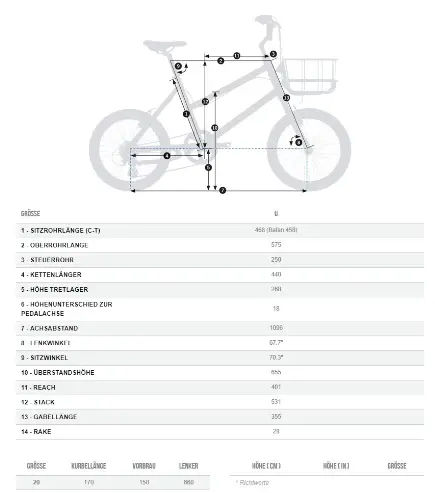 Full Specification
FRAME Orbea Katu 20″
FORK  Orbea Katu
CRANKSET FSA  Bosch-IG3 E-bike 44t
CRANK FSA CK-602 Bosch IG3 170mm
HEADSET 1-1/8″ Semi-Integrated
HANDLEBAR Orbea City Riser Alu 660mm
STEM Orbea Alu
SHIFTERS Shimano SL-C6000 Nexus 8-Speed
BRAKES Shimano MT200 Hydraulic Disc
CASSETTE Shimano Nexus 18t
CHAIN KMC Z510HX
WHEELS Orbea Web Disc
TYRES Kenda 841 20×2.25 Reflex
PEDALS VP-537 Black
SEATPOST Alloy 31.6x400mm Offset 0
SADDLE Selle Royal Milo Plus DR
FRONT CARRIER Aluminium Front Basket
MUDGUARD SKS 20″ 60mm
FRONT LIGHT Joss Spanninga Kendo 15 lux
REAR LIGHT Spanninga Pixeo
CHAINGUARD FSA Bosch IG3 44-46t
LOCK Abus battery down tube lock
QUICK STAND Ursus Big Foot double central alloy
MOTOR BOSCH Active 25 kmh
BATTERY BOSCH Performance 400Wh
DISPLAY BOSCH Performance Purion
CHARGER Compact Charger 2A (100-240V) Worldwide
FRONT HUB Safety Lock
Who is the Orbea Katu E 30 aimed at?
I can see the Katu E having a really broad appeal, it could be used as a family share bike, for adults and teenagers. It would be an excellent electric bike for commuting.
But I reckon, if you were working for Deliveroo or Ubereats, then this would be a cracking bike to use for delivery work. The 400Wh battery would give a comfortable range of around 50 miles.
This bike isn't just great for urban riding. With the big tyres and tough construction, you could also use it for outings in the countryside. I live in Cornwall and my test route included a couple of unpaved gravel tracks, which are quite rough in places, and the Kate E handled them with ease.
Conclusion
The 2020 model of the Orbea Katu E 30 is an excellent electric bike. It reminds me a little of the more expensive Tern GSD S10, and although it doesn't have the load-carrying capacity of that bike, for the price it is fantastic!
Bosch's Active Line motor produces plenty of assistance when you need it, and the bike handles very well. I found the handling to be very nimble and responsive – something you want, when riding in towns or cities.
I also enjoyed riding this bike through my local countryside in Cornwall. The area in which I live has lots of steep climbs and the Katu took everything in its stride.
If you're looking for a versatile, fun and easy-to-ride e-bike, that can also double up as a bit of a workhorse, I can't think of a better bike at this price. It has everything you need, it's very well made and the electric assist works just great.
I'm giving the katu E 30 the big thumbs up!