At a time when a lot of manufacturers are trying to make e-bikes look more like their regular counterparts, Giant come along with something big and bold. In this Giant FastRoad E+ EX Pro review I'll take a look at this interesting electric bike in more detail – can it hold its own against the latest crop of e-bikes?
Summary
The Giant FastRoad E+ EX Pro is a very masculine-looking bike – its bold design doesn't try to pretend it's anything other than an e-bike, with its big tyres and sleek matt black paintwork the EX Pro looks tough and ready for business!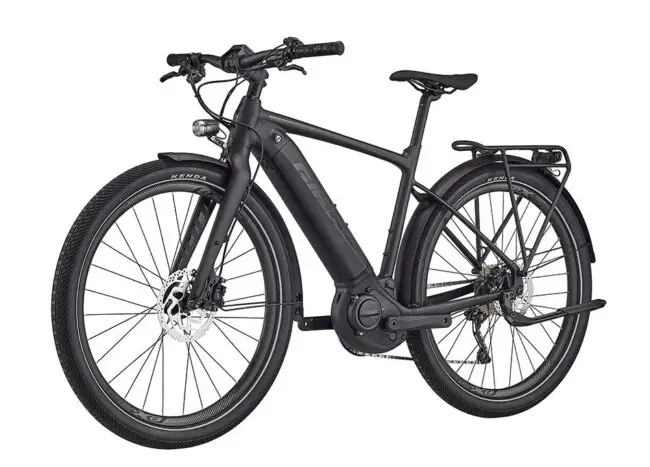 I was fortunate enough to have a quick ride on one of these recently and it doesn't disappoint. One of the big surprises for me was how light and nimble it felt out on the road. This is probably down to its DNA which is based on the FastRoad range of electric road bikes.
It was great fun to ride and the Gaint Sync Drive Pro motor has bags of torque – it's one of my favourite e-bike motors and it pulls like a train in Sport mode, guaranteeing to propel you up even the steepest of climbs with ease.
The all-terrain capabilities of the FastRoad EX Pro are unmistakable – fitted with high volume 27.5″ x 240mm multi-surface tyres, the Giant handles rougher surfaces with relative ease. This could be a great e-bike for taking on more challenging rides.
How much does the Giant FastRoad E+ EX Pro weigh?
You'd be surprised to learn that it's not actually that heavy for an e-bike. The Giant FastRoad E+ EX Pro weighs in at a very respectable 20.1kg for the medium-framed model. I rode the large frame version and didn't get a chance to weigh in on my digital scales, but as I've stated above it feels surprisingly nimble for a 'fully-loaded' electric bike. To put this into some perspective, most mid-drive hybrid electric bikes seem to come in at around 25kg.  The Giant uses a much lighter ALUXX Ally fork, whereas a lot of hybrids have a suspension fork.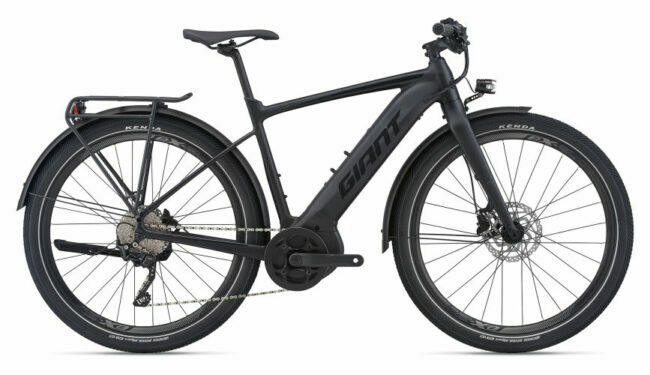 Electric components
I've said this in previous articles, the Giant Sync Drive electric bike motors are excellent. Developed in collaboration with Yamaha, the top-of-the-range Sync Drive Pro motor provides an impressive 360% of assistance (with 80Nm of torque) in the maximum power mode – this can be fine-tuned using the app to further tailor the riding experience to suit the rider's needs.
The Giant Sync Drive Pro motor is silky smooth, and quiet and provides an impressive level of assistance which belies its 250w continuous power output.
A 500Wh battery pack provides an excellent potential range – if you're frugal with the assist it's possible to achieve close to 100 miles out of a single charge. Although for the regular rider, this is likely to be lower – it seems the average ball-park figure is around 50-60 miles, which is enough for a good few hours in the saddle. The battery pack can be removed for charging using the supplied 6A charger.
The Giant RideDash Evo colour display is one of the latest by Giant and is packed full of useful features like navigation. If you connect the partner app you can also use a heart rate monitor and upload your rides to fitness tracking platforms like Strava.
Bike components
When you're spending this much on an electric bike you want to be sure you are getting the best components for the price. The EX Pro benefits from some top-quality Shimano components including a Tiagra 10-speed shifter paired up with an excellent GRX long-cage clutched rear derailleur. There is also every extra you will ever need on a bike including full mudguards, a pannier rack, lights and a kickstand.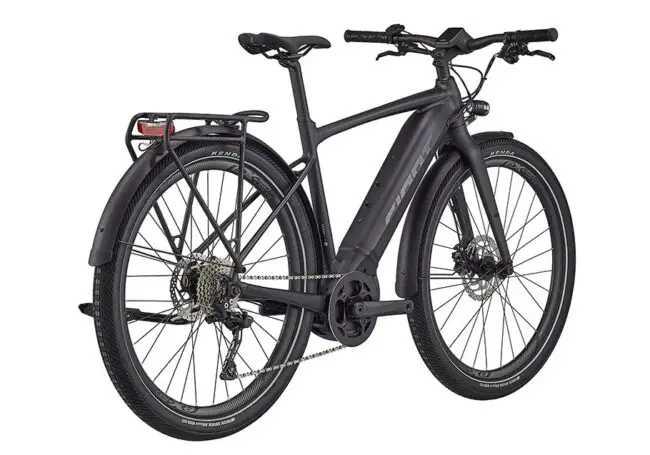 Gearing
There is a very nice gearing set-up on the EX Pro, Giant have used a combination of road and gravel components to help make the FastRoad a truly versatile machine. 10-Speed Shimano Tiagra flat-bar shifters are paired with a gravel-specific GRX rear derailleur – this has a clutch mechanism to stop the chain from slapping around on rougher, bumpier terrain. There is a 42t chainring up front and an 11-36 rear cassette – my only criticism here is I think they should have gone with an 11-42 cassette for a greater gear range. Having said that, the motor has enough torque to compensate for this.
Brakes
Shimano MT-200 hydraulic brakes are fairly entry-level and I would have expected to see slightly higher-spec brakes at this price point. However for the average rider these brakes are more than suitable – my electric bike uses these brakes and they have never let me down, bearing in mind I weigh 17.5 stone and have lots of -15% descents near where I live.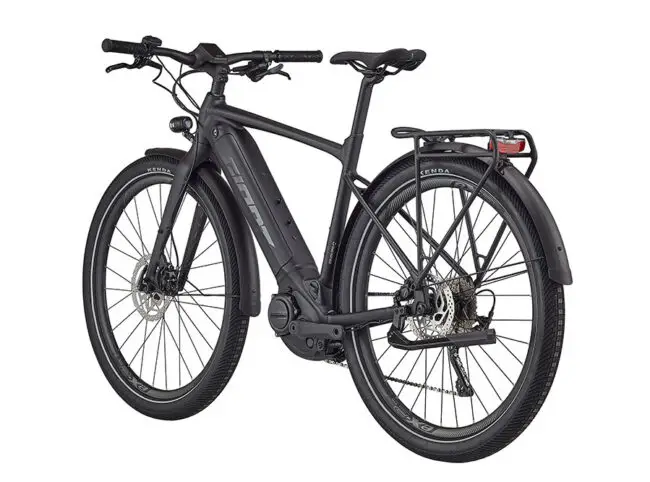 Wheels and tyres
Giant has used their tough EX-2 tubeless-ready rims with Performance Tracker thru-axle road hubs with sealed bearings – these rims are 27.5″ (as opposed to the normal 28″ / 700c) and are designed to cope better with the rigours of off-road riding. Paired with the Kenda Kwick Seven.5 high-volume tyres the FastRoad EX Pro will be able to tackle gravel, canal paths and forest trails with relative ease.
Frame and finishing kit
The frame and forks are made using Giant's ALUXX SL aluminium technology as is all the finishing kit. There is a 'D-Fuse' seat post designed to increase rider comfort and the EX Pro is fully equipped with all the extras any cyclist would ever need. The Giant benefits from a full set of mudguards, a tough pannier rack, a kickstand and powerful integrated lights which run off the battery. The saddle is also surprisingly comfortable for a stock item.
Who is the Giant FastRoad E+ EX Pro aimed at?
The term 'Swiss army knife' is often used when describing something that can cope with a multitude of tasks – I think it's very apt when describing the Giant E+ EX Pro. This e-bike is going to have broad appeal. Whether you are battling through the rain on your daily commute or exploring moorland gravel trails the Giant is a truly versatile electric bike in every sense of the word.
Conclusion
In my opinion, the Giant FastRoad E+ EX Pro is a great machine – it's going to be a good option for the rider who is looking to spend some time on rougher terrain but without the weight penalty associated with the average mid-drive hybrid e-bike.
It's aimed at the more adventurous rider looking to explore the more rugged countryside, it's also going to be an excellent bike for negotiating the urban jungle – this bike takes potholes and poorly surfaced roads in its stride!
If you were looking for an electric bike to do a spot of touring and planned wisely so you could charge it up every evening, then the FastRoad EX Pro would be an excellent choice. It's very comfortable and is fully equipped for long days in the saddle. If your route is fairly undulating and you don't use full power all the time, you can get quite a good range between charging.
The Giant Sync Drive Pro motor is an absolute gem – it consistently rates highly for reliability and produces a smooth and powerful surge of electric assist when you need it, and the great thing about this motor is when you do go beyond the 15.5mph limit the transition is seamless and you can pedal it as a normal bike (albeit heavy one).
As much as I like bikes like the Cube Kathmandu, I think if I was given the choice I would go with a bike like the Giant every time. It's 6kg lighter and has more of a 'normal bike' feel about it. It's very well-equipped and great fun to ride – highly recommended!
Buy Now: Giant FastRoad E+ EX Pro £3599