When you purchase through links in our articles we may earn a small commission. Read our affiliate disclosure.
I'm always keeping an eye out for e-bike bargains and I recently came across the Polygon Path E5 electric bike. In this review, I'll go over the specification in detail and explain why I think it's a worthy alternative to the Vitus Mach E.
Summary
Polygon Bikes are a US-based bicycle company that produces a wide range of bikes (both regular and e-bikes). I first became aware of the E5 a few months back when browsing US e-bike dealers and was surprised at what excellent value it offered (when compared to similar UK models).
When I recommend an e-bike, I look at several key factors – the bike frame, geometry, components, electric assist system and value for money. My e-bike – the Vitus Mach E Urban is currently out of stock and looking at the specification of the Polygon E5, it's the closest there is in terms of value for money, battery range and components.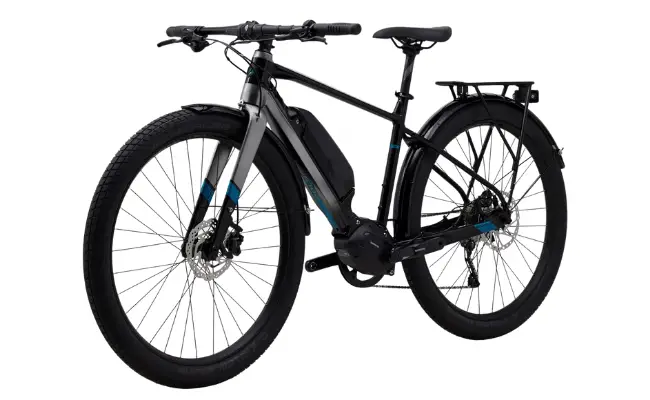 Specification
The Polygon Path E5 uses the Shimano Steps DU-E5000 system which is their entry-level system. It produces slightly less torque than the E6100 unit (found on the Vitus Mach E) but is still an incredibly smooth and responsive electric motor.
There's the same 504Wh battery as found on the Mach E, which should give a realistic range of anything up to 100 miles on a single charge – I have regularly achieved this kind of range on my Vitus using eco mode.
A small and more discreet Shimano Steps E7000 display is used on the Polygon which has the same functionality as the larger display but takes up less space on the handlebar.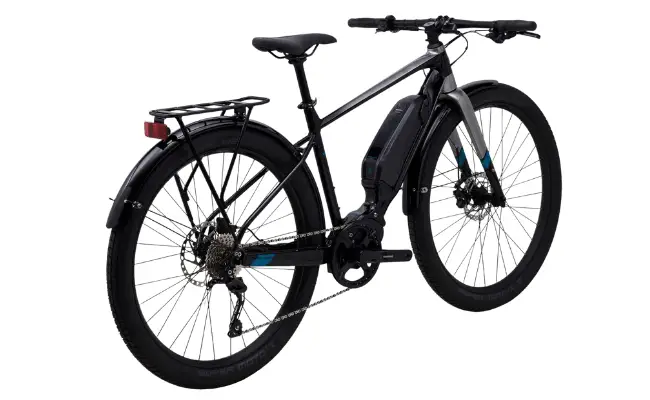 Bike components
Another thing that impressed me about the Polygon Path E5 is the components used. There's a Shimano Deore 10-speed drivetrain with a 44t chainring and 11-34 cassette – this is the same gear range as the Mach E but with an extra ratio.
There are Shimano MT200 hydraulic disc brakes which work well, and the tough 27.5″ wheelset uses thru-axles and is shod in wide 2.4″ Schwalbe Super Moto-X tyres. This means the Polygon should be more than suitable for some moderate off-road riding and even bikepacking – there is a set of full-length mudguards and a pannier rack fitted as standard (something the Vitus lacks).
A 6061 Alloy frame with a carbon fork helps keep the weight to a minimum and at 19.5kg the E5 is only marginally heavier than the Vitus Mach E (17.5kg).  Having a rigid carbon fork will be fine for mild off-road riding and thanks to the high-volume tyres, riding gravel tracks and forest trails should be a doddle!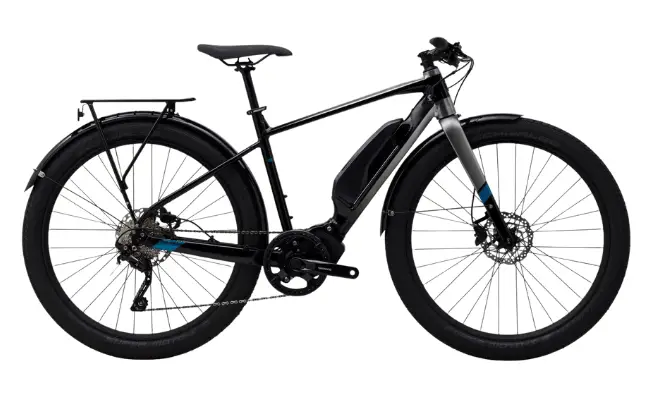 Who is the Polygon Path E5 aimed at?
Looking at the specification, this is an e-bike suitable for anything you choose. It will have its limitations in harsher off-road environments but for the regular rider who just wants to ride gravel tracks and moorland trails the Polygon will be more than up to the job.
As a daily commuter electric bike, the Path E5 should excel. The tyres should soak up most road imperfections and potholes, plus the 504Wh battery will give more than enough range to ride a 40 miles round commute in high power mode, meaning you can turn up to work feeling fresh.
For the more adventurous rider, I can see the Polygon being suitable for touring and weekend bikepacking. With a potential range of up to 100 miles on a single charge you could quite comfortably cover 70-80 miles a day between stops and recharge the battery at night.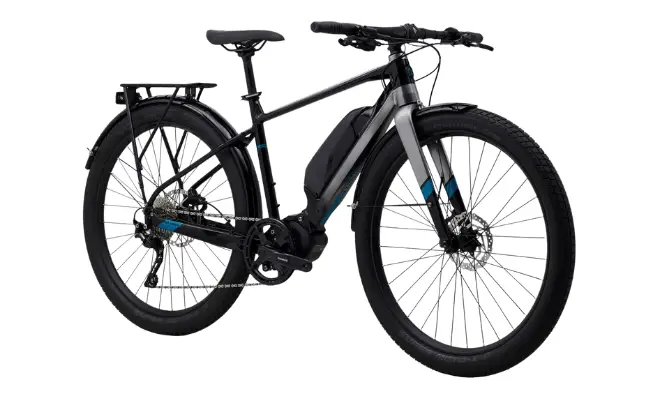 Conclusion
Seeing as the Vitus Mach E is no longer available at present, I was having difficulty finding an e-bike available in the UK that could match it for price and specification. The Polygon Path E5 is about as close an alternative as I could find and I think it's a worthy one.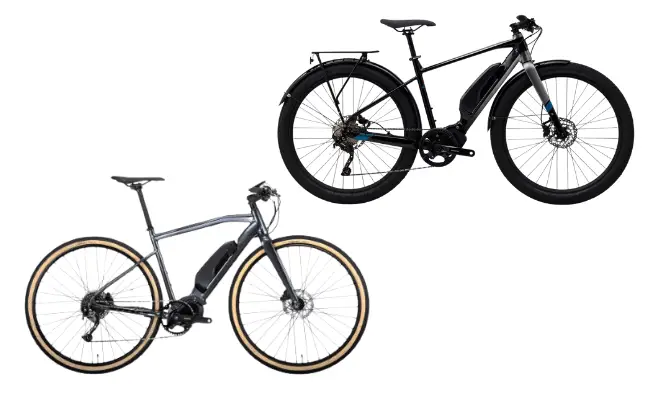 The similarities are all there – both bikes have an alloy frame and carbon fork, and both have a Shimano Steps motor with a 504Wh battery. The Polygon has some advantages over the Mach E as it comes with mudguards, a pannier rack and those huge tyres.
I think if I was faced with the same choice now, I would personally go with the Polygon Path E5. I've always found my Vitus Mach E produces more assist than I'll ever need and the Steps DU-E5000 motor is just as smooth and refined plus it's slightly lighter.
If you're in the market for a decent mid-drive hybrid e-bike, the Polygon is well worth a look.
Thanks for reading. If you own a Polygon Path E5, please share your thoughts in the comments section below.