When you purchase through links in our articles we may earn a small commission. Read our affiliate disclosure.
In this article, I'm going to be looking at the Gogotops GS4 off-road electric scooter – if it's performance you're after, this budget offering has more than enough!
Summary
One of the biggest problems I come across with electric scooters is they are often underpowered. If you weigh much over 80kg, then the average 250w / 350w e-scooter simply isn't going to get you up anything other than a slight slope.
I'm in the process of writing a separate article featuring 7 of the best electric scooters for heavy adults and in that article, I explain the problem of rider weight vs power output.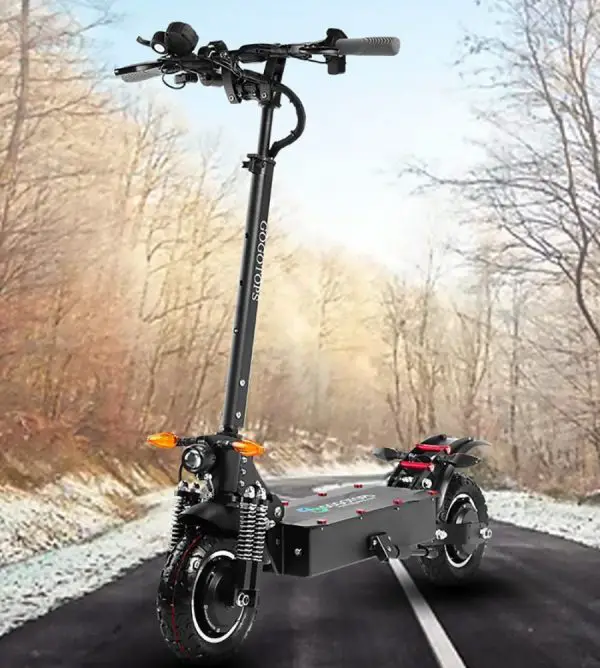 Current e-scooter legislation unfortunately doesn't take rider weight into account and in most European countries, there is an upper power limit of 500w. So, for that reason, I can't recommend the Gogotops GS4 for anything other than use on private land in those countries.
⚠ The e-scooter featured in this article produces 2000w of power and will not be legal to use on public roads in most EU countries. Please check your local laws before purchasing. For more info please read my electric scooter buyer's guide.
Gogotops GS4 overview
Having a quick look through the specification, the Gogotops GS4 has an impressive list of features usually only found on much more expensive e-scooters. It's definitely not an e-scooter to be taken lightly and should only be used by experienced adults. Also, it is highly advisable to wear full protective clothing when riding this electric scooter. Below I've gone into more detail on the spec.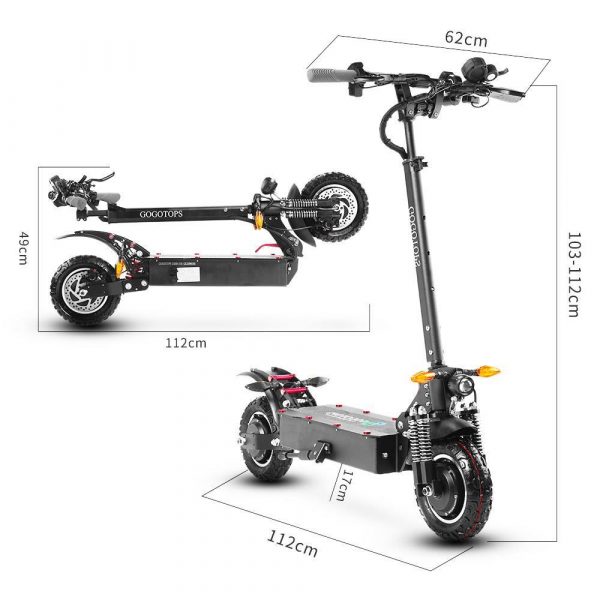 Motor
The Gogotops GS4 has dual motors, with a combined maximum power output of 2000w. This is going to give a claimed top speed of 65km/h (realistically 50km/h for a heavier rider).
This is a lot faster than the 25km/h speed allowed in most European countries, but the GS4 has a neat trick up its sleeve – the scooter comes with a remote key fob that with a double press, limits the speed to 25km/h. This is unlikely to satisfy any law enforcement authorities if the scooter has previously been ridden at higher speeds.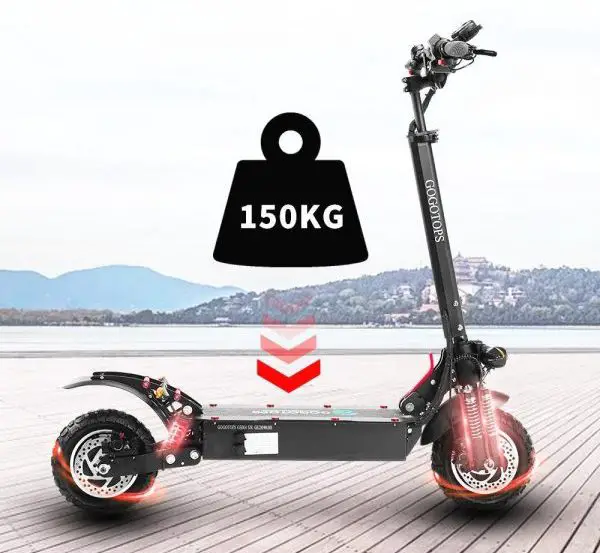 Display/controls
The display shows basic information like speed, power level and battery range. The display unit also houses the thumb throttle and control buttons.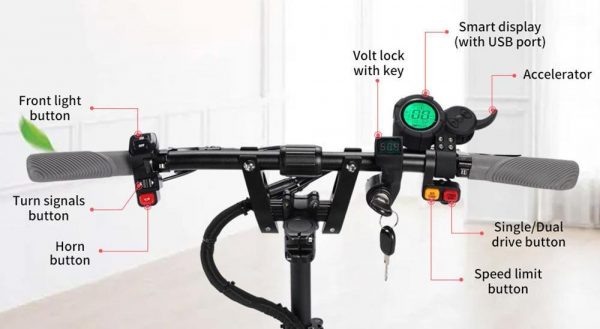 Battery
A powerful motor needs a large battery and the GS4 is well catered for in this area. The battery is 52v 28Ah which gives a total energy capacity of 1456Wh (watt-hours). The claimed range of 60km would only be achievable if low power was used and the route was fairly flat.
Brakes
On an e-scooter this powerful, you're going to need decent brakes. The GS4 has hydraulic brakes front and rear. Plus, there's motor braking which should help bring the scooter to a quick and controlled stop.
Suspension
The GS4 has front and rear suspension in the form of basic coil-sprung shock absorbers (2 x front and 1 x rear). I can't comment on the effectiveness of the suspension, but it should be adequate for mild off-road riding.
Tyres
10″ wide pneumatic tyres with a decent bit of tread, should provide a reasonable amount of grip on unpaved surfaces.
Lights
The GS4 is well catered for in the lighting department with front and rear lights plus indicators. Even though it's marketed as an off-road e-scooter it's safe to say that quite a few owners will be riding these on the road, so it's good to see decent lighting and indicators.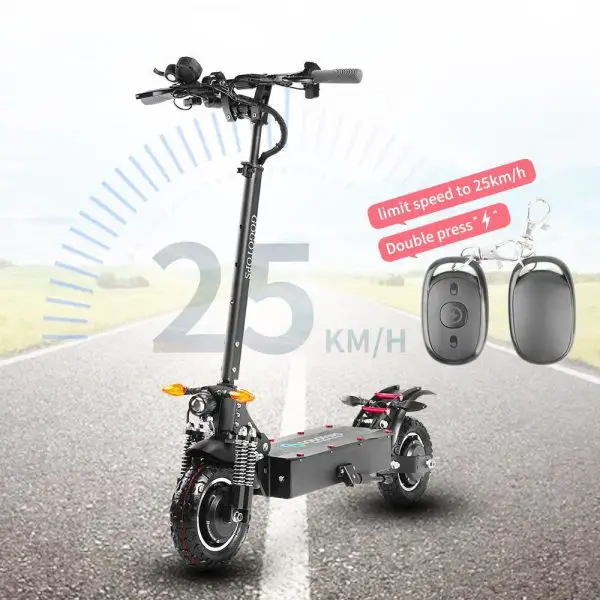 Available for shipping to EU countries only (at present)
Full Specification
| | |
| --- | --- |
| Factory Model No. | GS4 |
| Material | Aluminium alloy |
| Power | 52V 2000W |
| Drive Type | Double drive |
| Battery Capacity | 28.8Ah(60km) |
| Max Load | 150kg |
| Max Speed | About 65km/h |
| Climbing Ability | 40° |
| Charge Time | About 6-10 hours |
| Brake | Oil brake +electric brake |
| Tyre | 10inch pneumatic  road/off road tire |
| Opening Size | 112*60*103-112cm |
| Folding Size | 112*19*49cm |
| Packing Size | 124*25*49cm |
| Pedal Height | 17cm |
| Net Weight | About 30kg |
| Gross Weight | About 34kg |
| Packing List | scooterx1, manualx1, chargerx2, volt Keyx2 |
Conclusion
The Gogotops GS4 electric scooter looks like a lot of fun and is competitively priced. If you are a heavier rider who's been frustrated by the performance of the typical 250w / 350w e-scooter, then this might be for you. The only problem I can see is a legal one and it really depends where you live and the local laws.
It's useful to have a speed limiting function, meaning a responsible rider can keep their speed down when riding in built up areas but still benefit from the power for getting up hills. If you're looking for a more powerful e-scooter for under €1000, the GS4 looks like a good option.
Further Reading