Iconic British bike brand Raleigh now offers several models in the 'affordable' price zone. One such electric bike is the Raleigh Motus Low Step (or Step-Thru) – I recently took delivery of one of these bikes on behalf of a friend of the family and had the opportunity to give it a thorough test. Read on for my full review.
Summary
Low step, or step-through e-bikes as they are also known are characterised by the lack of a top tube, and a large single beefed-up downtube.  They differ from the traditional 'Mixte'  low framed bike which has both top tube and down tube.
The idea behind step-thru's is ease of use, making them particularly suitable for riders who may have difficulty in swinging a leg over a traditional frame. Recent years have seen a big surge in the popularity of low-step framed bikes, particularly with the advent of the e-bike.
The 2020 version of the Raleigh Motus low-step electric bike is competitively priced at £1650 and offers quite a lot of bikes for the money. With Bosch's super efficient Active Line motor and a modest 300Wh battery pack, plus hydraulic brakes, a pannier rack, and a kickstand – the Motus looks good on paper, but does it live up to its expectations?
Electric components
It wasn't too long ago that the Bosch motor was the preserve of high-end electric bikes like Kalkhoff and Riese and Muller, but now their electric bike drive systems can be found on bikes starting at around £1500. They now offer four different types of motor starting with the Active Line and going up to the Performance Line CX motor.
Bosch Active Line Motor
The latest incarnation of Bosch's popular Active Line motor has seen a modest reduction in weight, and some tweaks with the internals and firmware. The result is an incredibly smooth, efficient and quiet motor that produces subtle but meaningful levels of e-assist.
Like all the other motors in the Bosch range, the Active Plus uses a sophisticated torque sensor to provide pedal assistance.
My only complaint with this latest model is the torque output has been reduced to 40Nm – torque is a measurement of rotational force and is of particular importance when it comes to e-bike motors. When you compare the Active Line motor with their top-of-the-range CX motor the differences are quite stark – the CX puts out nearly double the torque (75Nm) and thus copes with steep hills a lot better.
Does the Bosch Active Line motor produce enough power?
I've always said riding an electric bike is a very subjective experience and what seems powerful for one person may not for another.  I have ridden loads of Bosch-powered e-bikes and I've always found all of their motors provide decent assistance.
My friend, who is in her late70s and hasn't ridden a bike for a while has said that the Bosch motor in the Raleigh Motus does not provide enough assistance to make climbing hills comfortable. She told me of trying to get up a particularly short but brutally steep hill in our area and she had to get off and push the bike using the walk assist.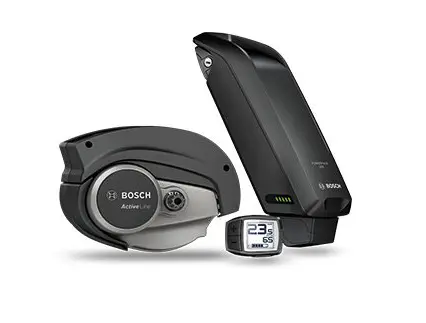 With hindsight, I should have recommended the BoschCX-powereddd e-bike, but there were none available that fitted the budget and criteria (low-step frame).
Conclusion of the Bosch Active Line motor
I found it silky smooth, quiet and a pleasure to ride, but now having feedback from my friend (who has since returned the bike) I couldn't recommend this motor for elderly people or individuals with health problems who need to cycle up very steep hills (10% gradient and above). It's absolutely fine for flat or gently undulating terrain, but it will not have enough grunt to overcome very steep hills unless you can add a substantial amount of pedalling input.
Display
The Bosch Purion display fitted to the Raleigh Motus has been around for a few years now and is a basic but dependable unit. It displays speed in MPH or KM/H and has a trip function, battery indicator and walks assist function. There are four levels of assistance to choose from: Eco, Tour, Speed and Boost.
Battery
The Raleigh Motus comes equipped with a 300Wh (watt hour) battery and should give the rider a range of between 40-60 miles depending on various factors. To get a better idea of the potential range based on rider weight and terrain use Bosch's excellent range assist calculator.
Bike components
Like most electric bikes at this price point, the Raleigh Motus uses fairly standard entry-level Shimano components. The good thing about most Shimano parts is even at the cheaper end of the scale they tend to be fairly durable, they work well and are cheap to replace if they do go wrong (which they rarely do).
Gearing
The gearing on the Motus is what you would expect on any entry-level low-step hybrid. There is a wide-range 7-speed 11-34 rear cassette which will give the rider a low enough gear to get up fairly steep climbs. On testing this bike all the gears indexed nicely and shifting was crisp and precise.
Brakes
Braking is provided by decent Tektro T285 hydraulic disc brakes. They are fairly entry-level but did a very good job of slowing down a 17.5 stone rider on a 24kg bike descending a 10% gradient – no problems there!
Frame and forks
A chunky alloy frame with a Suntour NEX suspension fork gives the Motus a robust feel. The overall finish has an air of quality about it and finer details like the metal Raleigh badge are a nice touch. The paintwork was flawless and looked durable.
Wheels and tyres
The wheels and tyres are designed to cope with the rough and tumble of the daily commute and weekend leisure rides. There are two wheel size options available on the Motus – 26″ for the smaller frame versions and 28″ / 700c for the larger frames.
The wheels are 36h alloy rims with sealed bearing hubs and quick-release skewers, and the tyres are Mitas 700C x 42 with reflective stripe and puncture protection.
Finishing kit and accessories
The Raleigh Motus low step comes with a raft of useful accessories including full-length front and rear mudguards, a sturdy pannier rack and a very stable frame-mounted kickstand. There is also a bell and reflectors.
The saddle is a comfy Selle Royal Milo, and there are also ergonomic handlebar grips to add to the relaxed riding position.
Who is the Raleigh Motus aimed at?
I would say like many e-bikes of this kind the Raleigh Motus low step will have a broad appeal. Step-thru frames aren't just for older riders. They can be enjoyed by riders of all ages and abilities.
This electric bike should be very popular with commuters and recreational riders, I can also see the appeal for professional riders who work for delivery companies like Ubereats or Deliveroo – it's not overly expensive, has a reasonable range and is above all, comfortable.
Conclusion
My first impression of the Raleigh Motus is that it's a very well-built and robust electric bike. The quality of the finish is impeccable.
As I have mentioned above, this was delivered to me on behalf of a friend and sadly, after using the bike for a few days she decided it wasn't powerful enough for her. Bearing in mind my friend is in her late 70s and hasn't ridden a bike for some years.
The problem for a lot of older riders in my particular area of South East Cornwall, is the hills are generally very steep and frequent. I tested the Raleigh Motus on a 10% climb and found the assist to be more than adequate – but I'm a seasoned road cyclist who is used to riding without a motor.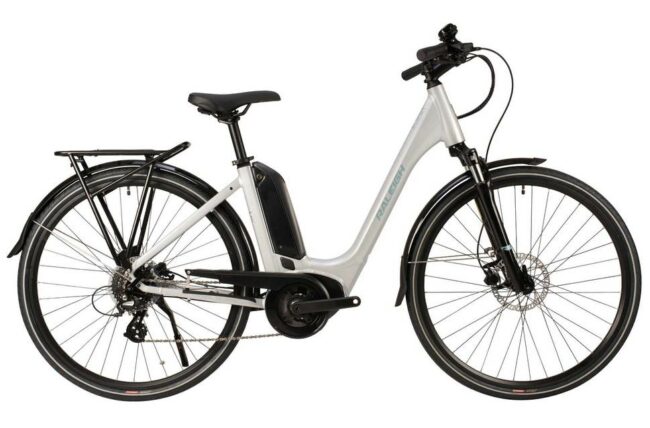 What it boils down to is your physical abilities (how much assistance you need) and the severity of the hills in your area.
The Active Line motor sits at the bottom of the torque range of Bosch's e-bike motor range and produces about 40Nm, which is considerably lower than their Performance Line range of 75Nm.  If you have lots of steep climbs to negotiate, it would be worth spending the extra money – although electric bikes fitted with the CX motor are considerably more expensive.
I would say if you were looking for a comfortable e-bike to use for a daily commute, or some mellow weekend leisure riding (on gently undulating terrain) then the Motus would be an excellent choice – it's comfortable, reasonably priced and manufactured to a high standard.
All in all, I was impressed with the Raleigh Motus low-step electric bike, and at this price, it's one of the best Bosch-powered e-bikes available.
If you own one of these, please feel free to share your views below. If you need any further information regarding the Raleigh Motus, let me know and I will respond within 24hrs. Thanks for reading!