A lot has changed since I reviewed the first Elka Model T Pro electric scooter last year, and with current legal reforms in the pipeline, very soon thousands of people will be using them as a means of commuting in towns and cities throughout the country.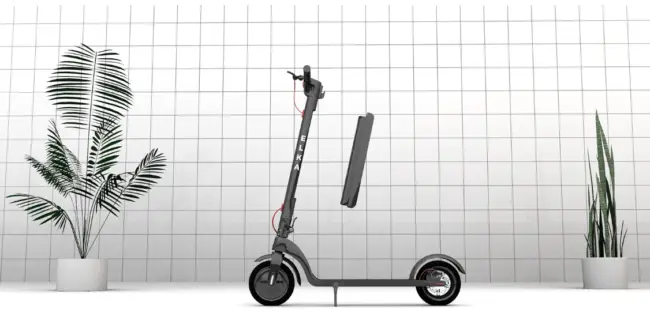 The dawn of a new age for the Electric Scooter
At the time of writing, the nation is still reeling from the ongoing social and economic effects of an unprecedented global pandemic, and regardless of your thoughts on the matter, I believe we are on the cusp of a big change in the way we view our daily commute.
For many years now using public transport has become an increasingly crowded and unpleasant undertaking, especially in larger urban areas like London. I've experienced this first hand on many occasions.
Electric bikes and scooters have seen a meteoric rise in popularity throughout Europe, but the UK has always lagged – until now, that is…
During the initial phase of the UK government's lockdown, there was a massive spike in the sales of e-bikes, with a lot of retailers being caught short and quickly selling out of popular models.
More recently the UK government have announced their intentions to reform the current laws regarding e-scooters. Criminalising people for using, what is an environmentally friendly and cost-effective form of personal electric transport is coming to an end. And sooner or later, people will be able to ride electric scooters in the UK without fear of prosecution.
Elka Model-T Pro Electric Scooter
As part of my ongoing commitment to spreading the word and providing information and advice on all forms of personal electric transport, I have started to take more of an interest in the e-scooter.
UK-based company Elka has kindly lent me their new Model-T Pro Electric Scooter, so I could give it a thorough review.
Having previously ridden and tested an earlier version, I was keen to get my hands on this latest model to put it through its paces.
First Impressions
The Elka Model-T Pro was delivered very quickly (within 48hrs) and I received regular tracking updates from the parcel company. The scooter arrived, well-packaged and in one piece.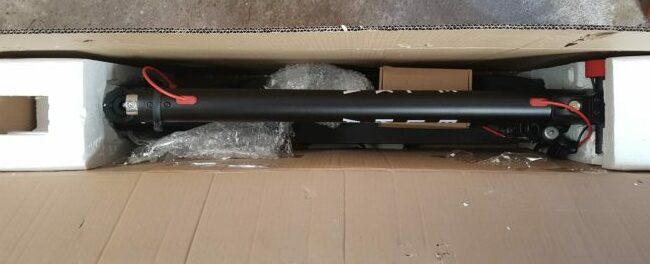 The scooter itself is finished in a nice powder-coated black and came with full instructions and a battery charger. It took me less than 5 minutes to have the scooter out of the box and ready to ride.
Assembly is simply a case of screwing on the handlebar grips and tightening the single brake lever.
Unfolding the scooter couldn't be easier, you flip an alloy catch, raise the main stem and lock it into place with a rotating lockring.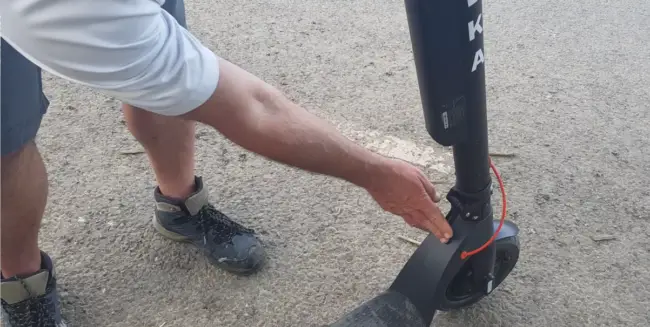 Tech Spec
Motor
The Model-T Pro uses the same 700w brushless front hub motor as its predecessor. This is limited to 350w, which means the motor is vastly under-stressed.
As far as performance is concerned, I would not doubt this scooter's ability to take the average rider along on the flat at a comfortable 12-15mph for as long as the battery lasts.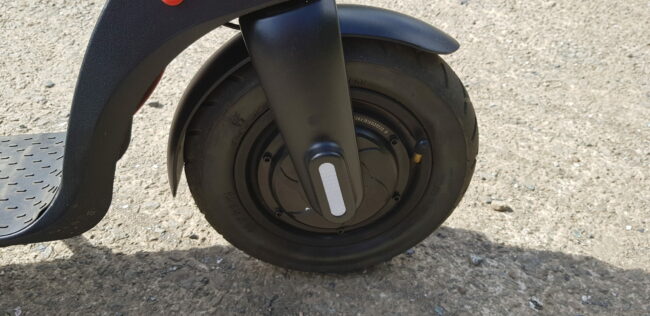 My testing ground was far from ideal, as I live in a very rural location with hills everywhere. Bearing in mind I weigh in the region of 110kg, I thought the small motor coped incredibly well considering my bulk!
It would take me up moderate inclines (albeit at a slower pace) but when it came to the steeper hills it would pretty well much give up the ghost.  This isn't a criticism – remember, I weigh 110kg and live in a hilly rural area. For the average 75kg commuter travelling in a relatively flat urban area, the Elka will have more than enough power.
Battery
One of my criticisms of the previous model was the lower battery capacity – a range of about 10-12 miles was the limit. The Model T-Pro comes with a 36v 10.4Ah (374-watt hour) battery pack, making it a much more viable option for an 18-20 mile round trip.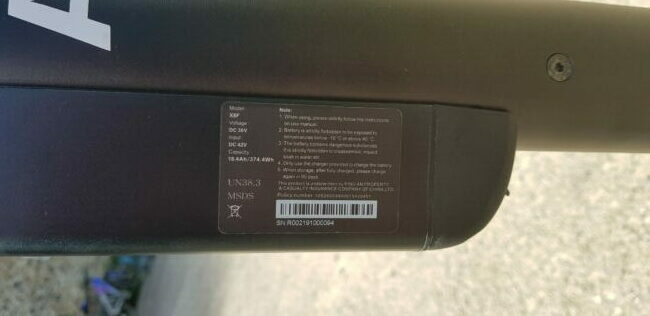 I could only take it for a short ride around my area due to the relentless steep hills in all directions, but I probably covered about 4 or 5 miles in total and only lost 1 bar off the battery indicator.
It should be noted, that battery range will vary considerably depending on rider weight, and the kind of terrain being ridden on. If you use it in full power mode you will deplete it a lot quicker than using Eco mode.
Elka also offers a 'Plus' version of the battery which is rated to 36v 12.4Ah.
Braking
The Elka uses the same regenerative anti-lock braking technology as on the previous model – every time you brake some of the kinetic energy (speed) is converted back into chemical energy (battery power). This helps maximise your riding efficiency and keeps you on the road for longer.
The rear mechanical disc brake complements the front braking system and makes for safe and swift braking – very important when negotiating busy city streets. I can vouch for this braking system, it stopped me quickly without fuss!
Puncture resistant Tyres
The Elka Model-T Pro uses high volume, puncture-resistant tyres – very important for negotiating city streets. I rode the scooter on rough country back lanes and I was pleasantly surprised at how well it copes with rough gravel tracks.
Portability and Weight
The scooter folds down quickly and neatly, making it easy to put in the boot of your car if required. You can even bring it into the office and store it under your desk (if you have room).
As far as weight is concerned it's around the 12kg mark, I didn't feel it was particularly heavy and I'd have no qualms about picking it up and walking upstairs with it under my arm.
Automatic Cruise Control
As with the previous model, if you maintain your speed for five seconds, the Elka automatically transitions into cruise control, taking you effortlessly to your destination.
Display and Controls
The display is neatly integrated into the top of the steering shaft and provides clear and easy-to-read information. Speed, battery level and power mode are all displayed.
The controls are all easy to use. The throttle and power selection buttons are on the right-hand side.
The Model-T Pro also has a decent set of front and rear LED lights, very useful for cruising around at night. The rear light also doubles as a brake light and flashes when braking  (an important safety feature).
Customer Support
Another great aspect of owning an Elka is excellent customer support. There is a 12-month warranty, plus access to on-demand repairs.
Elka have a team dedicated to after sales service, so you can be confident if an issue does arise, it will be resolved in a timely manner.
The Ride
Testing a scooter, designed for urban mobility was always going to be a challenge living in Cornwall. Thankfully I managed to enjoy the experience and come out of it unscathed!
I took the Elka Model-T Pro on a ride of around 5 miles, which included some steep hills. The weather was gloriously sunny, with a brisk north easterly breeze.
So, how did it go? Well, considering I weigh in at 110kg and the surface of the lanes I used for the test was far from perfect, I thought the Model-T Pro performed exceptionally well.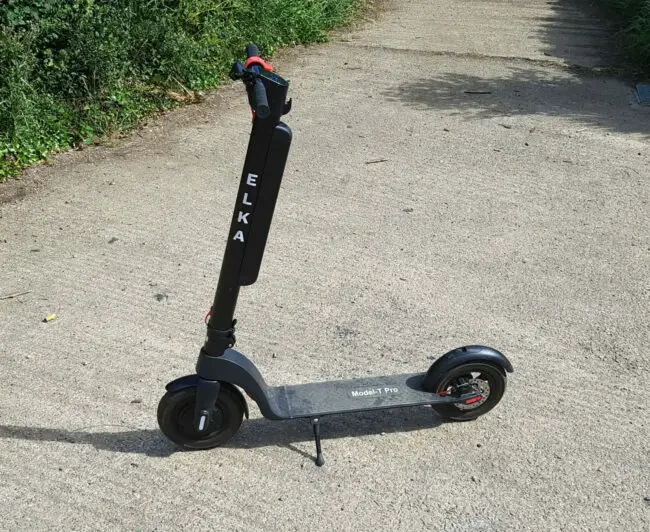 On the flat, it felt very lively and had no trouble maintaining the 15mph (25km/h) top speed. Acceleration was brisk, and the handling of the scooter inspired confidence. The tyres provided decent traction on the dusty, gravel-strewn lanes and the brakes slowed me down very quickly without any skidding.
As I expected, it wouldn't take me up a couple of the steeper hills, but we are talking about a 110kg 6ft male riding a 350w e-scooter up an  8-10% gradient.  Remember, this scooter is designed with the urban commuter in mind.
By the end of the ride, I had lost one bar off the battery indicator, which isn't bad considering rider weight and terrain.
Riding the Elka Model-T Pro was an enjoyable experience. If I lived in a city, I would consider one as a form of transport.
Conclusion
Love them or hate them, electric scooters are here to stay. And I think we'll be seeing a lot more of them in our towns and cities in the future.
I've now ridden quite a few different brands of e-scooter and there's not an awful lot in it when you are dealing with the commuter end of things. When a law is finalised it is unlikely to allow high-performance electric scooters that can do 30mph+
The Elka Model-T Pro does exactly what it says on the tin. It's a good quality, and affordable e-scooter that doesn't have any gimmicks, it just does what it's supposed to do and that is get a person from A to B without fuss.
I like the company and I like their ethics – they even plant a tree for every scooter purchased.  Their customer support is second to none and you are buying from a UK-based company.
I wish the team at Elka all the best with the Model-T Pro, it deserves to do well and it should be very popular with consumers – I'm giving it the big thumbs up!
Further Reading