I managed to have a quick go on one of these the other day, so I thought I'd share my thoughts with you. I've ridden a few flat bar electric road bikes recently and I have been suitably impressed with all of them. But the one I was most keen to try out was the 2020 model Giant FastRoad E +2 Pro. In this review, I will let you know what I thought and go into the specification in a bit more detail.
Summary
One of the first electric road bikes I rode back in 2018 was a Giant Road E +1. It's fair to say, that bike made one hell of an impression on me! To be honest, in the face of the latest crop of super lightweight, carbon-framed e-road bikes the original electric road bike from Giant now seems like a bit of a beast in comparison.
The thing is, with this current trend of building e-road bikes that look almost indistinguishable from their unassisted counterparts and opting for small batteries with lightweight compact motors. What you end up with is a slightly heavy road bike that has an e-assist you can use for maybe 30-40 miles (constantly on) or double that if you're frugal with the assist.
I've ridden quite a few of these bikes, and I have been suitably impressed with all of them, but… as good as they are, one thing they all lack is a real 'kick-in-the-pants' pedalling boost. This is fine if you're just looking for a little help on the hills, but if you need significant electric assistance, then something like the Giant FastRoad E +2 is the way to go.
Electric Components
The electric bike motor industry has been going into overdrive these last couple of years, fine-tuning the technology and reducing weight. One of my consistently favourite motors over the years has been Giant's SyncDrive, which is the result of a collaboration with Yamaha.
Batteries have also transformed. With higher energy density and better cells, you can now have a battery that is lighter in weight and integrated into the downtube of the bike, whilst still giving a decent range.
Giant SyncDrive Pro motor
As I have said previously, this is one of the best e-bike motors currently available on a production bike. There are now several different versions available – the Life, Sport and Pro. The FastRoad E +2 is fitted with the most powerful SyncDrive Pro motor, which has to be ridden to be believed!
With up to 80Nm of torque and  360% of tuneable assist available, this is a motor that makes a difference to those steep climbs.
Electric assist is delivered using Giant's PedalPlus 6-sensor technology, ensuring you get the right amount of assistance concerning your pedalling effort. Pedal lightly on a flat road and you won't notice too much happening, but as soon as the road heads uphill and your pedalling effort increases you are rewarded with a smooth and seamless surge in power.
The same applies if you find yourself pedalling into a strong headwind – the motor will compensate for your increased effort, effectively cancelling out the wind resistance.
But what happens when the assist cuts out after 15.5mph? I felt the transition from assistant to non-assist was fairly seamless. The only thing you will notice is the extra weight of the bike.
There is no display panel on the FastRoad, but instead you get the RideControl One remote keypad where you can change assist levels and see your battery life with an LED indicator. If you want a whole host of other information then you can use the smartphone companion app which will give you everything, including speed, remaining battery range, GPS navigation, pedalling cadence and much more.
EnergyPak Smart 375Wh Battery
This battery has been reduced in size and weight over previous models making for a much more integrated look. Although the total energy capacity has been reduced, thanks to the increased efficiency of the motor there has been no compromise on battery range. With the EnergyPaK Smart 375Wh battery, a range of over 70 miles is achievable in Eco mode.
Bike components
A lot of flat bar electric road bikes are using 1 x drivetrains nowadays, these are fine for city riding, but limit top speed when descending or riding out in the country at higher speeds. The FastRoad E +2 uses a traditional compact double crankset upfront with an 11-32 10-speed cassette at the back, giving a total of 20 gears to choose from. This means you can ride at optimum efficiency. Shimano hydraulic brakes provide good stopping power and Maxxis Re-Fuse 700 x 32c gravel tyres provide decent grip on most surfaces.
Gearing
Shimano's dependable Tiagra components are used, with flat bar trigger shifters, front and rear derailleur and 11-32 cassette. The front crankset is a Giant custom 50/34 crankset designed specifically for this motor, to keep the q-factor to a minimum.
With the light action of the trigger shifters, all the gears indexed perfectly and shifting from the small to the big ring on the front was also very slick. Having a 34t small ring up front and a 32t low at the rear meant that climbing 15% gradients was an absolute breeze!
Brakes
Shimano MT-201 / BR-U300 hydraulic brakes with 160mm rotors provide very well stopping power and good brake modulation. Although these brakes are considered fairly entry-level they performed perfectly.
Wheels and Tyres
The Giant GX wheelset is robust with sealed bearings and a thru-axle on the front. The tubeless-ready Maxxis Re-Fuse 700 x 32c gravel tyres make riding on country lanes and canal towpaths a lot easier. They also roll well and offer a decent level of traction in all weather. These tyres also offer a reasonable level of puncture resistance.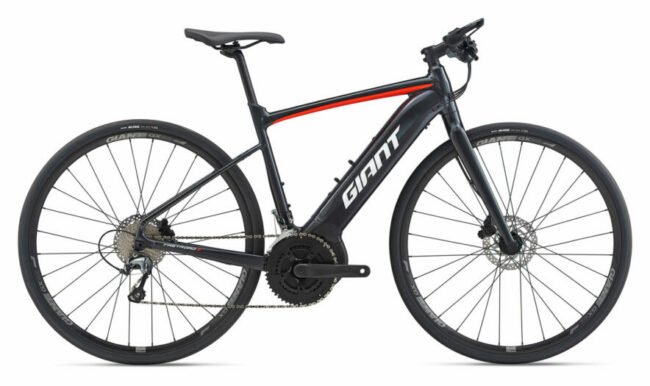 Frame
The FastRoad E +2 frame is combined with a carbon fork. The frame uses Giant's patented Aluxx SL  (super lightweight) technology and benefits from a relaxed and comfortable geometry, which will help if you are planning longer commutes or weekend rides. Like all Giant frames, this one is very well made with neat welds and finished in a lovely charcoal black.
Finishing Kit
Giant's finishing kit is always good quality, from the D-Shaped seat post to the Connect XC flat handlebars. The Sport saddle may not be to everyone's liking, but I found it to be just fine over the short test ride. The handlebar grips are nice ergonomic Giant grips with decent bar ends – ideal for changing your hand position on longer rides.
Specification:
| | |
| --- | --- |
| Frame: | ALUXX SL-grade aluminum |
| Fork: | ALUXX SL-grade aluminium, 12×100 thru-axle |
| Stem: | Giant Contact |
| Bars: | Giant Connect XC Flat , 31.8x 580mm for XS/S, 620mm for M/ML/L/XL |
| Front Brake: | Shimano MT201 / BR-U300, hydraulic disc, 160mm |
| Rear Brake: | Shimano MT201 / BR-U300, hydraulic disc, 160mm |
| Brake Lever: | Shimano MT201 |
| Front Mech: | Shimano Tiagra |
| Rear Mech: | Shimano Tiagra |
| Shifters: | Shimano Tiagra, 10-Speed |
| Speed: | 20 |
| Rims: | Giant GX Disc |
| Front Hub: | Giant Performance Tracker Road, Sealed Bearing |
| Rear Hub: | Giant Performance Tracker Road, Sealed Bearing |
| Spokes: | Stainless |
| Front Tyre: | Maxxis Re-Fuse 700x32c Folding MaxxShield |
| Rear Tyre: | Maxxis Re-Fuse 700x32c Folding MaxxShield |
| Seat Post: | Giant D-shape, Aluminium |
| Saddle: | Giant Sport |
| Chainset: | Giant custom crankset, 34/50T |
| Chain: | KMC e.10 Sport, e-bike optimized |
| Cassette: | Shimano Tiagra, 11-34, 10-Speed |
| Pedals: | Aluminium Platform |
| Battery (Wh): | 375Wh |
| Motor: | Giant |
| User Interface: | Giant RideControl ONE, remote button |
Who is the Giant FastRoad E +2 Pro aimed at?
If you like having all the benefits of a road bike, but do not get along with drop-handlebars, or you're looking for a fast urban commuter then the Giant FastRoad E +2 Pro is ideal.
The FastRoad is also ideal if you are returning to cycling after an illness or injury. It's particularly helpful if, like me you live in a very hilly area and find it hard to motivate yourself to go cycling. I tested this bike on one of my local climbs which ascends 470ft over 1 mile at an average gradient of 8.6% (the first third of a mile being 12-15%) and this motor produces so much torque that you could stay seated and just spin away without a care in the world!
Maybe you're a recreational rider who wants to go on 60-70 mile weekend rides and arrive back home without feeling totally drained. Either way, the Giant will have a broad appeal to riders of all ages and abilities.
Conclusion
I have to confess, I've always liked Giant bicycles long before they started making e-bikes.  Having ridden many different types of e-bike over the last few years, the one motor that always has me grinning from ear to ear is the SyncDrive. It's just so smooth, but at the same time delivers bags of power when needed.
The 2020 FastRoad E +2 Pro felt lighter and more nimble than the Road E+ 1 drop-bar version I had a go on in 2018. This is due to the lighter motor, battery and re-designed frame. The handling is confidence inspiring, if a little predictable.
Everything on this bike worked exactly as you would expect on an e-bike of this price. The gear changes were crisp and precise, the brakes worked a treat and the motor just kept on giving and giving.
If I ever find myself in a fortunate enough position to have a collection of e-bikes in my workshop, I would definitely be adding the FastRoad. It's the kind of bike that just makes you want to go out cycling as much as possible.
The only compromise with an e-road bike like this is there is a weight penalty – the FastRoad E+ 2 tips the scales at around 18.7kg (with pedals), making it about 3-4kg heavier than a similar Fazua or x35-powered electric road bike.
How does it compare with the competition? Well, it doesn't really have any competition as there are no other flat bar electric road bikes that use this motor. Most use either the Fazua Evation or the x35 ebikemotion. I have previously ridden the Boardman HYB 8.9e (Fazua) and the Lapierre E-Sensium 200 (ebikemotion), and I enjoyed riding both bikes, but neither had the snap crackle and pop factor of the Giant!