Decathlon has always been one of the top brands when it comes to offering a lot of value for money. Their newest addition is the Decathlon Elops LD500e electric bike, which boasts a sleek frame with an integrated 504Wh battery and rear hub motor. Below, I'll be taking a closer look at the specs to see how it stacks up against the competition.
Decathlon Elops LD500e Specs
| | |
| --- | --- |
| Motor Type | Rear Hub Motor |
| Motor Power | 250-watts 45Nm Torque |
| Pedal Sensor | Torque-Sensor |
| Battery | 36v 14Ah / 504Wh |
| Range | 71 miles / 115km (Claimed Max Range) |
| Gearing | 8-Speed Microshift |
| Brakes | Tektro Hydraulic Disc Brakes |
| Accessories | Mudguards, Lights, Pannier Rack, Kickstand |
| Availability | Visit Decathlon Website |
Pros
Very good value for money
Stylish looks
Step-through frame
Torque-sensing pedal assist
504Wh battery
All the accessories you'll need on an e-bike
Cons
I reckon it's going to be quite heavy
No front suspension
Key features
The Decathlon Elops LD500e doesn't have anything new up its sleeve in terms of technology. It's older tech that's been repackaged, Having said that, the specification is no better or worse than other e-bikes at this price point. I have listed all the key features below.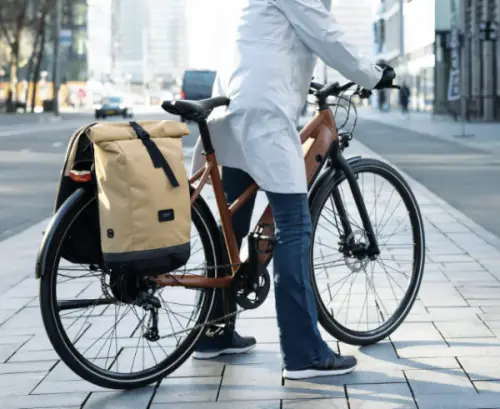 250w rear hub motor
Looks like a fairly standard 250w brushless, geared hub motor. Claimed torque of 45Nm seems about right (if a little optimistic). Decathlon states the motor as 'Vision Industry' – I couldn't find much info about this company and couldn't access their website. But they are a Chinese brand (as are most e-bike motors of this type). It should be reliable enough and offer decent performance for moderate hills.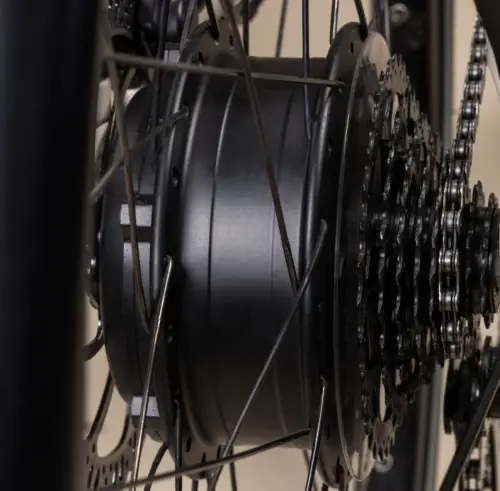 Torque-sensing assist
In line with their other low-priced electric bikes, Decathlon has fitted a torque-sensing pedal assist to the Elops LD500e. This measures pedalling force to give smooth and responsive assistance. Plus, it will provide optimal efficiency for the best battery range.
504Wh Integrated battery
The 36v 14Ah battery uses Samsung cells. Up until now, most lower-priced Decathlon e-bikes have had external batteries. This is the first hybrid in their range that has a neatly integrated and removable battery. The claimed range of up to 115km (71 miles) in the lowest assist level will vary depending on rider weight, terrain and wind direction. A realistic average range for this kind of battery would be in the region of 40 miles.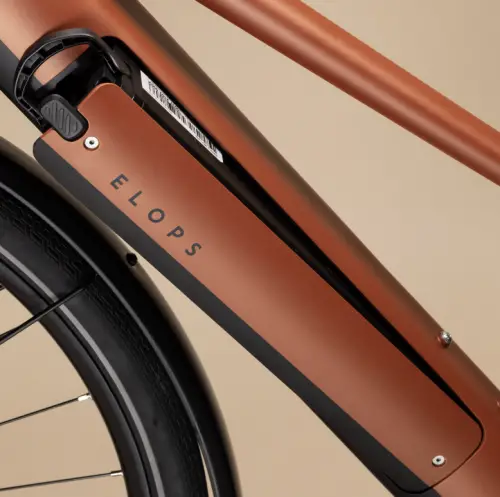 Step-through frame design
This kind of frame design makes getting on and off the bike much easier. If you're commuting or riding in the city, a low-step frame makes life easier. Plus, if you have difficulty with mobility, step-through frames are a sensible option.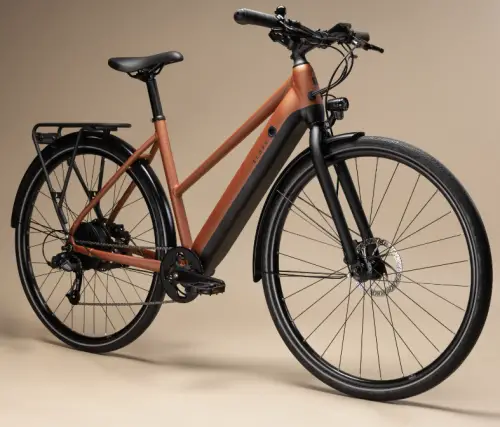 Accessories
The Decathlon Elops LD500e rocks a full complement of accessories needed for daily riding. There's a full set of mudguards, a pannier rack, a kickstand and front/rear lights. The pannier rack is rated to 27kg and can carry a child seat. The lights are AXA Blueline 30 Lux and will be perfect for city riding.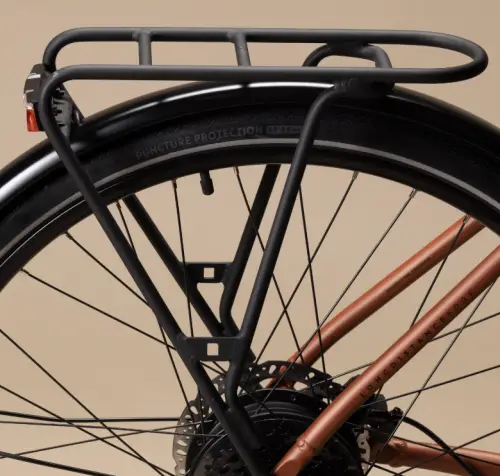 Puncture resistant tyres
I can't vouch for the puncture protection on these tyres, but at 700 x 38c, they're a good size for city riding. Decathlon claims a full bead-to-bead puncture protection layer and going by the weight of 906 g per tyre, they do seem quite hefty (comparable weight to Schwalbe Marathon Plus).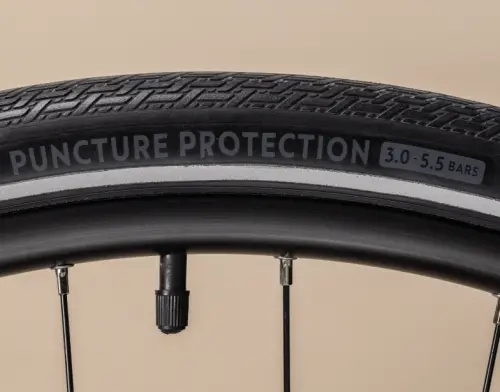 Tektro hydraulic brakes
Tektro TKD32 hydraulic brakes are considered entry-level. But will provide more than ample braking performance for the average city rider. I've ridden several bikes with these brakes and never had any complaints about stopping power.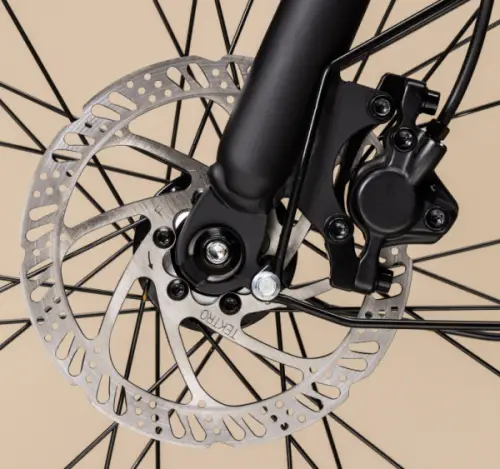 Gearing
A simple 1 x 8 drivetrain is all you need on an e-bike for urban riding. The Elops LD500e has a good spread of gears. There's a single 36t front chainring with an 11-36 8-speed cassette and Microshift derailleur/shifter. This will give the bike quite low gearing and you will be pedalling quite fast at anything much above 20 mph. For hill climbing it will be ideal as you'll have the 1:1 ratio low gear.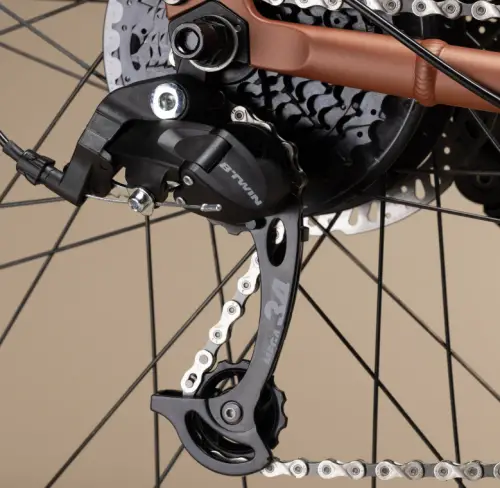 Price and availability
The current price in the UK is £1299.99, which to me is very good value for money. In Europe it costs €1649.00 and is available in step-through or regular diamond frame – I would assume this version will also be available in the UK soon.  Both versions are in stock in the EU, but not in the UK yet. I'll update this article as soon as it becomes available
Check availability now on Decathlon UK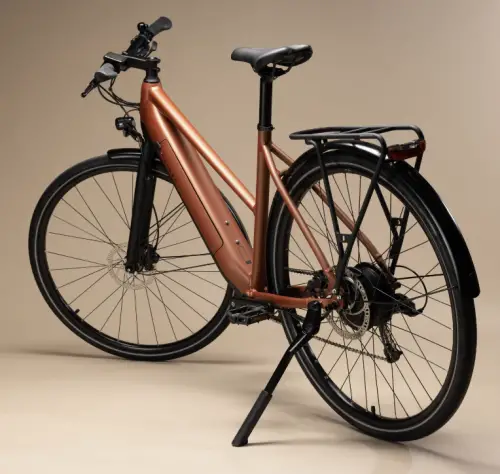 Conclusion
The new Decathlon Elops LD500e looks like good value for money. I'll have to see if I can get ahold of one in 2023 for a full review article. Based on the specification, it's going to be a good alternative to something like the Carrera Crossfire E (in the UK). It lacks front suspension, but it's intended for urban riding. Plus, it does have good-sized tyres, which will soak up some of the road buzz.
I like the styling and integrated battery. I can't vouch for the performance yet, but I'd imagine it's going to be on par with their Riverside 500 electric bike. Battery range is going to be anything from 30 miles up to around 50 miles depending on how you ride. I have personally squeezed much higher ranges from batteries of this size, but that's switching the assist off on the flat and only using electric on hills.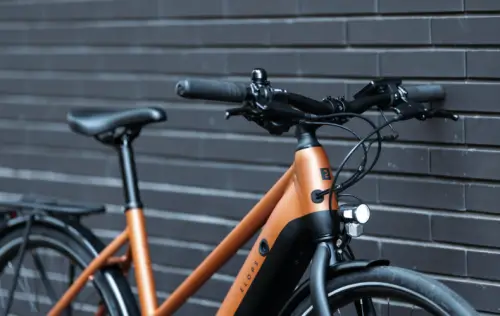 All in all, if you are after a stylish and comfortable step-through e-bike that comes from a well-known brand, then the Elops LD500e is well worth considering. It has a torque-sensing assist and all the accessories you'll need for everyday riding.
If you own a Decathlon LD500e please feel free to leave a review in the comments section below. All posts are held in moderation and published within 48 hrs.
Related Articles