Heybike is a brand renowned for their popular fat tyre electric bikes Stateside. They've recently entered the UK and EU e-bike markets with a stylish, lightweight e-bike. The Heybike EC1 boasts a smoothweld frame, hydraulic brakes and an integrated battery. Tipping the scales at just 18.3 kg, it's not only light, but it's also reasonably priced. I've been testing it out over the last couple of weeks, and in this review, I'll be looking at the good and bad points.
Key Features:
250w rear hub motor
360Wh removable battery
Smoothweld frame
Internal cable routing
Hydraulic brakes
Price £1499 – Currently reduced to £1099
Unboxing and assembly
The EC1 was delivered in a timely fashion and required minimal assembly. Once the substantial packaging was removed, it was just a case of fitting the handlebars, brake levers, saddle/seatpost, front wheel and mudguard. Tools and instructions were provided. Assembly shouldn't prove too challenging, but I always recommend getting an experienced bicycle mechanic to do the job if you're unsure.
The first thing that struck me about the Heybike was the beautifully finished frame. There are smooth welds throughout, giving the bike a clean and stylish look. The metallic blue paintwork was flawless.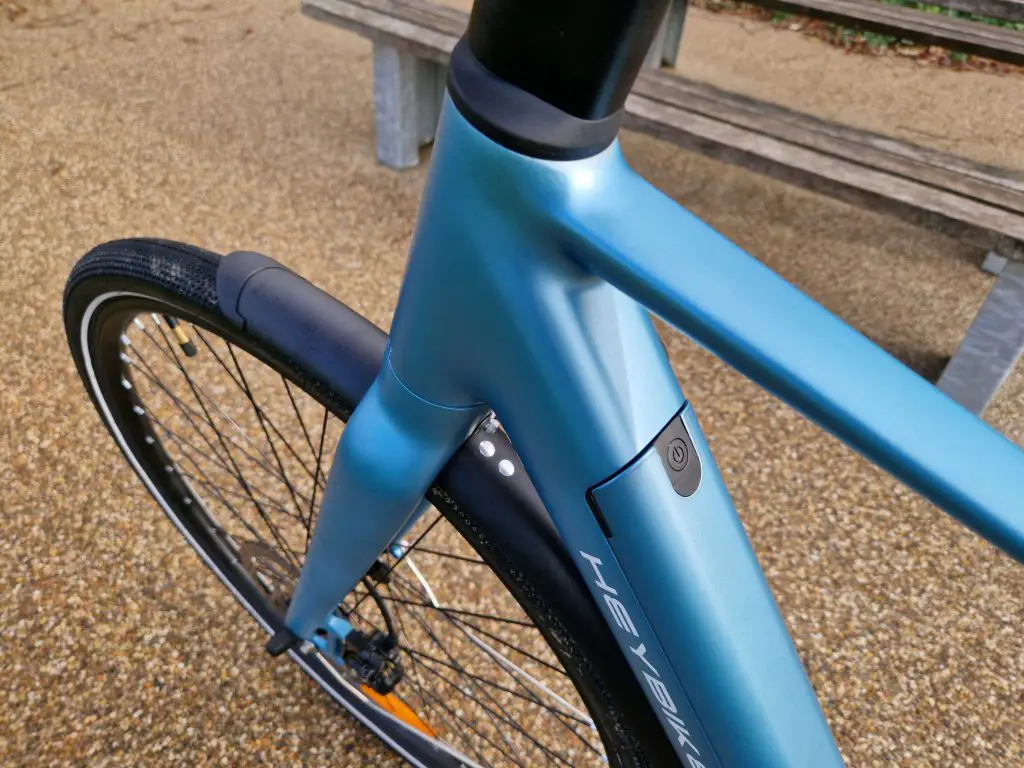 Electric components
The Heybike uses a small, brushless, geared rear hub motor with a rated power output of 250 watts in line with UK e-bike laws. It's smooth and reasonably quiet. There's an audible whine in the higher power setting when under load, but it's quieter than similar motors. 
As far as performance is concerned, the power delivery is very smooth. The EC1 uses a cadence-based pedal assist, and the power comes on quickly but smoothly. There's no overrun from the pedal assist, and it's definitely one of the best cadence-based systems I've tested to date.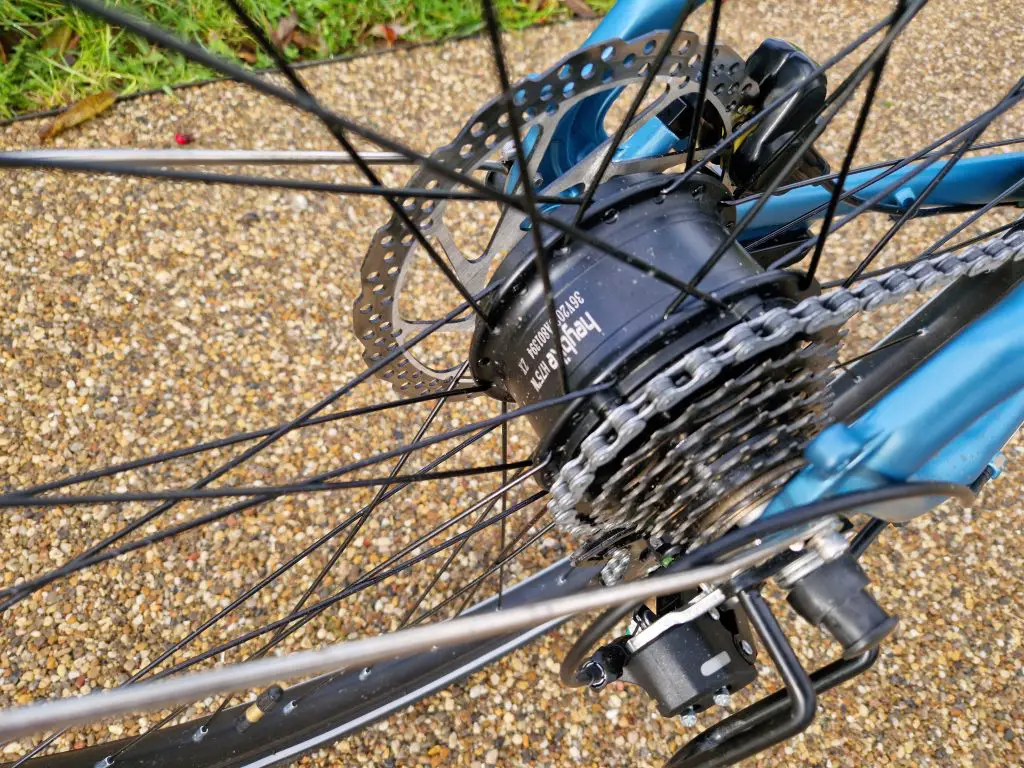 The battery is neatly colour-coded with the paintwork and fits snuggly into the frame. To the untrained eye, you wouldn't even know it's an e-bike. The battery can be charged in situ or removed for charging indoors. The range seems quite good for a 360Wh battery, although Heybike claims 50-60 miles for the EC1, which is a little optimistic for the average rider. My initial 22-mile test route was ridden mainly in levels 2 and 3, and I had 50% power remaining at the end of the ride.
There's a big and clear LCD screen which straddles the stem. I had no problem reading the display, even in the occasional sunlight. Functionality is good, as you can even configure things like pedal assist sensitivity and strength. The bike is restricted to 15.5 mph (25 km/h), but the speed limit can be raised in the advanced settings menu.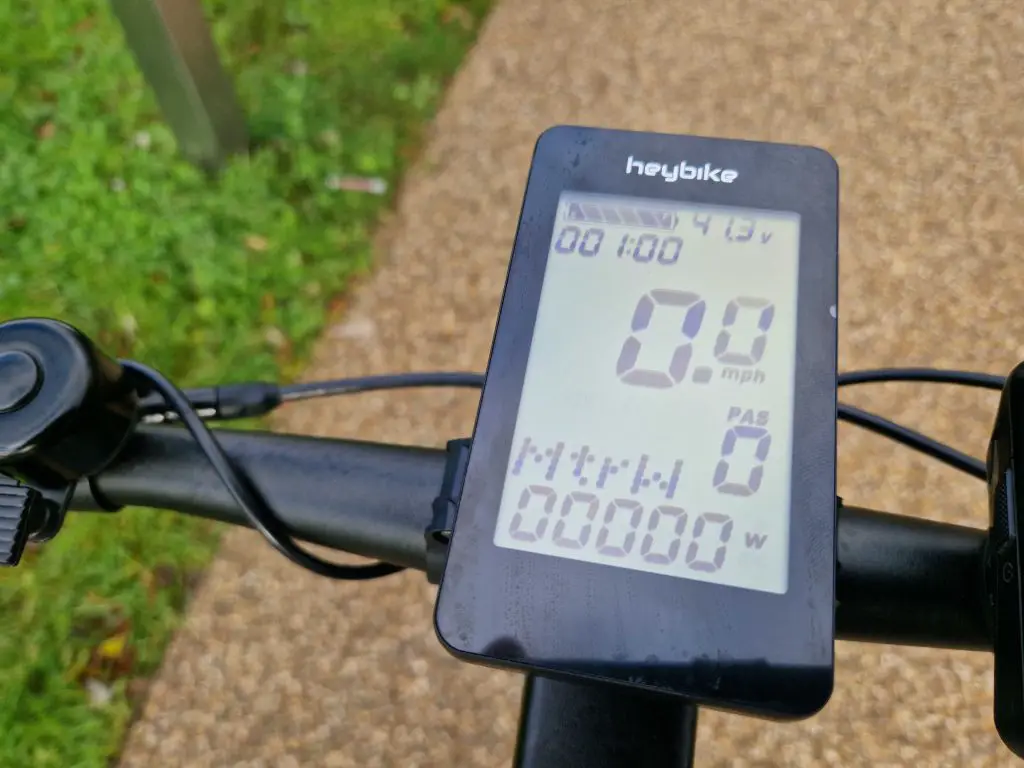 Bike components
Heybike has done a great job with the frame. It's a thing of beauty that appears to be of excellent quality. I love the smooth welds, and it's a lot less chunky than frames on similarly-priced e-bikes. All the cables are internally routed underneath the stem, giving the EC1 a clean and modern look.
The gearing is the typical Shimano 7-speed setup with a Tourney derailleur, TX50 thumb shifter and 14-28 freewheel. Up front, there's a 40t chainring, giving the EC1 nice gearing for city riding. The chain is a quality KMC anit-rust item. All the gears shifted perfectly throughout the testing period, although I would have preferred a trigger shifter.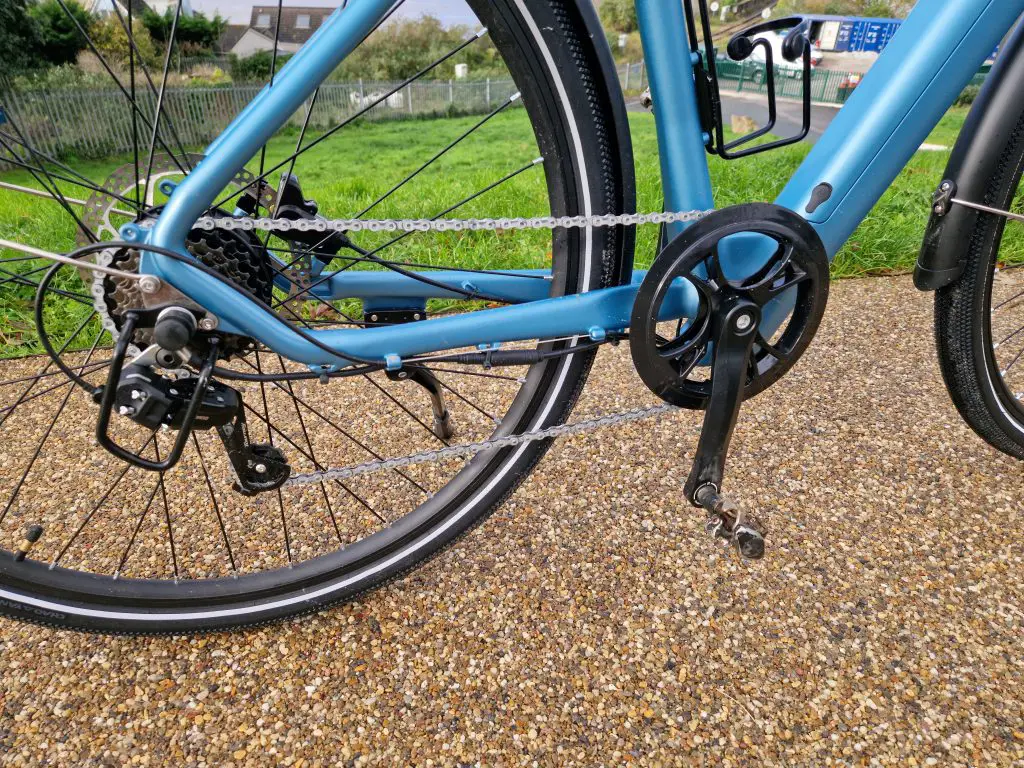 For stopping, there are some RSX hydraulic brakes with 160mm rotors. I'm unfamiliar with this brand, but I take as I find, and they performed as expected. In fact, once they were bedded in properly, I'd say they are on par with Tektro or similar for braking performance. 
The wheels look fairly robust, although I was disappointed to see a nutted front wheel. A quick release would have been better. The front wheel bearings are very smooth, and the wheel spun for ages when the bike was in the stand. The tyres are ChoaYang Flying Diamond 700x40c with a puncture resistance layer and reflective sidewalls. They rolled very well and offered a decent level of comfort.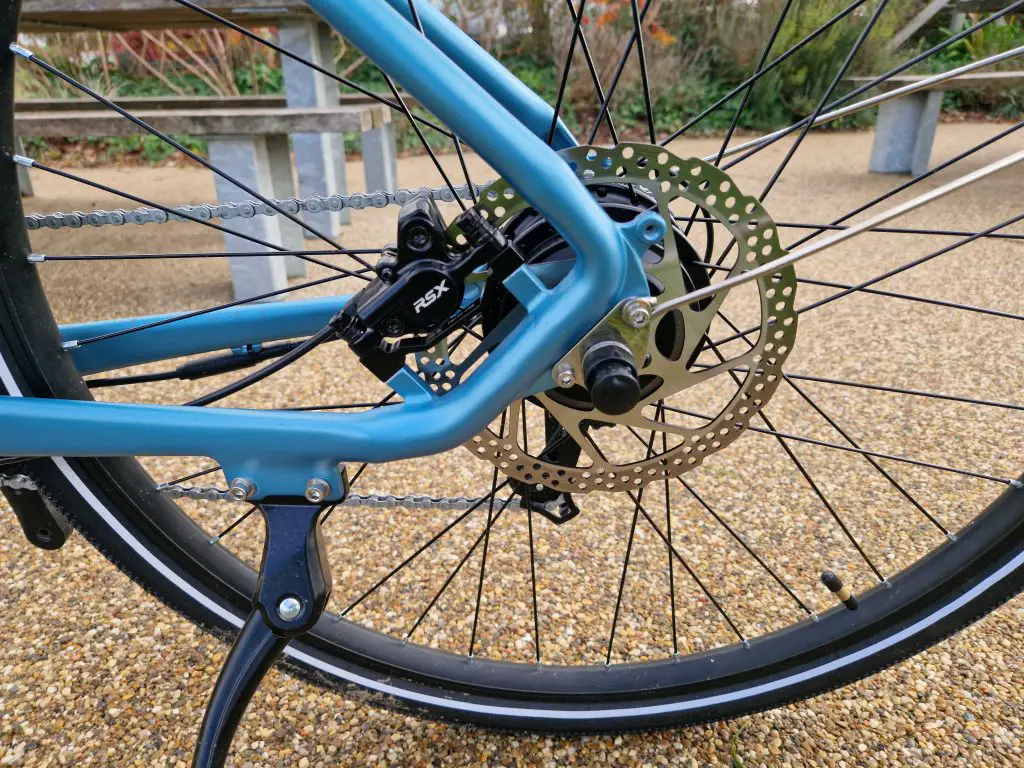 The saddle is nice and firm with a sporty look and feel; it's more like the kind of saddle I'm used to on my road bike, with a thin profile and a pressure-relief cut-out. I found it very comfortable over the 22-mile ride and would go as far as to say it's one of the nicest saddles I've had on an e-bike. Of course, it may not suit everyone, and I'm sure some riders will feel it's too firm.
Accessories include a front light, mudguards and a kickstand. There is an optional pannier rack available, which would be a worthwhile addition for commuters. 
The test ride
Since receiving the Heybike EC1 nearly 2 weeks ago, I've made a point of riding it as much as possible. So far, I've done two longer rides of around 22 miles. The first thing that impressed me was the smoothness and responsiveness of the motor. To be honest, I didn't have high hopes for the cadence sensor, but I've been pleasantly surprised. It's definitely one of the better systems I've ridden. 
The Heybike-branded hub motor delivers a good level of assistance, and you quickly reach the 15.5 mph cut-off point. Pedalling beyond this isn't a problem, and once on leg power alone, the EC1 feels swift and indistinguishable from a regular hybrid bike. I couldn't detect any resistance from the motor whatsoever. Because it's relatively lightweight at 18 kg, riding it on the flat without assistance is a breeze. To this end, you can reserve battery power for the hills and ride to your heart's content on the flat. 
I would say the Heybike is a little under-geared for flatter terrain. With a 14t top gear and 40t chainring, you quickly spin out at 23-24 mph. Still, it's much better than the Fiido C21 Gravel, which has a massive 52t front chainring. Hill climbing was not an issue, and the little motor hustled me up a few 10-12% climbs without issue. With gradients approaching 15%, the motor did struggle a little, and more rider effort was needed.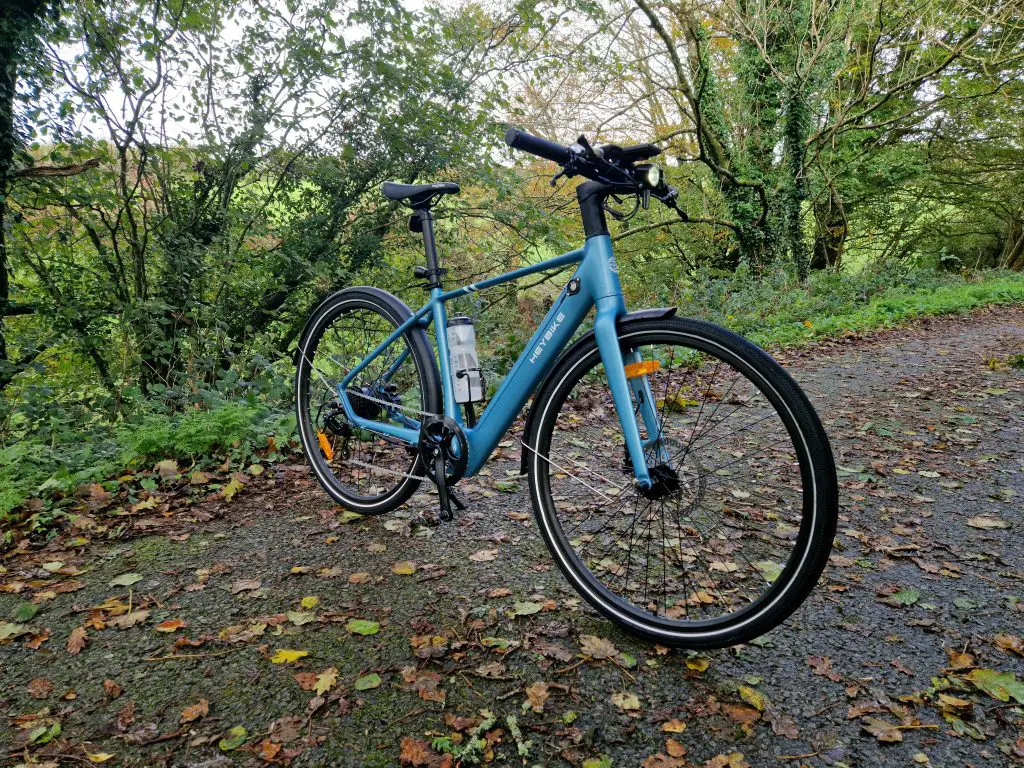 As far as comfort is concerned, I've got no complaints in that department. The test model is a medium-sized frame, which would usually be a little small for my 6-foot frame, but with the saddle height adjusted correctly, I had no problems finding my optimal riding position. The only issue was some toe overlap on the front wheel, which became a problem on tight, low-speed manoeuvres. 
Handling was also pleasant. The EC1 felt snappy on tight bends and confidence-inspiring on long, high-speed descents exceeding 35 mph. On some unpaved sections of the Plym Valley trail, the 700x40c tyres did a decent job of soaking up the lumps and bumps. I would certainly say it's suitable for gravel riding and would be fine on canal towpaths and even some light forest trails. 
Pros and cons
Pros
Reasonably lightweight
Smooth motor
Hydraulic brakes
Lovely looking frame
Cons
Budget gearing
Non-quick-release front wheel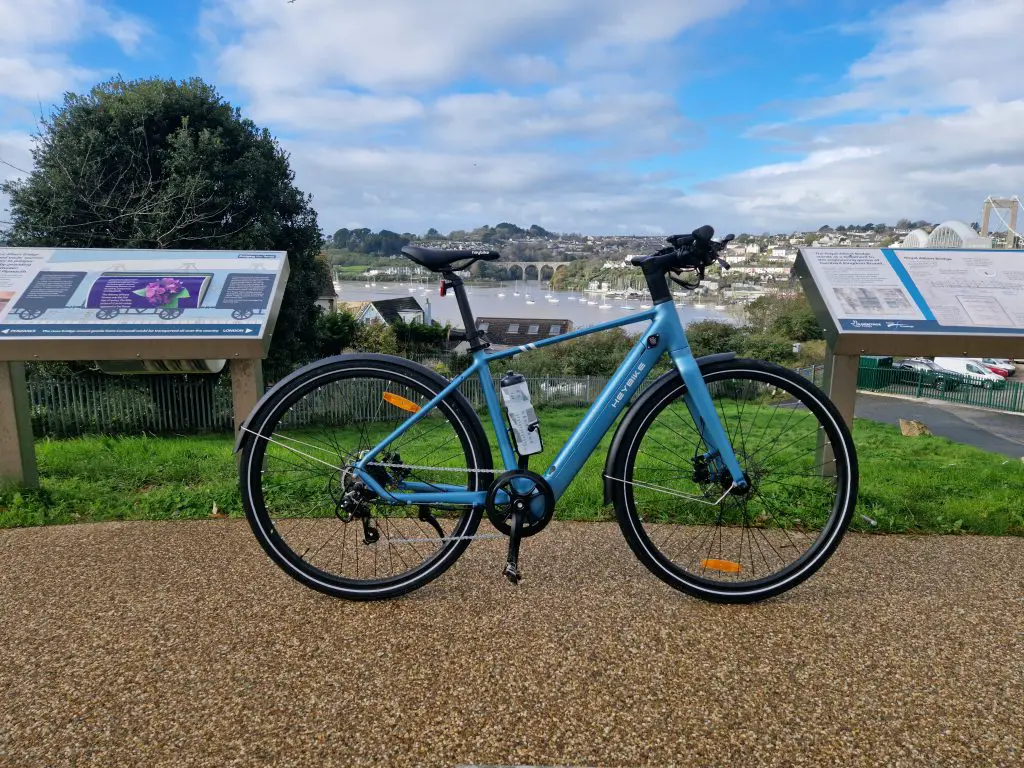 Conclusion
I had high hopes for the Heybike EC1, and I'm pleased to say it hasn't disappointed. Except for the budget drivetrain and the unsightly front wheel nut covers, there's nothing to dislike. I love the svelte frame, the neat internal cabling and the bike's look. It certainly looks more expensive than its £1499 price tag would suggest.
Performance from the hub motor was commendable, and the potential range of around 40 miles on a charge is very respectable for a 360Wh battery. Its closest competitor in terms of styling and price would be the Fiido C21 – which has a torque sensor but only a 208Wh battery that can't be removed. Having owned and ridden the Fiido for six months, I preferred the pedal assist, but the Heybike is just a bit nicer to ride. The gearing is better, and it just feels livelier out on the road. 
I'll be keeping hold of the EC1 for a while and will update this article accordingly. But based on the first couple of weeks of usage, I think it's a winner, and I'd definitely recommend it to someone looking for a lighter electric bike.