The Cyrusher XF660 Electric Fat Bike first appeared on our shores a couple of years ago, and in that time it has built up a loyal following. It's certainly not the cheapest e-bike out there, but it does have a few good points. In this review, I will take a closer look at the Cyrusher XF660 to see if it is worth the money.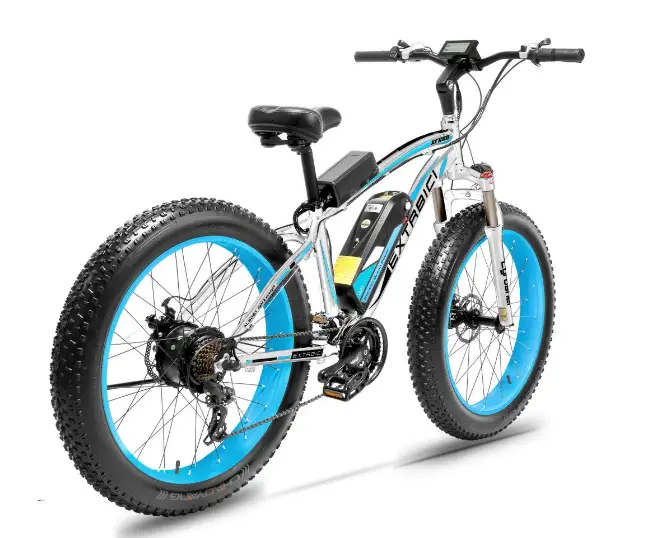 The Bike
When you take a look at the Cyrusher, it is a fairly typical mass-produced fat tire electric bike. I have had a keen interest in fat bikes ever since I first converted one using a Bafang BBSHD a few years back. I always understood that fat bikes didn't need suspension due to their oversized 4-inch wide tyres. Rigid ChroMo forks were the norm, and the tires were typically run at 15 psi or lower.
The super-wide tires and low pressure, make riding on surfaces like sand, snow or mud particularly good fun. The main issue with fat bikes is the increased weight and rolling resistance. This is why they make perfect e-bikes.
The Cyrusher is not a fat bike in the traditional sense as it has an aluminium frame married to some rather skinny, unbranded suspension forks. I would have personally kept the forks rigid. Having said that, they can be locked out and the bike seems to ride well enough. Although I wouldn't trust those forks on anything too challenging.
Brakes
The brakes are unbranded mechanical disc brakes, and if they are adjusted correctly, they will stop the bike.  But they do feel a bit vague.
I would have liked to have seen at the very least, entry-level Shimano or Tektro Hydraulic brakes on a bike this fast and heavy. An upgrade to hydraulics would cost in the region of $60, so not too expensive.
If you do decide to upgrade to hydraulic brakes, remember you will need the additional motor cut-off sensors. These can easily be purchased from Amazon, eBay or Aliexpress.
Gearing
The type of gearing on this bike is usually found on sub $200 mountain bikes, it uses a basic 7-Speed Shimano derailleur gear system, and works as expected. The good thing about this is, if components do wear out over time (which they will) they are very cheap and easy to replace.
Accessories
The addition of a front headlight and horn is useful, especially if you are going to be using this as a commuter bike. The saddle is comfy enough and the handlebars can be adjusted at the stem for height.
The LED display is mounted on the right-hand side twist grip. It is very basic and does not show speed, but there is a battery and power level indicator.
These display/throttle combos are very cheap and easy to replace if they get damaged or fail. There are 3 power modes to choose from. For the best battery range power level 1 will be more than enough to take you along at a steady 15-20 mph with a bit of pedalling (on the flat).
The 1000w version has the better SW900 LCD, which is mounted in the centre of the handlebars. This display has much more functionality and will display speed, battery, power output plus trip function.
The 26″ x 4″ tires will have a certain degree of puncture resistance, but always make sure you carry a small tool bag and puncture repair kit with you. Changing an inner tube on one of these is not straightforward like on a normal bike. You will need to unplug the motor lead and loosen the 19mm axle bolts, to remove the wheel.  This can only be done with the bike turned upside down.
Check out the new Cyrusher XF300 Kommoda Step-Through 
Battery
The battery is a standard 48v 10.4ah lithium bottle battery. This gives a total energy capacity of 499Wh (watt-hours). Depending on how you ride, your weight and the kind of terrain you ride on, you can expect a range of anywhere between 15 – 30 miles.
This is a generic e-bike battery and can be easily replaced or upgraded to a more powerful battery if required.
Electric Motor
The Cyrusher XF660 is available with either a 500w or 1000w motor. Both are essentially identically geared rear wheel hub motors. The only difference is the maximum current (amps) the motor controller can handle.
The motor itself is a fairly generic, unbranded geared hub motor. These kinds of electric bike motors are very common, and they are generally very robust. Even if they do go wrong they are cheap to repair or replace.
Both the 500w and 1000w versions offer plenty of power, with a quoted top speed of 23mph and 26mph respectively.  The bike can be operated on throttle only, or used as pedal assist. The Cyrusher XF660 uses a standard cadenced-based pedal assist sensor, meaning as soon as the pedals start moving the motor will kick in.
It is worth noting, that if you live in the UK, Europe or Australia, this bike would not conform to electric bike laws and would be considered a moped. If you do decide to purchase this bike in these areas, it can only legally be used on private land. If you do choose to ride it on the road, you run the risk of a fine and points on your driving licence.
In the US, federal law is 750w max power and 20mph top speed, so the 1000w version would not be legal to use on the public highway.
Conclusion
So what do I think of the Cyrusher XF660 Electric Fat Bike? Well, it certainly looks the part. The color schemes available are quite striking. The paint finish is good and the contrast between the wheels and frame sets the bike off.
As far as e-bike technology goes, it is fairly old-hat. Geared hub motors with cadence-based pedal assist have been around for years now. The good thing with this though, is it is tried and tested technology. Remember, if you get a Bosch-powered electric bike, they are great. But if they pack up after the warranty has expired you are looking at a lot of money to get the motor replaced (Bosch does not repair their motors).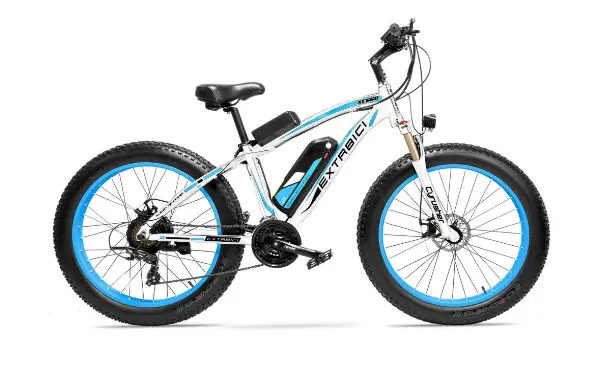 If this bike ever goes wrong, all the components can be sourced from Amazon, eBay or Aliexpress. Everything from the motor, through to the battery, controller and display/throttle.
In my experience, geared hub motors are less troublesome than mid-drives in the long term.
Is it worth the price? I think that it is a little expensive for what you get. Bearing in mind you could buy a Mongoose fat bike for under $300 and fit a  500w rear hub motor e-bike conversion kit for around $300 or less. Then all you will need is an equivalent battery (again at about $300).  You get a similar spec electric fat bike for less than $900 fully built.
Having said that, if you don't want the hassle of building your electric bike then the Cyrusher XF660 isn't a bad bet. Customer reviews are generally favourable and it is quite a fun bike to ride.
If you have any experience with this bike and would like to leave your review, you can leave a comment and review rating below.