This will be the first article in a series, where I take a closer look at some of the exciting new e-bikes recently released for the 2022 season. Featured in this post is a preview of the top-of-the-range Cube Kathmandu SLT 750, where I'll be having a close look at the specifications to see if it's a worthy successor to last year's model.
Cube Kathmandu SLT 750 – What's new?
I'm a big fan of the Cube Kathmandu, having test-ridden one of the first 625Wh versions a couple of years back. This latest incarnation looks like it's going to be a worthy successor.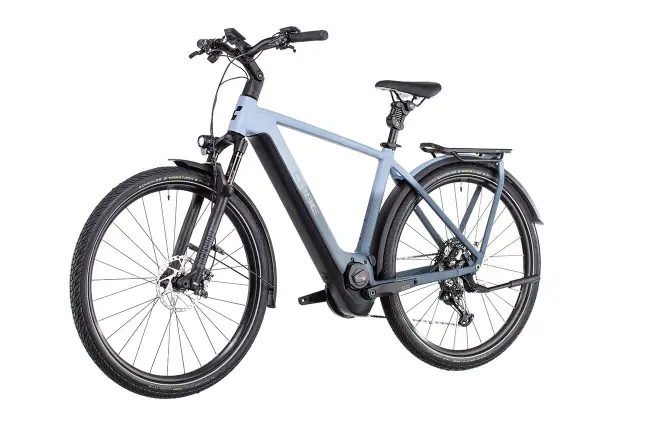 At a glance, this range-topping SLT 750 version has an all-new frame specifically for the 750Wh battery models – the 500Wh and 625Wh versions use the same frame as the 2021 models. This new frame benefits from some subtle changes to the geometry which should improve the already excellent all-terrain capabilities.
Check out Bosch's range calculator for a realistic range estimate
One of the biggest improvements is the addition of Bosch's latest 750Wh battery pack which will give the potential for a range over 160km. There's also the very latest version of the Bosch Performance Line CX motor which includes the addition of an e-tour mode (to complement e-MTB mode) and the ability to further fine-tune pedal assist characteristics using the new Bosch eBike Connect smartphone app.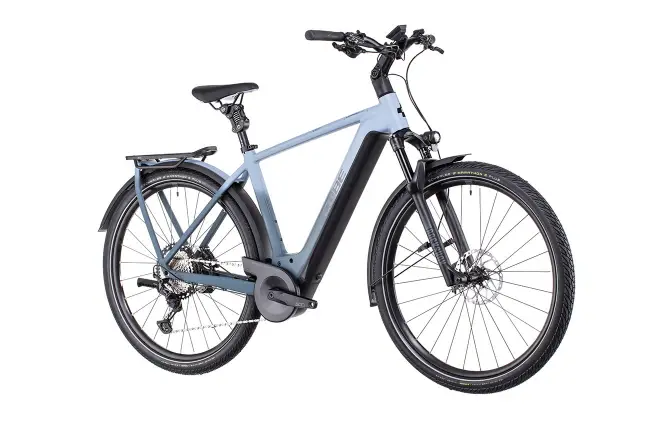 Being the flagship model, the Cube Kathmandu SLT 750 is adorned with Shimano's excellent XT groupset, including 4-pot brakes and a 10-51 12-speed cassette. There are also mountain bike-quality RockShox Recon Gold RL Air forks.
[table id=75 /]
5 uses for the new Cube Kathmandu SLT 750
An e-bike like this has so many potential uses. As hybrid electric bikes go, the Cube Kathmandu SLT 750 should go practically anywhere. With its impressive battery range, Bosch CX motor and wide-range Shimano XT gearing.
E-Bike Touring / bikepacking
As the name suggests, The Kathmandu SLT is designed for adventures and would be the perfect e-bike for touring or bikepacking – you could comfortably cover 100km per day and still have a battery range left over. Another important factor for touring is comfort – the Cube is very well catered for in this department. With the RockShox forks, Schwalbe tyres and a parallelogram suspension seat-post, this latest model should be very comfortable indeed.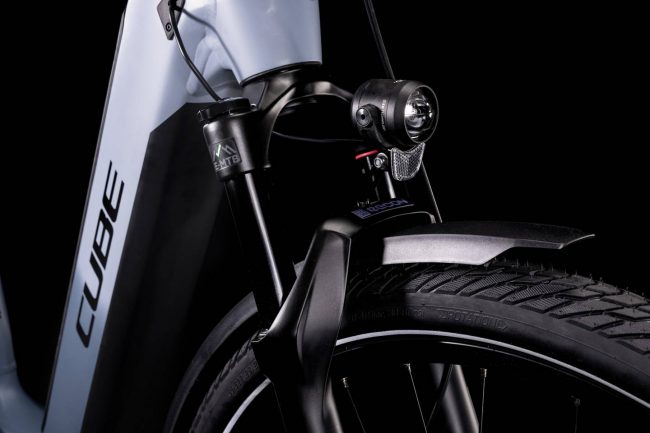 Delivery Job
I reckon the Cube Kathmandu SLT would be a great e-bike for a delivery job, like Uber Eats or Deliveroo. There aren't many factory-produced electric bikes that have a battery of this size, and I reckon you could ride this over a full shift and not worry about running out of power. The upshot if this would be a greater earning potential, plus you could offset the initial purchase or finance cost against your expenses.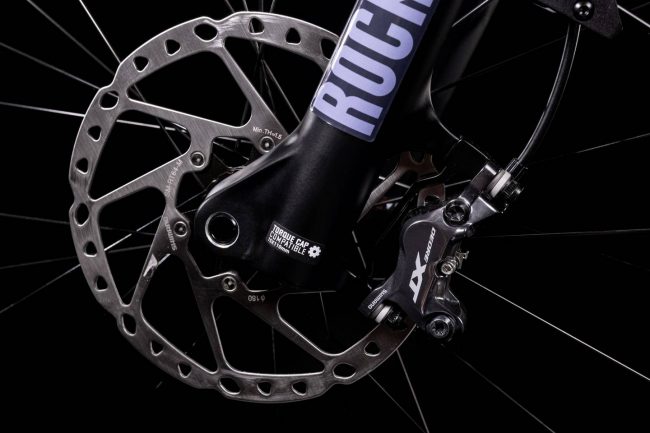 Shopping
Need to visit the shops but don't want to take the car? With a total carrying capacity of 150kg (including bike and rider), you could fit a basket to the luggage rack or use a couple of large pannier bags. Not only would you save a bit of money over time, but the exercise and fresh air would be great.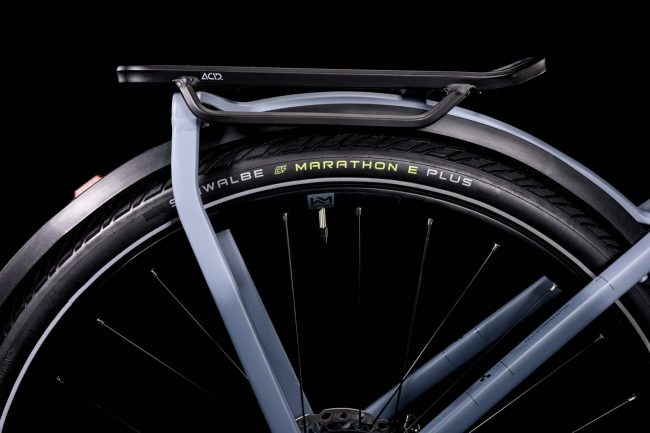 School Run
Picking up the little ones from School – you could easily fit a bike trailer for kids and away you go! The Bosch CX motor has plenty of power for this purpose and providing you have a safe cycling route to and from school, the Kathmandu SLT would be the perfect e-bike for the job.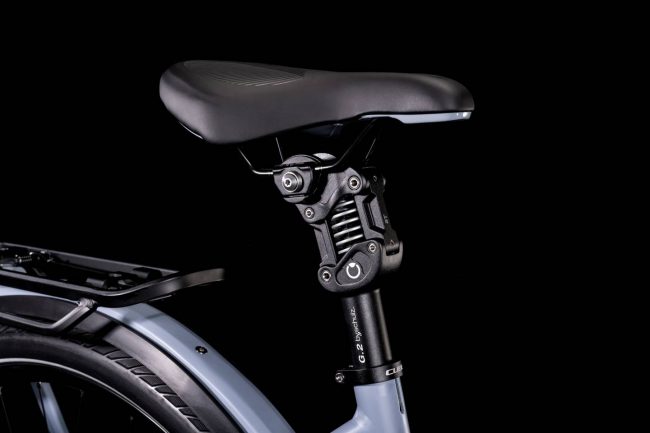 Commuting
I really couldn't think of a better electric bike for the daily commute. The Cube Kathmandu SLT 750 has so much battery range, you could easily do a 20-mile commute in e-MTB mode, and arrive for work nice and fresh and not dripping with sweat. If you live in a built-up area it would be quicker to take the e-bike and you'd get a little bit of daily exercise.
Conclusion
When I had a ride on a Cube Kathmandu a couple of years ago, I was tempted to save up and buy one. Unfortunately I couldn't justify spending nearly four grand on an e-bike so I settled for something much cheaper. Having said that, seeing what this new model has to offer has rekindled my interest.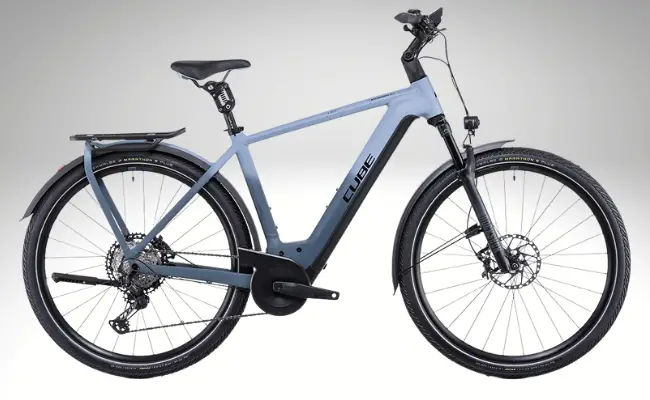 The Cube Kathmandu SLT 750 epitomises the word versatile – it looks like a very capable electric bike that could fulfil multiple roles. For me, I'd love to explore the touring potential of a bike like this. I've done a few short (2-3 day) tours on my regular bike and always find the extra weight of loaded panniers can make it a real slog! Having an e-bike with a long-range battery would certainly help take the edge off.
I can also see the Kathmandu is a great electric bike for heavier riders – it has a massive gear range, sturdy construction and an excellent battery.
Priced at £4299, the Kathmandu SLT is quite an expensive bit of kit. But for the price, you're getting an electric bike fitted with the highest quality Shimano XT components, a fantastic Bosch motor, a long-range 750wh battery, lights, rack, mudguards and Rockshox forks – what more could you want?
I couldn't find any affiliated retailers in the UK with these in stock at present but you can visit the Cube website for more information.
If you're fortunate enough to have purchased one of these, please feel free to share your thoughts below. Thanks for reading.