When you purchase through links in our articles we may earn a small commission. Read our affiliate disclosure.
Newly released this month (December 2021), the Navee N65 electric scooter has great specifications with good performance and battery range for a very reasonable price. In this review article, I'll take a closer look at the specs and key features to see if it offers good value for money.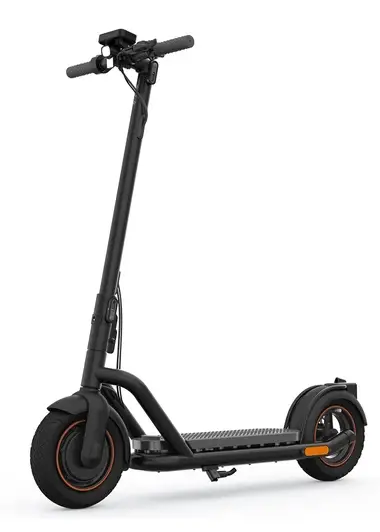 Summary
The new Navee N65 is produced by Suzhou Brightway Intelligent Technology Co. Ltd and is the result of a successful crowdfunding campaign which reached over $500,000.
There are a few things that set the Navee N65 apart from the competition, the main one being the innovative dual rotation folding mechanism – both the stem and handlebar easily fold, helping the Navee fold down to a very compact size.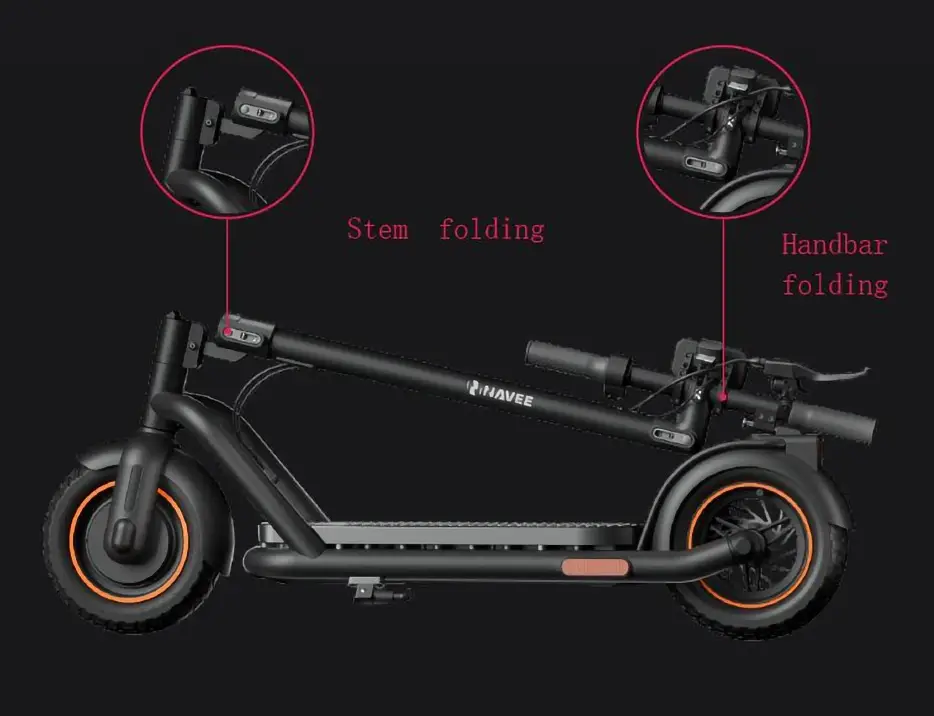 A lot of the e-scooters we see at this price point tend to be very similar in design. The Navee N65 has an interesting tubular chassis design which looks incredibly tough, there are also 3″ wide x 10″ pneumatic tyres which will help take the sting out of potholes and the like. I've always found suspension a bit gimmicky on e-scooters and I think just having a decent, chunky set of tyres is the way to go.
Buy the Navee N65 from geekbuying 
Electric motor
The Navee uses a front-drive, brushless hub motor which is rated at 48v and 500w. Claimed top speed is 32km/h in the highest setting with 25km/h and 15km/h respectively for the lower two settings. There's a very neat-looking display which shows speed, range, assist level and real-time battery voltage.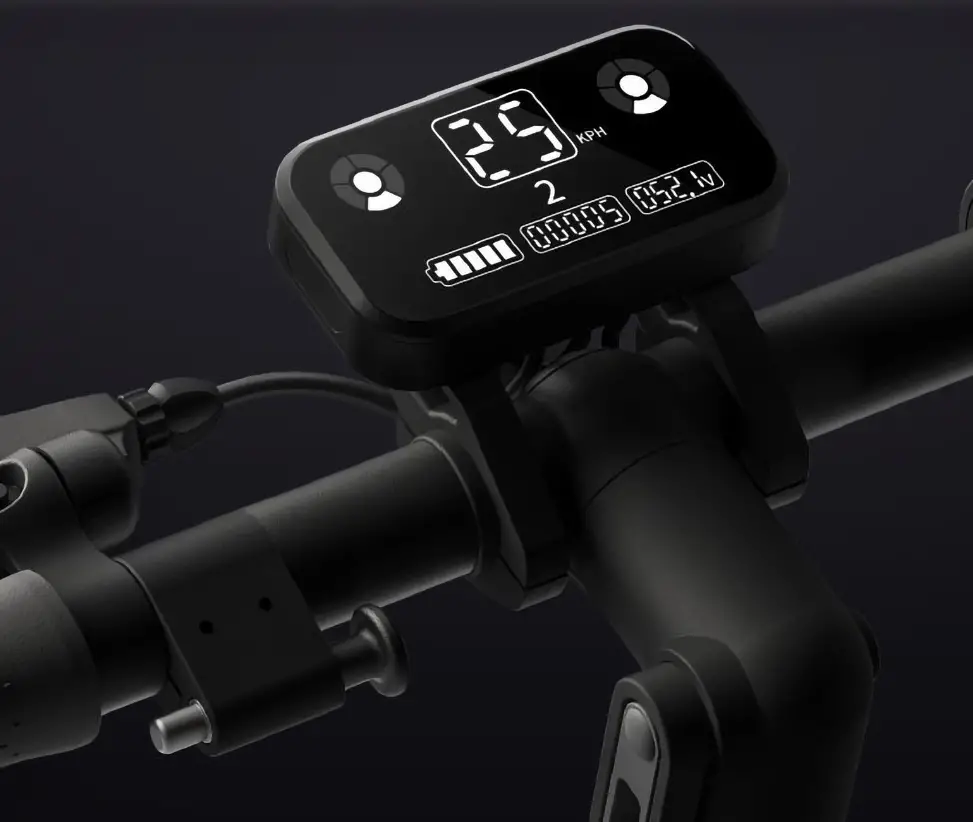 Battery
Power is provided by a respectable 48v 12.5Ah (600Wh) lithium battery – the claimed range of 65km sounds optimistic and will vary greatly depending on rider weight, terrain and power level used.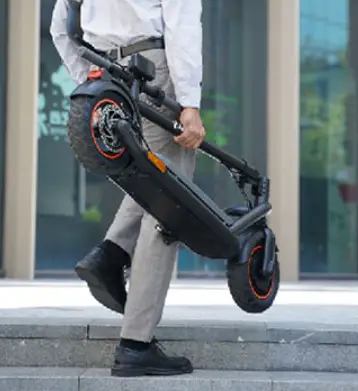 Braking
Braking is provided by the electric motor on the front and mechanical disc brake at the rear. The front braking system functions like an anti-locking brake and helps safely bring the scooter to a standstill without locking up the wheel.
Chassis
The Chassis is made using an aluminium tubular design which according to the manufacturer improves strength and allows for a rider of up to 120kg in weight.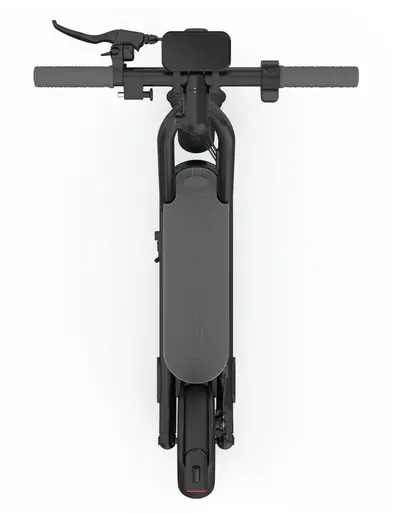 Other features
In addition to the above, there are the usual features you'd expect to find on an e-scooter at this price point. There is a powerful front headlight, plus a tail/brake light and the obligatory kickstand.
The net weight of the Navee N65 is 23.5kg, making it quite a weighty beast! This scooter is rated to IPX4 which is at the lower end of water resistance, meaning it will be okay for light rain and water splashes, but not sustained heavy rain or immersion.
Buy the Navee N65 from geekbuying 
Conclusion
It's nice to see a new electric scooter with some innovative features. The Navee N65 certainly has a lot going for it. The dual-folding design is going to appeal to commuters who want an e-scooter that can fold down to a compact size.
I also like the tubular alloy chassis, it looks durable and that wide deck is going to be more comfortable for the larger rider. The display has some nice features, not usually found on e-scooters at this price, and finally, the motor and battery combination look perfectly suitable for urban riding (not too under or overpowered).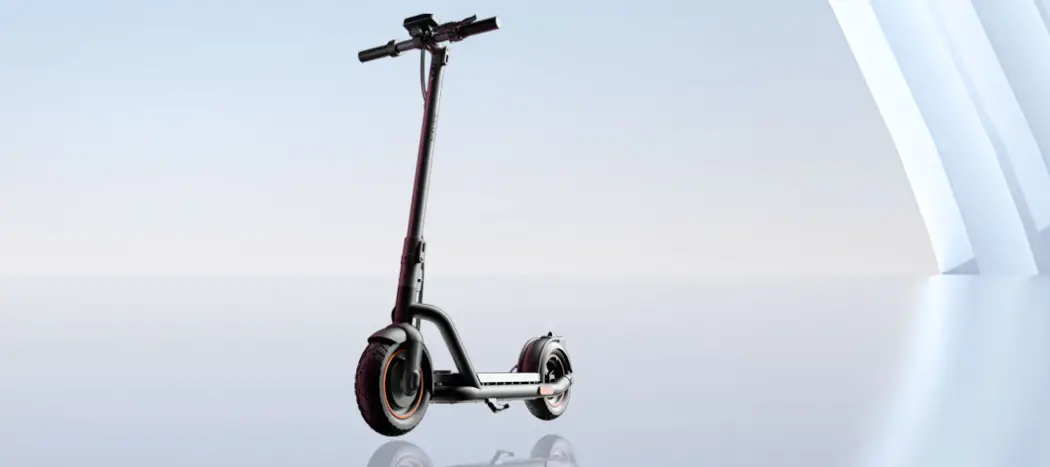 My only reservations are the weight and lack of a higher water resistance rating. The Navee N65 has a net weight of 23.5kg which is roughly the same as an average e-bike, so it's not going to be practical if you have to regularly carry it up lots of stairs. The IPX4 water resistance means just that – it should be fine in light rain, but means it shouldn't be ridden in heavy rain or through large puddles.
Apart from the above, the Navee N65 looks like a good all-rounder. If you're in the market for a decent mid-range e-scooter, that has decent power and battery range then I'd say it's worth considering.
Buy the Navee N65 from geekbuying 
👉Check out the best electric scooters for under €300 / £300
Thanks for reading. If you have recently purchased a Navee N65 e-scooter, please feel free to leave a review below.