In this article, I'll be taking a closer look at the Bezior electric bikes range currently available from geekbuying.com. I'm hoping to be able to review some of these models in future as they look like good value for money.
Summary
Bezior is a Shenzen-based e-bike manufacturer that offers a selection of budget electric bikes ranging in price from €800 to €1400. There are some interesting models in the range including a 1500w folding fat tyre e-bike and a sub-€1000, 250w e-MTB and hybrid bike (with a 48v 600Wh battery).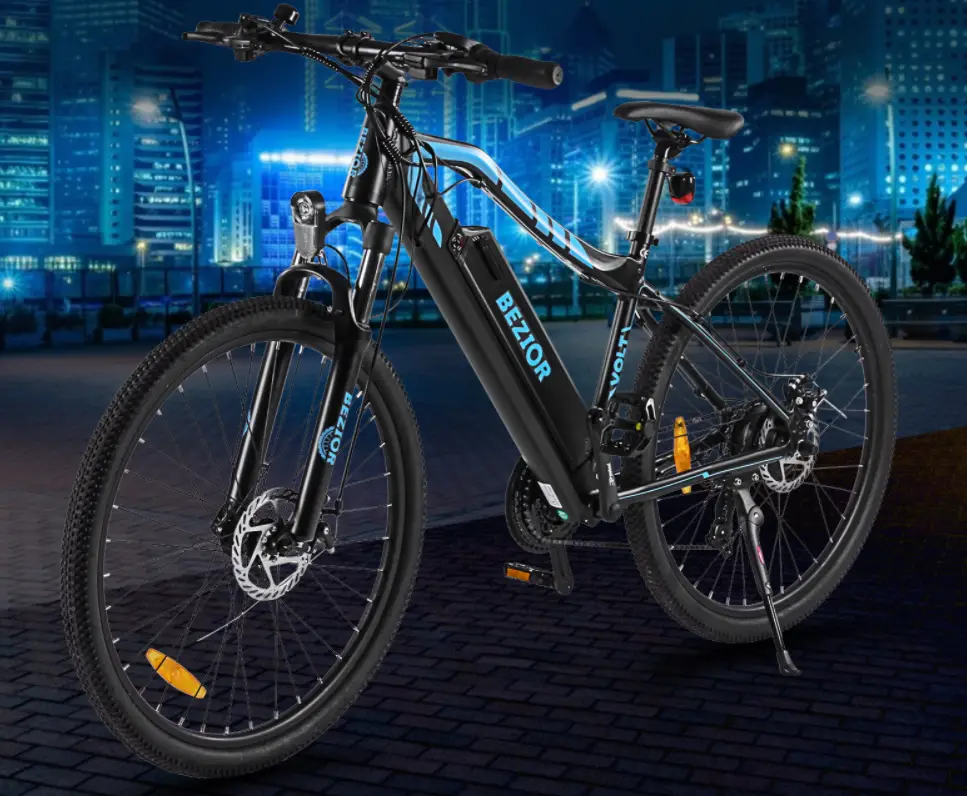 Legal Notice (UK and EU): Except for the Bezior M1 and M2, all the other models featured here exceed the 250w continuous power limit for legally riding on the public highway. Please bear this in mind before making a purchase. These e-bikes can be used on private property without any problems.
The Bezior E-Bike range
I've had a good look at what Bezior has to offer and their e-bike range seems to go a bit further than similar brands. Unfortunately, some of the electric bikes featured below are not currently road legal in the EU, but anyone with some land could have a lot of fun on these bikes (particularly the X1500).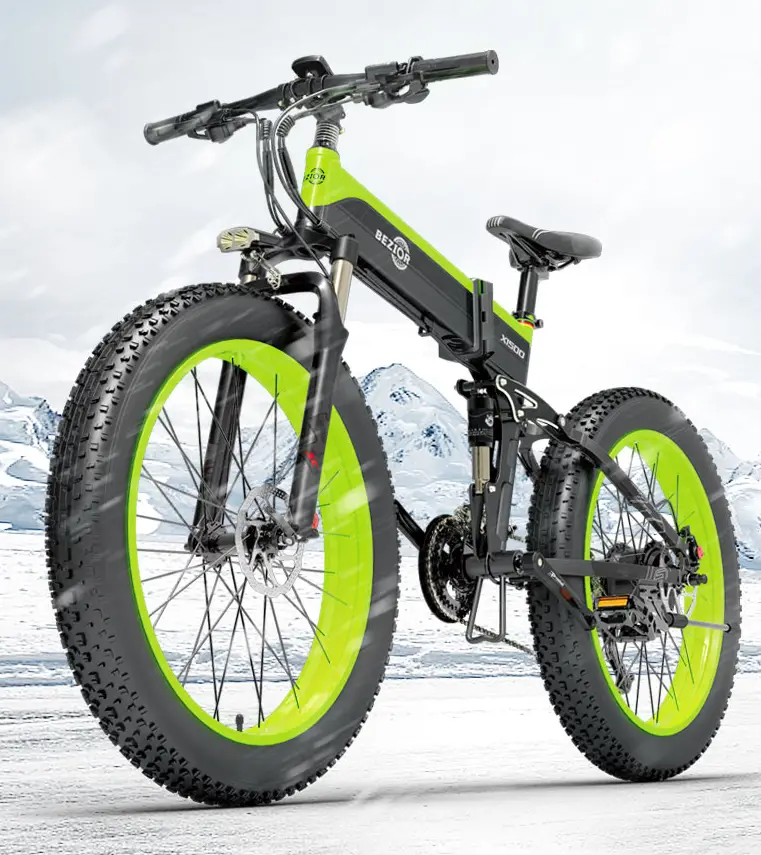 All of their 1000w+ models have hydraulic disc brakes and benefit from 48v batteries (the M1 and M2 also have 48v batteries) – the XF200 1000w 20″ wheel folding model boasts a 720Wh 48v 15Ah battery.
---
1. BEZIOR X500 Pro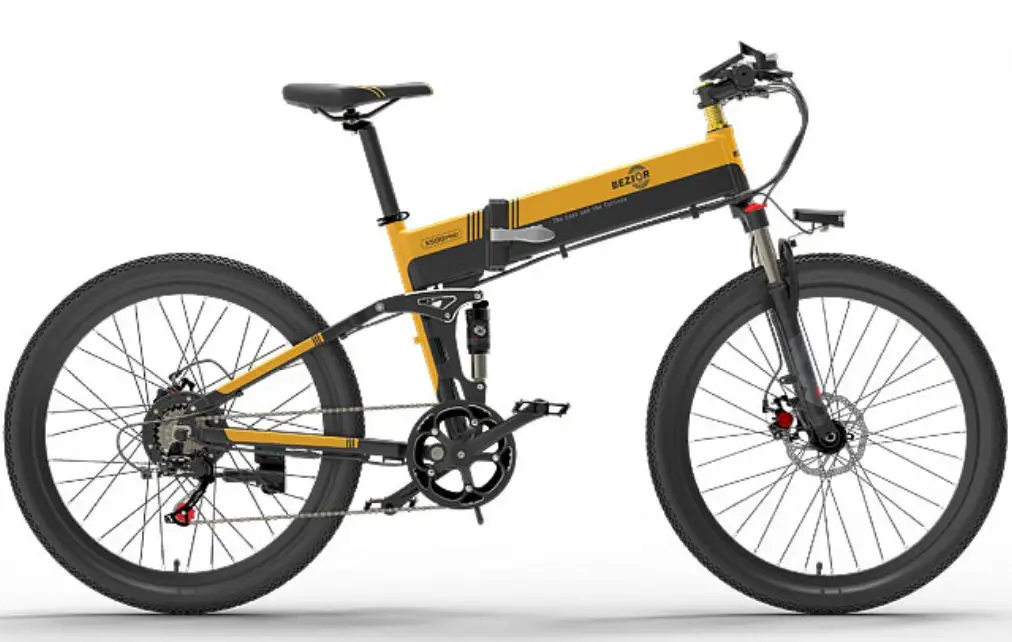 The Bezior X500 Pro is a 500w foldable electric mountain bike and features a 48v 10.5Ah battery. This model features Shimano 7-speed gearing with mechanical disc brakes. The front suspension fork can be locked-out and adjusted for preload. Accessories include a headlight and kickstand.
---
2. BEZIOR M1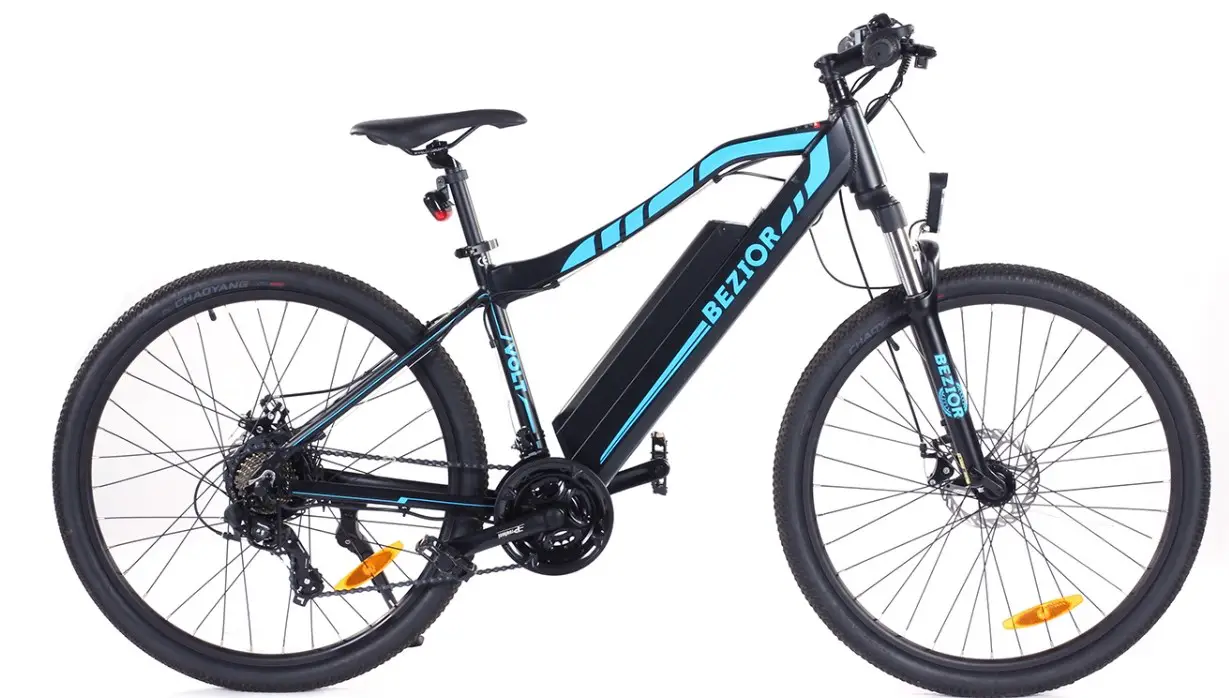 The Bezior M1 looks like good value for money at under €1000, especially when you consider the large (600Wh) battery capacity. The M1 is road legal in the EU and benefits from 27.5″ wheels with hybrid tyres, front and rear mechanical disc brakes and Shimano 21-speed gearing. Accessories include a kickstand and front headlight.
With a potential maximum battery range of between 60-80km, the Bezior M1 would make an excellent commuter bike or it could be used for weekend recreational rides on mellow off-road trails.
---
3. Bezior M2 Step-Through Electric Hybrid Bike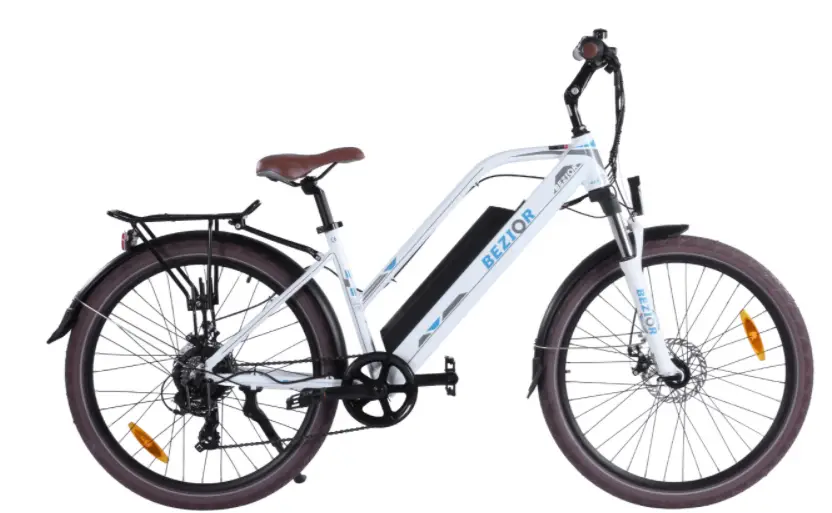 Featuring the same 250w motor and 48v 12.5Ah battery as the M1, the Bezior M2 is aimed squarely at commuters and leisure riders who prefer a step-through frame. The Bezior M2 is an excellent-value hybrid e-bike that has decent components and includes full-length mudguards, a pannier rack, lights and kickstands.
In my opinion, and based on specifications and customer reviews, the Bezior M2 looks like one of the best-value hybrid e-bikes currently available. It's priced at a very reasonable £832 / €950 and it is available for shipping from the EU and UK.
---
4. BEZIOR X1500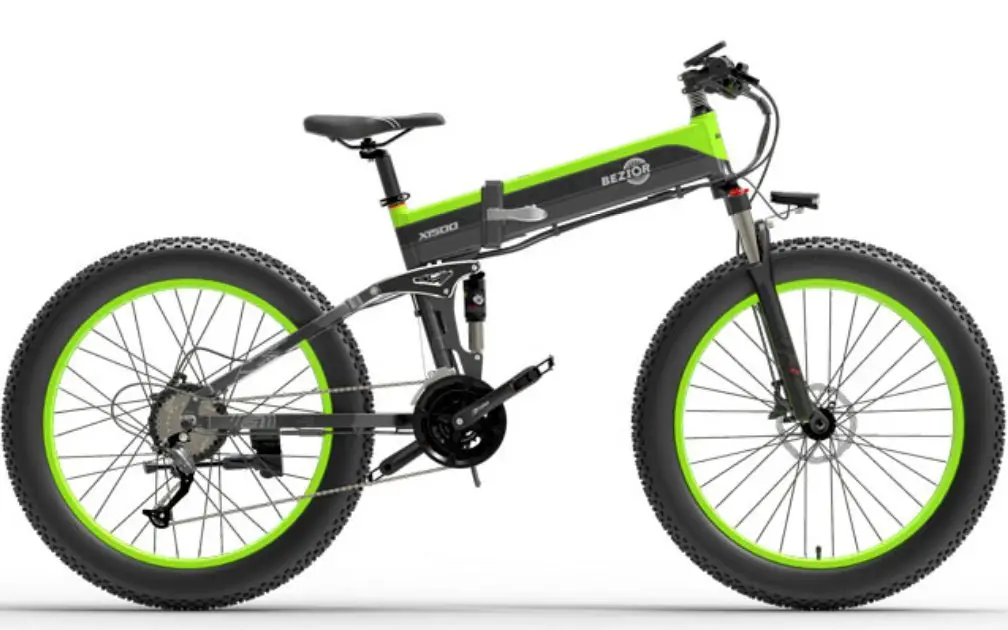 For less than €1400, the Bezior X1500 has a decent specifications. This model boasts a 1500w geared rear hub motor with a 48v 600Wh battery. Zoom HB-875 hydraulic disc brakes (with built-in sensors), Shimano Altus 27-speed transmission front coil-sprung forks with 100mm of travel and a rear shock. The front fork has lock-out and pre-load adjustments,
This fat tyre folding electric bike uses some decent components and the battery uses Panasonic lithium cells, which are widely recognised as some of the best in the industry.
The Bezior X1500 should be great fun to ride, but with 1500w on tap and a top speed of 40km/h, it should be used on private land.
---
5. BEZIOR X1000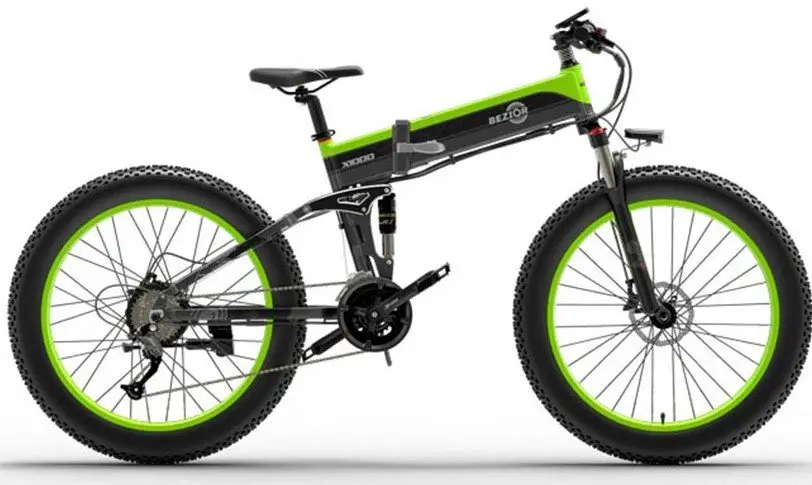 The specification of the Bezior X1000 is the same as the X1500 above but with a lower-powered motor. A great option if you don't need quite as much power, plus you'll get a much better battery range.
---
6. BEZIOR XF200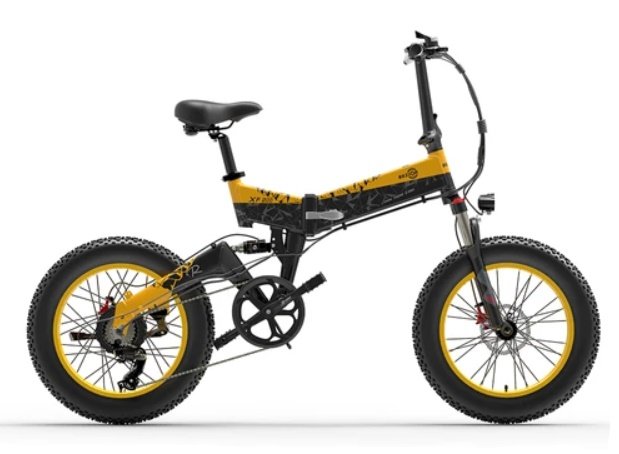 If you're after a powerful folding e-bike that's well-equipped and has a decent battery range, the Bezior XF200 looks just the ticket! Featuring a 1000w geared hub motor and a class-leading 720Wh 48v battery, the XF200 is a compact fat tyre e-bike that packs a punch! I've ridden similar e-bikes in the past and they always have a big grin factor. The 20″ x 4.0″ fat tyres make the XF200 ideal for riding in the sand, mud or snow.
Check out the latest deal on the Bezior XF200
---
Conclusion
I'd love to get my hands on the Bezior range of e-bikes to test and review in future as they all seem to offer excellent value for money. It's refreshing to see things like hydraulic brakes and Panasonic lithium cells used on electric bikes at the budget end of the market.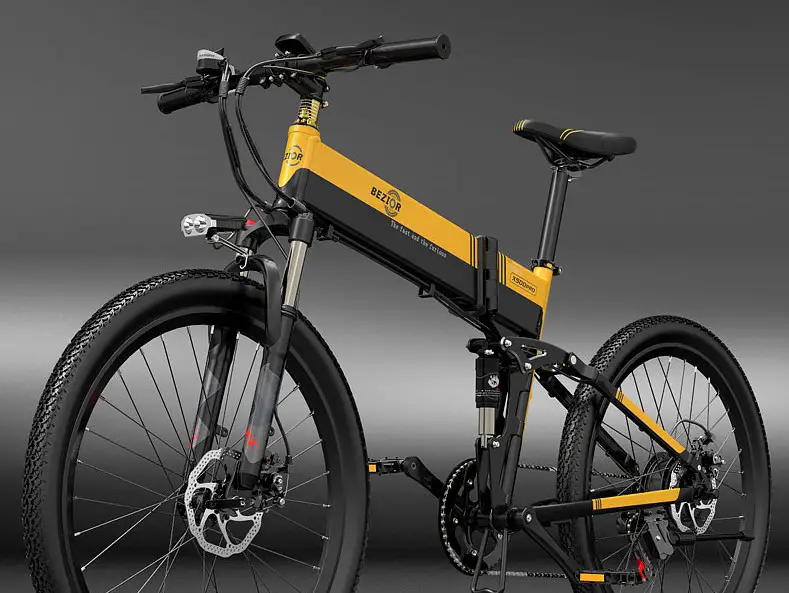 Based on specifications and customer feedback, the Bezior range of electric bikes looks pretty good. My personal favourite of the bunch would have to be the X1500, but the most practical one from a day-to-day use perspective would have to be the M2 250w – for the price, this model offers more than other similarly priced road-legal e-bikes. Finding an electric bike for under €1000 with a 48v 600Wh battery is a rarity.
Thanks for reading, visit geekbuying.com for more affordable e-bikes shipped from within the EU.