Flat bar road bikes are becoming increasingly popular, particularly for riders in urban areas.  Not everyone can get along with drop bars, and for some riders, this type of handlebar may even exaggerate back or neck problems.  A lot of the big manufacturers have cottoned on to this and now offer their road e-road bikes with this option. One such bike is the Lapierre E-Sensium 200 flat bar electric road bike – read my full review below for more details on this lightweight urban speed machine.
Summary
Lapierre Bikes were founded in 1946 in Dijon, France and the company has a long and illustrious history of manufacturing world-class bicycles. In recent years, they have been producing some excellent electric mountain bikes, but with a company that has its roots in road cycling, it was inevitable that sooner or later they would enter the e-road bike arena.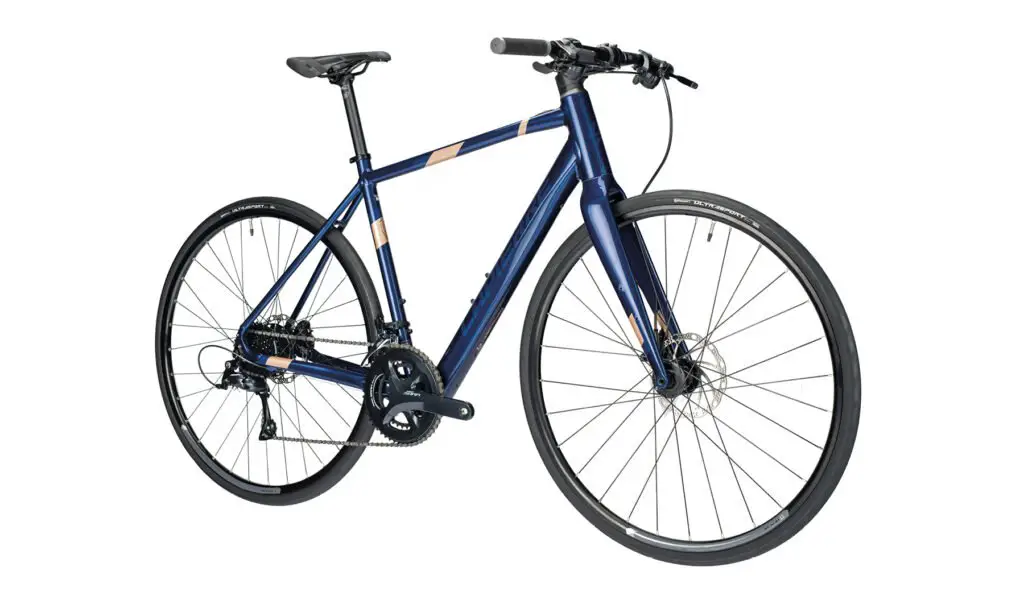 Enter the Lapierre E-Sensium 200 – a lightweight electric bike that has all the characteristics of a road bike but with flat handlebars, which for some riders are preferential over traditional drop-bars. The E-Sensium 200 is a flat bar version of the previously reviewed E-Sensium 300 Electric road bike with the only major differences being flat handlebars, and Shimano Sora 9-speed as opposed to Tiagra 10-speed.
Electric components
Weight and integration are important deciding factors for buyers of electric road bikes. Not everyone wants to be riding a 20-kilo-plus hybrid around, particularly if you are only going to be using the assist from time to time. That's why the X35 ebikemotion and Fazua Evation e-assist motors were developed. These lightweight electric bike drive systems are designed specifically for road bikes with the main focus being on neat integration and most importantly, lightweight.
X35 ebikemotion drive system
I have ridden both ebikemotion and Fazua-powered e-bikes and the X35 wins in the weight department, being a whole kilo lighter than the Fazua Evation. The only downside to this system is it cannot be removed (like on the Evation). However, with ebikemotion, your bike will have a regular threaded or pressfit bottom bracket and be considerably cheaper. The Fazua also requires a much larger downtube to accommodate the battery and drive system.
Find out more: Visit the Mahle ebikemotion website
The X35 uses a sophisticated pedal assist sensor with the sensor ring installed by the rear cassette, this ensures smooth and intuitive assist on demand from the compact 250w geared hub motor.
What are the pros and cons of this system over a regular mid-drive motor like the Bosch Active Line Plus? For starters, the weight saving is substantial.  The latest Bosch motor weighs in at 2.6kg, then you need to factor in the Powertube 500Wh battery pack, and the total weight of a Bosch system can easily add nearly 6kg to a bike.
The Bosch motor will also provide a much stronger and more noticeable assist when compared with the X35. And a typical Powertube 500Wh battery pack will give a much higher assisted range.
It boils down to your fitness levels and preferences. If you need quite a lot of help with steep hills and anticipate relying on the electric assist more, then a Bosch, Shimano or Yamaha mid-drive motor would be a better bet. If you want a lightweight e-bike that looks and feels like a regular bicycle and you only need to use the assist occasionally, then the ebikemotion system is hard to beat.
Battery
A high-quality 250Wh (watt-hour battery) is neatly integrated into the frame of the bicycle. This battery pack uses the highest quality Panasonic NCR18650GA cells, which are widely regarded as the best in the e-bike industry.
 Although this battery is about half the energy capacity of a hybrid or e-MTB at this price, it is also half the weight. I know long-term owners of ebikemotion-powered e-bikes who regularly get 60-70 miles out of a single charge – although it should be noted, this kind of range can only be achieved if you only use the assist when you need it.
Range extender batteries are becoming available, and add an extra 208Wh in a convenient bottle-shaped battery pack.
Bike Components
The E-Sensium 200 uses quality Shimano components with trigger shifters and Tektro hydraulic brakes. The other great thing about the Lapierre is the way they have neatly integrated all the cables, this makes for a neat-looking e-bike.
Gearing
Being a flat bar road bike, the E-Sensium 200 uses the typical gearing of a 50/34 Shimano Sora compact crankset combined with an 11-34 9-speed rear cassette. This should give most riders more than enough gears to climb the steepest of hills.
Sora is quite low down in Shimano's groupset range, but it works flawlessly and parts are cheap to replace if they ever do fail (which is unlikely).
The gears are operated using Shimano Sora 2 x 9 SLR3000 trigger shifters, which give precise and crisp gear shifting.
Brakes
Braking is provided by decent Tektro HD-R280 hydraulic brakes with 160mm rotors, which provide excellent modulation and very good stopping power.
Wheels and Tyres
The wheelset and tyres used on the 200 are the same as those used on the 300 drop-bar version. Mach1 820 rims with Fast Ace front hub and decent Continental Ultrasport II 700 x 28c road tyres.
Frame
The alloy frame with carbon forks on the E-Sensium 200 is identical to the one used on the more expensive 300 e-road bikes. It has the perfect geometry for city or endurance riding, offering a comfortable riding position and excellent road manners. This bike would be ideal for zipping around busy city streets with its responsive handling and narrow handlebars.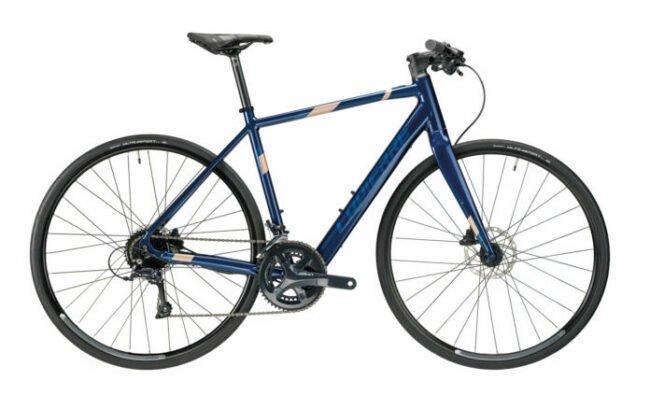 Internal cable routing adds to the clean finish of the bike, with the only cable protruding from the handlebar being the front hydraulic brake hose.
Finishing kit
The handlebar, stem and seatpost are all quality Lapierre components and are made from alloy. The Saddle is a Selle Italia X3 Boost, which is a good middle-of-the-road saddle.
Specification:
Frame : 
E-Sensium Supreme 5 alloy with integrated routing
Fork : 
E-Sensium Carbon with Alloy steerer
Motor / Battery / Display :
X35 ebikemotion system
 with 250 Wh internal battery
Rear derailleur : 
Shimano Sora RD-R3000GS, 9s
Front derailleur :
Shimano
Sora FD-R3000BM
Crankset :
Shimano
Sora FC-R3000, 50X34T 170mm (XS,S,M), 175 (L,XL,XXL)
Bottom bracket :
Shimano
 BB-RS500
Sprocket :
Shimano
 HG200 9s 11-34T
Discs : 
Tektro rotor 160mm F/R
Shifters / Brake levers :
Shimano
Sora SLR3000 2x9s + Tektro HD-R280 Hydraulic
Headset : 
Acros AIX-532 IS52/28,6 – IS52/40
Handlebar : 
Lapierre Alloy 31,8mmx640mm
Bar tape :
Lapierre
by Herrmans
Stem :
Lapierre
Alloy with integrated routing 31,8mm 80mm(S) 90mm(M) 100mm(L) 110mm(XL)
Seatpost :
Lapierre
Alloy 27,2x350mm
Saddle : 
Selle Italia X3 Boost
Wheelset : 
Mach1 820/ Fast Ace Hub 28T
Tires : 
Continental Ultra Sport 2 SL 700X28
Pedals : 
VP-335 Clips&Strap
Who is the Lapierre E-Sensium 200 aimed at?
The Lapierre E-Sensium 200 would make a good city e-bike or commuter bike. Its comfortable frame geometry, narrow bars and responsive handling lend itself to urban riding, coupled with the lightweight and excellent braking power.
It would also benefit recreational riders who do not want drop handlebars and riders who are looking for a bike to ease themselves back into cycling after a long break. The Lapierre is a rider-friendly bike, that's designed to be fun to ride and easy to handle.
Conclusion
If you're after a decent but affordable flat bar electric road bike, there's quite a lot of choice out there now. The Lapierre E-Sensium 200 is a good bike, and it stands up well to the competition. The Orbea Gain F30 is £100 cheaper but uses Shimano Claris 2 x 8. Ribble's AL e flat bar e-bike is excellent value at £1899 and uses the excellent SRAM NX 1 x 11 groupset.
Ultimately it boils down to personal choice. I feel the Lapierre needs to be a tad cheaper in the face of the competition, but it does look gorgeous with that very neat internal cable routing and gloss-blue frame finish.
The other area the Lapierre loses out to the competition is weight, and although it's not overly heavy, it does come in at around a kilo heavier than the Orbea and Ribble.
Another option at this price would be the Boardman HYB 8.9e – this uses the Fazua Evation motor and a Shimano Deore 1 x 10 drivetrain. It is well over a kilo heavier than the Lapierre but does benefit from a removable drive system.
If you're after a quick urban commuter electric bike and are looking for something that can be carried upstairs without getting a hernia then the E-Sensium 200 is a contender and worthy of consideration.
Find out more about the Ribble AL e electric hybrid bike