I've been curious about the Engwe M20 since its launch earlier this year. It has sold in huge numbers and undoubtedly looks very cool, but does it work as a practical form of daily transport? Engwe has kindly sent me the dual battery version to test out, and in this review, I will be looking at its quirks, comfort and performance.
Since the Super 73 was released in California in 2016, the brand has become a global best-seller. There's been a big rise in the popularity of these 'beach cruiser' e-bikes. Characterised by minimal, retro styling and big tyres, they look more like a motorcycle than a bicycle. This isn't a big problem in the US, where they have more relaxed electric bike laws, but in the UK and EU, it can pose a problem. These bikes aren't designed for pedalling, and the pedals are an afterthought to satisfy local laws.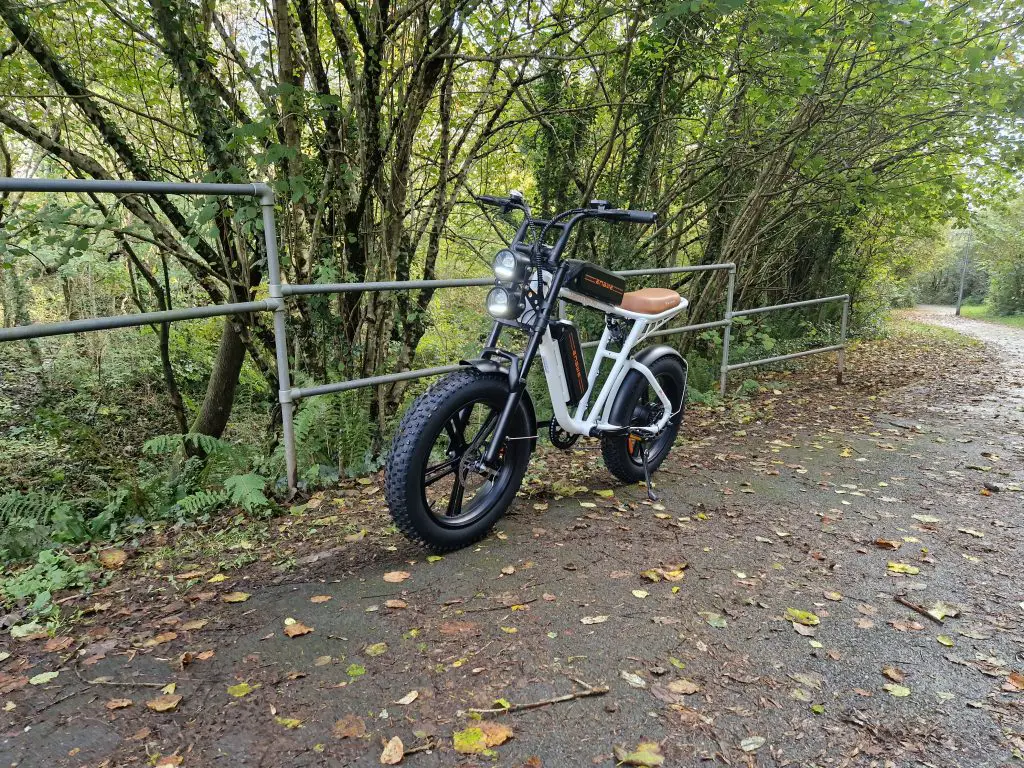 The Engwe M20 features a 750w rear hub motor and dual battery option, giving a claimed range of 150 km per charge (more on that later). It's a weighty beast at over 40kg with the dual battery option. Despite the legality here in the UK, they continue to sell well, but with some areas starting to clamp down on faster e-bikes, maybe it's time a 250w version became available.
Key features:
750 watt rear hub motor
Dual battery option – 2 x 624Wh batteries
Front and rear suspension
Motorcycle inspired styling
Price: £1099 / £1349 – currently on sale at £999 / £1199
Electric components
Starting off at the business end, the M20 features a 750w rear hub motor. It looks, sounds and performs identically to the motor fitted to the EP-2 Pro folding e-bike. There are 5 levels of pedal assist, or you can use the full twist throttle. On the flat, performance is good – there is a slight delay when you open up the throttle, followed by a smooth and progressive surge in power. It gathers speed up to 20 mph quickly, then slows a little, eventually reaching the 28 mph maximum speed.
The pedal assist is significantly delayed, so using the throttle for that initial push is a good idea. Once on the move, you quickly run out of gears as the gearing is low. Above 18 mph, you'll need to keep ghost pedalling or just use the throttle. Performance is good, but it quickly reaches its limit on steeper hills like all these motors.
The small display is the same as is used on the Engwe L20 and has good functionality for its size. You can change the pedal assist settings and limit the speed if required. If you want to enable or disable the throttle, this can be done by switching the display on while holding the right brake lever in and simultaneously holding the throttle open. Once the display starts, wait 10 seconds, then release the brake/throttle.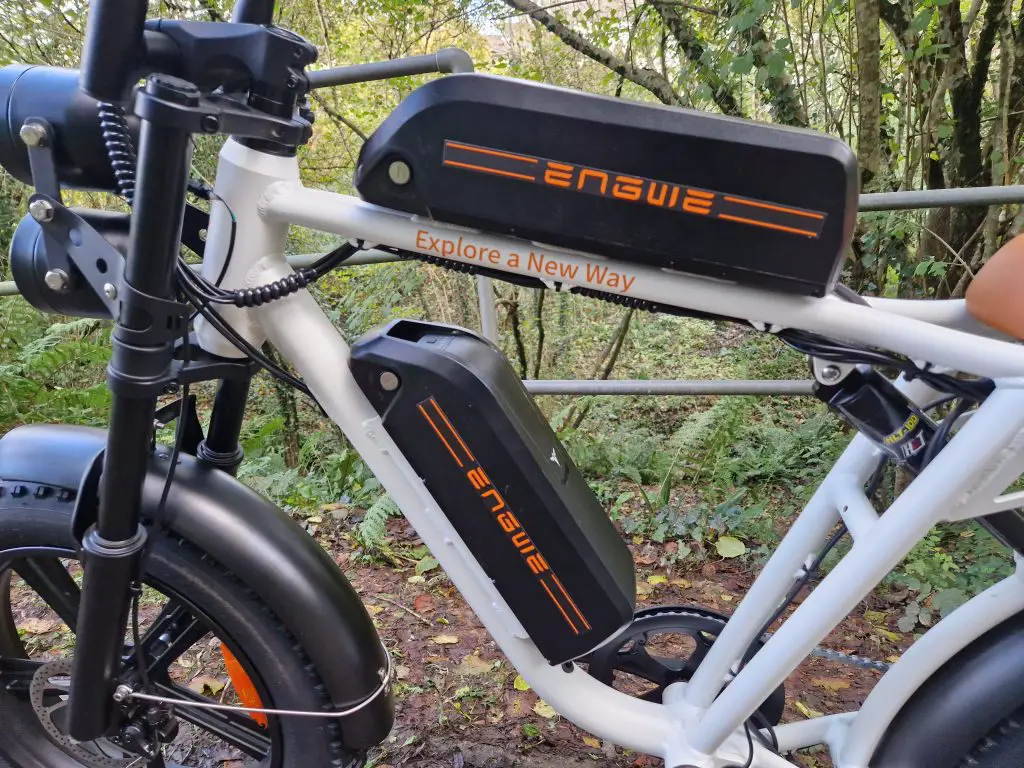 One great feature of the M20 is the dual battery option. The batteries are connected to the controller via a shunt and will drain at the same time. I haven't done a full range test, but a similar battery on the EP-2 Pro will give a range of around 25 miles in level 3 or 4. I reckon a real-world range for the dual battery M20 will be between 50-60 miles depending on terrain, rider weight and assist level used.
Bike components
The M20 is made from 6061 aluminium, and the frame does look well-built. The welds look good, and the tubular design feels durable. It sets the scene for the whole bike and gives the Engwe a timeless look – this frame could have been made back in the 70s.
Regarding the rest of the bike, budget components are used throughout. Gearing is the familiar Shimano Tourney 7-speed with a thumb shifter and 14-28 freewheel. This, combined with the front chainring, gives the M20 low gearing, which means you'll be ghost-pedalling once you get above 18 mph. The gears shifted well throughout the testing period.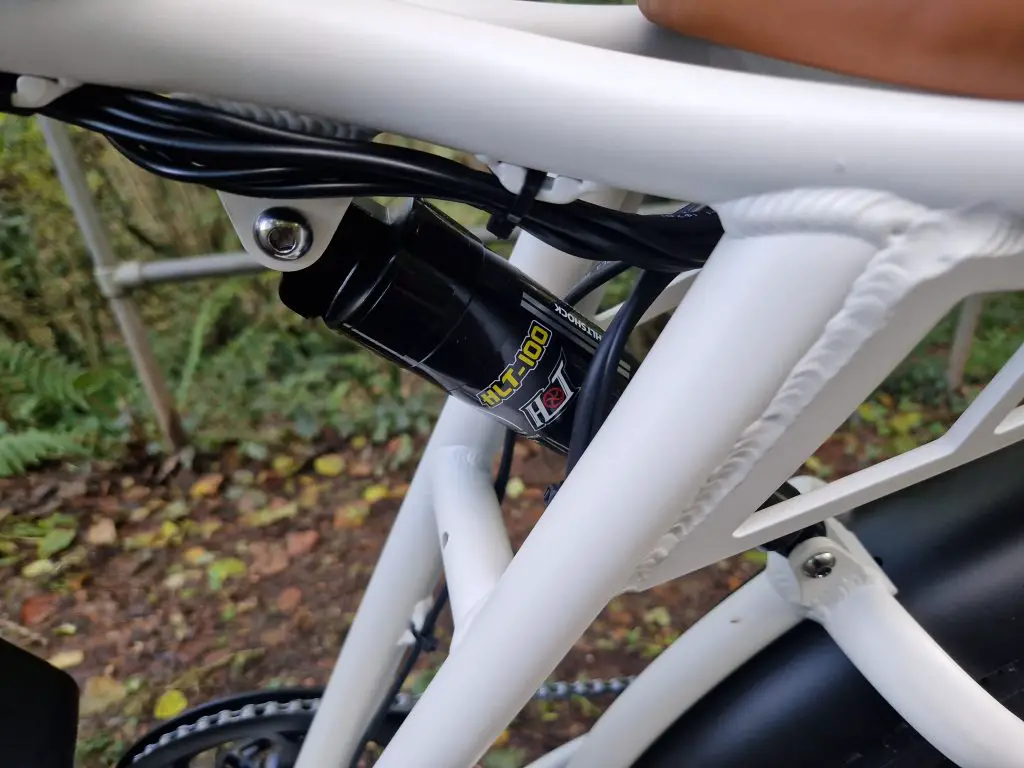 The mechanical disc brakes are another cost-cutting exercise. Although they work okay, I would have liked to see hydraulic brakes on this bike, especially when you consider the weight and extra stopping power required.
One cool feature is the motorcycle-style front suspension fork. It looks and functions well. There is a pre-load adjuster, and it can be fully locked. I chose to keep the suspension locked, as the big tyres provided enough relief from uneven surfaces. To the rear, there is a single 100mm shock absorber which also worked fine for most of the testing, although it did bottom out occasionally.
The 20″x4″ Chaoyang tyres are found throughout Engwe's range of e-bikes and perform as expected. There's a bit of extra road noise, but they provided an extra level of comfort and seemed grippy enough through decomposing leaves. It's a shame Engwe didn't fit tan wall tyres, as they would have really finished off the look.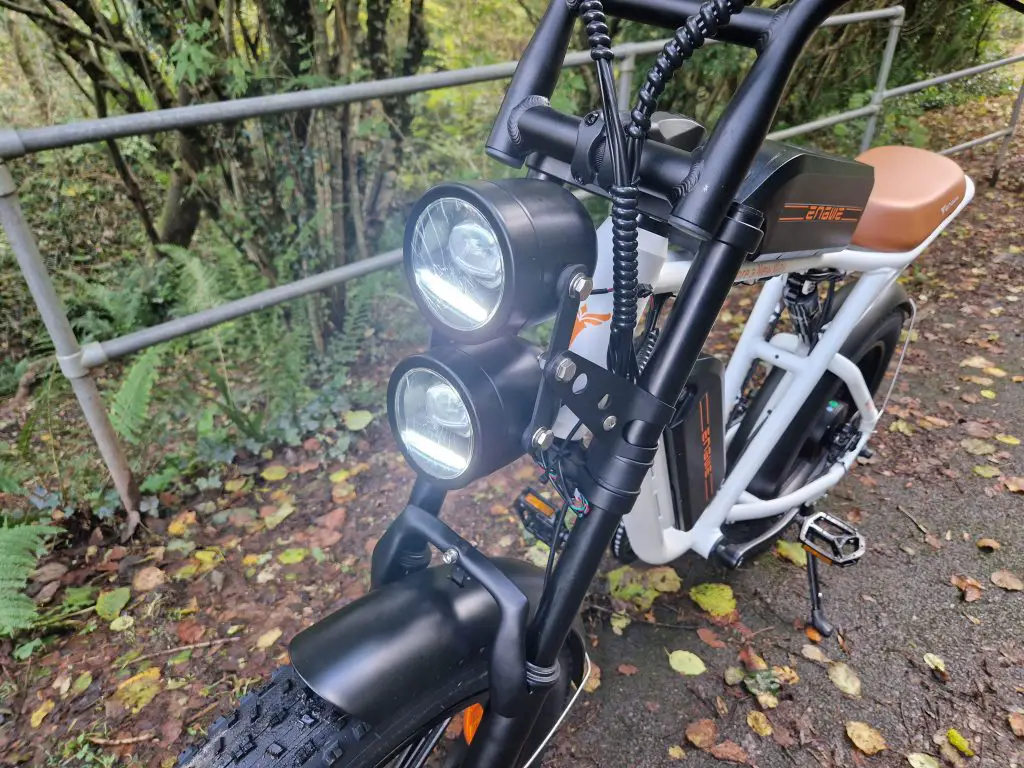 Some nice, BMX-style handlebars complement the bike's retro theme and a brown vinyl saddle that finishes off the look. For accessories, there is a massive double front headlight, a rear light/brake light, a kickstand and mudguards.
Comfort, Sizing and handling
This is where things get tricky. If I were to evaluate the Engwe M20 as a moped, then I'd be quite happy with the seat height where it is. In the UK, there are lots of illegal e-bikes on the road, and it's the sensible riders who pedal and keep their speed down that stay under the radar. The problem with the M20 is it's awkward to pedal comfortably, and someone my size looks a bit daft trying to pedal it – my knees were almost level with my chest!
As for the handling, it felt great. Descending down a quiet country lane at speed with my feet resting on the pedals reminded me of riding an old Honda Monkey Bike. It feels cumbersome when manoeuvring at walking pace, but once up to speed, it makes you grin!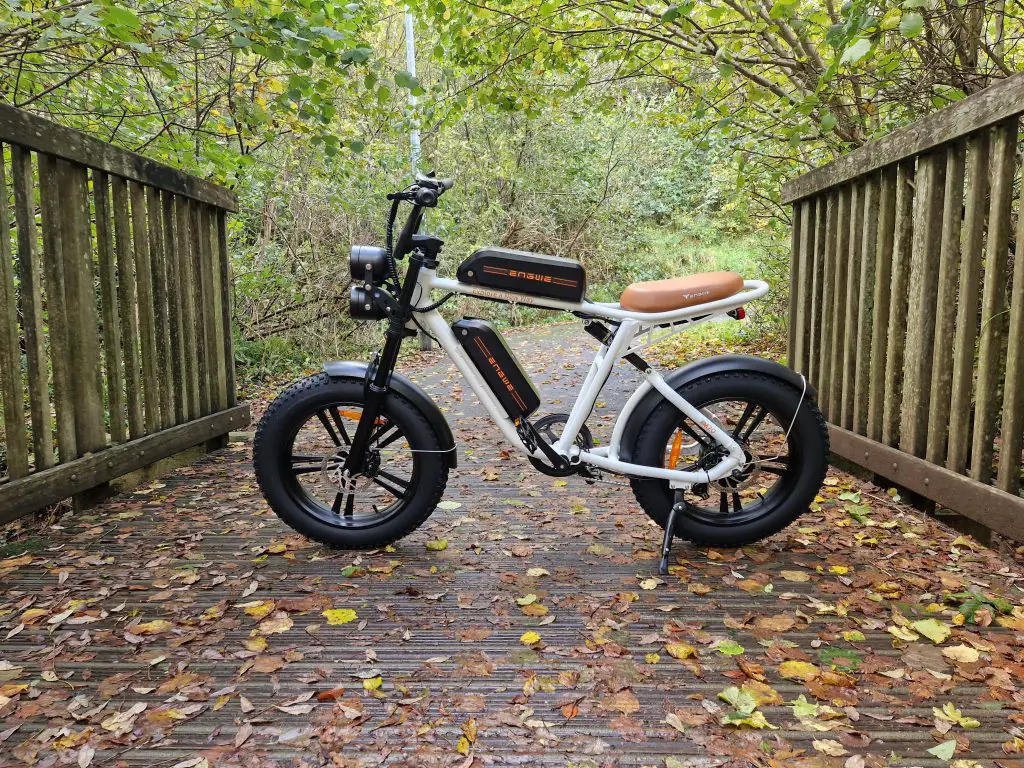 Regarding sizing, it depends on how you intend to ride it. I'm definitely too tall at 6 feet to pedal it, but I can comfortably ride it using the throttle. My four older daughters could all sit on it comfortably, and they range in height from 5′"4 to 5'9″. I would say the optimum sizing range is between 5'5″ and 5'8″, and even then, pedalling may feel a little strange.
Pros and Cons
Pros
Powerful motor
Dual battery option
Cool looks
Nice handling
Cons
Very heavy
No seat height adjustment
Legality in the UK and EU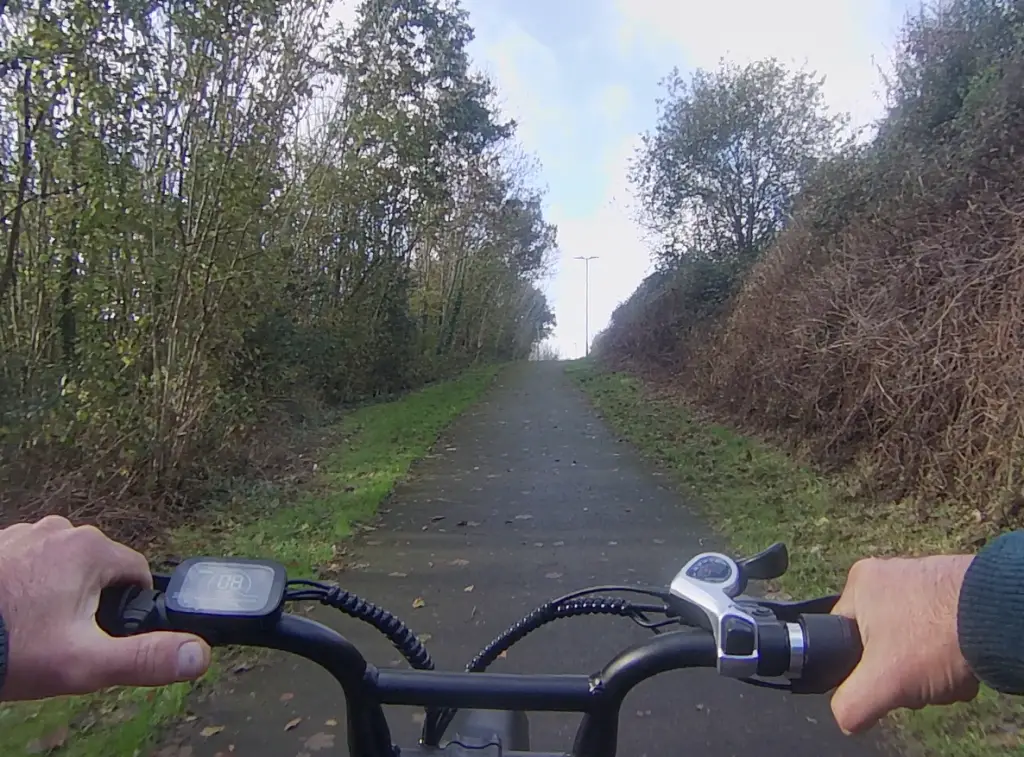 Conclusion
Despite all of its quirkiness, I have a soft spot for the Enwge M20. There's something fun and nostalgic about it, and I would love to take it on a long ride around town and out into the country without worrying about looking over my shoulder. If I could pedal the M20, then I'd have no problem, as I have ridden countless high-power e-bikes without issue. As long as you're pedalling and not going at a stupid speed, you aren't going to attract any unwanted attention.
If you can live with the fixed size and live in a quieter area or an area where e-bikes are generally left alone, then I think it's a decent option. It would be better to have a 250w option for the UK and EU.