Pure Electric has done a fantastic job of bringing e-bikes and e-scooters to the high street of many towns and cities throughout the UK. They have recently released their own-branded budget electric bike. In this preview of the Pure Flux One electric hybrid bike, I'll have a quick look over the specs and hopefully do a full test and review soon.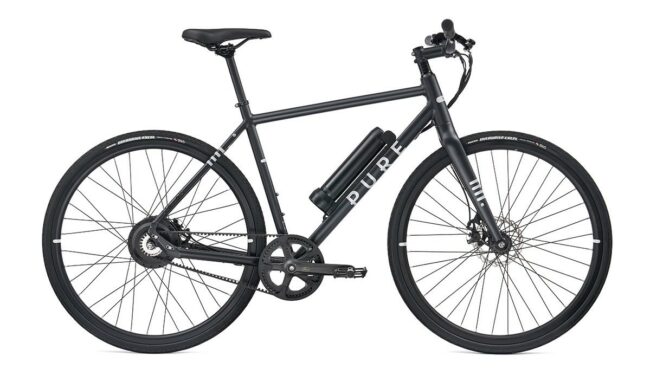 Summary
The Pure Flux One e-bike from Pure Electric has been designed with the urban rider in mind. Incorporating a simple single-speed design featuring a Gates carbon belt drive, the Pure Flux One is aimed at the rider who just wants a simple, maintenance-free electric bike to get from A to B quickly.
Unsurprisingly, the Pure Flux One has been selling well, and It's great to see a reasonably lightweight electric bike available for less than £1100.
Pure Flux One Motor and Battery
Both the motor and battery fit in well with the aesthetics of the bike and give the Pure Flux One a very clean, minimalist look. There's nothing new or ground-breaking about the technology used here but it's dependable and fits in perfectly with this bike's intended use.
The 250w rear hub motor uses a tried and tested design – I've fitted many, very similar e-bike motors over the years and have rarely had any issues. They're generally reliable and cheap to fix (if they do ever go wrong).
For controlling the e-assist, the Pure Flux One has a very neat handlebar-mounted display. There are 3 levels of power available, allowing the rider to select the correct level of assistance at the right time. The display also incorporates a battery indicator, speedo and trip function.
A compact bottle-style battery finishes off the package – this battery has a decent spec and uses high-quality Samsung lithium cells. With a total energy capacity of 252Wh (watt-hours). The claimed assisted range of 25 miles seems about right in my opinion. If you're frugal with the assist or you spend a lot of time riding above the 15.5mph motor cut-off point, then there's no reason why you couldn't get more miles from a charge.
Frame and forks
Both the frame and fork are manufactured from 6061 alloys and finished in a nice satin black finish. For a budget e-bike, the frame looks to be well-finished with neat welds. It also helps keep the bike nice and light with a claimed weight of only 17.5kg.
Currently available in one size, the Pure Flux One is aimed at riders from 5'7″ – 6'2″ – I don't have the exact frame measurements but I would say it's probably around 54cm.
Drivetrain
The single-speed arrangement has a 55t front chainring with a 22t sprocket at the rear and 170mm cranks. This is quite low gearing, and at a pedalling cadence of 90rpm you'll be riding at 18mph – go much above 20mph and your legs will be a blur! I would say this gearing will suit most riders, particularly in an urban environment.
Having the Gates carbon drive belt system is a big plus point as it's virtually maintenance-free and quiet. No more worrying about getting chain oil on your clothes or having to replace the chain. These belt drives have been proven to last many thousands of miles.
Brakes
There are front and rear mechanical disc brakes which will be fine for most riders. If you ever wanted to upgrade to hydraulic brakes, they would cheap and easy enough to fit.
Wheels and tyres
The disc-specific wheelset has nutted axles and wears 700c x 35mm Maxxis Overdrive Excel tyres. These will be perfect for city riding and incorporate a certain degree of puncture resistance. They'll also be fine for riding on unpaved surfaces like canal towpaths and gravel tracks.
Conclusion
I reckon Pure Electric are on to a winner with the Pure Flux One. It's designed primarily with the urban rider in mind or someone who just wants a simple, low-maintenance e-bike for leisure riding on cycle paths. You could even use it as an e-bike for a delivery job like Deliveroo.
One of the big selling points of an electric bike like this, is the comparatively light weight when compared with other e-bikes. With a claimed weight of 17.5kg, this comes in at around 6-7kg lighter than the average mid-drive hybrid. If you're only going to be relying on the assist from time to time then the lighter weight will pay-off.
For the price It looks stylish and there are some nice touches – the decals and stripes on the front fork and seat stays are reflective which will improve visibility at night.
The hub motor and battery should prove to be very reliable in day-to-day use, and servicing shouldn't be an issue as Pure Electric now have stores in most of the major cities in the UK.
All in all my first impressions of the Pure Flux One are positive and this is reflected in customer reviews. For the £1099 price tag, it's great value for money. I'll try and get hold of one to test sometime shortly.
Buy the Pure Flux One from Pure Electric