The German supermarket giant Aldi is well-known for stocking the latest tech gadgets and has previously sold drones and e-scooters. For May 2021 they've released two electric bikes – the Vitesse Rush is available in a men's or women's frame with the latter being a step-through design.  This article isn't a review as I've yet to get my hands on one to test, but I'll have a closer look at the specification to assess whether they are a good buy or not.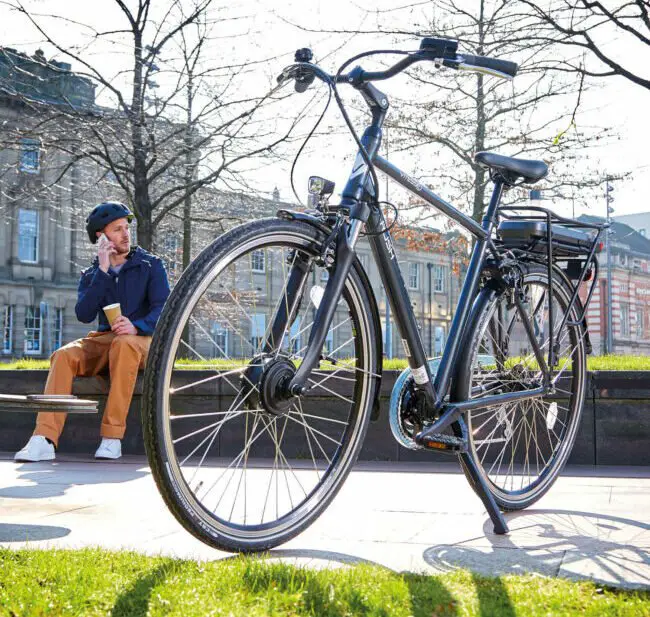 Summary
Vitesse e-bikes are a budget brand who have been sold by major high street stores like Halfords and Costco, their bikes are also available on Amazon and eBay. I have previously tested their popular Vitesse Signal electric bike and was impressed with its overall build quality, design and lightweight.
As the Vitesse brand focuses on the budget end of the market, their e-bikes generally have lower-capacity batteries and simple front or rear hub motors. The components used are entry-level but functional and if you're after a 'no frills' entry into the world of e-bikes then they are just the job.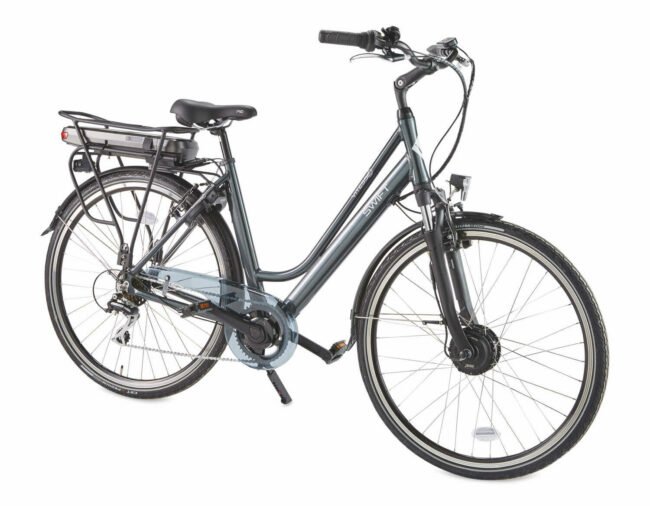 The new Vitesse Rush available from Aldi
On paper, the Vitesse Rush seems to be decent value for money. The closer you get to £500, the more limited choice becomes. I've had a close look at the specification and it looks about right for the price.
To put it into perspective, you could buy two Vitesse Rush e-bikes for £1398, which is £1 less than the cost of a single Halfords Carrera Crossfire E.  If you want to buy a Bosch mid-drive electric bike then you will be paying closer to £2000 for an entry-level machine.
Below I've had a closer look at the specification and individual components.
Electric components
The Vitesse Rush uses a simplistic 250w geared front hub motor – this electric bike motor technology is hardly cutting edge and has been around for many years.  But these motors are usually very reliable and fairly easy to sort out if they ever do go wrong (for a DIY enthusiast). The motor is activated by a cadence-based pedal assist sensor, so when you start pedalling the sensor measures pedal rotations and starts the motor – this gives the electric assist a very on/off feel, but also means it's very responsive.
Performance is going to be adequate – small front hub motors are in their element on gently undulating terrain with moderate hills. Where they underperform is on very steep hill climbs. The motor is controlled by a simple KT-890 LED display that has three assist modes: Low, medium and high. There's also an LED battery and speed indicator. Again, these displays are easy to get hold of and cheap to replace if they fail.
The rack-mounted battery is 36v 6.8Ah which equates to 244 watt hours. This will give you enough assisted range to get you around 20 miles on a charge. A higher range could be achievable if the assist is only used for hills. The charging time for this battery will be in the region of 5-6 hours.
One of the benefits of small hub motors is they are quite lightweight and they offer very little in the way of resistance when not in use – the upshot of this, is the Vitesse Rush can be ridden like an ordinary bike without any significant increase in pedalling difficulty.
Bike components
I've had a look over the specification and the Vitesse Rush uses basic Shimano 7-speed gearing with Tektro v-brakes. These components are used on thousands of different bikes the world over and are usually very reliable and very cheap to replace if they ever do go wrong. The Tektro v-brakes will provide the adequate stopping power and are easy to adjust and simple to replace pads when they wear out. There's also a front suspension fork to take the sting out of potholes and rougher terrain.

Accessories
For the price, the Vitesse Rush e-bike is incredibly well catered for and has all the extras you'll need – there are front and rear mudguards, a pannier rack, rear wheel security lock, a side stand, a bell and even front and rear lights.
Who is the Vitesse Rush suitable for?
The Vitesse Rush is going to be suitable for anyone who wants a cheap and simple electric bike that isn't going to break the bank. It could be used as a daily commuter bike or just a weekend run-around. The small hub motor should be fairly weather resistant – I've installed similar motors on bikes that have survived several British winters without any troubles. You could even venture out on hard-pack forest trails and canal paths thanks to the (limited) front suspension and multi-surface tyres.
Conclusion – is the Vitesse Rush any good and should I buy one?
I can't see anything wrong with this e-bike for the price. The Vitesse brand is budget-focused, I have heard of a few niggles with their Signal model but on the whole, they appear to be okay. I would imagine buying this bike from Aldi, there will be a warranty of at least 12 months. Even if the motor and battery did pack up after a year, you could buy a replacement motor and battery off eBay for about £375.
Ultimately if you're expecting the latest 'state-of-the-art' e-bike technology then you're going to be spending closer to £2000.  If you need a slightly better battery range you may want to look at some of the links below.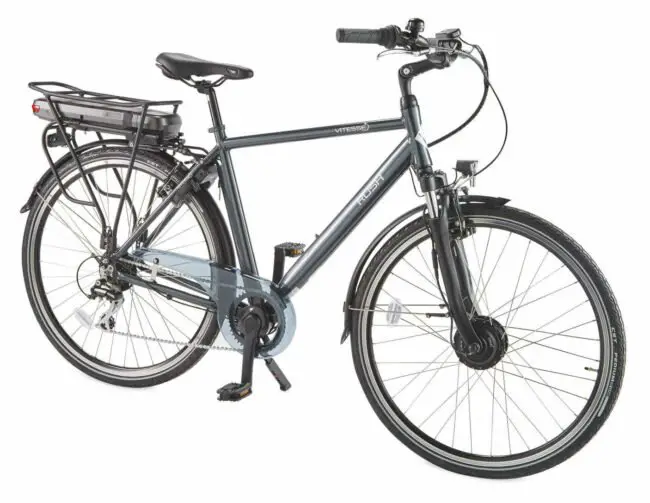 All in all, the Vitesse Rush looks just fine for the £699 price tag – if you're after something simple to potter about then I think it's great value. If you're looking for something that can handle more demanding riding with steeper hills then you will need to spend a fair bit more, or if you're feeling brave you could convert a bike you already own to electric.
In about a week I'm receiving an Eskute Electric Bike to test – this is also a good budget option, but has a 48v 10Ah battery so the potential range will be considerably higher (than the Vitesse).
There's also quite a choice on Amazon – Here is a link to all electric bikes under £1000 with a star rating of 4 and above.
Thanks for reading, if you have any questions or comments, please leave them below – I usually reply within 24 hrs.