If you are looking for a cheap folding electric bike, with all the bells and whistles, then the NCM Paris is one of the best available for the price. It is certainly not the cheapest available but has a very high specification for the money. In this review, I will go over the specification in greater detail and give you some of the pros and cons.
Quality Electric Bikes
NCM are a German company that was founded in 2014. Their bikes have quickly become some of the best-selling e-bikes in Europe. The parent company is Leon Cycles of Hannover. One of the reasons for the success of NCM is that they supply a range of high-quality, but affordable electric bikes. I have previously reviewed three different models and they all provide excellent quality at a realistic price.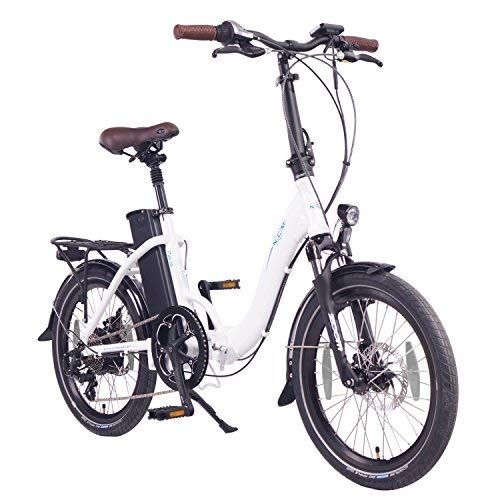 Summary
Folding electric bikes are a perfect solution for the daily commuter, especially if you go to work on a train and work a couple of miles from the nearest station. For me the definition of the perfect folding commuter bike is as follows:
The bike has to be easy to fold and unfold
Fairly lightweight
Pannier rack
Mudguards
Lights
Kickstand
Puncture resistant tyres
Good and sturdy frame
Preferable internal gear hub
The NCM Paris fulfils all, but two of the above criteria – it has derailleur gears, and it is a little on the heavy side. The weight penalty is an unfortunate consequence of having an e-bike, and provided you are not planning on carrying the bike for any distance, should not pose a problem.
Folding and unfolding the bike is a fairly straightforward process, and shouldn't take more than a few minutes. The bike folds down neatly, making an easy-to-carry (but somewhat heavy) bike.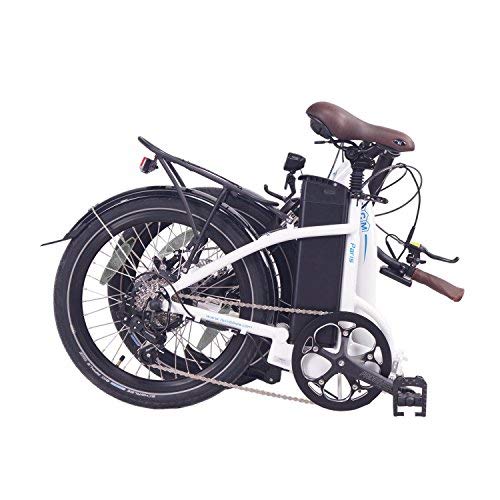 The small SY, R2S  36v 250w geared rear hub motor is not only incredibly durable but also provides the rider with excellent levels of power when needed. The compact electric motor is fitted discreetly into the 20″ rear wheel, so as not to interfere with the folding process.
A 36v 15ah Lithium battery pack fits conveniently behind the seat. Again, this design is perfect for bikes of this type and doesn't interfere when folding. It is unusual to find such a powerful battery on a folding electric bike at this price point. With a total energy capacity of 540wh (watt hours), you are guaranteed a range of 27 miles based on the 20wh per mile average power consumption figure. If you are frugal with your power usage, the manufacturer states a range of up to 70 miles is achievable in ECO mode. I personally think that a realistic range to expect would be in the region of 30-40 miles. This battery also comes with a handy USB charging port for mobile devices.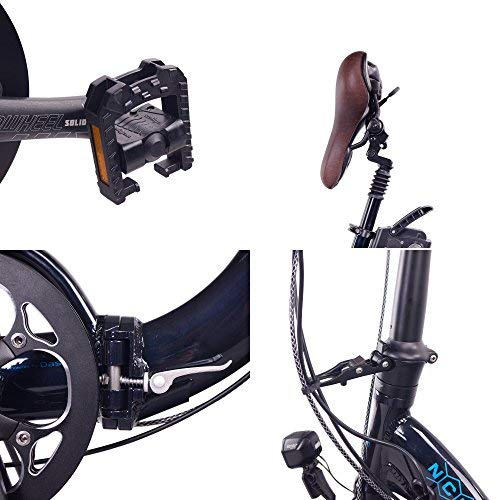 Built for comfort
Comfort is a very important factor when buying a commuter bike, especially a folding one. Thankfully NCM has built this bike with commuters in mind and every whim has been catered for. The excellent Selle Royal gel saddle will offer enough comfort for most people, and the overall design of the bike allows for a very relaxed riding position. The handlebar grips are ergonomically designed and importantly there is a small suspension fork at the front, that will help smooth out the lumps and bumps in the road, and even facilitate some light trail riding – this really is a very versatile little bike!
Components
This bike uses excellent Shimano components. The 7-speed Tourney rear derailleur combined with a grip shift offers smooth and precise gear changes. Tektro mechanical disk brakes offer 'better than average' braking for a bike of this type. And finally, the Zoom front suspension forks are perfect for taking the sting out of small potholes and making canal path riding easier.
Fully function control panel display: The Das-Kit LCD display is used across the NCM range and is an excellent display providing the rider with all the information needed. including journey time and mileage. It also has 6 power levels of pedal assist, so you can fine-tune the power output to suit your ride.
Manufacturers Specification
Weight: 25kg (55lbs)
Type: Folding Wheel size: 20"
Load capacity:125kg (266lbs)
Maximum permissible speed: 15.5 mph
Electric Parts
Display Das-Kit, L6B, LCD, 6 Levels, 4mph walking mode
Controller Das-Kit, CT4, 36V 14A
Motor SY, R2S Rear-drive motor, 36V 250W
Battery 36V 15AH, with USB port – average range: 25-70 miles depending on assistance level
Front/Rear Light Spanninga, KENDO, 36V, 20 Lux/ Spanninga, SOLO
Bike Parts
Frame Alu. 6061, 20″*380MM
Fork Zoom, CH190
Brake Levers Tektro, with left brake sensor
Brakes F/R:Tektro Disc Brakes,MD-280
Cranks Prowheel, SOLID-252AA9
Rear Derailleur Shimano, Tourney 7-speed, ARDFT35D
Tyres Schwalbe, Big Apple,20″ x 2.0
Saddle Selle Royal, Freeway, Brown with Gel
Seat Post CL, PB-523, with suspension, 27.2*350mm
Grips Selle Royal, brown synthetic leather
Pedals Wellgo folding
The Ride
I managed to have a go on one of these back in January, a customer kept a couple of these in his motor home for him and his wife and kindly lent it to me for an afternoon. I am just over 6 feet and weigh 105kg, so the bike was at its maximum recommended operating weight. With the seat and handlebar height adjusted correctly, I was pleasantly surprised at what a nice and comfortable bike it was to ride.
The combination of the fat Schwalbe tyres and front suspension made it very easy to negotiate the rather bumpy back lanes of Cornwall. As far as climbing steep hills was concerned, I was impressed with the ability of the tiny motor. I would put it on par with the standard-sized e-bikes on offer from NCM. The motor produced a lot of torque and definitely took the effort out of cycling up a 10% gradient.
My only real concern was the bike felt a little bit nervous at higher speeds, but that is only to be expected on a folding bike with a heavy person riding it. These bikes aren't really designed for speed but are excellent for steady commuting at speeds of around 15 mph.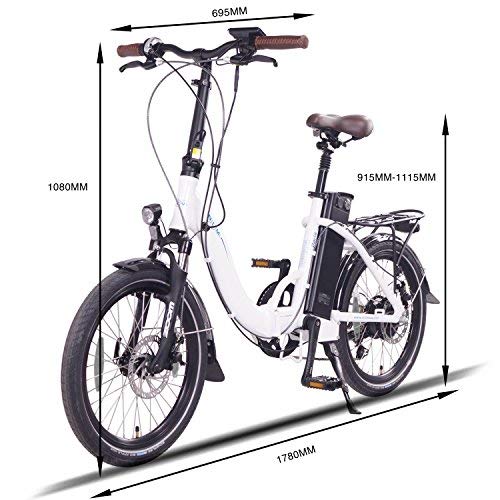 Would I buy one?
If I was in the market for a folding e-bike, I would seriously consider the NCM Paris. It represents excellent value for money and the fact that it has mudguards, a pannier rack, lights and a kickstand fitted, means that it is excellent for the daily commute in all weathers, or even good for some weekend touring. The inclusion of a quality gel saddle and suspension forks makes this folding bike a truly comfortable and versatile all-rounder.
The other big plus point is the excellent battery capacity. You could quite easily go for a long weekend trail ride, safe in the knowledge that you are not going to run out of power.
All in all, I'm giving this bike a big thumbs up!