When you purchase through links in our articles we may earn a small commission. Read our affiliate disclosure.
The Voilamart ebike conversion kit represents excellent value for money, in this review I will go over the pros and cons, based on my own experience installing over 50 of these kits in the last 3 years. Voilamart is a global Chinese online retailer that sells everything from domestic appliances to Beauty products. They also happen to sell budget electric bike conversion kits. But just because they're cheap doesn't necessarily mean they aren't any good.
What's included in the Kit?
There are front and rear wheel kits available and an LCD option. These kits contain almost everything you need to convert your bike to electric, apart from a battery.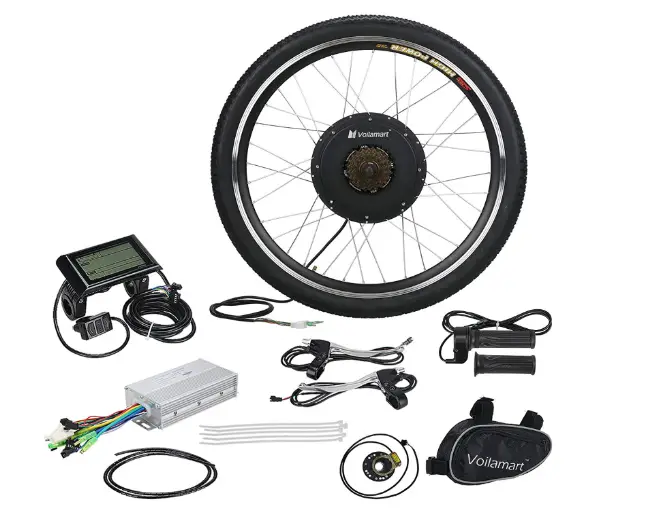 Voilamart rear wheel 48v 1000w ebike conversion kit (without LCD)
48v 1000w Rear wheel direct drive hub motor laced into a 26″ double-walled alloy rim with heavy-duty spokes
48v 26A Motor controller
Controller Bag
Pedal assist sensor
Throttle with battery indicator display
Brake levers with cut-off sensors (for cable brakes only)
7-Speed gear freewheel
26″ x 1.75″ Mountain bike tire
Cable ties
Plastic wiring coil (for tidying up the cables)
Installation manual
Voilamart rear wheel 48v 1000w ebike conversion kit with LCD
48v 1000w Rear wheel direct drive hub motor laced into a 26″ double-walled alloy rim with heavy-duty spokes
48v 26A motor controller
SW900 LCD Display
Controller Bag
Pedal assist sensor
Twist Throttle
Brake levers with cut-off sensors (for cable brakes only)
7-Speed gear freewheel
26″ x 1.75″ mountain bike tire
Cable ties
Plastic wiring coil (for tidying up the cables)
Installation manual
Motor Specification
The Voilamart kit uses a simple brushless DC direct drive hub motor. Direct drive motors have been around for years, and the principle is based on tried and tested technology. This kind of ebike motor may have seemed high-tech 20 years ago, but it is now considered old-hat when it comes to electric bike motors.
One benefit of direct-drive hub motors, is they are cheap to manufacture, and fairly reliable. They do not have any internal moving parts (like geared hub motors) and they can generally handle quite a lot of power.
I have successfully run a 1000w Voilamart hub motor on a 45A controller with a 52v battery – producing over 2000w of peak power, with no reliability issues.
Legality
If you are in the UK, EU or Australia then the maximum continuous power output for an electric bicycle is 250w, with a speed limit of 15.5mph (25km/h) anything above that would be classed as a moped and subject to the same rules and regulations. You would only legally be able to ride your bike on private land.
This motor is rated at 1000w and is not speed-limited. There is a plug on the controller, that when connected limits the output to 250w and speed to 15.5mph. I have looked into the law and it states quite clearly that the motor has to be 'rated' at 250w continuous.
US federal law is different and allows 750w and 20mph, so technically this motor would still be illegal there.
I'm not one for rules and regulations, but you need to be made aware of the potential legal implications before you purchase and install one of these kits. For more information, read our article on UK e-bike laws.
Reliability
I have installed at least 50 of these kits over the last 3 years, and I have only ever had a couple of long-term issues reported by customers. Hall sensor failure has occurred on maybe 3 or 4 units, and I have had one controller failure, and one LCD pack-up.
Another issue you will encounter is broken spokes. If you hear a 'clicking' sound when riding, you will need to check the spokes for tightness. If you need to replace a broken spoke, you will need the correct length and gauge. I would recommend buying a pack of spokes and a wheel truing stand, for ongoing maintenance.
Thankfully, because these kits are so cheap, so are the replacement components. The hall sensors can be replaced if you are good with a soldering iron. The motor controller costs around £30 ($40) and the SW900 LCLCDan be purchased off Aliexpress for about $50.
In my experience, Voilamart is quite helpful when it comes to warranty claims. The only issue is, the replacement part is usually sent from China, so delivery may take a little while.
What types of bikes are best suited?
I would personally go for an older steel or Aluminium-framed mountain bike, hybrid or cruiser. All older mountain bikes and cruisers have 26″ wheels. It would also be advisable to upgrade the brakes if possible, as these kits add a lot of weight to a bike once fitted.
Installation and Compatibility
The Voilamart electric bike kit is primarily available in a 26″ wheel size, although I've seen 28″ / 700c available.
If your bike has disc brakes fitted, you could get away with fitting a smaller 26″ rear wheel to say, a 27.5″ wheeled mountain bike. I have done it before, without any negative impact on handling. This wouldn't work with v-brakes, as the drop on the brake callipers would not reach the braking surface on the rim.
The motor axle can sometimes be a tight squeeze to get into the dropouts. On occasion, you may need to file the dropouts slightly to accommodate the larger axle.
Although the specification states that the kit is suitable for 135mm rear dropouts, you will nearly always have to pull them apart slightly to get the axle to fit in. You will also need to use the spacers provided, otherwise the rear brake calliper will rub on the motor hub casing.
When you are indexing the rear gear shifting, you will need to set the 'low' limit screw on the rear derailleur, otherwise it will rub on the motor casing when in 1st gear (largest cog on the rear freewheel).
If you have hydraulic brakes, the brake levers supplied will not be compatible, so you will either need to purchase separate cut-off sensors or not bother at all. On a motor with this kind of power output, it would be wise to purchase the sensors (especially if you are using a throttle).
I would not recommend the front motor if you have disc brakes,  I have fitted a few of the front hub motors and the brake calliper nearly always rub on the motor, regardless of adjustment.
This kit does not come with a torque arm. I would highly recommend purchasing one of these, as it will prevent the motor axle from popping out of the dropouts. Something you don't want happening at speed!
Performance
When installed properly, these kits will turn your humble bicycle into quite a fast electric bike. I have recorded speeds of around 30mph on the flat (without pedalling). At the very least you will need a good 48v or 52v battery with a minimum continuous current rating of 30A – the controller will draw a maximum of 26A.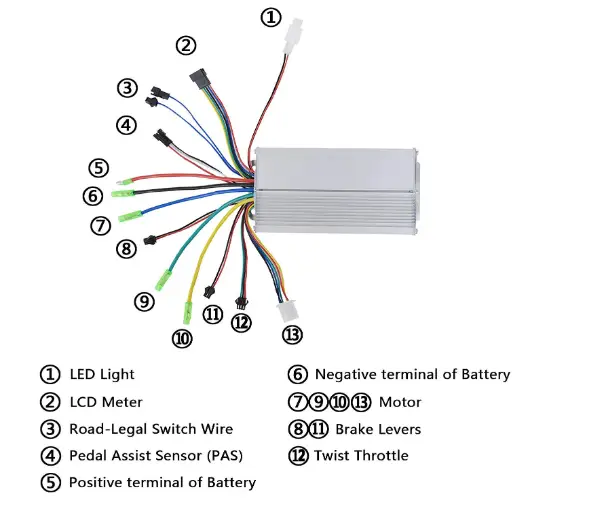 Another thing to consider is the battery range. A direct drive hub motor is the least energy-efficient electric bike motor, so you will not get a particularly good range out of something like a 48v 10.4Ah battery, unless you are frugal with the power, and pedal a lot.
A good starting point for a battery would be a 48v 17.5Ah battery with a 30A BMS. This is going to be the most expensive part of the conversion. Of course, if you are only planning on using your bike for relatively short journeys then a 10Ah battery should be fine.
What if I run out of battery power?
Good luck pedalling! Direct drive hub motors are not only heavy, but you have the resistance of the motor to overcome. Pedalling one of these with the power off (particularly uphill) can be quite a challenge. I know, I've been in that position before! If you want a motor you can pedal comfortably with the electric assist off, then I would recommend a Bafang hub motor.
Conclusion
If you want to build a fast electric bike on a budget, then the Voilamart kit offers excellent value for money. It's a simple, low-tech solution to building your ebike. The motor is heavy and inefficient, but it will provide you with enough power to put a smile on your face, and it will get you up most hills with ease. Factor in the cost of a medium-sized 48v battery, and you can build your bike for less than the price of the cheapest Chinese e-bike.
These kits are generally reliable, more so than the more expensive Bafang mid-drive motors. If they do go wrong, everything is fairly cheap and easy to replace. You could even buy a second kit so you had a backup of spare parts.
Regarding the legality – please check the local laws in your country. If you're planning on using a converted bike on the road, keep your speed down in built-up areas, and always ghost pedal. That way you won't draw any unwanted attention to yourself.
The Voilamart hub motor kit is one of the best e-bike conversion kits available for the price – it's an old-fashioned, inefficient and heavy option, but it will give you a useful boost to your pedalling.
Buy Now: Voilamart 1500w LCD rear wheel e-bike conversion kit