If you're considering converting your bike to electric assist, navigating the huge number of available kits can be mind-boggling. Fortunately, one of the cheapest and most reliable conversion kits is available on eBay. In this Yose Power e-bike kit review, I will look at the pros and cons based on my experience installing over 50 kits on customers' bikes. Find out more about my electric bike conversion service.
| | |
| --- | --- |
| Motor Type | Front or Rear Brushless Geared Hub Motor |
| Power | 250-watt or 350-watt |
| Voltage | 36-volt |
| Pedal Sensor | Cadence PAS |
| Display | Multi-Function LCD |
| Accessories | Tool Kit, Installation Manual, Cable Ties |
| Availability | Online Only – UK, EU and USA |
Pros
Excellent Value for Money
Decent Performance
Nice Display
Easy to Install
Comes with Toolkit
Cons
Broken Spokes
The motor can be noisy under load
Struggles on very steep hills
Summary
From 2016-2019, I made a living converting bikes to electric assist, and one of my favourite conversion kits was sold via eBay. Yose Power is based in China but sells most of its e-bike kits through eBay in the UK and EU. I installed my first Yose Power kit in 2017 and was immediately impressed with the quality and performance of the motor.
Fast forward to 2020, and I still do the occasional conversion; since 2017, I reckon I've converted over 50 bikes using this kit. One of the stand-out things about these conversion kits is not only the price; long-term reliability is the best I've encountered in the DIY e-bike world.
I have had many issues with mid-drive conversions and a few problems with cheap direct-drive hub motors, but the Yose Power kits have never caused me any major bother. On top of that, you get a lot for your money – it's one of the few kits that gives you a useful tool kit and headlight.
Below, I have outlined some of the key features of the Yose Power e-bike kit.
Buy from Yose Power directly and use the coupon code BH2E24BXQH for a €10 discount.
Motor Kit
The kit comes in various options and wheel sizes (listed below) and is available as a front or rear-wheel conversion – the latter being the more popular choice.
Wheel sizes: 26″ / 27.5″ / 28″
Motor colour: Silver/black
Gear cassette: Screw-on freewheel or cassette (8/9/10 speed)
Power rating: 250w / 350w
Voltage: 36v
As you can see, there are options to suit all the common wheel sizes and gear systems used on modern bikes.
Compatibility
The Yose Power kit is designed to fit regular 'quick release' front or rear dropouts of approximately 100mm wide on the front and 135mm at the rear. Many modern mountain and road bikes have 'thru-axle' hubs – bikes with this type of hub would not be suitable for an electric hub motor.
Another occasional problem I've encountered is tyre width – this isn't a problem on hybrid or mountain bikes, but if you're considering fitting this kit to a road bike, you will need clearance for a 28mm wide tyre. This is the minimum width tyre recommended for this rim.
Pedal Sensor Compatibility
A cadence pedal sensor is included in the kit – it comes in the form of a split magnetic disc (secured with a spring clip) and the pick-up sensor. This is usually fine with a regular square-tapered bottom bracket axle, but it will not work with a Hollowtech-type external bottom bracket. If you have the latter fitted to your bike, purchase a separate sensor.
Brake Lever Compatibility
The supplied brake levers with integrated motor cut-off sensors suit cable brakes (disc, cantilever or v-brakes). If your bike has hydraulic brakes or an integrated brake lever/gear shifter, you are faced with two choices – don't bother with cut-offs (the motor will run fine without them) or buy specific sensors for hydraulic brakes.
Do you need to fit the supplied brake levers? I've never used them. The motor will start and stop only when you pedal – even if you use the supplied throttle, it will only work once you are travelling at least six mph. If the motor stays on, you can hit the kill switch or apply the brakes hard.
Compatibility with Disc brakes
Both the front and rear hub motor have six bolt fixings to mount a brake rotor if required – you must use the disc bolts provided as if you use longer ones, they will interfere with the motor's running.
Display
On the older kits, they used to use the proven KT-LCD3 display, but more recently, they have used a different display, which is very high quality and has an aluminium back plate. This is an excellent display, especially when you consider the price of the kit – I would go as far as saying it's better than many of the displays you get on factory e-bikes.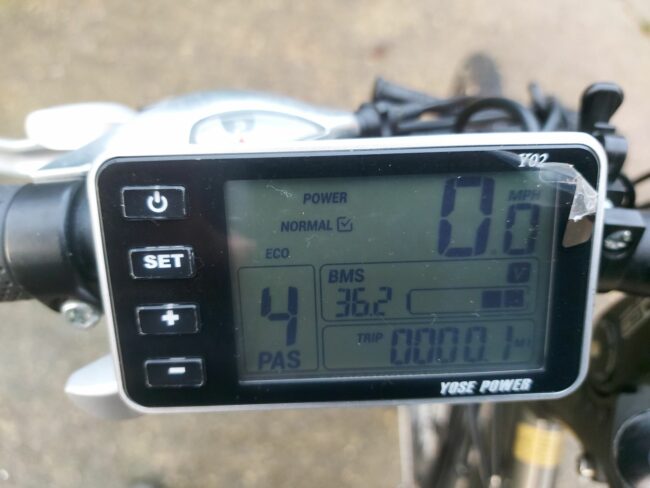 The information available to the rider:
Speed (mph or km/h)
Pedal assist level
Battery indicator
Real-time battery voltage
Trip function
Accessories Included in the Kit
Yose Power is one of the few e-bike kit suppliers that includes instructions and a toolkit. The toolkit comprises a full Allen key set, crank puller, chain whip and cassette removal tool. They also include a headlight that plugs into the wiring harness and can be powered on/off by the display. Cable ties are also supplied, which is a nice attention to detail.
Motor Performance
The motor supplied with the Yose Power kit is available in 250w or 350w power options. These small hub motors have an internal gear reduction system, so the motor always spins faster than the wheel. This makes the motor more efficient and produces more torque than a similar direct-drive unit.
The controller determines motor power – 250w has a 36v 15A controller and 350w a 36v 18A. In the UK and EU, the law states the motor should not exceed 250w of continuous power – it's up to you whether you get the 350w version, but I don't feel the extra power is worth the risk – the motor power rating is visible on the hub motor.
I live at the bottom of a short steep hill (10% over 0.25 miles), and I converted the old Giant hybrid bike (pictured below) for a chap in his 80s – he rode up the hill whilst simultaneously laughing his head off, saying "This is brilliant"! I think that sums up the Yose Power motor. It's not a speed demon like a Bafang mid-drive, but its power is more than adequate for most riders. I used to own a bike fitted with one of these kits, and I rarely used it above level 2 assist (out of 5).
How Reliable is the Yose Power E-Bike Kit?
The simple answer is very reliable indeed! To date, the only problems I've encountered have been minor and related to the pedal sensor – on some bikes, there is limited clearance between the pedal crank and bottom bracket, which can cause the magnetic disc to stick. I have never had a motor fail or cause problems.
Another issue I've had a couple of times is on the cassette freehub version – occasionally, this fails and can be a pain to fix. If your motor kit is still under warranty, it shouldn't be a problem as their customer service is usually very good.
Potential problems with broken spokes. If you ride a bike regularly, broken spokes are a frustrating fact of life. An e-bike motor, because of the increased weight, increases the risk of broken spokes. My customers haven't reported higher-than-expected incidences of broken spokes than I would expect. However, I have heard from other people that broken spokes can be an issue with this motor.
Ease of installation
Installation is fairly straightforward, even for a novice. You will need a bit of patience (roughly 2-3 hours) and preferably a workspace and bike stand. Most of the tools are provided, but you will also need some cable cutters (to tidy up cable ties).
The front wheel conversion is easier than the rear as you don't need to swap out the gear freewheel or cassette. You will need to remove the tyre, inner tube and wheel liner. Then remove the freewheel/cassette and disc rotor (if you have disc brakes). Then you transfer everything to the motor wheel.
Fitting the wheel can be tricky as the hub is a little wider than the standard 135mm – on alloy and steel frames, you will need to splay the dropouts by a few mm to get the axle to drop in.
Then it's a case of mounting the pedal sensor, battery, controller and display – plug everything in, tidy the wires, charge the battery, and you're ready. If you're not confident in doing the job yourself, I would try a local bike shop, as more and more are doing conversions these days.
Battery
Some of the Yose Power kits are supplied with a battery. These kits are great because the controller is integrated into the battery mounting plate – this makes for a neat installation. Batteries available are usually 36v 12.5Ah, and these battery packs seem to be very reliable.
The Verdict
If you're after a cheap electric bike kit that will perform as well as a hub motor found on something like the Carrera Vulcan, you can't go wrong with the Yose Power kits. When it comes to quality, they punch well above their weight.
They perform well, are reliable and can be used for leisure riding or commuting – I did one in 2017, and the guy used it for commuting five days a week for three years, all through British winters, and it was still running like a dream!
I always recommend these kits for their simplicity. Even if the motor packed up after a couple of years, they're easy to fix (for the DIY-minded) or cheap enough to buy another kit.
The Yose Power kits represent an affordable entry to the world of e-biking and feature on my list of the best e-bike conversion kits in 2023  – If you want to breathe new life into an old hybrid or mountain bike, these kits are the best value by far.
Where to Buy the Yose Power Electric Bike Conversion Kit
Thanks for reading; if you have any questions, please use the comments section below. I usually respond within 24 hours.